Once upon a time I vowed to "not leave one hot pot lid unturned, snail shell unhollowed, or souvlaki foil emptied" and a bunch of other inspiring and ambitious proclamations. And I've kept my promise, from the west island, to the east end, Montreal north, to the southwest I'm discovering it all. I don't often venture outside Montreal – or at least document my findings on here – after all I've made the clear distinction to bring froth the best of our city. However, when I get word of places in the "Greater Montreal Area" aka off-island, AKA, Laval, or South shore, I can't ignore the possibility of a worthwhile blip on the radar. That why this week I'm going to tell you about the one of the hottest brunch destinations that just happens to be in Laval at a place called Manti.

Started by two friends, it goes, At Manti we serve Armenian & Mediterranean classics served with a twist and a whole lot of cultural pride." … ""Manti" is an Armenian national dish composed of mini dumplings sizzling in a rich stock with a garlic-yogourt sauce, the whole garnished with sumac and mint." … Armenian restaurants in Montreal are few and far between, so this place caught my attention when it was mentioned to me.

Located in a strip mall off the main strip in Laval, the spot is quaint and cozy, a few tables and a counter. The menu was straight forward and simple. A handful of items that had descriptions for the non-accustomed. The waiter offered help as well. We started with the borek. Fried cheese dumplings served on spiced labne with tomatoes, cucumbers and pomegranate. The filling was a bit sparse and dry in the cavernous void that the fried wrapper created. Regardless, we ate them like chips and they were treated like basically an excuse to eat the thick spiced labne.

The Khachabouri was an oval shaped, cheese-stuffed bread topped with a sunny-side up egg and soujouk (dry-cured sausage) – almost like a Middle-Eastern version of a croque madame. The bread was soft and enveloped the chewy cheese nicely and balanced the creamy runny egg and salty soujouk. Although it was all elements that make breakfast in each bite, bread, egg and a meat, I felt that there was something missing. Maybe a side? There was no elegant way of eating this other than picking it up each fully loaded breadstick with your hands. I mean you could have used a fork, but why?

Let me say this first; I dislike French toast. I don't see the point in it. Sandwich bread that you bathe in vanilla spiked liquid-chicken then pan-fried. Ok, and then? It was probably invented for a way to use up and not waste stale bread. But this thing from Manti is a game changer. Hold on to your brunch toques and wipe your cellphone camera lens boys and girls; the Knafa French toast is your and your Instagram feed's new favourite brunch dish!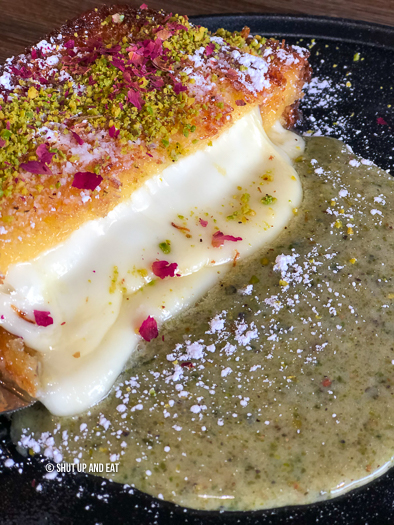 Stuffed with sweet cheese the egg-bread "Katayif" was garnished with pistachios, rose petals, powdered sugar and served with a sauce made of orange blossom syrup. It was heavy. Heavy and worth every Weightwatchers point, and macro percentage if you're keeping score. Each bite was a melange of textures; crunchy bread, chewy cheese, creamy sauce. This is not the French toast I'm used to eating, but I can get used to this one.

I'll be the first to admit that I'm not well versed in Armenian cuisine. But I am well very experienced in delicious food (and the not so delicious food) to know what's tasty and what's not. The brunch at Manti is amazing. It's funny. I went about this backwards – normally I would have gone for their regular menu before exploring the brunch menu, but I was convinced after doing some homework and recon. Because I was sold on the brunch, I'm compelled to see what they do on their regular menu. I have to try the kawarma, falafel and obviously their namesake, manti.
Brunch – Weekends 10am-3pm
Manti
2204 Boul. Curé-Labelle,
Laval, QC, H7T 1R1
514.262.6040
https://mantimtl.com/