I get asked for restaurant recommendations all the time. The requests stretch from suggestions of places that accommodate large groups in the Old Port, who has the best Korean fried chicken, where can you find weekday brunch all the way to who has the best gluten free authentic Shanghai dumplings between Saint-Sauveur and Mont Tremblant. I've literally heard them all. Rarely am I ever asked – and by "rarely" I really mean, never, about Hawaiian food options in Montreal. Because there aren't any; until now. I recently checked out this new spot in Cote-Des-Neiges that is serving up food from the Islands. This spot is more than just a restaurant; it's a whole vibe – Le Petit Vibe.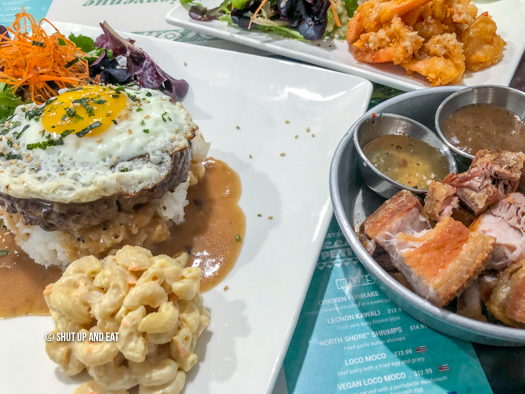 What exactly is Hawaiian cuisine? In the simplest of terms, modern Hawaiian cuisine is mix of a Chinese, Japanese and Filipino foods reflecting local Polynesian roots and culinary influences. The menu consists of a handful of mains that are served with white rice, salad and macaroni salad, as well as a bunch of sides. The sides are basically the mains without the accoutrements.

We started with the lumpia. Traditional Filipino pork spring rolls served with a side of spiced vinegary dipping sauce. These lumpia were like literal wands; magic. Instead of folding in the ends, the ends of the lumpia are pressed shut, thus maximizing the crunchiness factor at either end.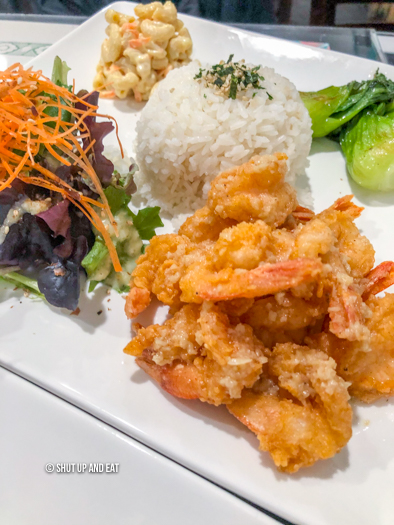 The garlic butter shrimp were tasty. A generous portion of crispy fried battered shrimp bathed in butter. Why is shrimp always cooked with butter and garlic? Is it a law? Because it should be.

Le Petit Vibe serves up a classic loco moco. A hamburger patty doused with brown gravy on white rice topped with a fried egg, garnished with furikake; like an Asian salisbury steak. I swear my grandmother made me a version of this when we were young. The large beef patty was thick and juicy. It was pink in the centre and well seasoned. I'm not a big fan of fried eggs on top of food. That fad has come and gone with me. But the sunny-side-up egg is a part of the dish, so I guess when in Honolulu. A very substantial dish, I can totally picture myself crushing one after spending a day on the beach hanging 10; shaka brah.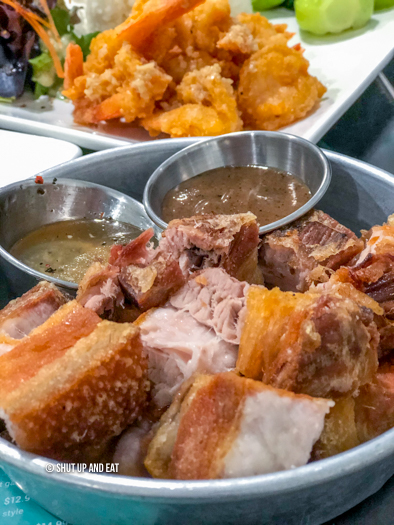 The side of the lechon kawali. Incredibly crispy deep fried pork belly served with Mang Thomas sauce and spicy vinegar. The pork was a meatier cut of belly, not overly fat. However, most of the fat was rendered out and didn't leave your mouth feeling like it was coated in grease. Salty bites of crispy pork poppers; so good.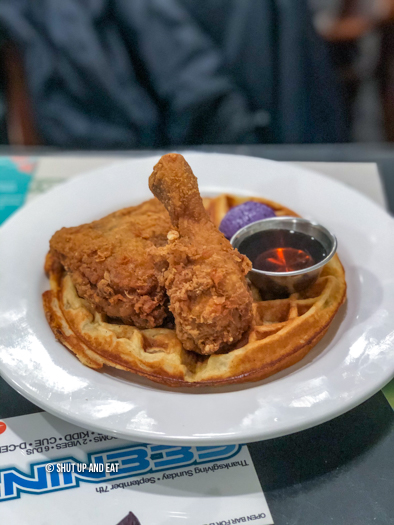 We also tried one of Le Petit Vibe's brunch dishes, salt-fish eggs benny on toasted brioche and chive hollandaise. Just kidding, it's chicken and waffles.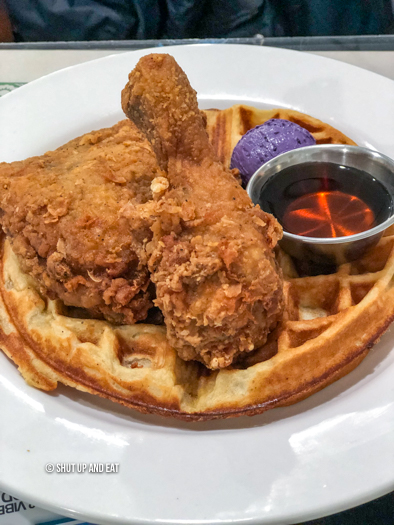 Fried chicken and banana waffles served with homemade ube butter and maple syrup. The chicken was solid; crispy and juicy. The bright ube (purple yam) butter gave the dish a tropical vibe as it paired nicely with the banana undertones of the waffle. The waffle itself was a bit soft for my liking. With all those corners and ridges, I like waffles to have a certain crunchy-suppleness, if you know what I mean. With all the sugar from bananas, I would have though it'd help with the caramelization and structure – it didn't. Regardless, it was delicious, and thank you Le Petit Vibe for serving all four slices to the waffle – so many places only serve three. (I don't know why.)
Hawaiian food is more than throwing pineapples on everything. The food at Le Petit Vibe dodged this cliché. They are focusing more on the Filipino side of the Hawaiian cuisine spectrum with items like longanisa, tocino and tapislog on the menu. I was told that they will be rolling out a deeper à la carte menu soon and that they are fully licensed. I look forward to seeing how the warmer weather brings out the aloha in Montreal. Mahalo.
Le Petit Vibe
5536-A Chemin de la Cote des neiges
https://www.facebook.com/lepetitvibe/