What do you think of when I say, "KFC"? 11 herbs and spices? An image of an old timely man in a western bowtie? Well the KFC I'm talking about is, Korean Fried Chicken. What makes fried chicken, Korean? Short of executing flawless dance routines and being able to make finger hearts with their wings, Korean fried chicken (or "chikin" or "yangnyeom chicken") is double deep fried chicken that is often coated with sticky, spicy and sweet sauce. I heard about a new Korean fried chicken spot that opened in The Dege and decided to go check out; Olivia's Authentic Chicken.
The menu at Olivia's Authentic Chicken is straight forward; they serve fried chicken. Fried chicken either boneless or bone-in, dipped in one of their sauces or non-dipped. The menu also consist of fries and a choice of five different sauces. Ordering was pretty easy with such a concise menu. What's the most logical thing to do? Order one of everything. After eating my body weight in KFC, I've learned to ALWAYS get the chicken plain and order the sauces on the side. Why? So you don't get stuck dedicating an entire order to one sauce and to avoid taste monotony. Also, this helps maintain crunch integrity if there are leftovers.
"What makes fried chicken Korean? No, the chickens aren't able to complete complicated dance routines or make finger hearts with their wings."
The boneless chicken order were strips of chicken breast served with a choice of one of their homemade sauces. Each sliver of chicken was encrusted with crunchy batter barnacles that if you don't care for the skin on the roof of your mouth, are perfect for scraping it all off. Chicken breast is inherently dry, as was the case with this order of boneless chicken; dry, but good thing we had sauces. The honey mustard sauce was meh, neither honey-y or mustardy. Soya based sauces were nice and garlicky. The "snow flake" wasn't really a sauce more than it was an actual powder. It tasted like garlic and coconut, which was weird and different. I added a pinch to a few bites. It was interesting but wasn't a flavour I was digging with my fried chicken.
I went against my own advice and got the bone-in chicken order with sauce – or "dipped" – with the sweet & spicy sauce – this is the traditional sauce for dakgangjeong and wanted the full experience. The sauce wasn't very spicy but it was extremely sweet – like the rest of the sauces I tried. This is probably due to the rice/corn syrup used. Understandable since you need to drown the chicken with sauce. This is where the pickled daikon comes in. The acidity is great to break up the thick coating of sugary sauce and oil in your mouth.
"Each sliver of chicken was encrusted with crunchy batter barnacles that if you don't care for the skin on the roof of your mouth, is perfect for scraping it all off."
Opposed to most other Korean restaurants who serve fried chicken in two sizes (half-chicken and whole-chicken), Olivia's Authentic Chicken only has one size. This one size doesn't equate to a whole chicken either. I was told that the orders are served by weight. This can be a problem. Imagine my face when I watched my niece eat the chicken wing and after some digging through miscellaneous unidentifiable pieces I couldn't find the other one… or a second drumstick for the matter. Maybe the chickens they get vary in size to justify serving by weight. I get it, but I also get the fact that the chicken is also heavily battered as well and that is also taken into account when it's being weighed.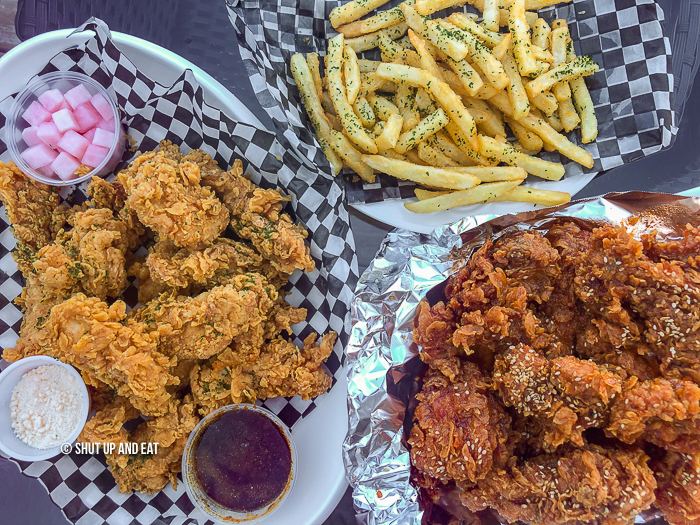 What was once the Korean restaurant, "Le K'Bob" on Somerled is now Olivia's Authentic Fried Chicken. It was brave of them to think that they could hang with the heavy weight Mon Ami a few blocks down when it comes to a full Korean menu including fried chicken. Now having changed their business model to operate and focus on only fried chicken, they are trying to give the O.G. (who was partially responsible for making K.F.C. popular in Montreal) a run for their money. However, they have a ways to go. I appreciate another player in the MTL KFC scene. But the competition is fierce, and that is an indication of how close the game is.
Ps, I scheduled my take out for 5pm. Arrived at 5pm, received my food at 5:19pm and placed my order at 2pm. by phone. Only one person ahead of me in line. Was offered no explanation why it took so long.
Olivia's Authentic Chicken
6563 Somerled Ave,
Montreal, Quebec H4V 1T1
https://www.instagram.com/olivias_authentic_chicken/