What comes to mind when I say Chinese buffet? Large tables of people hunched over plates of questionable food stuffing themselves silly for a fixed price? Maybe hot tables haphazardly filled with questionable "edible" food? Or dried out dishes sitting under heat lamps long enough to require a SPF sauce? Now, what If I told you there's a new place that's trying to dispel these misconceptions by updating the way you think of Chinese buffets? I had the opportunity to check out the newest Chinese restaurant hot spot in Laval; Cuisine Kung fu Légende. Cuisine Kung fu Légende is new concept Chinese buffet restaurant. "What's wrong with the old concept?" You ask. Nothing! They are just updating and reinventing everything you know about Chinese buffet food!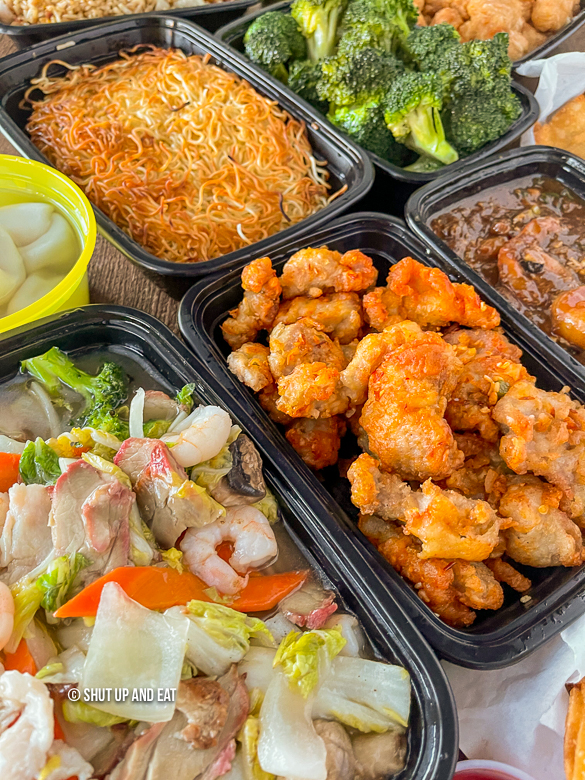 Cuisine Kung fu Légende is determined to reinvent the Chinese buffet game by bringing it to 2021 through quality of food and dining experience. Due to COVID protocols and in-house dining restrictions, the dining room isn't open yet, so there's not much "all you can eat" happening. But their takeout is in full swing! Over 80 (!!!) of your most favourite Chinese dishes to enjoy and I decided to order some of the ones I love the most.
Appetizers
Wonton soup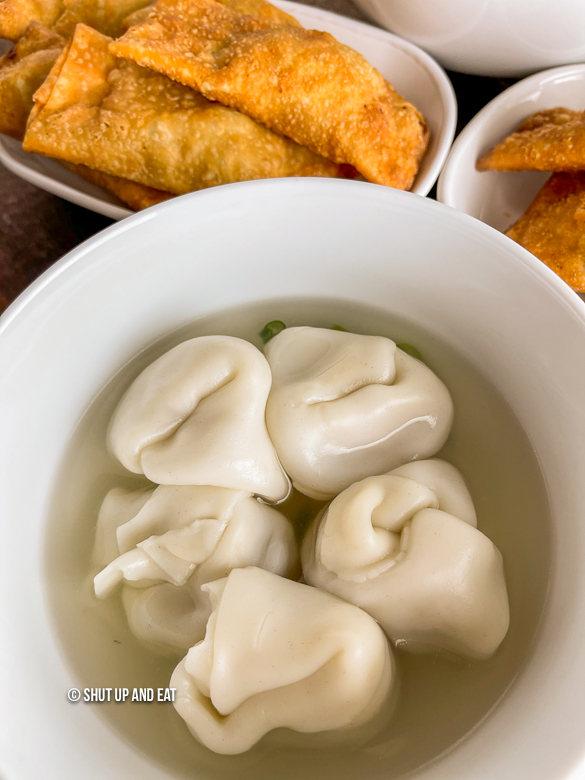 Every classic Chinese takeout meal starts with soup and egg rolls. Plump pork filled dumplings bobbing in a clear broth. Not my thing. Water-logged dumplings take up space in your stomach. Valuable real estate for tastier things. But I did order my favourite; a hot and sour soup. Strips of tofu, bamboo shoots, black mushrooms in a thick, tangy soup that opens the appetite.
Eggrolls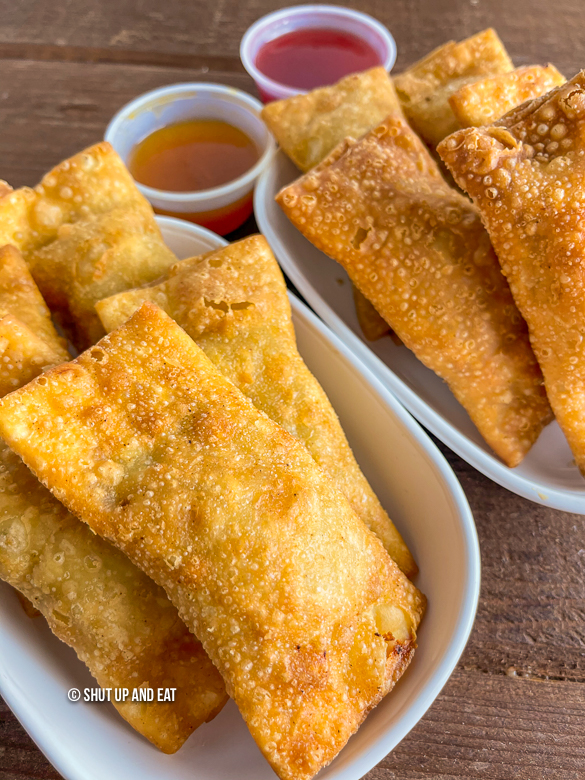 I've never gone into egg rolls vs. spring rolls before. These are egg rolls; the round ones are spring rolls. Classic flat tipped egg rolls stuffed with a pork and cabbage filling. Chewy flour-dough skin, it adds great texture to each bite. Spring rolls suck. They're flimsy; the skin is too thin and they shatter into a million pieces when you touch them. They are basically the NatureValley bars of the roll world. Like Fairmount Bagel, egg rolls are superior.
Like Fairmount Bagel, egg rolls are superior.
Cantonese Chow Mein
PROTIP: if you're eating family style: distribute the noodles first and ladle on the toppings over. This will maximize the crunch quotient.
Iconic Cantonese fried noodles. Fried thin egg noodles topped with a stir fry of fresh vegetables, pork and seafood. The best part is that the noodles are crispy on the outside and soft and chewy near the centre. Great contrast in texture in each bite. When I was a kid, we would fight for the crunchy edge pieces (we still do), but now we ask them to fry the noodles up a little bit more. PROTIP: if you're eating family style: portion out the noodles first then scoop the toppings over your respective plates. This way, it will maximize the crunch quotient.
Salt and Pepper Pork Chops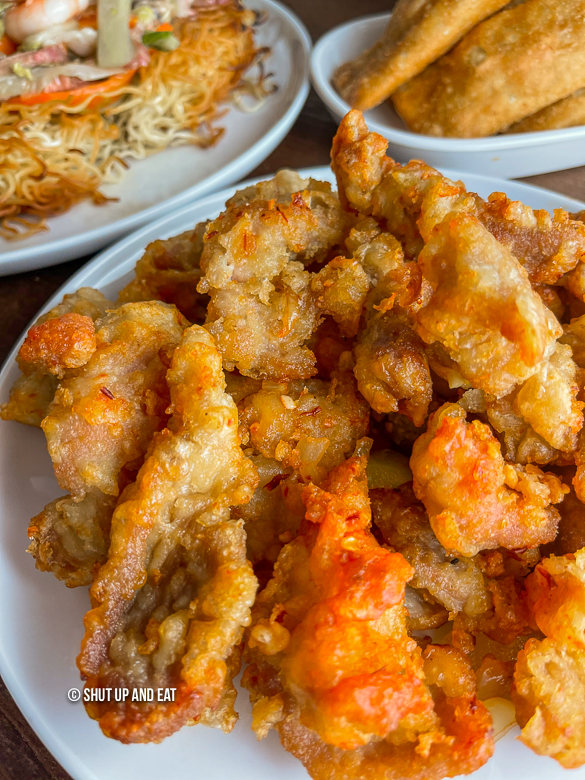 This dish was large slices of tender pork chops battered and deep fried. They're then tossed in a mix of salt, five-spice power and dried chili flakes. Delicious. They should rename this to "pop-corn pork chop poppers". They're crunchy and highly addictive and once you pop, you can't stop.
Beef and Broccoli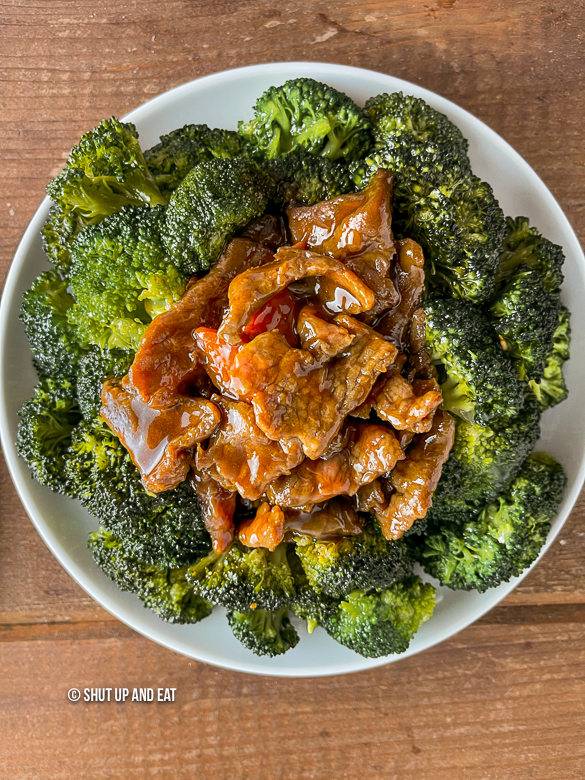 Perfectly cooked large florets of broccoli with slices of tender beef. Note: The food was not packed like this. The beef was separate from the broccoli – I arranged it like this because I'm extra.
Shrimp in Lobster Sauce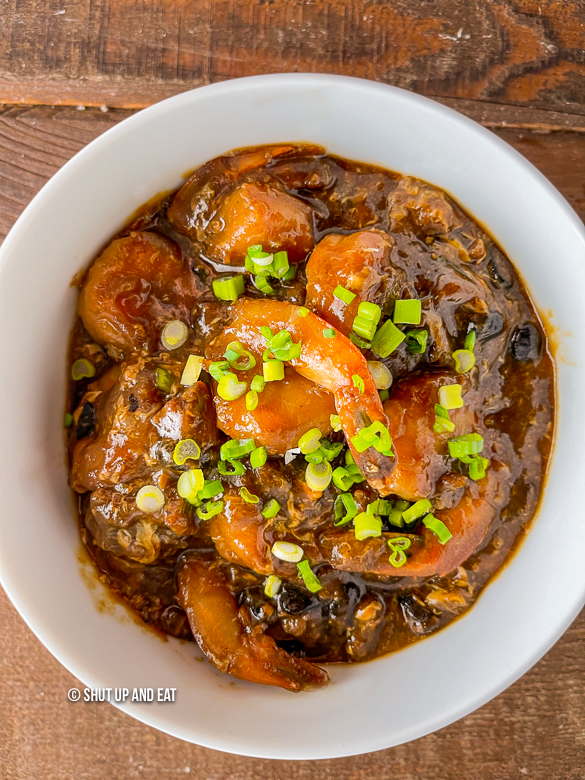 The poor man's lobster experience; shrimp in Cantonese lobster sauce. Large plump shrimps swimming in a black bean sauce made with beef (traditionally made with ground pork). This dish is always amazing. Deep and savoury, the sauce is like a luscious gravy you want to straddle everything on your plate.
Kung Fu Fried Rice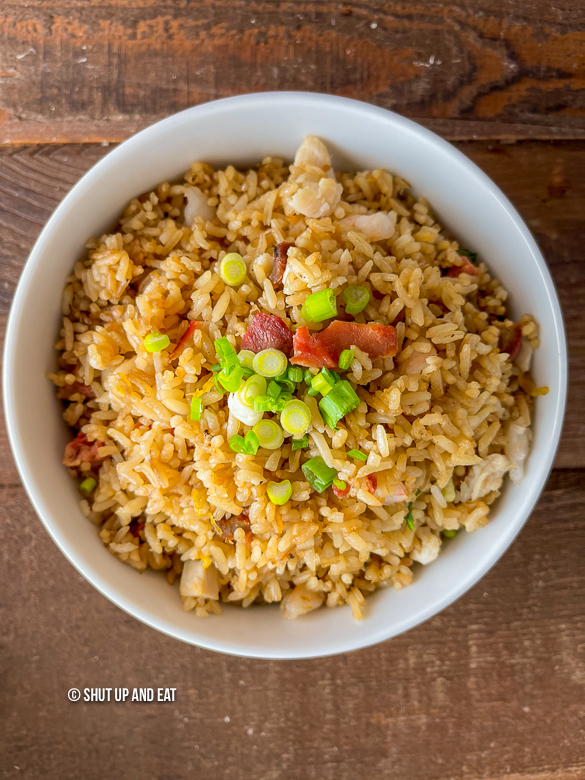 Your typical fried rice. It was made with pieces of chicken, pork and shrimp. Classic vessel to accompany any and all dishes. Great smokey flavour from well seasoned woks.
General Tao Chicken
I know you were waiting for this. General tao chicken. One of the most default dishes you can order when getting Chinese takeout. It's not takeout unless this dish is in your order. Large pieces of chicken, lightly battered and bathed in a sweet and tangy sauce. By far, one of the better ones I've had. What's noticeable right off the bat is that there is actual chicken in each piece. Large pieces of chicken. I'm tired of eating glazed deep fried batter nuggets from other places. If I wanted to eat a doughnut, I'd eat a doughnut. General tao: 9.1688/10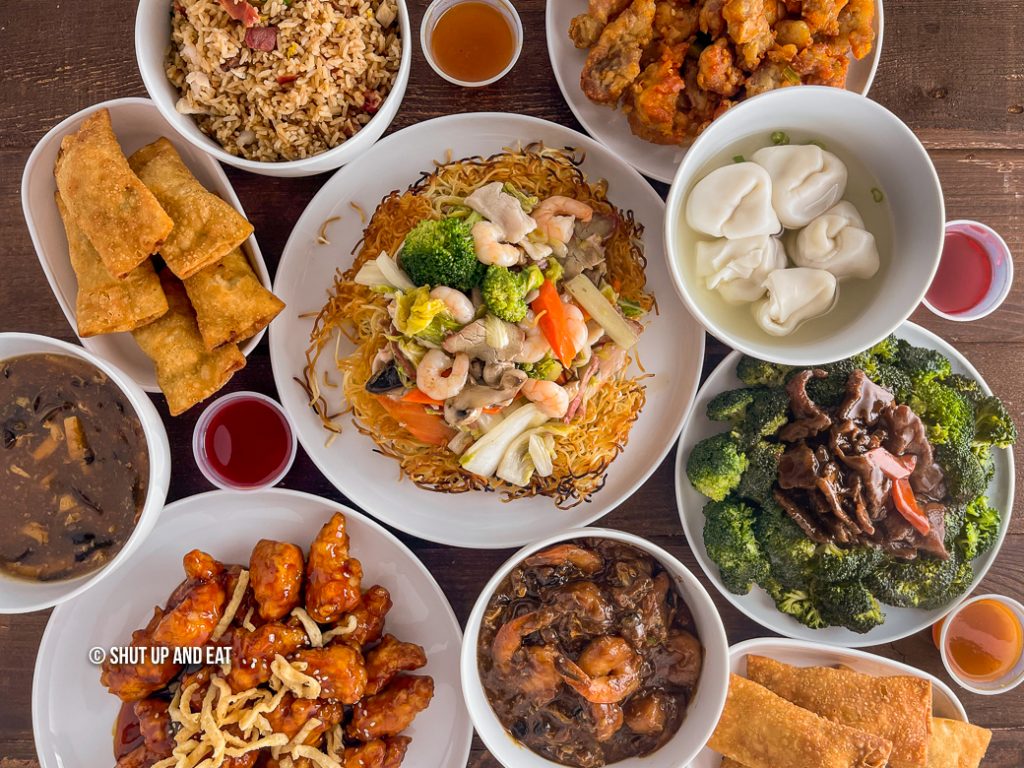 Cuisine Kung Fu Légende will also have a full service sushi bar with tablet ordering. Laval being their second location, they are in full expansion mode with multiple locations currently in the process of opening.
Cuisine Kung Fu Légende is focused on quality over quantity. This is evident with their bistro style open-kitchen concept. You'll be able to watch the master chefs tame their fiery woks as they prepare food to replenish the buffet tables in smaller batches. This results in assuring freshness and quality every time you fill your plate. Preconceptions of questionable buffet food are non-existent here as they are ushering in a new concept of the exploration of proper Chinese dishes that is accessible to everyone.
Cuisine Kung Fu Légende
1800 Boulevard Saint-Martin O, Laval, QC H7S 1M9
(450) 987-6866
https://kungfukitchen.ca
---
I was a guest of Cuisine Kung Fu Légende. Thoughts and opinions are my own.