When you think of Caribbean food, what do you think of? Spicy chicken and beef dishes, stews, plump roti, doubles and patties? Washing everything down with sorrel or peanut punch? Keep that thought. Now what comes to mind when you think of Caribbean food in Montreal? If one of the first places that comes to mind is the iconic Caribbean Curry House in Cote-des-Neiges, then congratulations, you know what's up. I'm happy to let you OGs know that your favourite Caribbean oasis has recently opened their second location! Can you guess where? That's right, Caribbean Curry House is bringing the tastes and flavours of the islands… to the WEST island!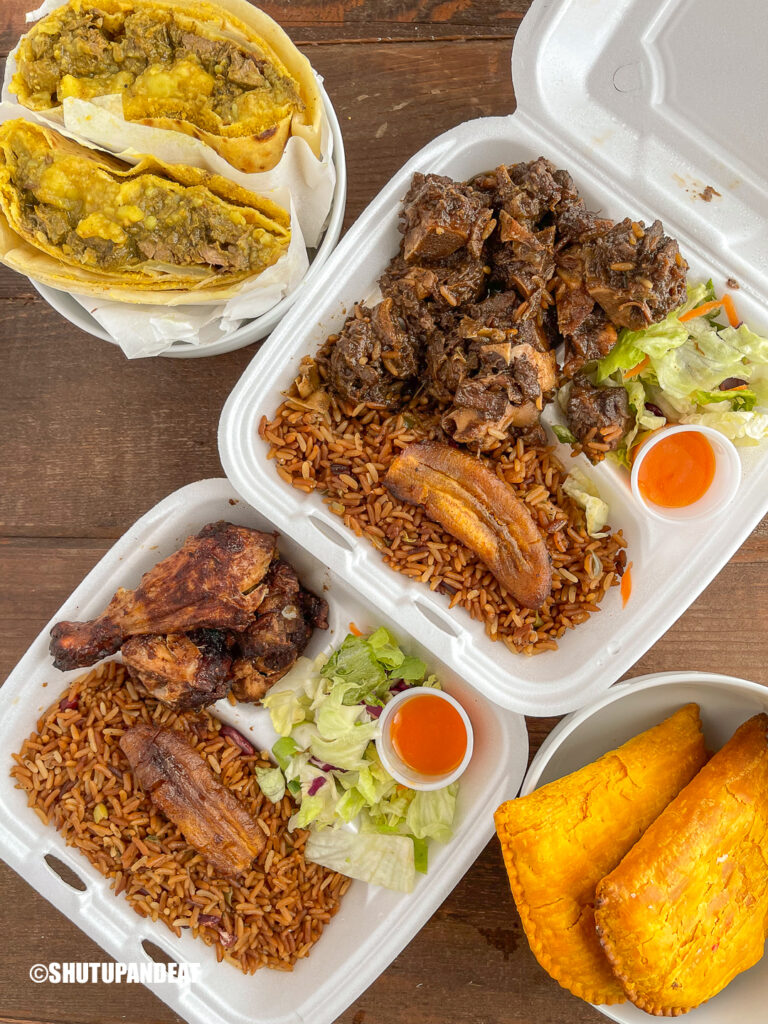 Synonymous with delicious Caribbean cuisine, this Cote-des-Neiges institution has FINALLY opened their second location in DDO. The menu is classic and concise – roti, "homestyle plates" and snacks and sides.
Beef and Goat Roti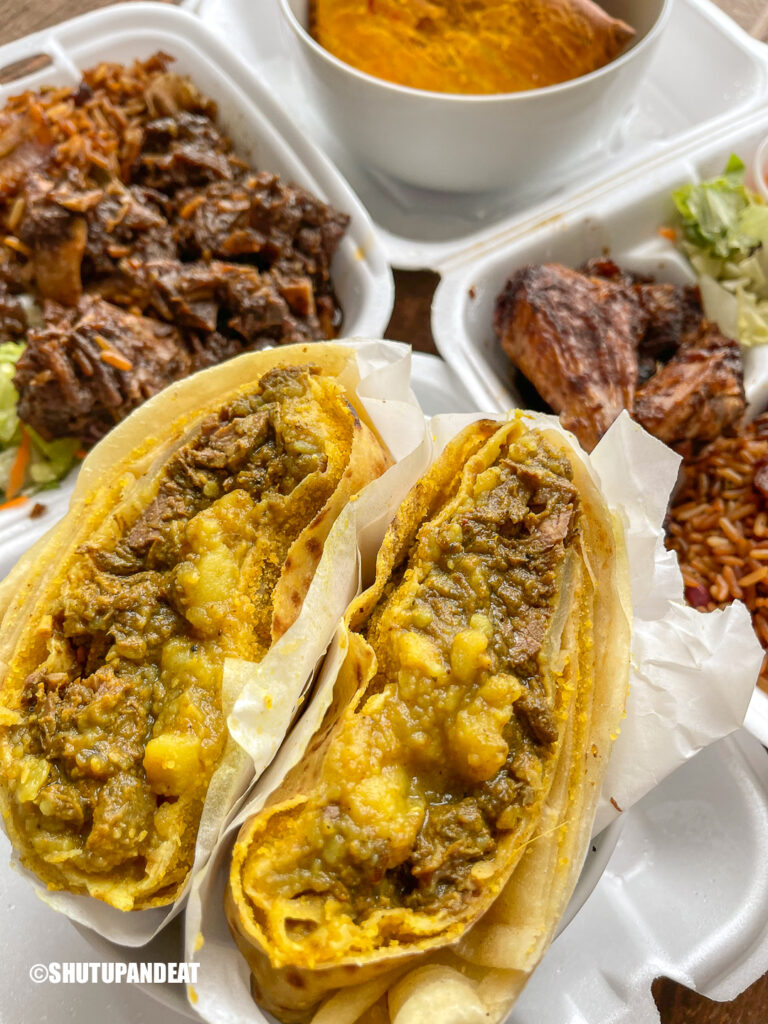 Caribbean Curry House's rotis' are famous. Not only are they delicious and packed with flavour, but they are almost the size of a bag of milk. A stew of potatoes, beef and goat is delicately wrapped in a giant flatbread that makes for a great snack. Or you can order the plate and make it a meal.
Patties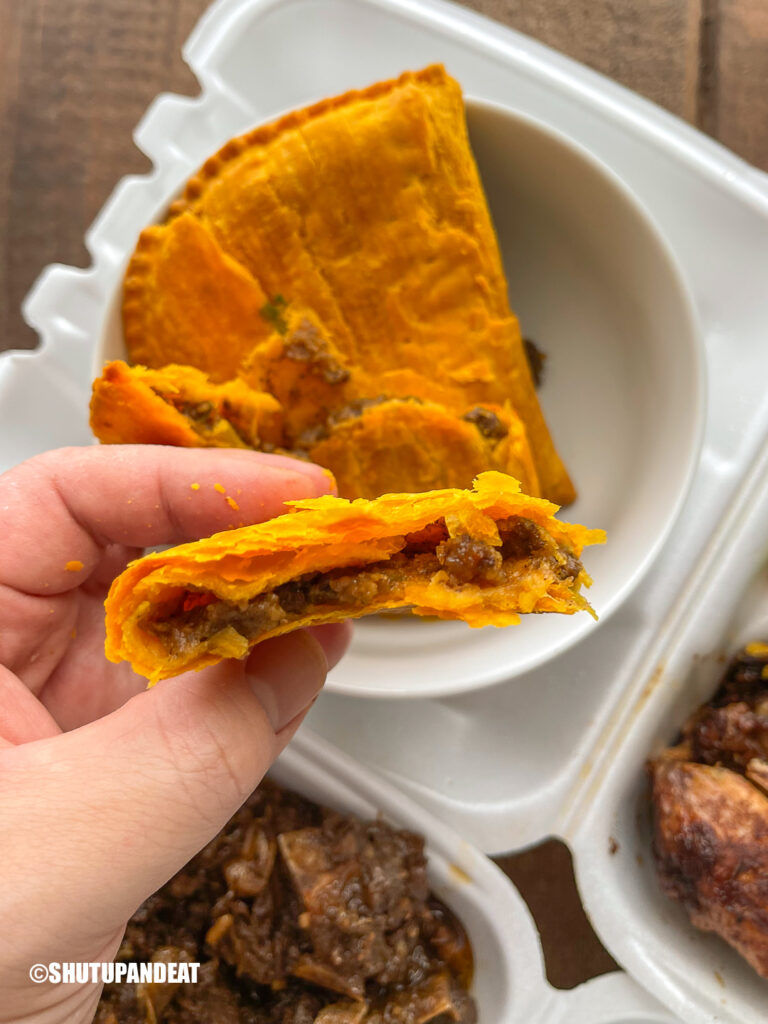 You can never go wrong with traditional patties. Flakey, spicy and always served hot. Even if you're not in the mood for a hand-held meat-pie, you'll find yourself ordering one of these anyways. There's two pictured, but I got three. Two beef and one chicken. One patty was eaten as the obligatory car-patty – it's been a few days and the random yellow flakes on the floor is evidence of it.
Oxtail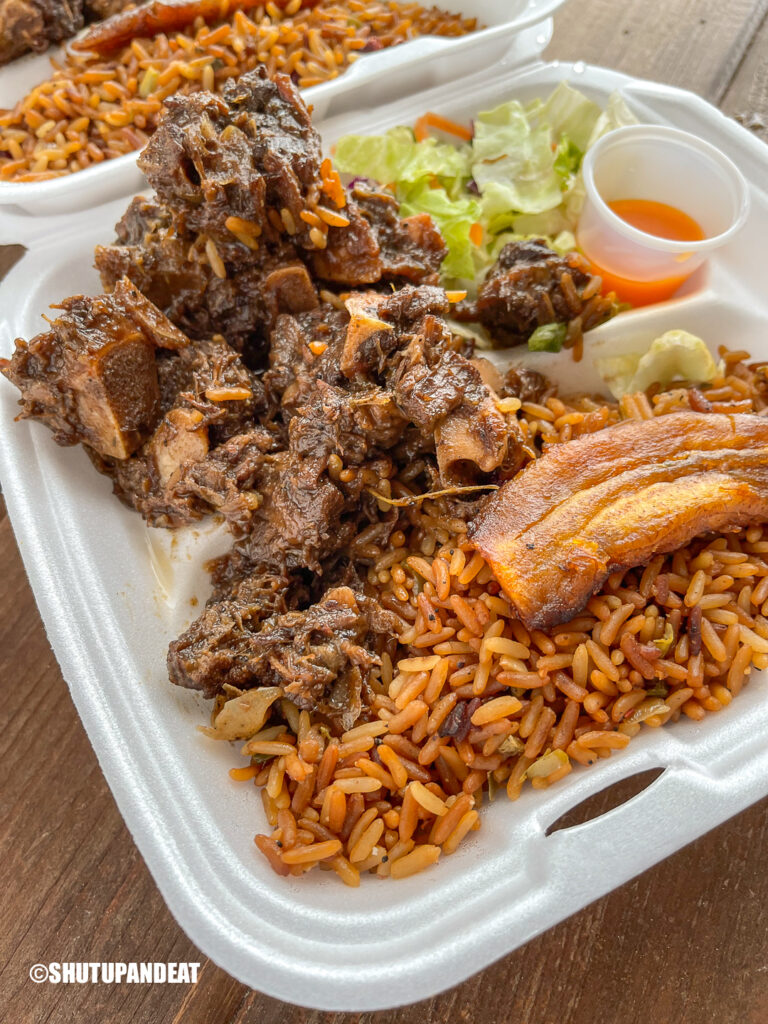 The oxtail is served with rice and peas, a three-bite salad with french dressing and fried plantain. A very generous portion of succulent, fall-off-the-bone oxtail that is guaranteed to give you life. The flavour of the stew is so deep it should be sitting on a cliff somewhere writing inspirational quotes. Hits of allspice, thyme, with a lingering subdued heat of scotch bonnet pepper; every bite is a party in your mouth.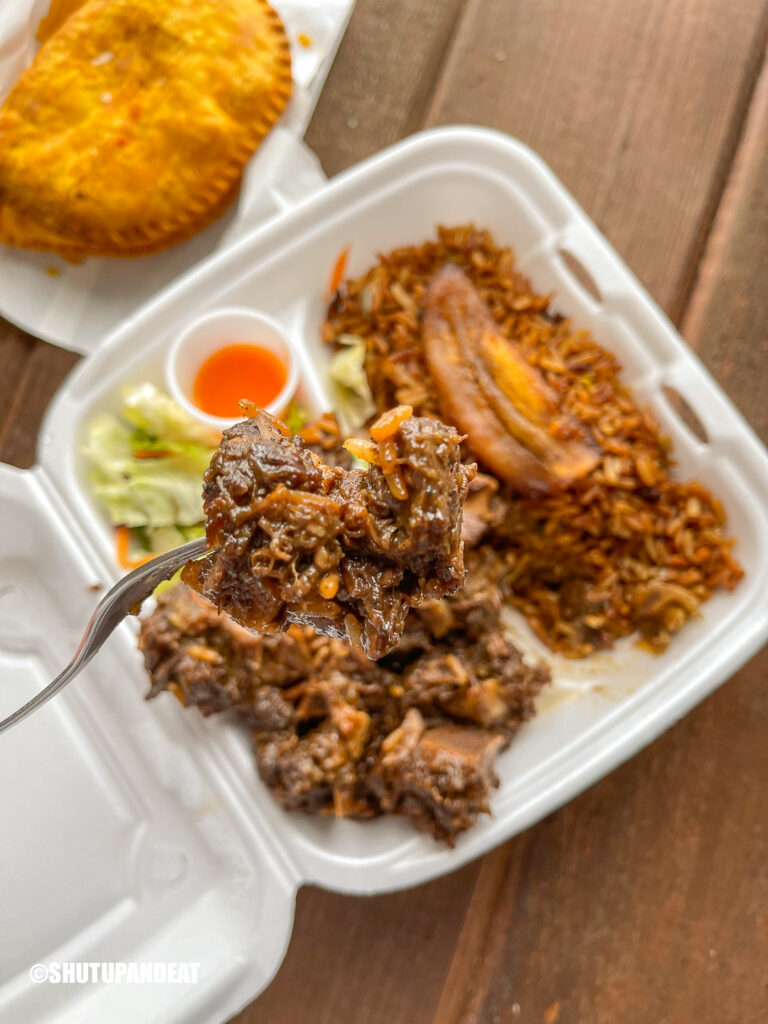 Oxtail is one of my most favourite dishes. After years or trying various recipes, I can *NEVER* cook it properly. Normal people would persevere and keep trying until they got it right. I'm not normal. I took it as a sign that I should leave it up to the professionals before I mess up yet another batch of oxtail stew and scare myself away from it forever. If you've ever had it, you'll understand.
Jerk Chicken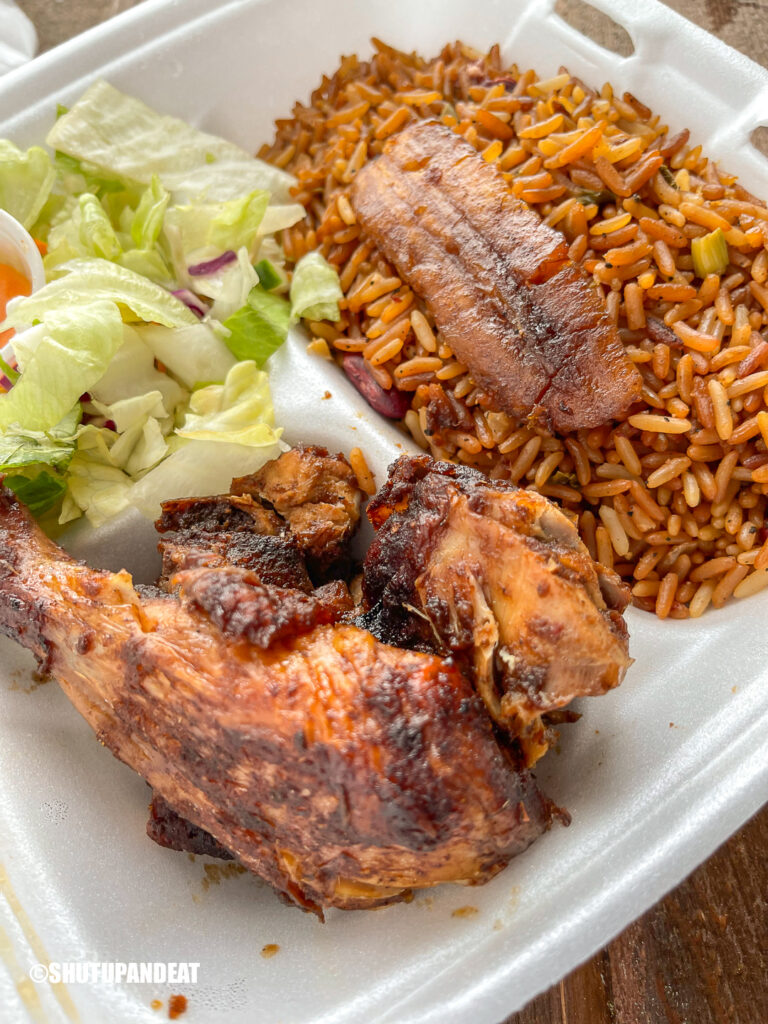 The jerk chicken plate (like all other plates – served with rice and peas, 16 shards of iceberg and fried plantain). I make fun of the "salad" because it's literally an afterthought. It's all good though; include something green, keep it healthy. I get it. Sure it provides it bit a crispy freshness in between bites, ok.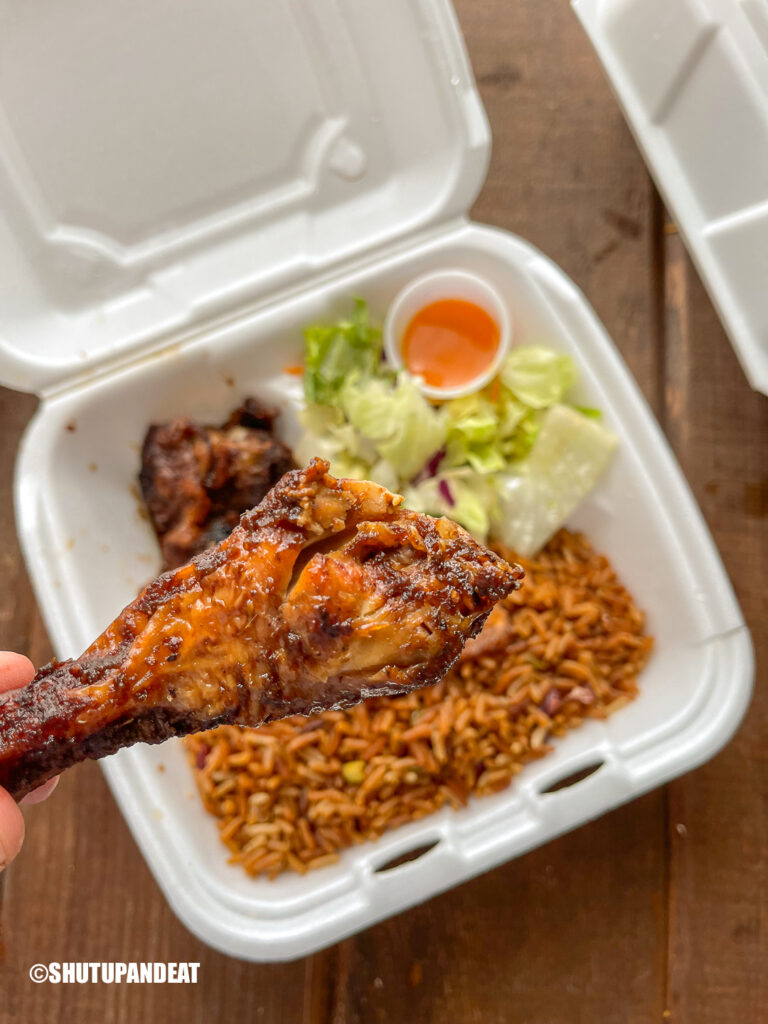 The chicken was nice and flavourful, if not a bit emaciated in size. But that's not something they control, it's not like the raised the chickens. The plate included the full leg chopped into pieces.
Located in the strip mall off Brunswick and Sources, this new location of the Caribbean Curry House is going to hit the spot when you craving for a taste of the islands. There's something about Caribbean food that hits different. I'm not Caribbean nor was I raised on the cuisine, but it's addictive. I'm guessing that it's the blend of spices and ingredients; the amalgamation of various cultures and cuisines that taste familiar and comforting. There is something about it that sticks to you and fills the void in your empty stomach and soul.
Caribbean Curry House
45 Brunswick Blvd
(514) 683-7373
https://maisonducari.com/