Ahhh summertime, the most anticipated of all the "times", when the days get longer and the skirts get shorter. Having literally felt the weight of Autumn through Spring, it's great to welcome back the plus 25 degrees and infinite sunshine. I equate the beginning of summer with the return of the token loud and obnoxious terrasse patron who believes that every drink is a drinking game and seeing my neighbour retying his canoe on top of his car everyday after having being untied everynight, by the neighbourhood kids.
But above all summer equals BARBECUE.
When I found out that Portuguese barbecue broke out in TMR, I took this news as serious as old ladies respect the "Limit 3 per customer" sign at Pharmaprix. The Town of Mont-Royal isn't necessarily the first place I'd think of when picturing a hot and happening new bistro, so I didn't believe it and had to see it for myself. I was told about it a while ago and just never had the chance to go until the other day. Like most of my recent discoveries, I went in hoping it would surprise me, I walked in and said out loud, I hope you impress me, and "Galo" did.

Galo is nestled in between the local florist and someone's driveway in a residential neighbourhood. I don't know how people sleep around here when their senses are being seduced by the smell of barbeque. Upon walking in the restaurant, even walking within 20 feet of the front door, you can literally lick sauce in the air. Just keep your mouth open and let the dewy drops of olive oil collect on your tongue. The menu comprises of typical Portuguese barbeque delights such as meat. Meat, served with meat, garnished with meat with meat on top of meat, next to meat and at an extra fee you can have a side of rice instead of fries.

We were told by our waitress that everything fresh and that the Chefs visit the markets everyday and that nothing is frozen, from the chorizo to the fish. We wanted to maximize the spread and variety so we ordered a mixed meat plate and mixed seafood plate.

All meals come with *one* dinner roll per person – which we found out later that there was a 60 cent charge per additional roll. Nothing special, it was bread.

Meals are started with a salad as well, which is, let's face it, for physiological purposes only. After eating the amount of preceding meat, you're going to need a kick start to get it moving through your system. If you're going to eat here, you know that carnage will be eaten by the plate fulls and vegetables will just be an insult to your colon.

The mixed seafood plate – which consisted of grilled squid, shrimps and a whole sardine. Whole sardine means that there's bones in the fish with the head on, as opposed to the boneless and headless kinds that swim around, so be comfortable with the fact of manipulating a fish carcass on your plate.


There was a little 'Je ne sais quoi" about the fries, they were sweet to the taste and crunchy to the bite. Despite the fact that they were a greasy and marvelous – which in some weird way, I felt that the fries NEEDED to be greasy – they managed to work well with the seafood. The squid was cooked perfectly. They were crunchy and NOT RUBBERY. There isn't anything worse than feeling like you're chewing on a mouth full of extension cord.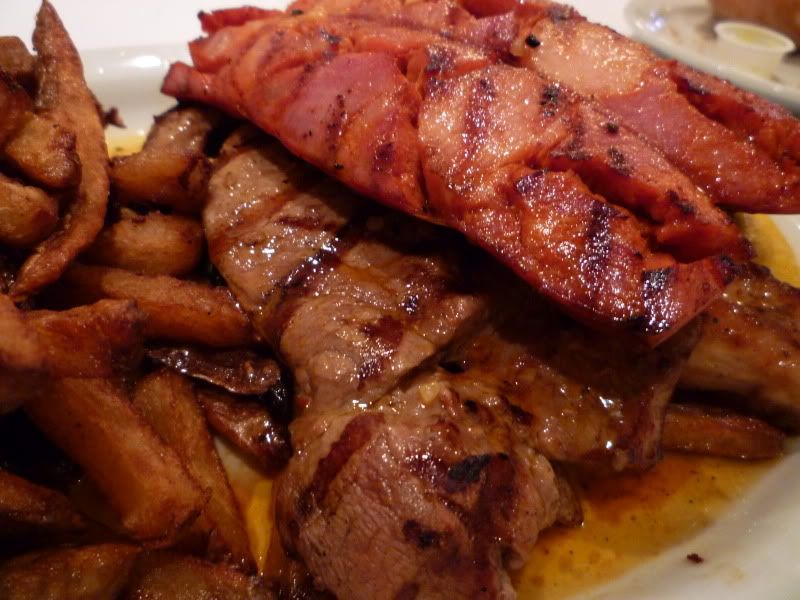 The mixed meat plate, which comprised of a spicy chorizo, pork chop and half a friggin' chicken. Both plates came in a one or two person option where both plates would be doubled in portion (duh).


The Chorizo was just enough spicy.

The chicken was perfectly grilled. White meat (not my meat of preference) was still moist and tender. I'll admit it's really tough to find properly grilled chicken that's still juicy and not dry like a summer day in Africa.
After the gluttony, we managed to save room for dessert, how that happens with barbeque, I have no idea. Usually in the presence of people cooking with fire, our neanderthalic instincts are summoned and we prepare to engorge ourselves with as much kill as we can. In another time, dessert would have comprised of wild-berries and ticks out of each other's back-hair.

The name of this dessert escapes me. I was told the literal translation of it was "Cream from the Sky".. yeah, make your own jokes.

It was made with fresh cream, tea biscuits soaked in espresso and topped with strawberries. A Portuguese tiramisu of sorts… A Portuguesesu if you will. I suggested this name to the waitress which she answered with a hearty laugh. Judging by this, she either thought I was an idiot or that was the kind of laugh she'll have on the way to the bank by copyrighting this name.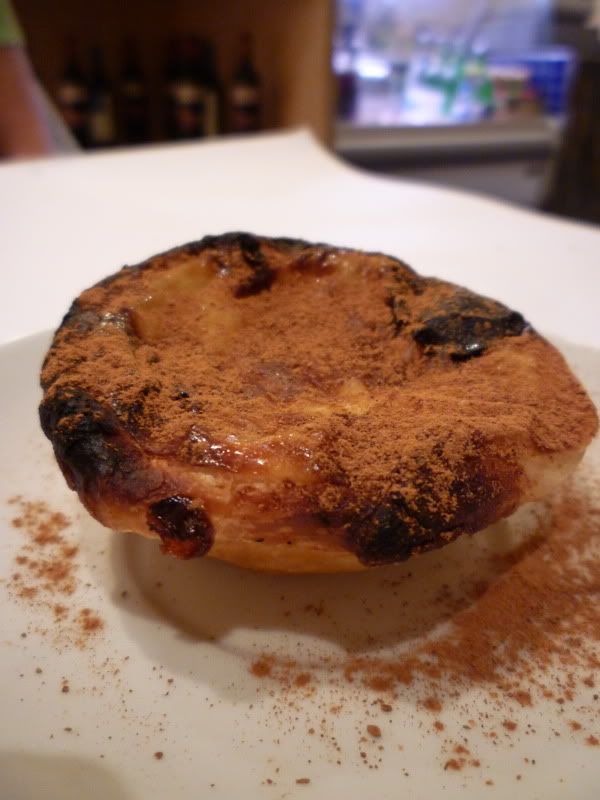 We also ordered an egg-tart, which should not be confused with the Chinese version. It doesn't look too pretty on the outside when it's served up on the plate topped off with cinnamon. On the outside it's charred from being heated up on the grill but on the inside it's bursting with thick and creamy delicious egg custard. The Portuguese version is like the Amy Winehouse of the egg-tarts, it's black and dirty and weathered and gross on the outside, but that crazy bitch sure can sing.


This is how it's done.
I know the idea of being situated next to a geriatric lawn bowling league isn't as appealing as the hustle and bustle of the trendier strip of St. Laurent, but Galo stands strong on its own. The only stain they have is the lackluster performance of some of the wait staff. Almost being knocked in the head twice with a table stand by the a busboy moving a table, and staring at me blankly like I looked like his mother in a swimsuit when I asked for water, decor and food make up for it. The waitresses were knowledgeable and very helpful when asked about items on the menu. So if you're looking for a change of pace and relish FREE PARKING, Galo, you know, is the place to go, yo.
Happy St. Jean everyone! Party responsibly! Celebrate St. Jean the Baptist by passing out on Labatt and waking up to someone hosing you down in the front lawn of someone you know! YESSIR!
1970 Graham
Town of Mont-Royal
514.504.5110