Montreal boasts over 6000 restaurants but why is it so friggin difficult to find a decent meal after 10pm? This is one of those times where I would say, "If I had a dollar for every time I've been left hungry because a waiter told me the kitchen closes at 10″… I would probably be a lot less bitter of a person than I already am with a crap load of loonies in my pocket. That was until I was recently told about a few restaurants who have special late night table d'hotes. WHAT? Crazy right? Not as crazy as having a Hereford certified Entrecôte, or Veal liver in a raspberry reduction at 10:30 pm all for less what what it would cost you to order a pizza.
A bunch of us met up Friday night at Chez Lévèque to see what this mystery table d'hote was all about. We got there around 9:30 and was seated almost immediately. We skimmed the pages and flipped directly to the "Faim de Nuit" table d'hote, where they brag 21h00-$21.00 (that's 9pm for the French speaking readers, military people, and East European VCRs').
I apologize for the shady pictures, we got caught in bad lighting and was hesitant to use a flash, as a beaming xenon bulb doesn't make too much look appetizing, unless you're driving a V8.

We were greeted at the table with cornichons (French Gherkins) and a bowl of tapenade (minces olives, capers, sardines and olive oil) – traditional French inter-course pallet cleansers (HA! GET IT?… pallet cleanser for in between courses, is maybe what I should have said.)
The "Faim de Nuit" table d'hote consists of a choice of an appetizer and main, or main and a dessert. The menu was typical French fare, rustic and 'rural'. I eyed over the choices of the in house smoked salmon plate and escargot and onion soup au gratin and settled on the duck and pistachio tarine with porto gelée.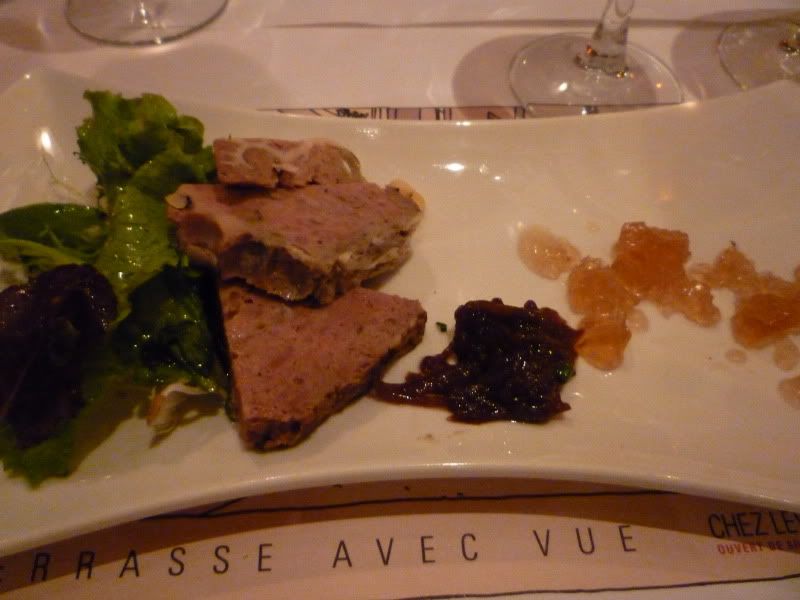 Basically a deconstructed pâté. I think it does without saying that a little bit of each element spread on a slice of baguette is the way to go. While the other two opted for dessert, one friend had the smoked salmon appetizer, which was… smoked salmon. There's always something commendable about a place that will go through the trouble to smoke their own fish. Although home made smoked salmon to me always tastes somewhere between a lightly cured sashimi and not yet Lox.

I had the 8oz rib steak. It was served up with a béarnaise sauce, steak fries and market vegetables. It was perfectly pink and tender, well rested and exactly how I ordered it. Only complaint was that they missed the rubbery connective tissue in the butchering, I remained calm as I pulled what seemed like dental floss out of my steak.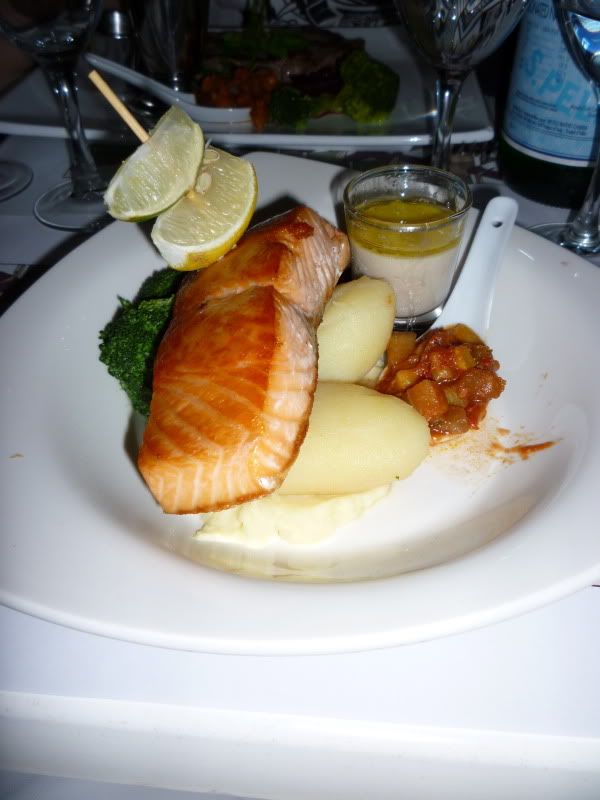 One friend ordered the salmon which was lightly smoked served with potatoes, vegetables and a whiskey velouté sauce, which is a kind of hollandaise. This dish executed delicately. The fish was perfectly medium rare with the slightest tinge of smokiness that left a noticeable aftertaste, kind of like kissing your significant other after they smoked a cigarette 15 minutes before… but without the cigarette and gross ashtray taste.

My other friend opted for the crab cake. It was served with a slice of bruschetta (which I'm 100% sure that there's a French version with a French name, but I don't know it so until then, it's Italian bro.) This dish surprised me as it was not served up how we're usually used to seeing them; battered and deep fried. Delicately composed and quietly sitting, I felt as though it wasn't crab cake doesn't have enough of what it takes to prove itself as being a main course. Being surrounded by vegetables and some sort of starch was its pitiful attempt of justifying itself as a big kid sitting at the adult table, kind of like CSI Miami, it has the name but we all know it's not really a CSI. But that's just me, I think this dish is a great light alternative, not everyone needs to feel sleepy after a meal… heh.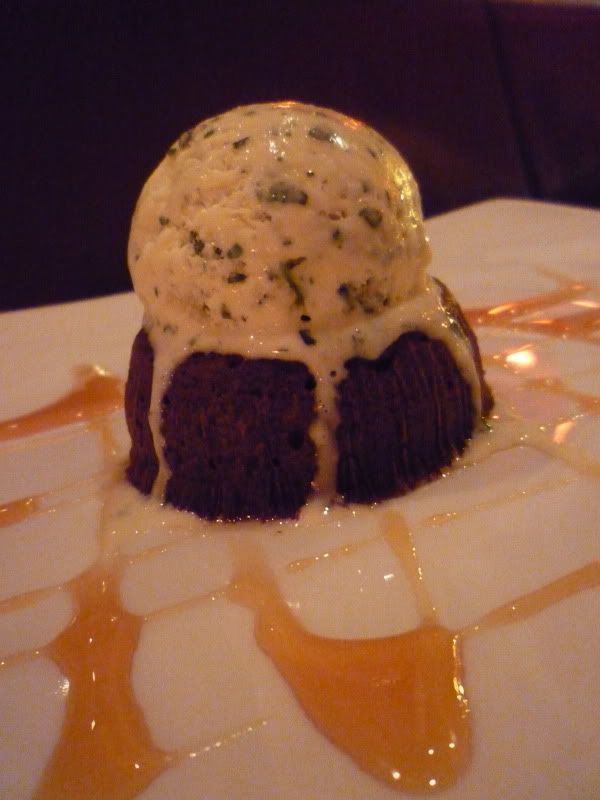 The dessert option was quite impressive. There was no special watered down version of a real dessert choices on the table d'hote menu, as the dessert options were that of the regular a la carte menu. This was the dessert that we somehow picked unanimously. A two chocolate, chocolate cake served with a scoop of tarragon ice cream. I was skeptical at first, but wanted it to surprise me and it did. The herby taste of the ice cream cut through the sweetness of the chocolate as well as the drizzled caramel.
All in all Chez Lévèque was a pleasant experience. Keep in mind that it's a French restaurant in a French area of the city. The menus are also in French, and if you're lucky enough, you won't get stuck with a snooty waiter who obviously wasn't scheduled to work the nine to midnight shift that night but got suckered into staying. Also, the mix of Kenny G and "Swiss" chill radio (I knew this because of the station identification played periodically) seemed to contrast the overall atmosphere and old French decor. These distractions however, didn't deter from the charm and its ability to transport me back to that place in St. Germain-des-Pres in Paris I spent that one summer, where the register was copper and I was able to buy cigarettes and pay for my meal at the same time.
Chez Lévèque
1030 Laurier ouest
514.279.7355
http://www.chezleveque.ca/
p.s. The signage is covered up by their huge obnoxiously canopied terrasse. I think these guys are one of the reasons why this stretch of Laurier was shrunk due to the makeshift summer terrasses that force the street to rearrange the street paint. So look for the big red tent!
p.p.s Points if you can tell me where this post title is from!.
p.p.p.s. Happy Bastille Day!