What kind of meal leaves you warm and fuzzy inside and ready for a nap after you're done eating it? Italian! Pastas, various cuts of meat breaded and deep fried, and stuffed things… But, me, I pronounce it "Eyetalian", why? Cos I'm from Montreal, bro. However, not being Italian nor being an expert in Italian cuisine, I can still safely say that I know good Italian food when I have it, having been surrounded by it and some of the best Italian in Canada, if not, this side of the Tiber. This puts me in a peculiar position, how do I talk about an Italian place democratically without rendering me petrified to start my car after I post this entry? Ma, I gotta do what I gotta do.
I went to this local Italian place on Sherbrooke in NDG called Pasta Casareccia. Small place that's half restaurant, half, Italian specialty store. I've been there numerous times, and figured it was about time I wrote about it.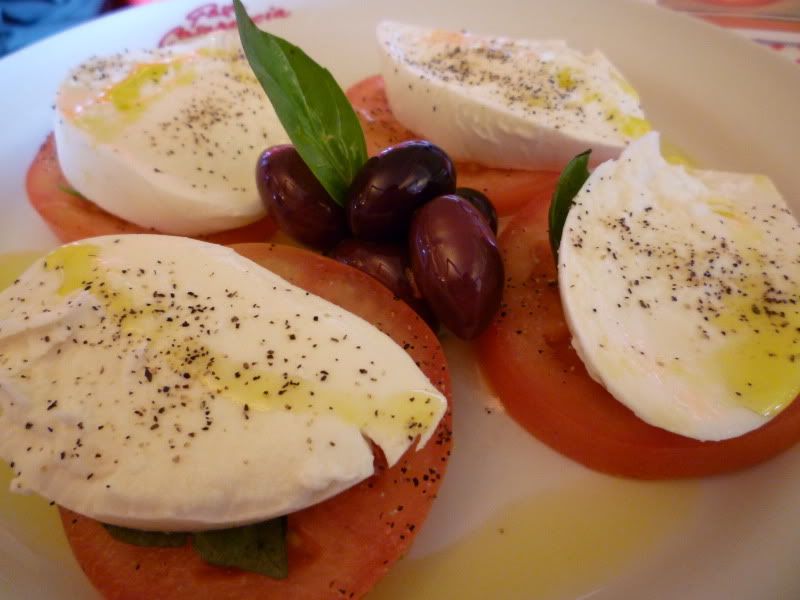 I started off with the caprese salad. Really crisp tomato (I like my tomatoes just a tad under ripe – as they should be eaten, ALWAYS) and incredibly fresh cheese, drizzled with a really good olive oil. The cheese was rich enough to make itself lactose-intolerant, warm, and chewy and full of gastro-track rearranging properties to the weak who refuse to tolerate lactose and it's non-sense.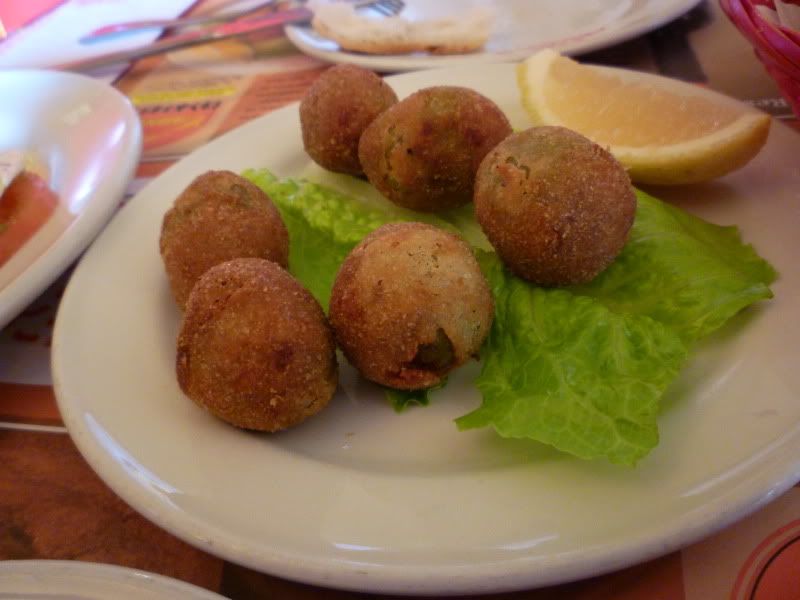 My friend had the stuffed olives. We initially saw these on their custom printed place mats and were wondering what they were. We inquired and were told that they were stuffed with meat, battered and fried.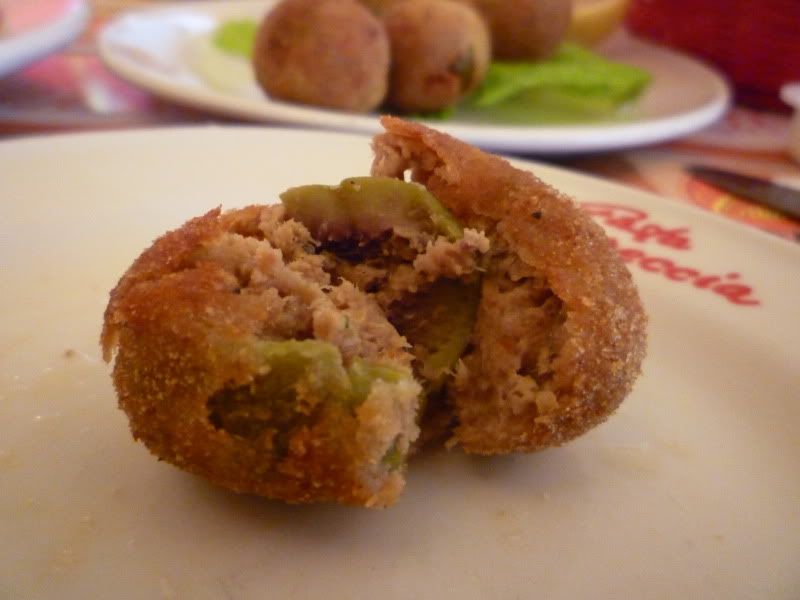 I don't know where they found these mutant olives, but they sure were deliciously gigantic.
The menu is typical of that of any Italian menu, sauces are listed in detail and you pick your choice of pasta.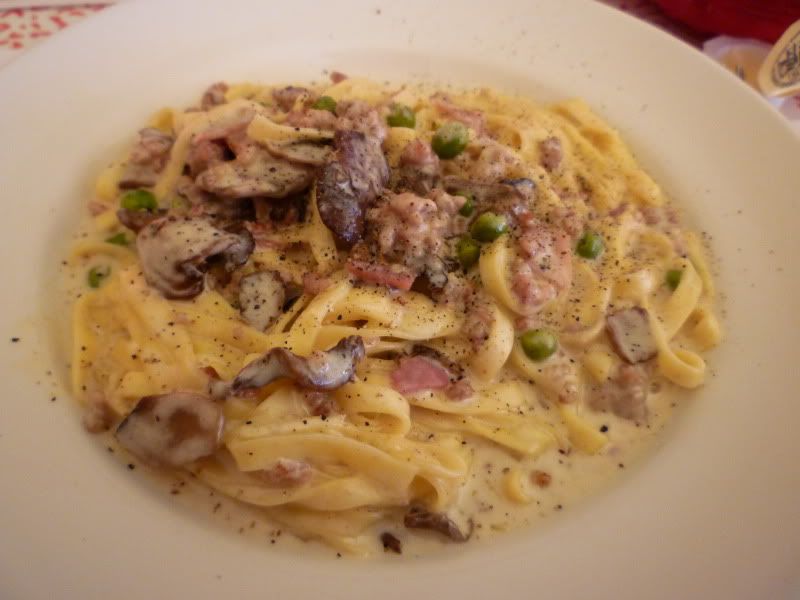 I had a fettuccine in a creamy white wine sauce with mushrooms, peas and BACON. Sinfully rich and filling, this dish should come with either a warning or a pillow, because it was lights out after this plate. Needless to say I went home and didn't get any work done for the rest of the afternoon as I was too busy focused on not getting any pillow creases on my face. Bacon is good for you. Eat more of it.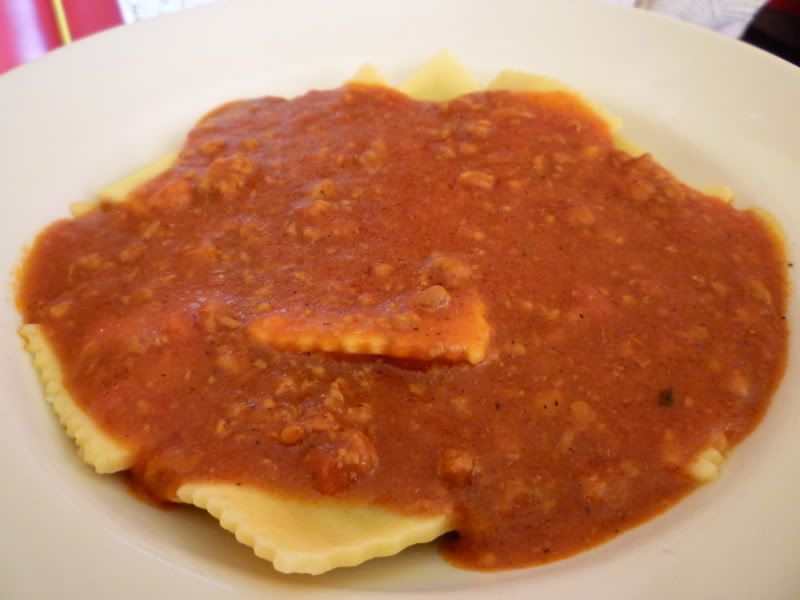 My friend had the spinach and ricotta stuffed ravioli in bolognese sauce. Extremely hearty and favorful, definitly not the same stuff that comes out of a can made by a fat man… although the chef here CAN be a fat man as well, but I doubt he's some dude from Ohio. Small in size, but big in flavor, kind of like the token little guy on a basketball team… not to say that the little guy on a basketball team tastes good or anything… what the hell am I saying… it's small in size and packs a big punch is what I mean! Geez!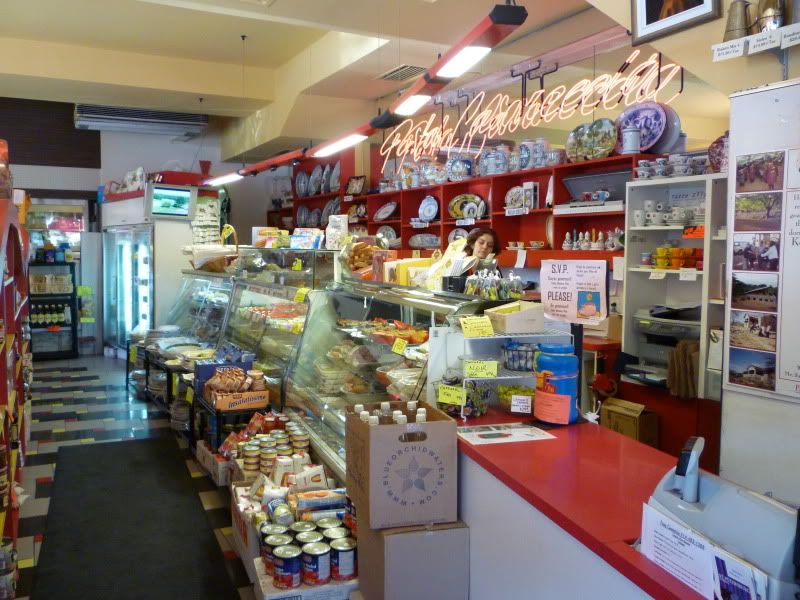 Don't forget to check out their deli counter for pre-made Italian meal-item favorites – they seem to change daily, I assume that the pre-mades are a result of what's on the market for that day.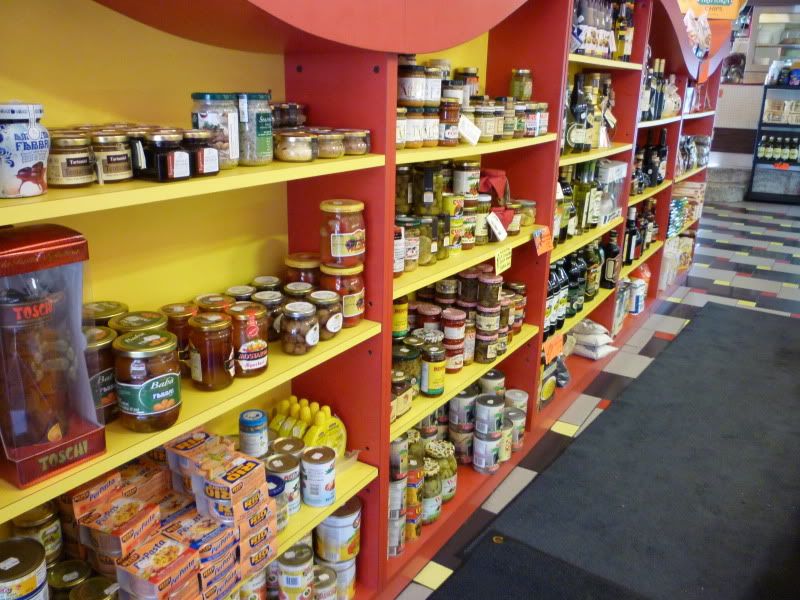 As mentioned before, Pasta Casareccia is half restaurant, half Italian specialty store. There are tons of little treasures and specialty food items to discover. If you're looking for something they don't have, I have a strong feeling they might "know a guy" who can hook you up with two of what ever it is, so never be afraid to ask.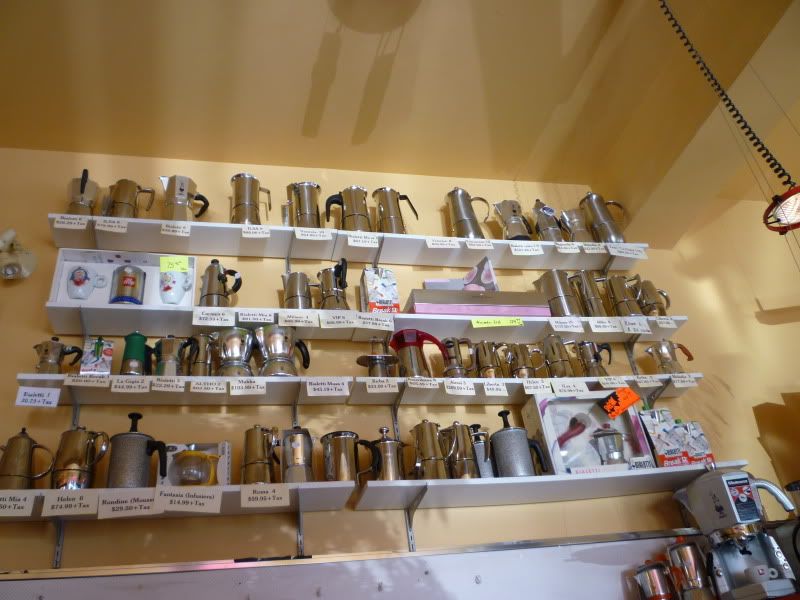 Great variety of coffee percolators and espresso machines for sale.
A meal here feels like a big hug from a short chubby Italian lady who may or may not have a whisker or two. So whether you're looking for a mean meal or specialty items, this place is a must. Also, don't get startled when your dish takes its time to arrive at your table, as their name states, they make their own fresh home-made pasta, so it's definitly worth the wait.
Pasta Casareccia
5849 Sherbrooke W
514.483.1588
p.s. REMEMBER… pasta EXPANDS.