Autumn in Montreal… it's 17 degrees and you're walking around with a jacket and the hot weather lady calls it "chilly", five months ago, kids would be waiting by the door for these temperatures, itching to get out in tshirts and shorts. I was driving around the other night and couldn't escape the smell of burning, and realized people are already using their fireplaces. I should have gotten the clue that cold is coming considering Halloween candy has already hit the shelves.
I met a buddy for lunch today who's in town from B.C. for a week. It was stipulated that when he came back, we'd be going for lunch and trying some place we both haven't been to before. I've read some reviews and decided that I had to check out "Le Pick Up" for myself.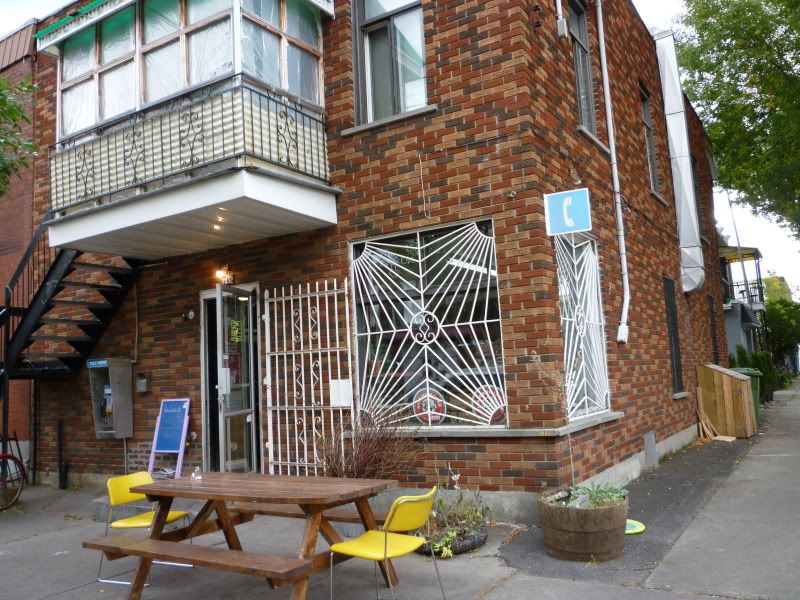 This place screams down low. Located right in the middle of a residential neighborhood, it's totally non-descript; and you would probably miss it if it wasn't for a recycled children's chalk-board easel sitting in front with the day's specialty items… and the picnic tables and chairs kind of give it away too. So maybe not THAT inconspicuous really, maybe it's just that they just don't have a sign.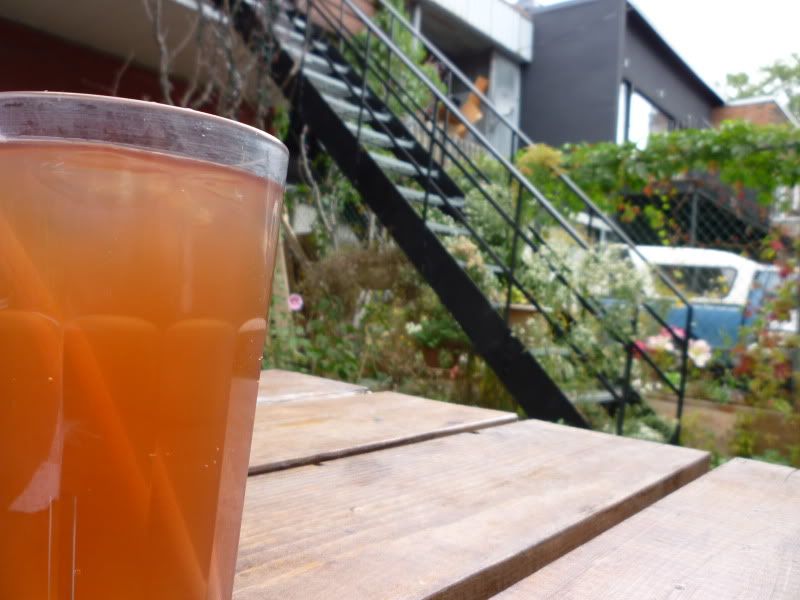 We took a look at the menu which was straight up and simple. We took a seat outside, and being in a residential neighborhood, there's a certain charm to actually sit in a "backyard" and this one next to the neighbor's black market satellite dish and balcony they use as storage… yes, they're located next to THAT neighbor.
Pictured: house blend iced tisane.

To maximize our gastronomic experience, we split everything. This is the side salad, which I was told was pretty much a Waldorf salad. Really crisp greens, sliced green apples, wild grapes, walnuts and a well cured blue cheese, it was definitely a great surprise.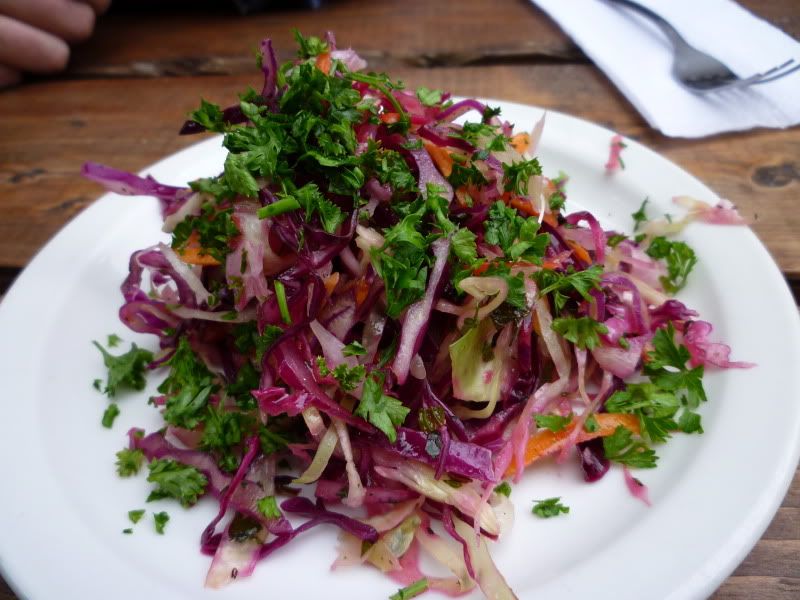 The red cabbage coleslaw with parsley and mint.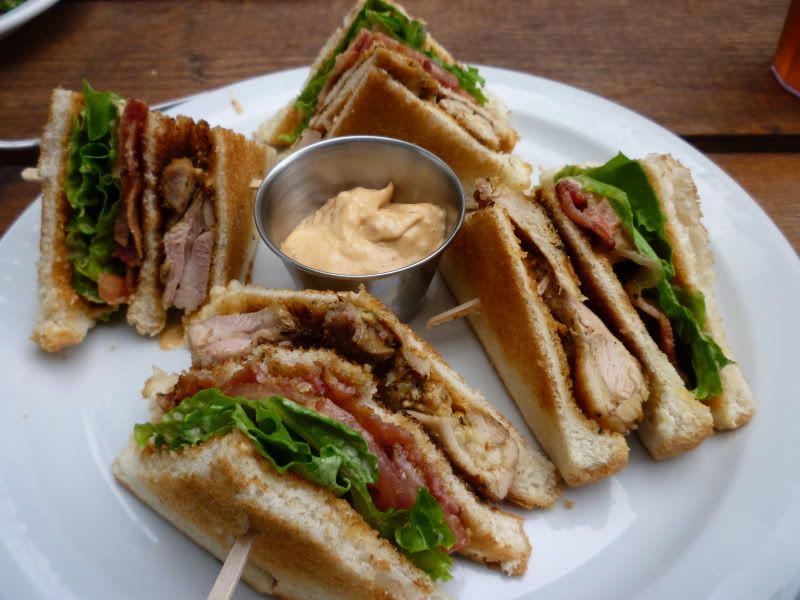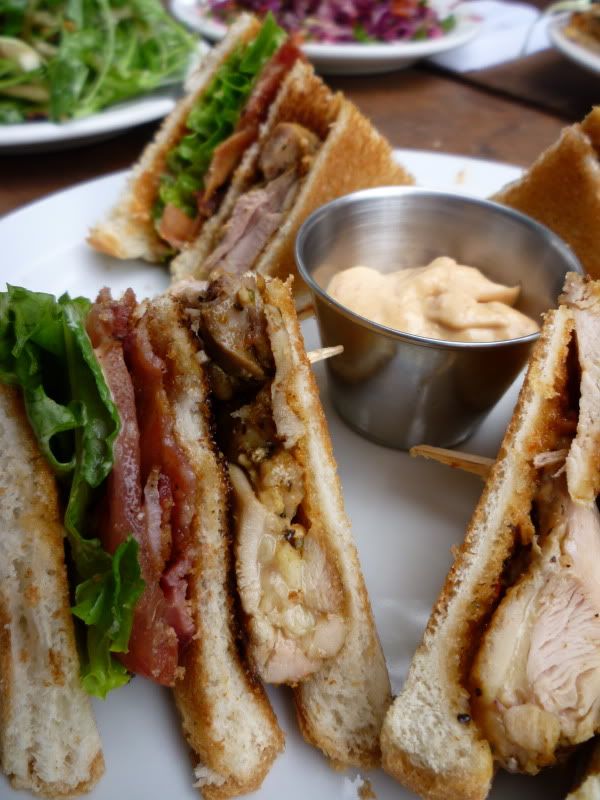 We first split the chipotle club sandwich. I was really impressed that the chicken they used wasn't the same old boiled white meat you'd find in a club sandwich anywhere else. Skillfully grilled, it remained juicy and was served with a spicy mayo. I've professed how much I love a good sandwich, and normally I really like thick and chewy and crusty bread. However, they pressed toasted the bread on the griddle, so the idea that my sandwich looked like it was served up on crackers was overlooked due to the fact that the bread soaked up the smell and essence of the flat top.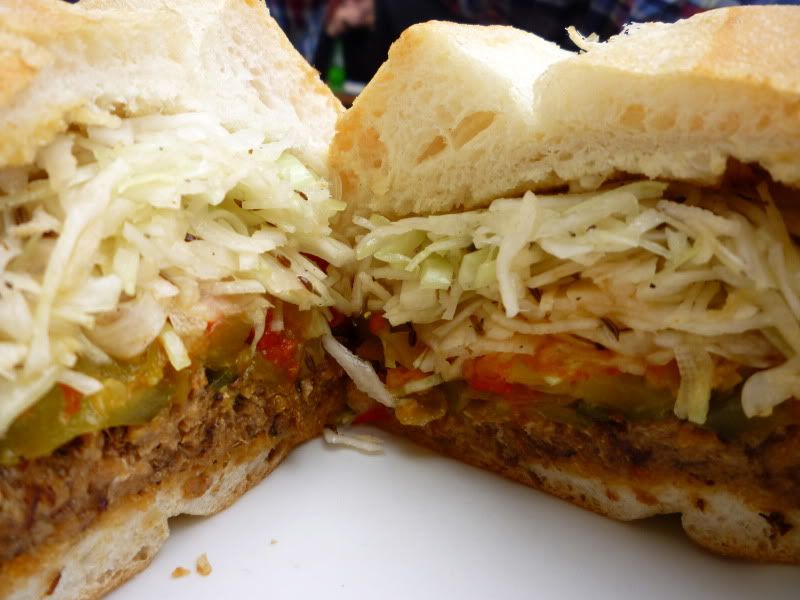 This is Le Pick Up's claim to fame. Slow roasted pulled pork sandwich in barbecue sauce, served with grilled peppers, coleslaw on a Portuguese style bun. REALLY tasty. Straight up. There was a certain zing to the barbecue sauce and it was complimented perfectly with the crunchy slaw directly in the sandwich. All it was missing was fries and they could have called it a "Po'Garçon".
We thought we were done until something – compelled us to sit at the counter – drew us inside. We decided to split a sandwich. We asked the chef to recommend something and he decided that we were going to have the day's special, which coincidently he was having as well.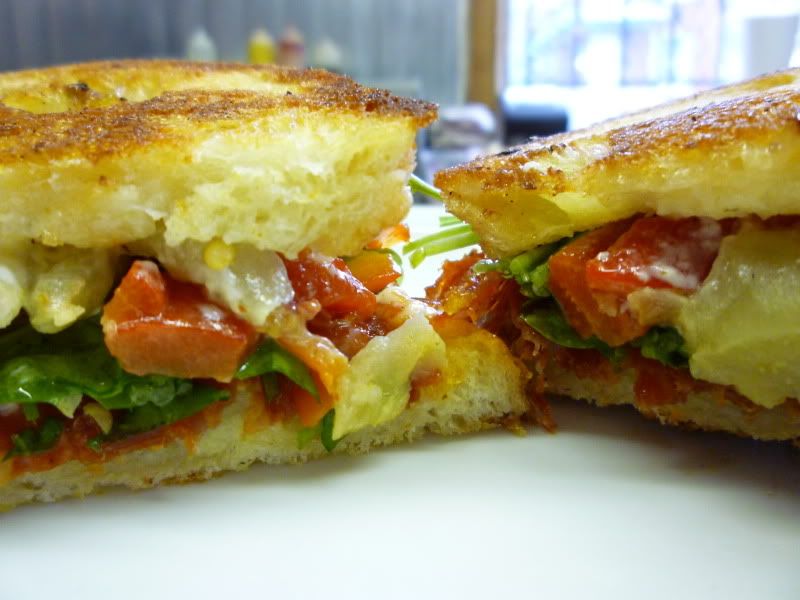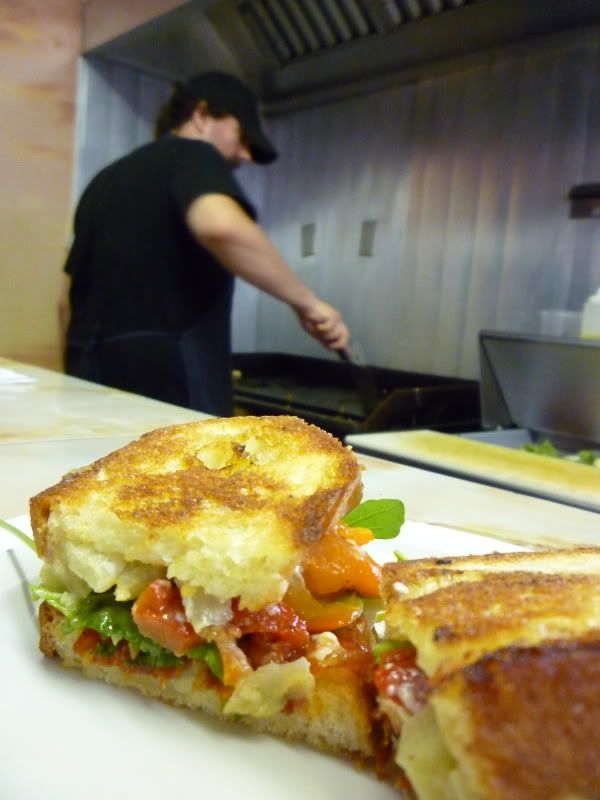 A capicola sangwich, on country bread, served with arugula, roasted peppers, tomatoes, cheese, mayo and marinated eggplant. If this is the type of sandwich they're putting out as a "daily special", then there's no saying what other wonders of the sandwich world they're coming up with.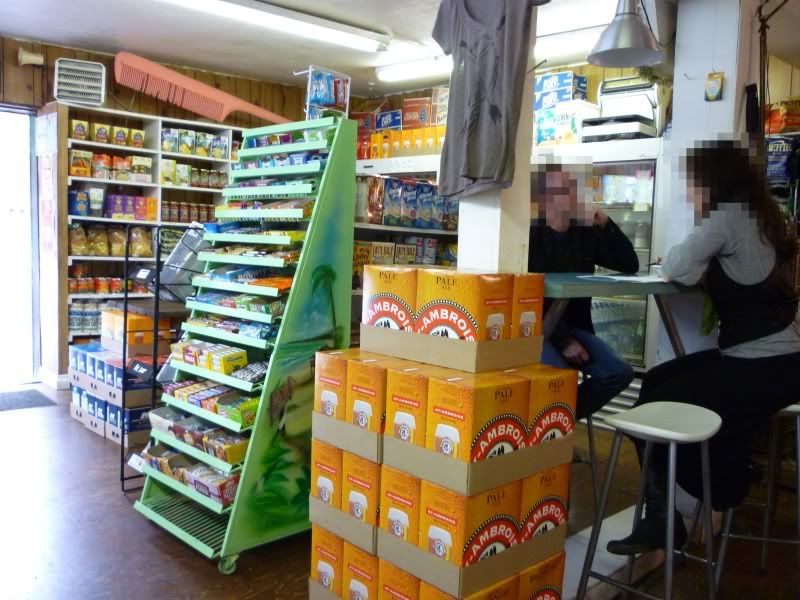 Not to discredit the name, but they're really a fully functional depanneur, however I don't see anyone coming in here for something other than gum, drinks and one kind of booze. Stock resembled inadament props as supporting characters to the main players which are the hearty sandwiches being churned out of the diner counter.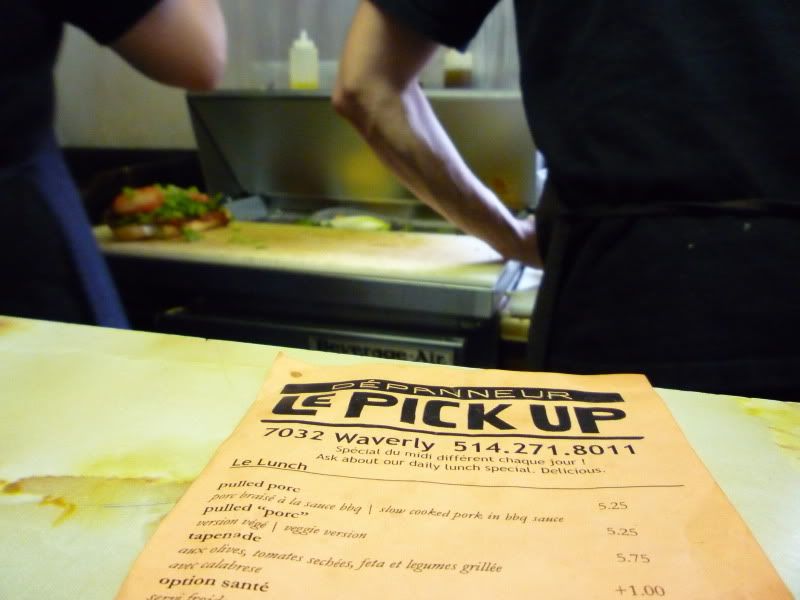 So for a Tuesday afternoon, Depanneur Le Pick Up was a really great place to go. Great staff, totally friendly, we ended chatting up the chef and he was sharing his culinary experience with us. Service with a great smile, I left the place with a little crush on our waitress…. dawwwwwww shucks. The atmosphere was something to experience; rough around the edges, but this is exactly its charm. With Johnny cash playing in the background, the faux wood finish of the walls accented with Christmas lights complimented the out of place beach print mural. I find it admirable to go through the effort of braising and slow roasting their own pork, and with the ingenuity of unique sandwiches, this will yield Le Pick Up with an edge for many years to come.
Dépanneur Le Pick-Up
7032 Waverly
514.271.8011
http://depanneurlepickup.com/
Notable: All espresso drinks are fair trade and organic.