I hope everyone is having a great start to the new year and adjusting to writing 2010, I on the other hand was stuck in '09 for almost a week… kind of like daylight savings time when I usually end up spending half of the first day living an hour in the future. I've been banking my restaurant excursions and filtering which ones I need to share with everyone. Don't worry, there are a bunch of great ones in store, so stay tuned!
I got a heads up on a Mediterranean restaurant in the plateau called Au Tarot. A small little place on the corner of Marie-Anne and Beri, this place serves up tajines and couscous. Mediterranean, as stated on their menu, is referring to nothern-African-southern-"Mediterranean". As when I think "Mediterranean" (and I'm sure I'm not the only one) think lots of feta, seafood, and olives. We totally forget about the African based Mediterranean food, and in this case, more specifically Tunisia as that's the flag featured on their signage.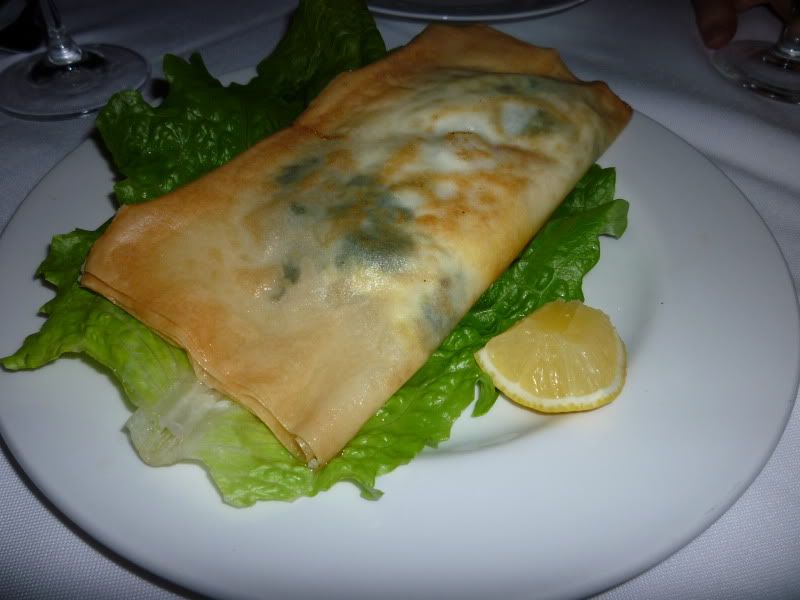 On a suggestion from a friend, we ordered the spinach brik. A pastry of sorts. Spinach with tomato, cheese, wrapped in phyllo dough. We weren't told nor warned, but when we cut it open, it oozed with yolk. I didn't mind and quite enjoyed it, my dining companion however was a bit grossed out about it. We asked the waiter, (who coincidently was the owner) if the egg was supposed to be cooked, he said no.

For the main course we asked for suggestions and were told that the chicken tajine was very popular. Gently braised, the meat was falling off the bone, which we deducted that a dinner experience is heightened when knives don't need to be involved. It was tajined with olives, preserved lemons and various herbs and spices. Extremely aromatic and fragrant, the process of cooking the chicken left it very moist.

The tajine is served with the vegetables that are included in the stewing process. Like the chicken, the root vegetables were really fragrant, taking on the herbs and spices of the broth, highlighted with raisins, and chickpeas (which I might mention are neither chick nor pea). I was a bit disappointed however that the "tajine" wasn't served in the actual tajine that the dish is named after. Whether or not it was used as the cooking vessel, or the menu item was just named based on it's technique and tradition, I didn't get a chance to ask.

Our second main was "Souris d'agneau", which literally translated is "mouse of lamb", sounds sketchy but in reality it's the calf of the lamb. Seared and then slow-cooked in its own juices, with a hint of sweetness, like the chicken, the meat was fall off the bone and really flavorful. I needed something more substantial to go with this dish rather than a side of couscous, like a bowl of rice to sop of all the gravy… or a straw.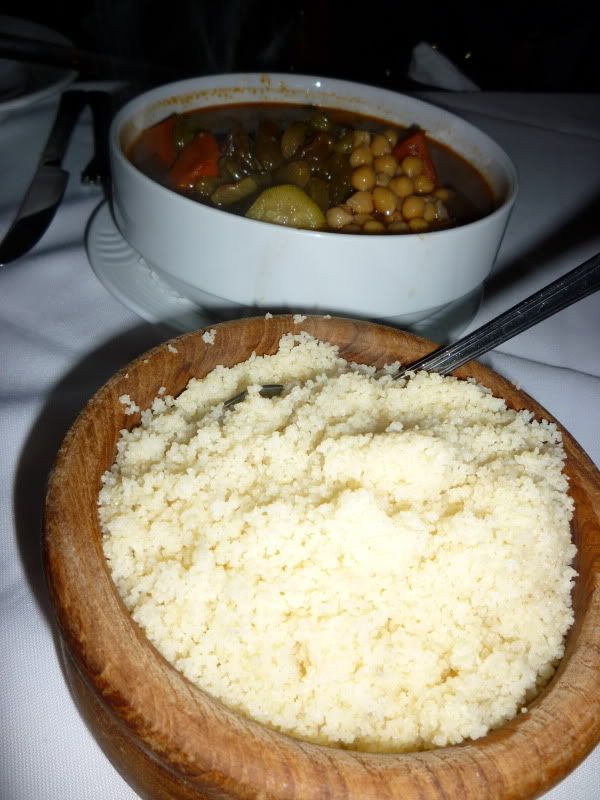 The couscous was well… as thrilling as couscous can get. Just about as exciting as playing solitaire with actual cards while watching women's golf.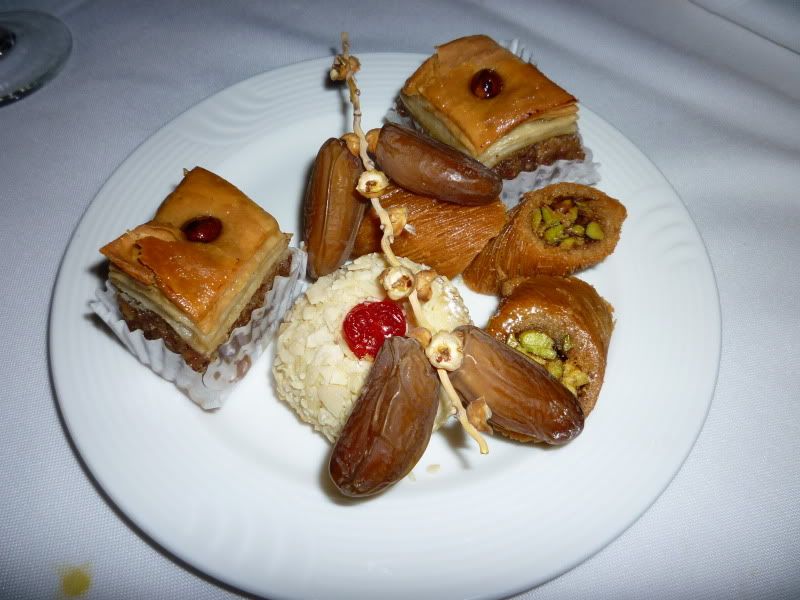 We were lucky enough to get a plate of complimentary desserts. The baklava was not overly sweet and it was parfumey from the rose water used to bake it. It was a nice change to have an almond cookie that didn't follow a meal that consisted of fried noodles and rice and soy sauce based everything.
We walked out of there full with a heavy bag of leftovers. Au Tarot was a great change of pace; ethnic food that's simple and doesn't require much thinking with a minimal level of bravery involved (required for most ethnic dining). All menu items sounded delicious and I doubt you can go wrong with any of the Tajines. Decor wasn't really reflective of a Mediterranean sentiment, more than it did Chez Cora, but that's arbitrary and didn't effect the dining experience as we were too focused on stuffing our faces.
Au Tarot
500 Marrie-Anne E.
514.849.6860
http://www.restaurantautarot.ca/
P.S. Bring your own wine!