Last weekend I met a friend for lunch at Phouc Ky for noodles and we swung by Jean Talon Market for a walk and some produce. As we walked around I saw a lot of people in a concentrated area of the market with plates of deliciously golden fried seafood. I felt my noodles compress in hast in my stomach, making room for some friends, but I resisted and knew that if I forced it, I won't enjoy it… kind of like when I try to squeeze that one more episode of Mad Men in before bedtime and fall asleep 5 minutes into it and have to watch it again the next day. If you can't enjoy something, then there's no point in doing it at all.
So I made a promise to myself to come back and further investigate these plates of FRIED.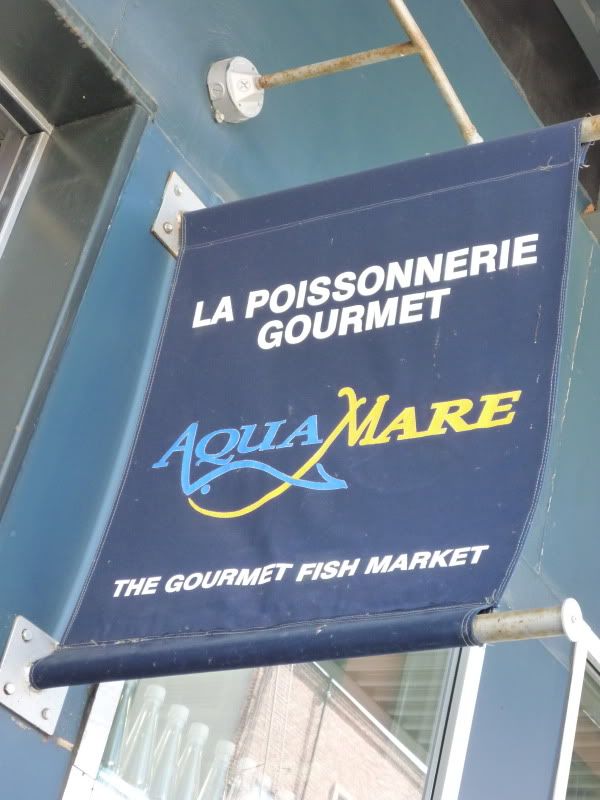 I went back this afternoon and practically sprinted to this stall. La Poissonerie Gourmet Aqua Mare was the name, which was pretty much an afterthought to me in my time of batter-fried desperation (I went back to find the name); I knew the location, therefore name came as secondary information.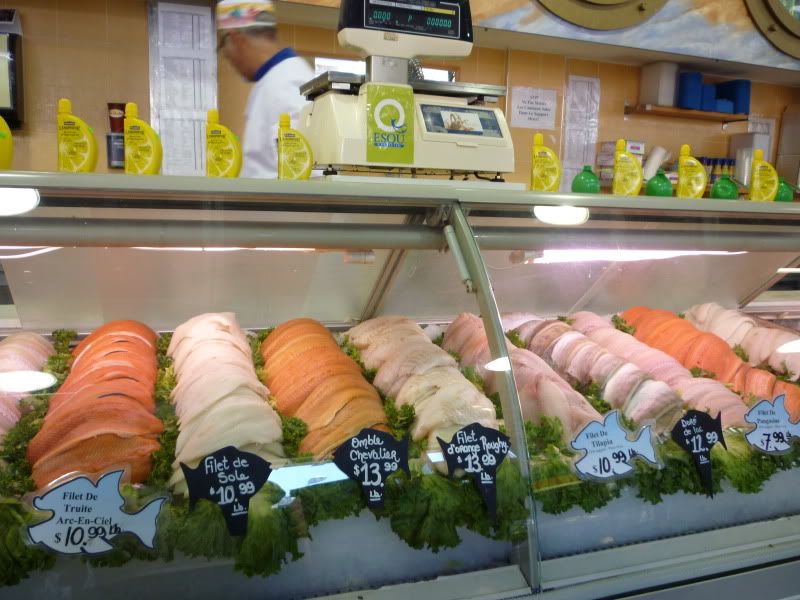 Like their name says, they're a fish market, with fridge after fridge of fresh and frozen fish and seafood, but this isn't what I was after… No. The deep fried seafood was what lured me. Like a mating call, the sizzle of batter touching scorching hot oil beckoned for me.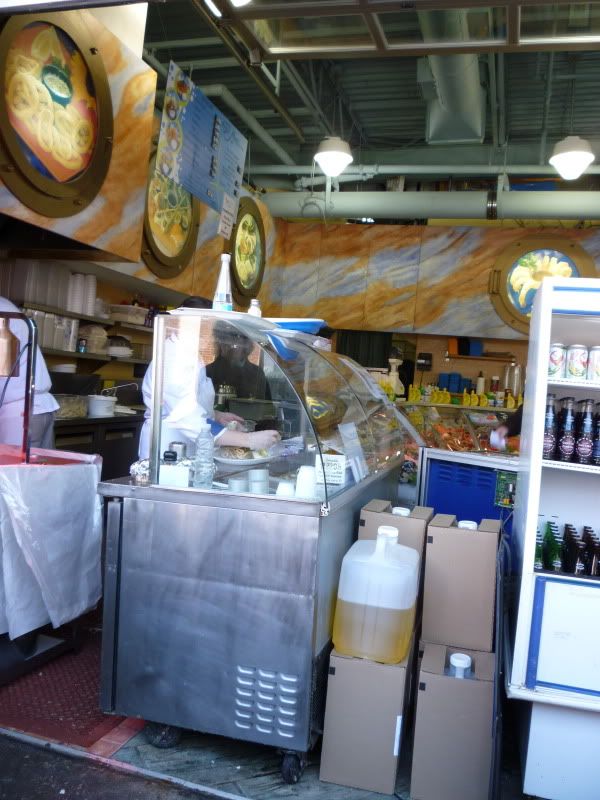 You wander to the back of the store to take a look at the menu, place your order at the cash, bring the person manning the fryolator, then talk a walk around the store until they call your number. Yes, I'm sure there's a more efficient way of handling their orders, but this has been working for them for this along already, so whatever. We stood outside to wait for our food.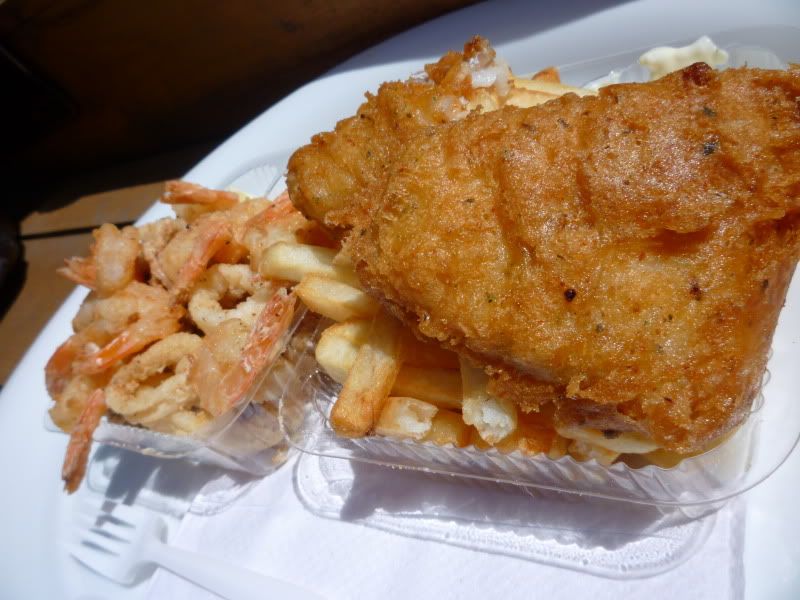 I ordered the fish and chips (…fries). Thick, crispy, battered, seasoned and fried to perfection, the fish was accompanied with home made tartar sauce. I appreciate my fried goods a bit hard and crispy, I don't know how people are able to tolerate soggy batter, there's nothing worse than biting into an onion ring and being able to pull the onion out leaving you holding a ring of batter… which honestly is still really good, but it's the principle I'm talking about.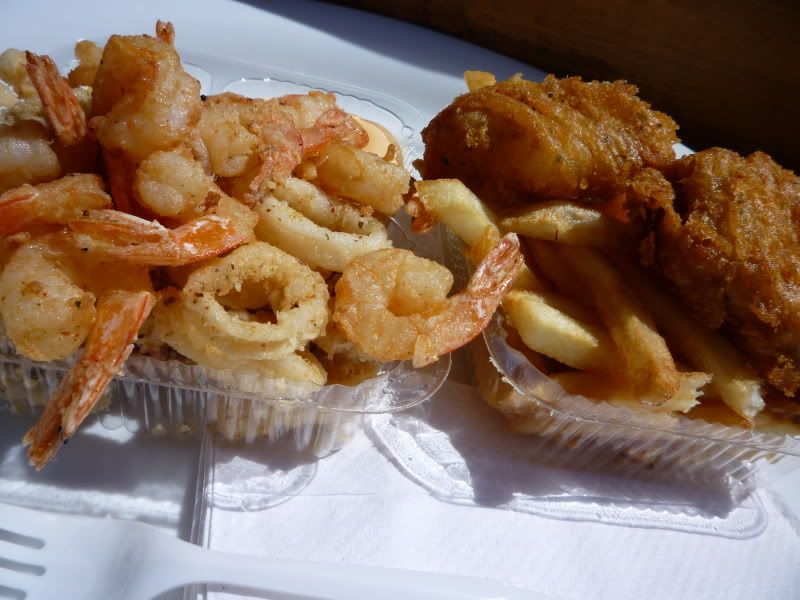 My friend had the calamari and shrimp plate – served with spicy mayo. She was surprised that I ate the tails of the shrimp. I told her that when the shrimp are this small and tails just crisp up and it's no big deal to eat them completely… She didn't believe me, so I continued to eat the tails… and the feets of the calamari (it grossed her out… pfft, lightweight). There are also other fried fish on the menu as there were whole fried smelt (which I've made a date with to devour.)

We finished our plates, but weren't finished eating. We had made a point of it to walk around and find something else to eat. We found ourselves at one of my favorite bakery/trattoria Pizza Motta, right outside of the market.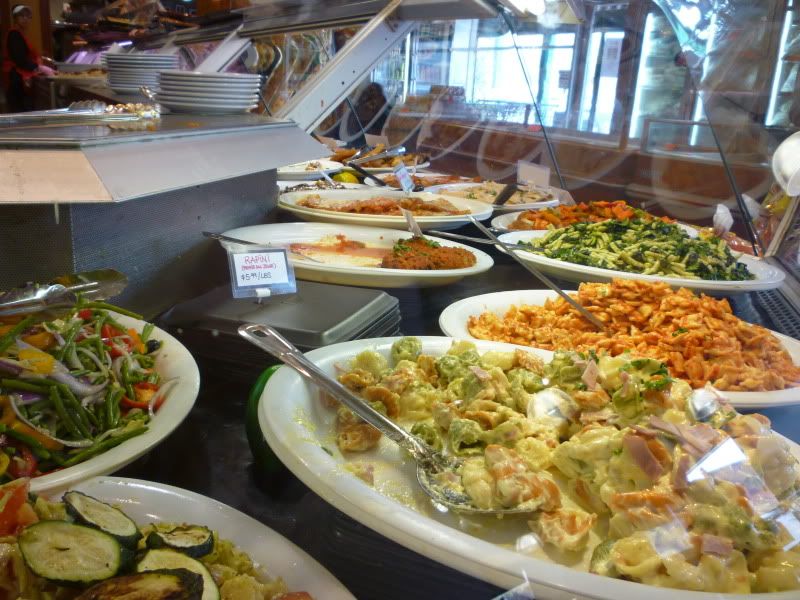 We walked around the place and literally changed out minds about what to eat at least five times, from pasta, fresh salads, sangwiches and pizzas, you cannot make a bad decision here.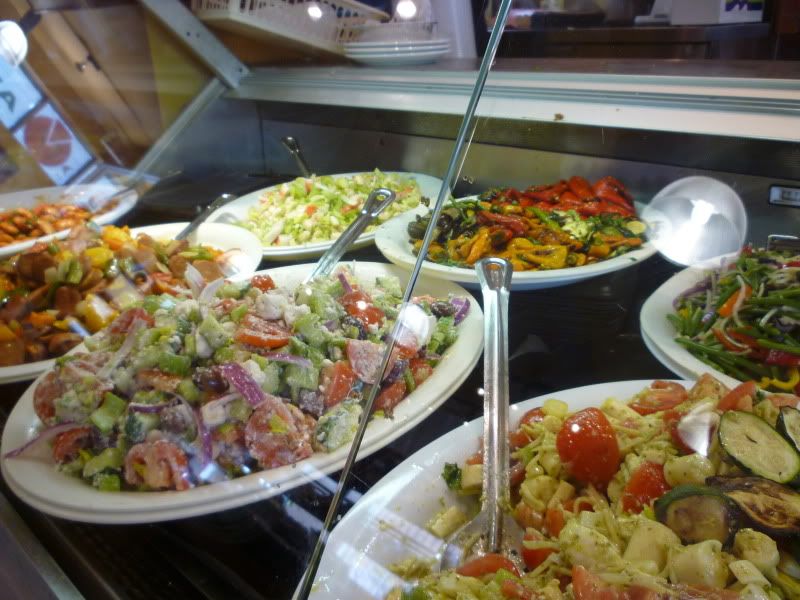 Everything was so tempting. We settled on a choice of three salads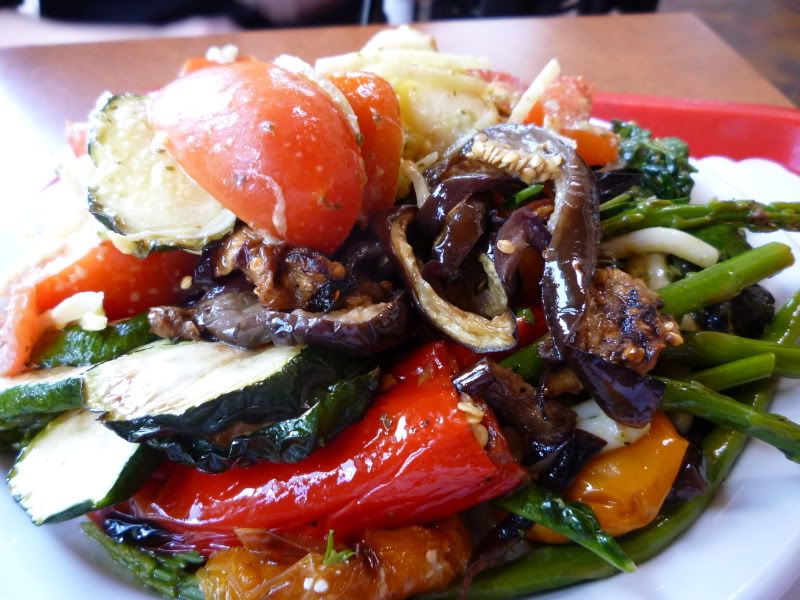 A mix of grilled vegetables, pasta with spinach, and a tomato salad with bocconcini cheese and hearts of palm. A great accompaniment to the fried seafood that we just ate.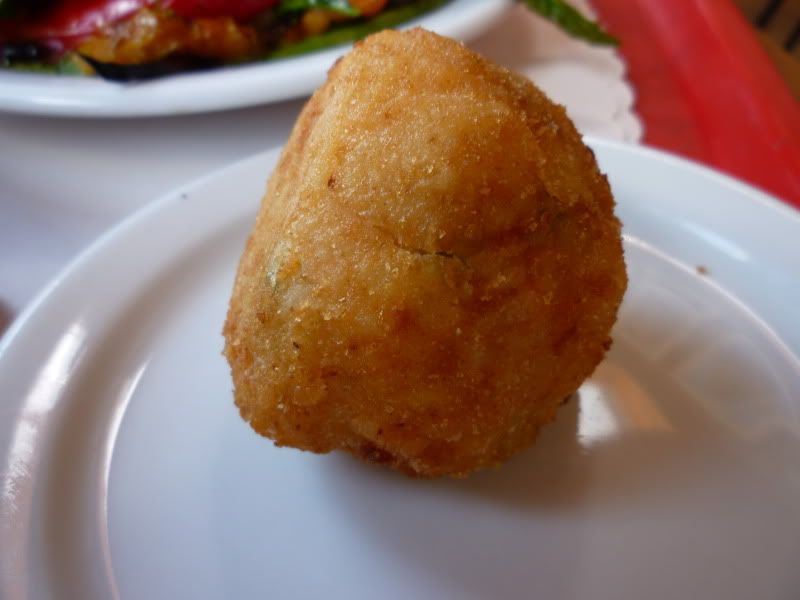 We also tried one of these golden fried risotto balls.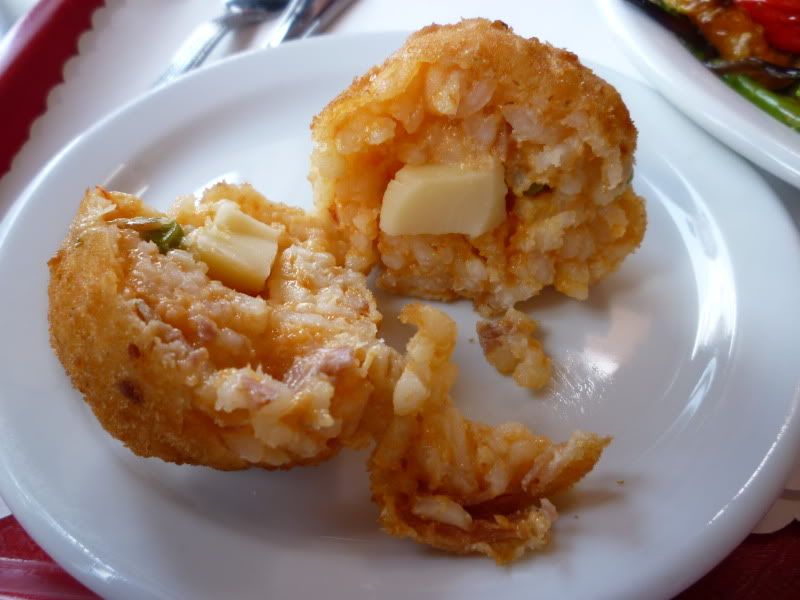 A little surprise for us when we cut into it, CHEESE! Anything fried that involves cheese is practically an automatic hit in my book. Crispy on the outside and warm on the inside. There were a few varieties.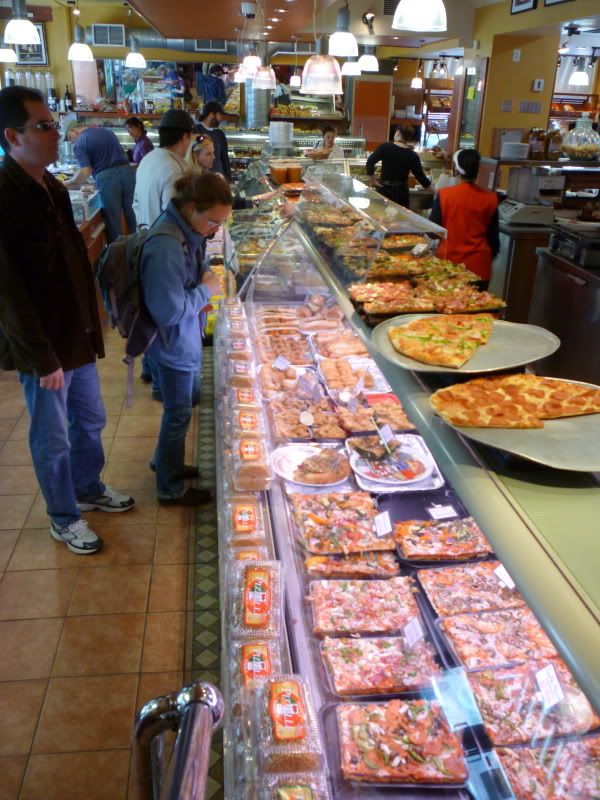 The pizza and focaccia case is not to be missed as well. Also, DO.NOT.MISS.THE PASTRIES!!! The canolis are sinful.
A mighty successful eating/shopping excursion for this Friday afternoon. Tops for those who are visiting the Jean Talon market for the first time… GO.HUNGRY. With taste test plates full of fresh produce along the aisles of the market and and amazing prices that reflect the local producers and suppliers, every direction that you turn, you'll find something that you know you'll HAVE TO eat. It's not as busy during the weekdays, but just be prepared to deal with the hoards of people on the weekend.
Poissonerie Aqua Mare
7070 avenue Henri-Julien
514.277.7575
Pizza Motta
303 avenue Mozart Est
514.270.5952