Funny story, this restaurant has been on my list for quite a while now. I had made plans to go with a friend of mine but every time we were supposed to go, something came up and we never ended up going. I took this as a sign and that it was destiny; I wasn't meant to go and this restaurant will (had it passed the test) never be featured on this blog… until… another friend, totally unrelated was recommended this restaurant and asked me to go. We made plans and the stars aligned, the restaurant in question is Villa Wellington in Verdun.
A local Peruvian joint on the main strip of Verdun, Villa Wellington is on Wellington street. Whether or not it was named after it's location, I'm not sure, or maybe named after a lesser known Peruvian dignitary, Gilbert Wellington.
With a list of recommended dishes in hand we started ordering.


We started with a potato dish called Causa. It was a generous scoop of fluffy yellow mashed potatoes topped with mayonnaise and vegetables in a creamy dressing. We were both really surprised, as we weren't expecting a colorful deconstructed potato salad. Tangy and savory, the potatoes were boarder line creamy, if that's even possible.

We then ordered the small dish of Jalea. This dish encompassed everything perfect for a summer nighttime meal, seafood and FRIED. This dish is a trio of shrimp, calamari and fish, with a bonus player of potatoes.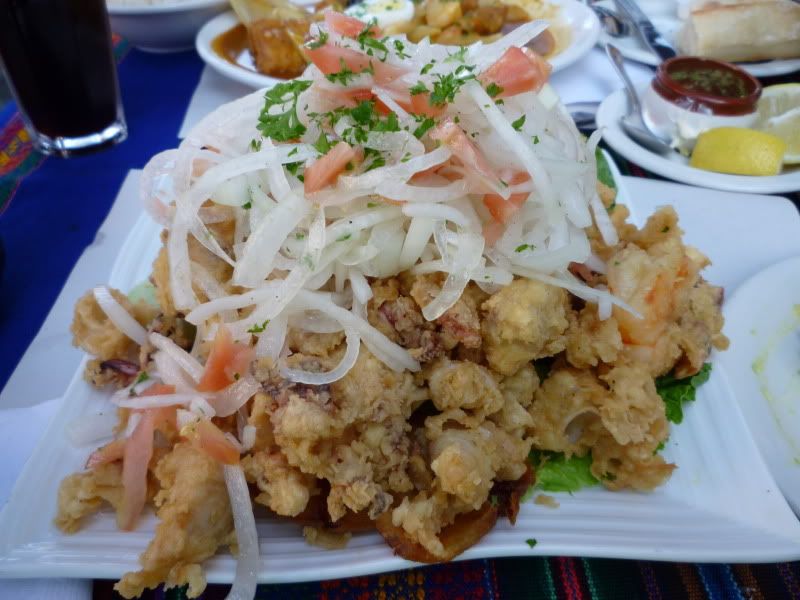 The batter was perfect, not too thick, and thin enough to add a nice bit to the seafood. I especially appreciated the onion slaw on top that had just the right amount of vinegar to cut through the oil and heaviness of the batter. Like I said, this was the small order, and were told that it's a personal portion, and the large was meant for two. As you can see, they obviously meant it would be enough for one person, should that person be a professional wrestler or a reality show reward challenge.

Next up was the Escabeche de pescado. Fried fillets of sole in a sweet and mildly spicy sauce with onions and half a hard boiled egg. Really fragrant fron the herbs and spices in the sauce. I've had a more traditional version of this dish where it was served cold and was brined with vinegar and lemon juice overnight. I guess this is another version of the same dish, or their own spin on it. Either way, really good, and really not fishy.

Any dish that comes with a nice sauce, NEEDS RICE! It only makes sense! Nothing spectacular. It was rice and it was white. Perfectly fluffy to get bogged down and sop up that delicious sauce.

We also ordered a pitcher of this traditional Peruvian drink, "Chicha". This drink looks like wine or grape juice but is completely the opposite. Sweet with cane sugar and refreshing, you would never think this drink is made with CORN… purple corn.

To give you a perspective of the portion size, this is what our table looked like. Either it's a question of physical plate size or portion, the pinch in my back for the rest of the night as a result of eating at an angle was well worth it.
One of the few places to have temporary summer/parking spot terrasse on Wellington, and this was perfect for a great Montreal summer evening. Their traditional Peruvian menu peaked my interest and I'm definitely coming back to explore some more… however the "Canadian" section threw me off as it listed chicken souvlaki… but that's besides the point. It should also be noted that there is a special terrasse table d'hote.
Villa Wellington
4701 Rue Wellington
514.768.0102