My recent post about Peruvian food sparked a peculiar interest which resulted in an immediate MSN message from a buddy of mine who was relaying a message from his Peruvian girlfriend. "It's PURPLE corn, not BLUE… Jerk." I was all, "chill mija, it looked purple in the glass." No, the conversation didn't really go like that, she was actually quite nice and recommended another Peruvian place that she thought I should check out.
We all made plans and decided to go Eche pa Echarle on St. Hubert. According to them, they specialize in fish and seafood so I called them on this claim. I looked over their very extensive menu, from their soup section to specialty grill and roasted chicken section. What caught my eye was the ceviche section. We placed our orders and waited for the magic to happen.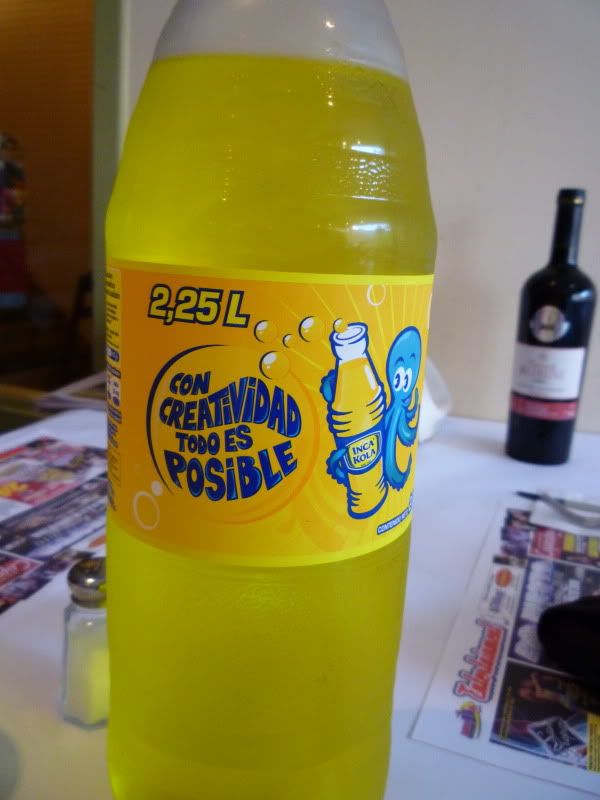 We decided to split a large 2.25 liter bottle of Inca Cola. If you've never had Inca cola before, the ingredients are exactly what you think they are: water, sugar and yellow… sweet delicious yellow. In all fairness, I'm certain that it's the yellow that gave this drink it's cream soda flavor. We chose this over the table-top wine suggestion.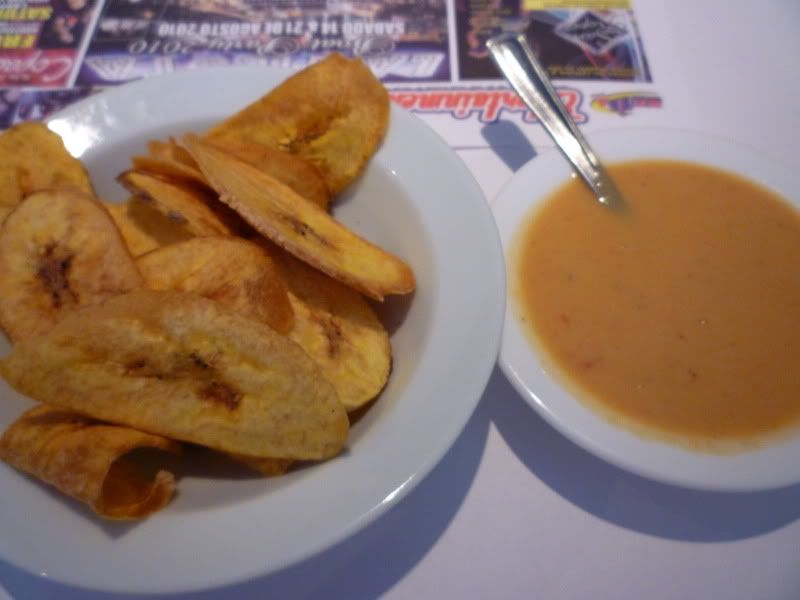 Complimentary fried plantains and chili sauce. Not too hot, but definitely not mild. Like any other hot sauce, start slow before you ruin the pallet and everything tastes like wax.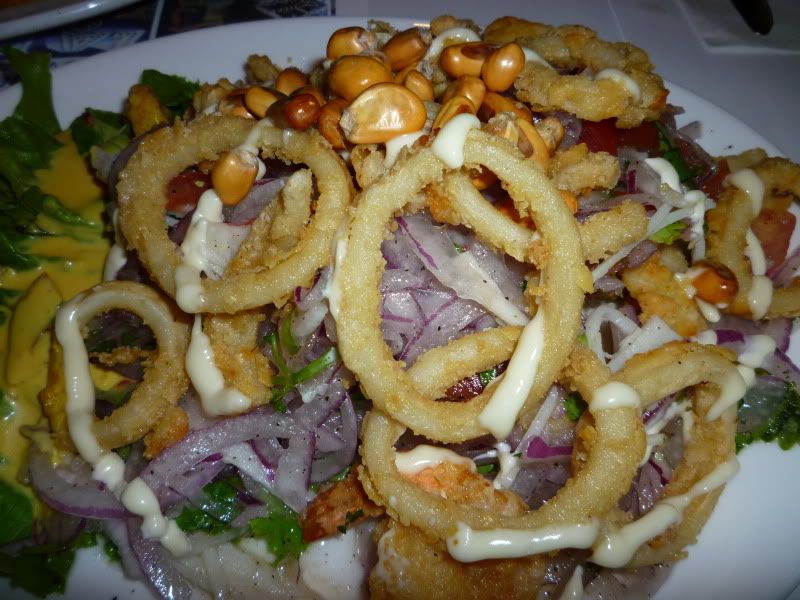 We split the Jalea de mero con mariscos (fried grouper fillet with seafood). Shrimp, calamari and squid, topped with pickles onions and cancha this appetizer for one, fed three.

My bud ordered the Picante con mariscos (rice with seafood, mussels, shrimp and squid). It came with a a side of pickled onions and salad as well as a potato in a creamy huancaina sauce. Seafood wasn't overcooked and what I liked most was how fragrant the rice was. This subscribes to one of my ultimate testaments… Any good sauce MUST be accompanied by a sopping vessel.

The lady had the grilled chicken leg. Very flavorful and juicy, but uneventful. To write something enthusiastic to say about a chicken leg it would have to get off the table, cluck and then feed itself to me.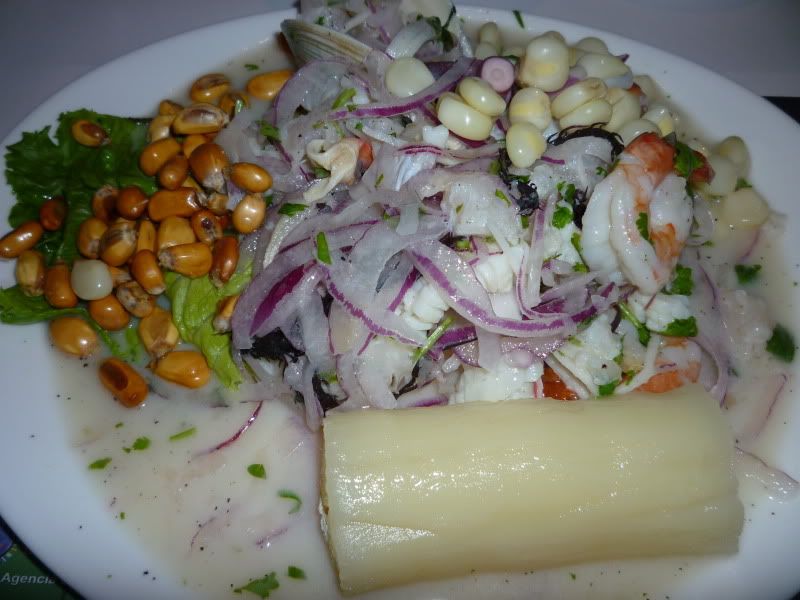 I had the Ceviche Mixto with onions and yucca. A civiche of mixed seafood and herbs – shrimp, fish, squid, octopus, clams, scallops and surf clam – a true medley of seafood. It was extremely fresh; the seafood did not taste defrosted (maybe the fact that Jean Talon Market was right around the corner has something to do with this). Having raw seafood being "cooked" with acid (lime) might sound a big adventurous, but when it's done right, it can be quite exciting.
Eche pa echarle was a great option on a hot summer night. The dishes were incaredibly tasty and filling. The flavors practically jumped off the plates, especially with the civiche; I'm not aware of Peruvian custom, so I wasn't sure if it was frowned upon to pour the civiche liquid into a glass and drink it, so I didn't. Like Outkast said, so fresh and so clean… don't take that lightly, even though they're also the ones that said roses smell like poo.
Eche Pa Echarle
7216 St-Hubert
514-276-3243