My dad and I were on our own for dinner tonight… propane has been running low and grocery day is Tuesday. So what were two dudes to do? We hit up a local seafood restaurant. Yes, Pizza was a consideration or even Chinese take out, but we decided to keep it classy for a Sunday – even though we sat in a two-seater booth, drinking water from a plastic cup watching the flicker of a bunch of flat screens in the dining room.
We went to Restaurant Rayan on Cote des Neiges, a spot that hasn't been around all that long, however, every time I've driven by, the place is full. We went in and found out what the fuss was all about; at the back of the restaurant there is a market fridge and ice table, packed to the brim with fresh seafood.
IMPORTANT:
The procedure is as follows. When you walk through the door, head directly to the back of the restaurant to where you'll proceed to pick out your seafood and side dishes and cooking method. They'll give you a number and you give that to a waiter. You'll be seated and once you're ready to pay, you bring your table marker to the cash and pay at the counter. We figured this out as we were standing there watching people bustle around as though we were living out a scene from The Time Machine.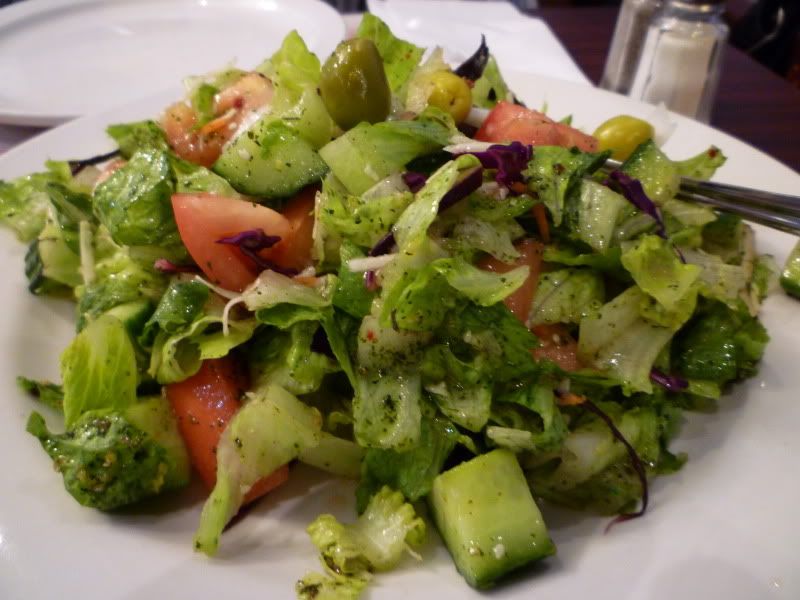 Our first side was a salad. Really fresh and tasty. It was topped with fresh herbs, and in the end, it was still salad… however laced with something because my dad killed it, and he doesn't like vegetables unless they're covered in Chinese oyster sauce.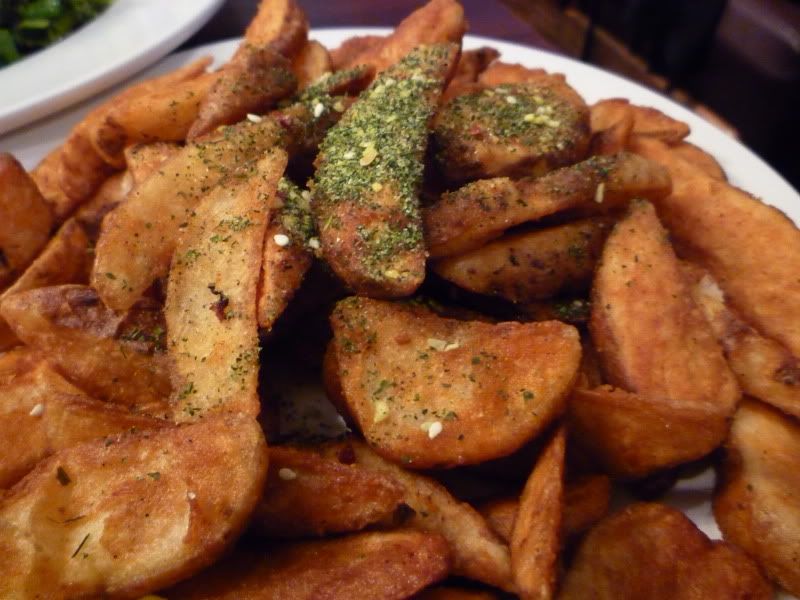 Second side was fried potato wedges. It arrived hot and practically sizzling, the protective layer of oil and batter acted as insulation to keep the potatoes hot… I also suspect these things had a hand in plugging up that well in the Gulf of Mexico too.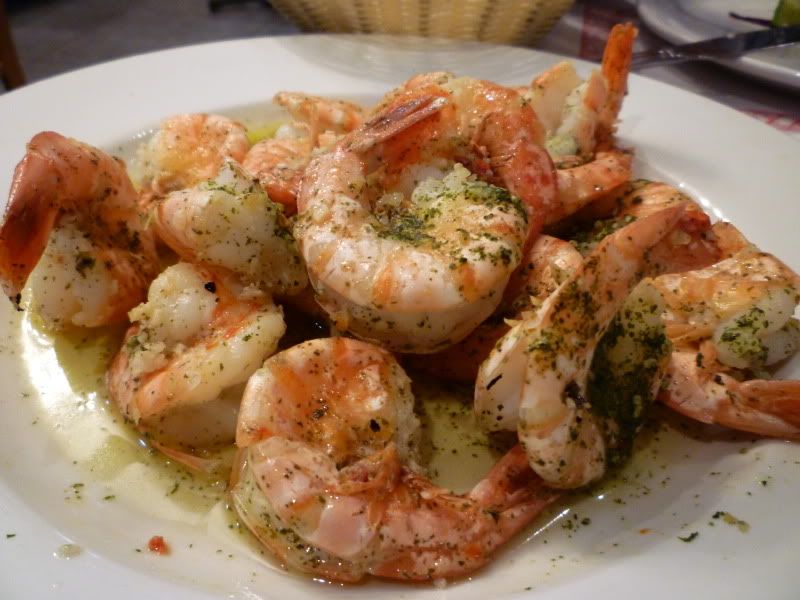 We started with the 26-30 extra-large shrimps sauteed in butter and garlic. The chef was so generous with the garlic and butter, the shrimps could have been resurrected with the amount of liquid it was swimming in. Also, there wasn't enough bread in the world to sop up what was left on the plate after we were done with the shrimp.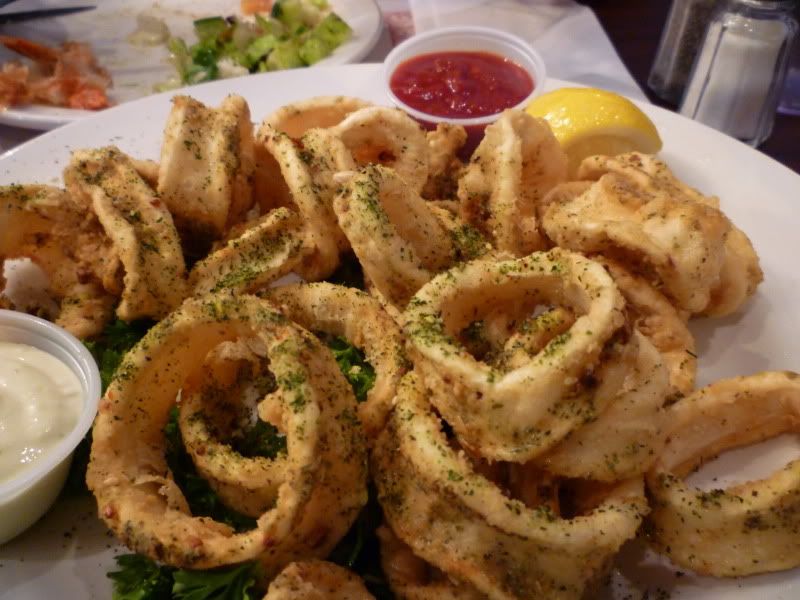 Then we had the fresh fried calamari, served with cocktail sauce and tartar sauce. Lightly battered, the squid was perfectly cooked and tender; no chewing on lobster-pincher rubber-bands.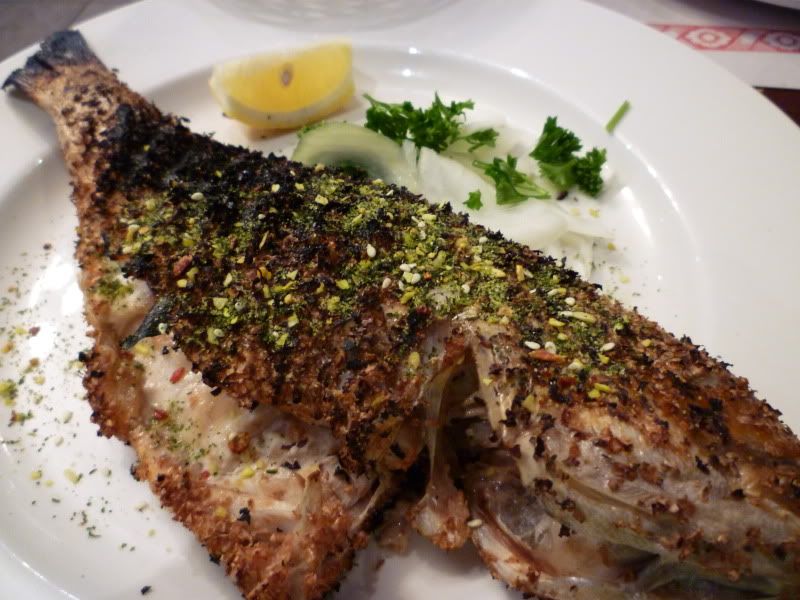 Row upon row of fresh fish, it was hard to choose just one; we picked a medium sized pink-snapper. We were extremely impressed at the quality and freshness of the fish. My dad said that the turnover rate is so high, the fish never has time to go bad, by the time the fishie gets comfortable on ice, someone's already picked it. We asked for it to be grilled, fried will be the option the next time I go back.
Restaurant Rayan is definitely a spot I'll be returning to in the near future. The service was a bit shaky – I attribute it to their ordering and serving system, but it's not anything that can't be easily fixed, no points deducted. The garnish (Za'atar) that found its way stop of all our dishes was undoubtedly Mediterranean/middle eastern, the distinct taste of parsley, nutmeg, oregano and other aromatic spices highlighted all the flavors nicely. A lot of people are weary of seafood, and that's only because of the associated smell. When seafood is fresh, it doesn't smell fishy, and Restaurant Rayan's catch is so fresh that when they went to sleep the night before, it didn't know it was going to meet me the next day.
Restaurant Rayan
6080 chemin de la Cote-des-Neiges
514-735-6866

*EDIT*
I went back with my dad, as he was already looking forward to it before we paid the bill the last time. Order was almost the same except for these exceptions: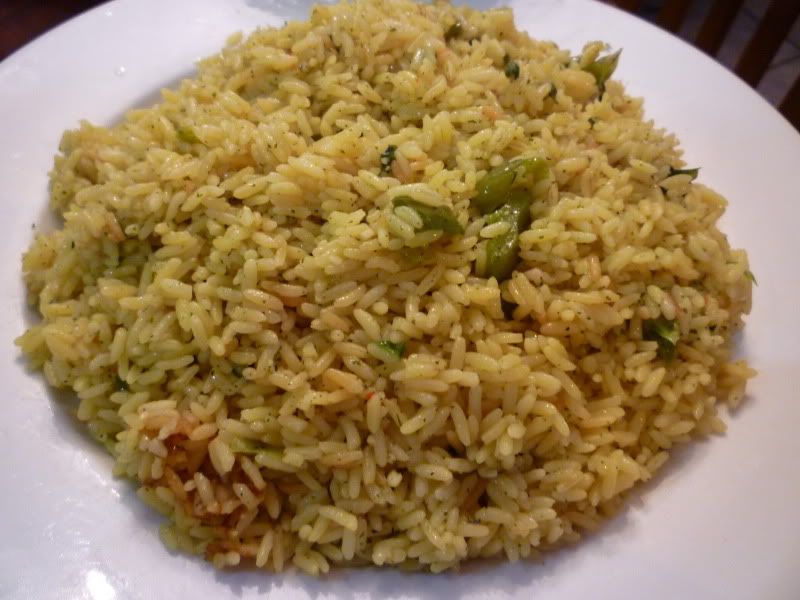 Instead of the potatoes we opted for the rice. Fluffy and buttery, the rice was a great filler, its reality was heightened by the fact that I drizzled the garlic butter over top of it.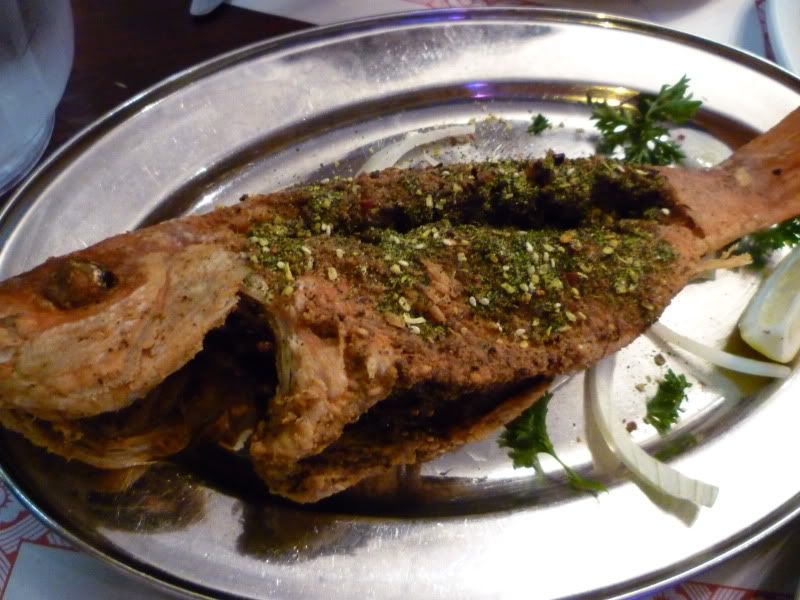 We had the snapper fried this time. I found it to be a bit dry, but loved the fact that the meat sealed itself to the skin and was able to eat large sections of this fish as it's classical counterpart: a chip… a large fish chip… amazing.