If you've been following me on Twitter lately, you were witness to my weather commentary and how it's been forcing me against my will to remedy my aversion to the grey skies and soggy ground with pho. Sweet, delicious, steamy bowl of Vietnamese noodle soup. My girlfriend (although she doesn't know we're actually dating, or know that I exist) Lori Graham, has stated that the weather we've been experiencing is not normal for this time of year. So I took that as a cue to get in as much pho as I can while it still tastes good, before the weather warms up – as we all know pho's deliciousness quotient is as its optimal when the outdoor temperature is below 0 degrees.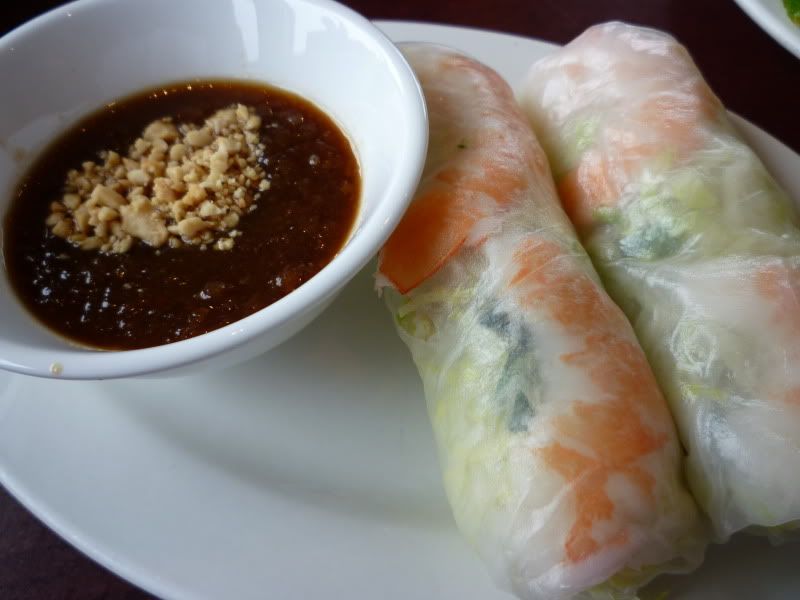 I hit up Pho Ngon in St. Michel for some phosome goodness (I'm so punny). On the corner of Cremazie and St. Michel boulevard, this place is one of a handful of Vietnamese restaurants in the area, however, for the record, we went at 2:00pm on a Saturday afternoon and the place was packed and people were queuing at the door. I started off with the spring roll (remember, Imperial rolls are the fried ones in Vietamese restaurants). Nothing much to say about them. They were as exciting as watching "Meet the Press" in the Spanish alternate audio feed… on mute; but I wasn't bothered by it, I wasn't here for this anyways… Points for a really tasty peanut sauce though.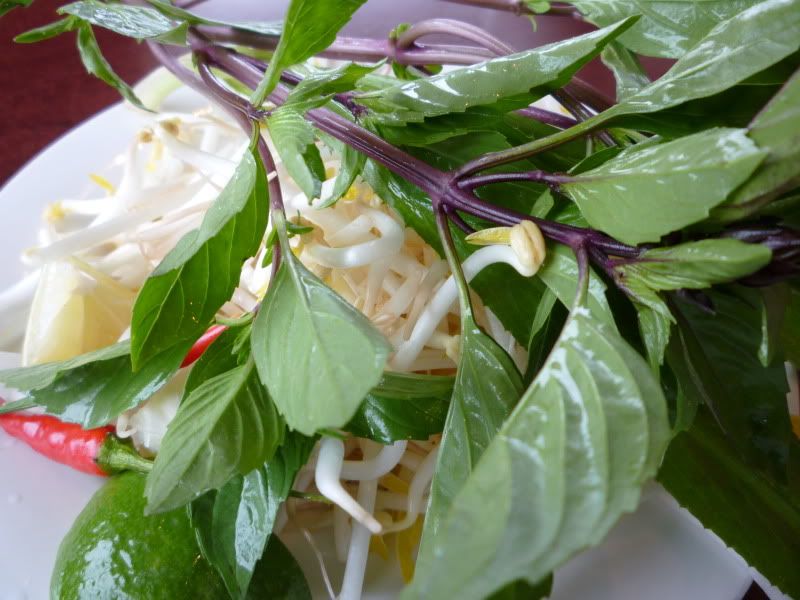 As stated before, when going for pho, this plate is the accoutrement to your bowl of noodle soup, NOT a complementary appetizer of bean sprouts and limes.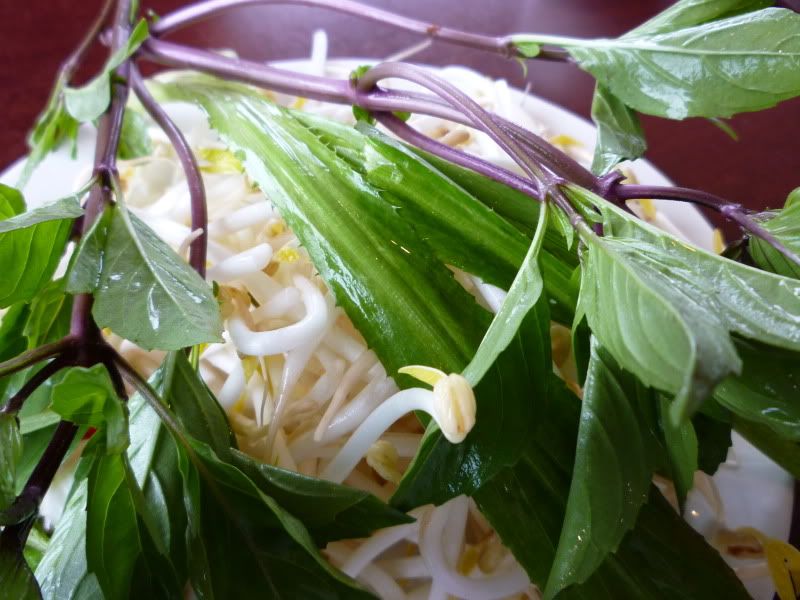 I noticed an herb that I was not accustomed to seeing in my bean sprout plate when pho-ing. This discovery only solidified my stand on pho being good only because it is based on personal taste. Let me explain. Regular beef pho is ultimately based on the soup; hours simmering with the right herbs and spices and carefully tended to is what produces this bowl with its pungent and unmistakable aroma. There is no definitive formula or recipe, only a guideline. Ingredients are the same, possible different techniques to all yield similar final products but in the end, very different.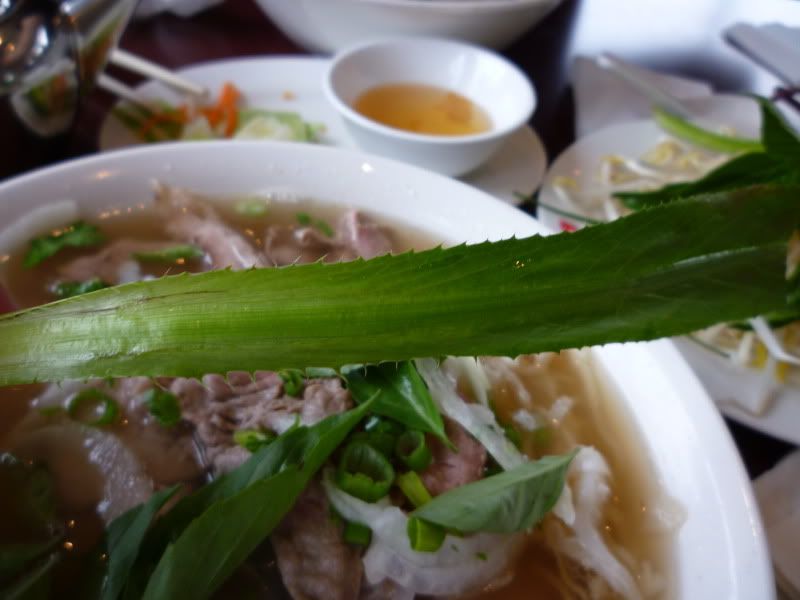 This herb called, thorny coriander… why you ask? Because it tastes like basil, obviously. The addition to this unique herb (in my opinion) is attributed to the chef's personal taste, training or quite possible family recipe. Different places do it differently, and that's why certain locations for pho are so fickle and can be loved by some and disliked by others; which is subjective to anything else we eat. So this Ngo Gai is an indication of where this recipe comes from.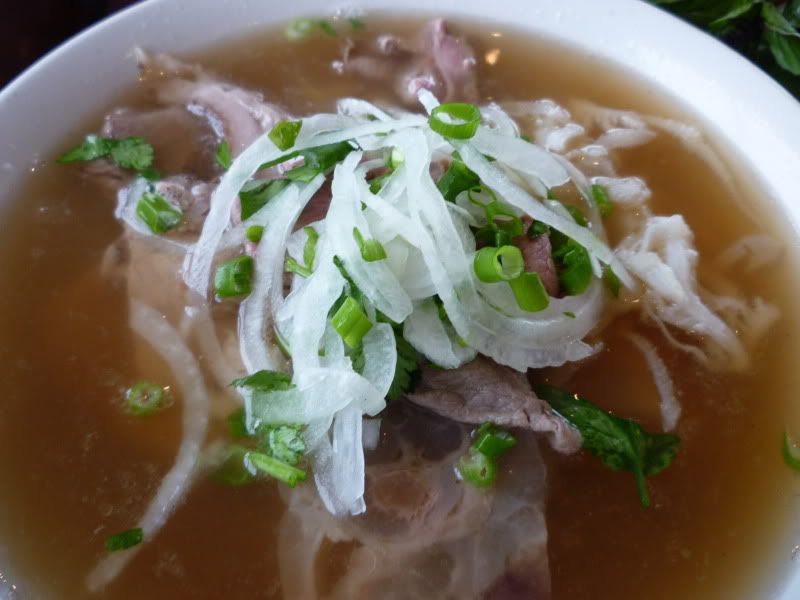 I ordered the house special, which is the special in most houses as the name, "Dac Biet", means "special". Raw beef, with tendon, brisket, flank, tripe, and fatty flank; topped with thinly shaved onions (which cook practically instantly when you flip the noodles and mix the bowl up) and scallions. The soup was incredibly clear but deep in flavor; beefy but not murky. The more I ate, the more I could literally feel the threads on my shirt tightening up to resist the role as host to the smell molecules from attaching themselves.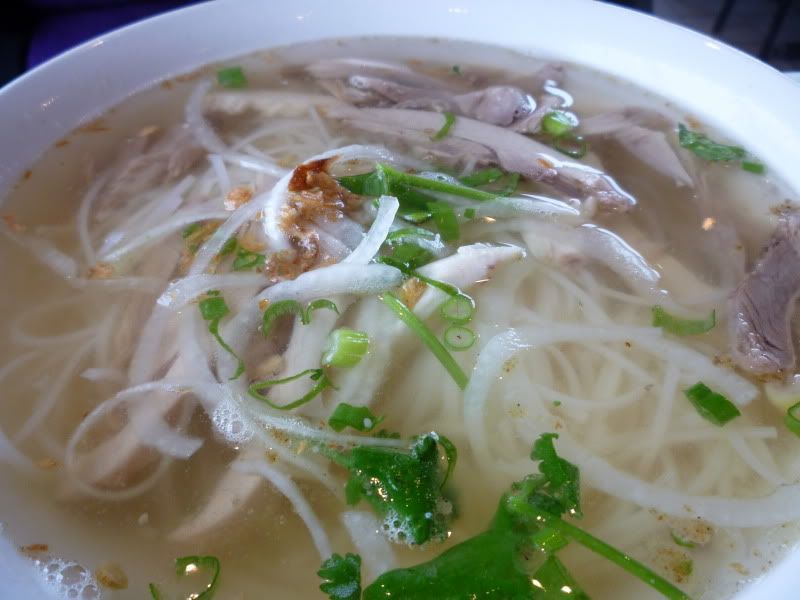 My friend have the chicken pho. Same idea, different animal. Chicken soup made with the same principle as the beef counterpart; herbs and spices and lots of love. The soup was chickeny and rich in flavor, the kind that you know only comes with hours of boiling. Toped with onions, scallions and in this case fried shallots and garlic; fried shallots and garlic to draw out the ginger taste in the soup to balance the clucking poultry flavor.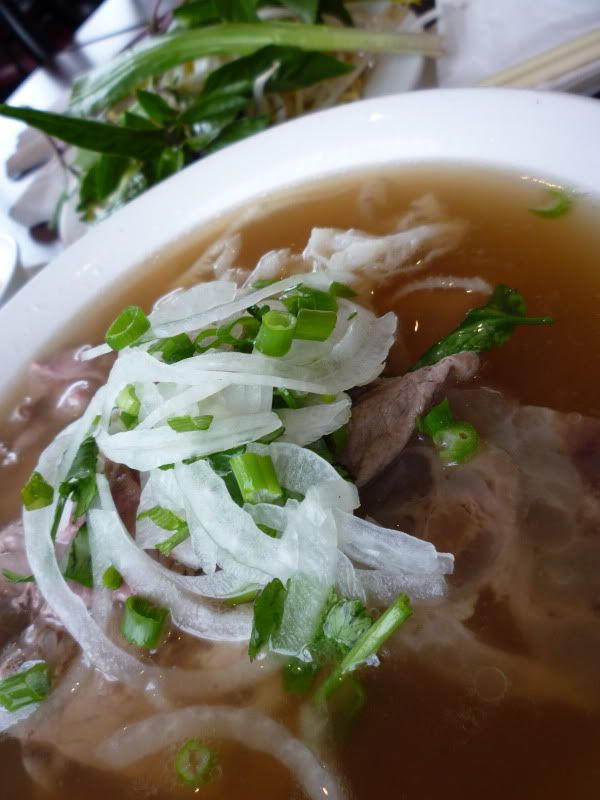 Take a second and admire that slice of glorious gelatinous piece of tendon floating in the soup like a beautiful spotted koi in a pond swimming noble and proud. But in this case, that fish's fat and lazy video gaming cousin who lives in the basement of the parent's place who's gone way over his internet bandwidth limit.
Restaurant Pho Ngon is situated in one of the most culturally diverse areas in Montreal, and understandably, it would be easy to get lost if you're not situating and creating an appropriate identity for yourself. These guys have a thing going on and they're doing it right. Simple and honest, you know a good bowl of pho when you eat it, and this one you just have to try.
Restaurant Pho Ngon
3205 Crémazie E
(514) 723-6466
It's to be noted that Pho Ngon offers bun bo heu (spicy pig and beef knuckle noodle soup) only on weekends.