When was the last time you were having shabu shabu and said to yourself, "you know what would be sooo good right now? GOLF!" You'd be surprised at how often that thought would go through my head… that's if I played golf. And now all of our golf/hot pot gang bang fantasies have been answered. I recently hit up this place in NDG aptly called "Shabu Shabu – Screen golf" on St. Jacques. Hold up, hear me out. I know what you're thinking, because I was thinking the exact same thing, "How is it possible that one place is able to defy all laws of physics and everything that we have come to know as science, to be able to contain so much awesome without being blown up to bits, or at least hover two-feet off the ground like Sigourney Weaver from Ghostbusters when she was possessed by Zuul, The Gatekeeper?!"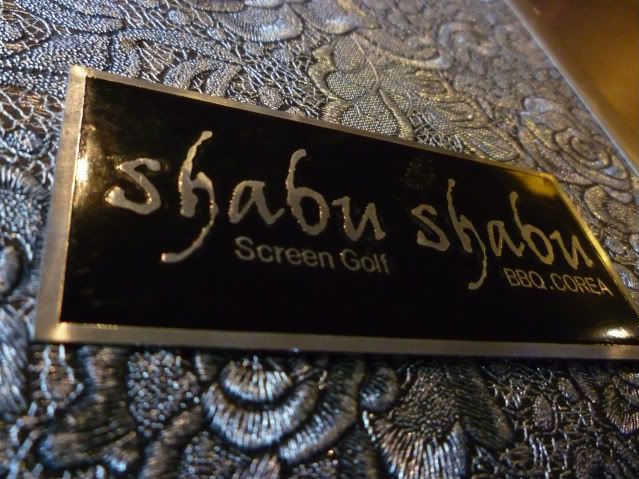 They even make an effort to make sure you're aware that they cater to the screen golf crowd (simulation golf where you play against a projection screen, like an arcade), just in case you missed it, it's embossed onto the metal plate on the menus. So, my brothers and sisters, I went to investigate – the food aspect of the place, unfortunately I didn't have any golf clubs on hand to bring the sexy because my arthritic ankle was predicting rain. We decided on ordering exactly what this place is named after, the shabu shabu.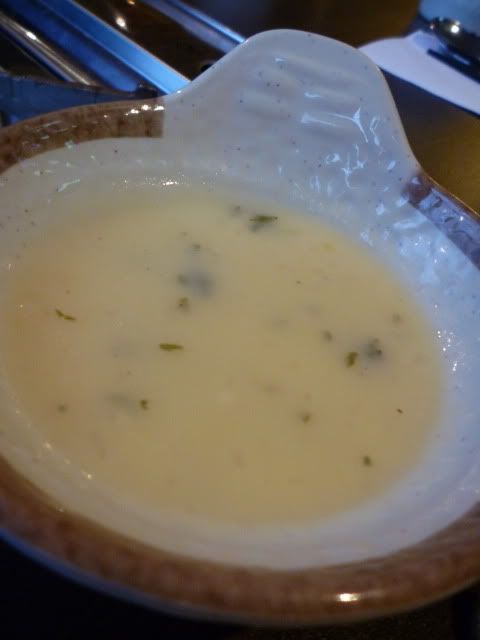 The shabu shabu order came with a cream of potato soup. Nothing exciting; creamy potato, parsley and not much more than a few spoonfuls.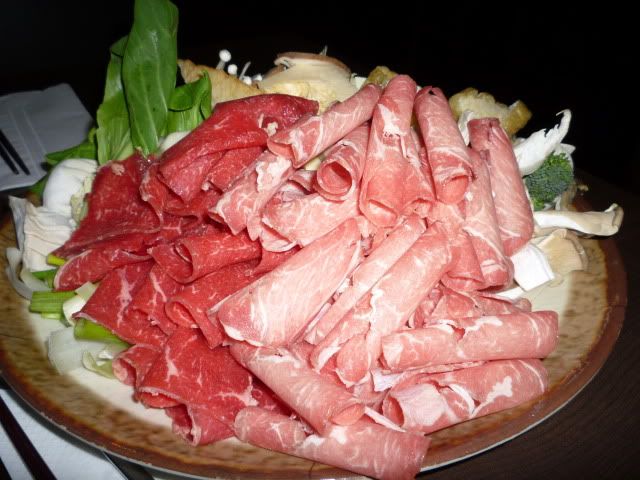 We were explained by our waitress that the shabu shabu was listed as portions per person on the menu, so since we were two people, we ordered the beef and lamb. Thinly sliced beef and lamb tubes adorned the top of the massive plateful of hot-pot fixins'. Tubes? Because the meat is frozen when they slice it, not to their discredit of using frozen meat, it's because it would be close to impossible to slice meat that thin if it wasn't, especially if the meat is marbled with fat – it would tear on the deli slicer otherwise.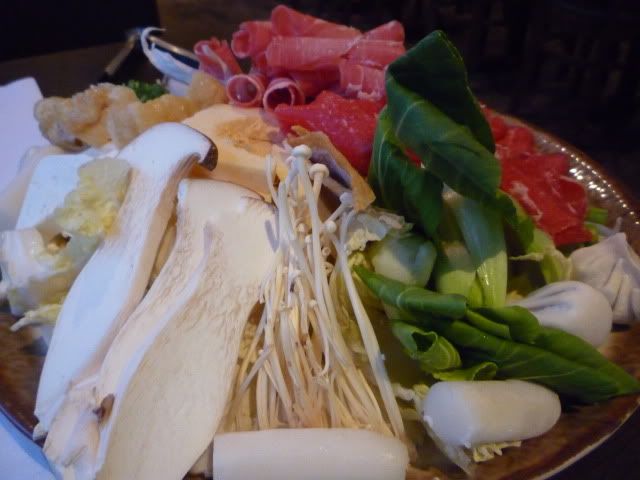 On the other side of the plate, it was jam packed with everything you can imagine that would be hot-pottable. Enoki, shitake, osyter and king mushrooms, rice cake, pork dumplings, napa cabbage, two types of tofu, pumpkin, various greens, onions… kind of like when we hot pot at home – anything that's been in the fridge that's been in the fridge for a while is the opportune reason for a hot-pot fiesta. We were instructed to put the cabbage and onion first into the broth to further flavor the soup base of the pot.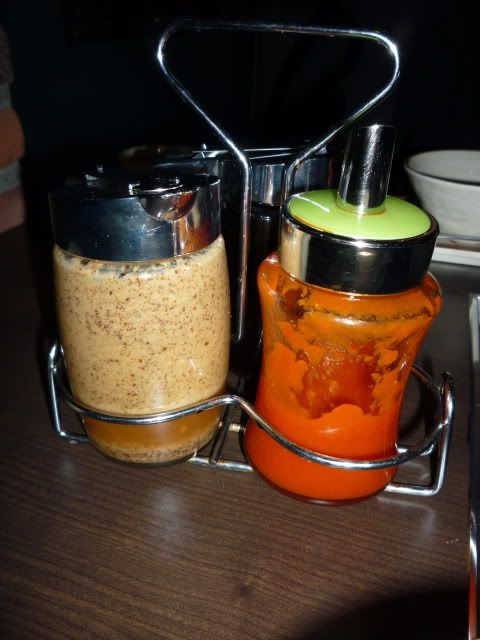 Three difference sauces: a vinegary hot sauce, sweet soy sauce and a creamy sesame sauce; the choose your own adventure of shabu shabu sauces. Because the sauces are so different, they will lead you in different directions, but I used to like to read each different path in those books. By all means, try the sauces independently of each other, but don't do what I did near the end of the meal: mix all the sauces together, you'll just end up with a story that's in Russian and incomprehensible.

The banchan – side dishes – was limited to one lonely plate of kim chi. Not to say that the side dishes are limited in general, I'm assuming there might be more if we had ordered main course dishes rather than the hot pot. None the less, the kim chi was relatively fresh and hadn't been fermenting long; as much as I like kim chi, I like mine fresher more than the more sour feety kind.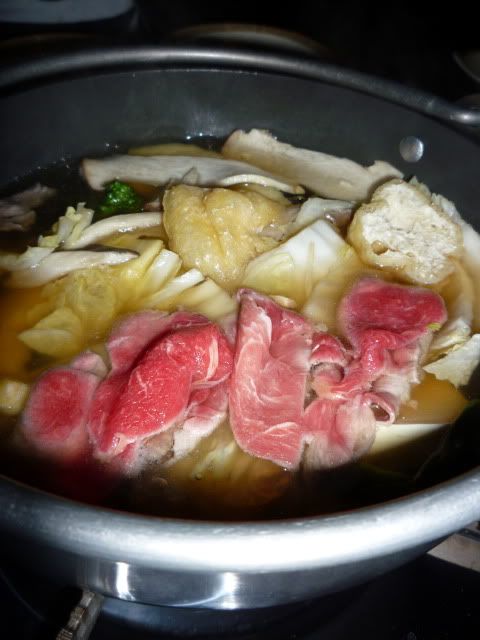 Since the meat is so thin, I advise to not let it out of your site, as it cooks within seconds, like redheads in the sun.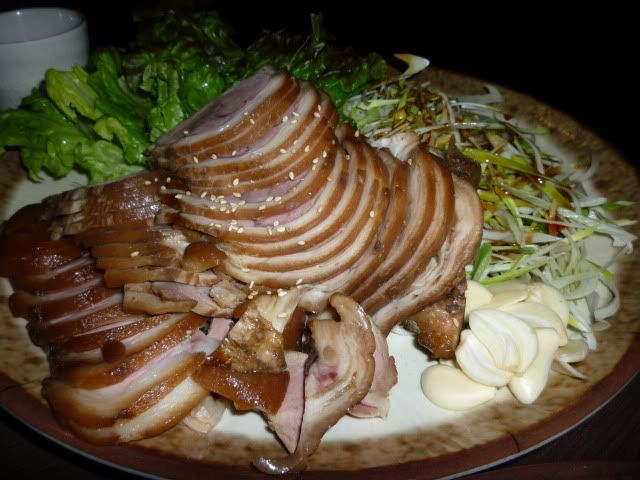 We also ordered the pork trotter. A full ham hock marinated in sweet soy sauce. It's served with shredded spring onions, leak, and cabbage drizzled in soy and vinegar, and raw garlic. You wrap it all up in the lettuce leaves and stuff this little package of piggy goodness in your face.

Dessert came to the table as what was described as "jelly" drizzled with chocolate sauce. I was expecting something along the lines of Jello, but I was wrong. It was subtly sweet with a "je ne sais quoi" about it, if it's possible, it tasted "opaque". The rough, but jiggly texture of it threw me off until I was told it was made with pumpkin. I know right?! Blasphemy, no… peculiar delicious, YES.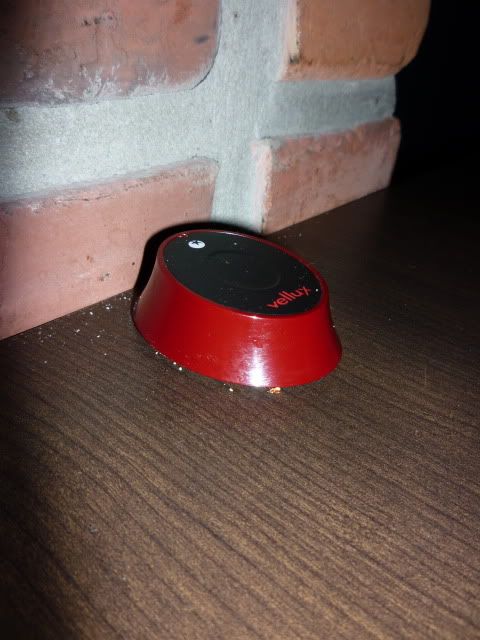 The Almighty God button. Press it… I dare you. You'll see what happens… MOUAHAHA.

I asked the waitress how this concept came about, she said the boss is Korean, cooks and likes to play golf… simple as that. I mean, it's a great way to work up an appetite with a bunch of friends, or it's a great one-stop activity and meal location that you can make a night out of. I'm definitely coming back to try the rest of the menu as there are a bunch of things I've never tried, let alone seen on other Korean menus before. In other news, I'm still in the process of conceptualizing a Pho-bubble tea-sushi-Playstation 3 and Scrabble party pack activity fun centre… I don't know how well this idea will pan out, but I'm trying to work balloons and pole-dancers into the mix.
Shabu Shabu Screen Golf Korean BBQ
6180, rue Saint-Jacques
514-489-2777
http://www.koreanbbqmontreal.com/
Check their website for screen golf rates as well as a printable dinner coupon.