Thanks and welcome to all my new Twitter followers and new "likers" on Facebook. A big shout out to all of you I've been talking to this past week. You all are awesome and I'm sure, sexy as hell.
Having been opened for a few months so far, if you've read my ramblings long enough, you'd know that I like to let new restaurants have a chance to get the pots and pans a little dirty before checking it out. Little did I know that holding to this philosophy would take a completely different meaning when we visited Ice House. Not to say that Icehouse is "dirty" dirty, but the kind of dirty that's dirty in all the good dirty ways, if you know what I mean.
Found out that a Texas "Icehouse" was the term for a reinvented shack used many moonshines ago as an early form of refrigeration, to a local drinking hole and bar.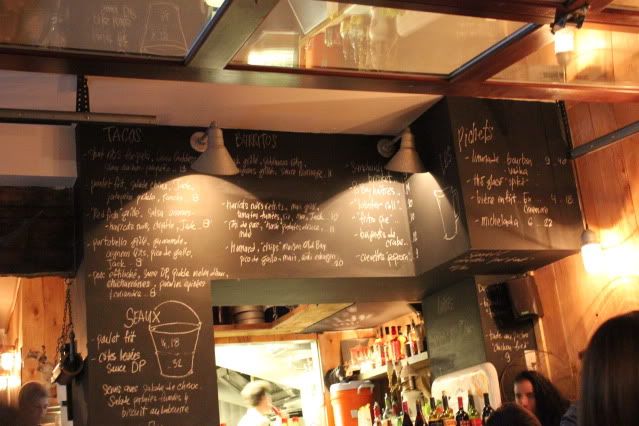 We were seated then explained how the ordering worked. The menu is on the wall, and once you've made your decisions, you have to order at the counter. We were a table of five so we elected to have the person with server experience to memorize the extensive list of foods that we'd be stuffing our faces with.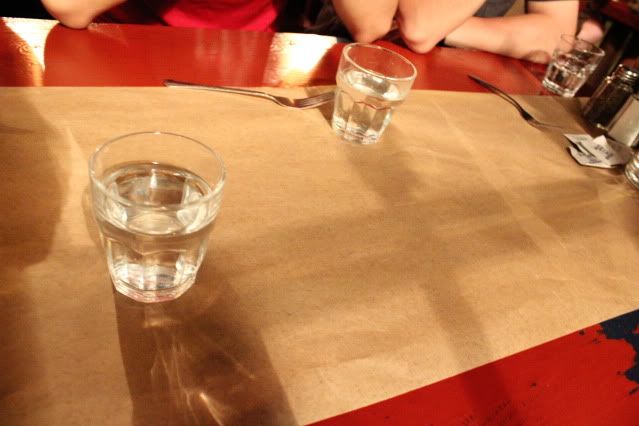 No sooner as our "bring your own waitress" sat back down, Icehouse's own slipped down a long sheet of brown butcher paper on our pseudo picnic bench. Reminded me of that early childhood education class I once taught, right before we strapped smocks around their necks of the children and armed them with tempera paint.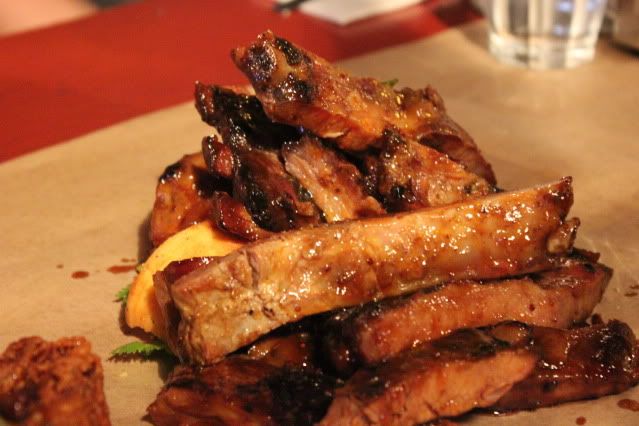 We found out why the ghetto table runner as soon as the first bucket of ribs was slopped down onto the table. A full bucket (full and half bucket options) of ribs served with "DP" sauce. Found out that the "DP" in fact stood for DR. PEPPER. A reduction of Dr. Pepper BBQ sauce slathered over fall off the bone, tender ribs, leaving a sticky mess all over your fingers – and in my face cheeks and nose – which is part of the fun, to relive your rib experience by eating the bits of meat and sauce stuck to your fingers. Mixed in with the ribs were a generous portion of pickled watermelon rind. It had a unique texture with a sweet and sour note to it – it tasted exactly what you think biting through a softened watermelon rind would taste like.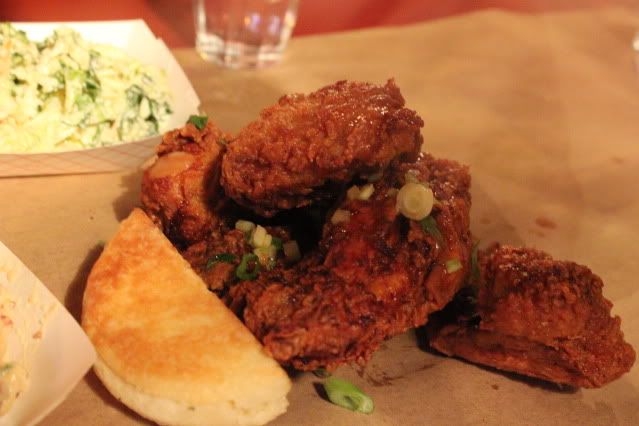 Icehouse takes the meaning of "a bucket of chicken" to a whole new level… because it literally comes in an actual bucket – a metal one, not one made of cardboard that will eventually turn see-through. Thin battered crispy fried chicken covered with a couple of hot sauce shakes. The chicken was juicy and really soft, which leads me to believe that they were sitting in a vat of buttermilk before they met their impending fry-o-lator doom.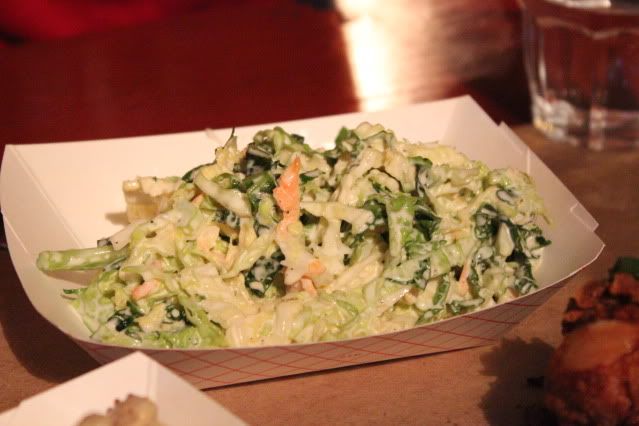 The fried chicken and ribs were sided with a coleslaw. Using the entire cabbage – including the big elephant ear like outer leaves – the slaw was dressed in a sweet and tangy dressing. The cabbage had great crunch and texture, which means that they probably dress the slaw to order, instead of having it sit in a bin waiting to be served.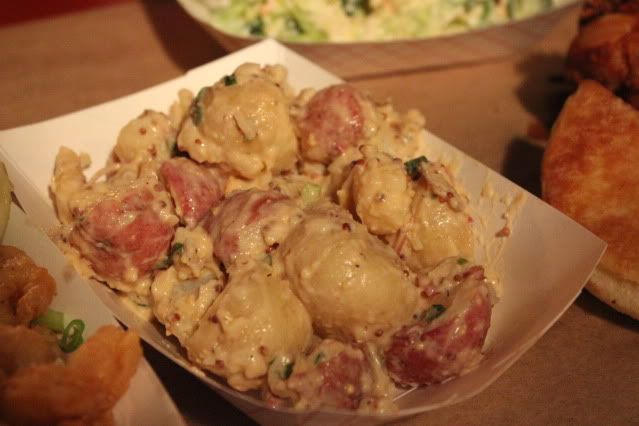 Another side was the smashed potato salad. Mixed with green onions, the patates were dressed with a tangy grainy mustard sauce. Potatoes were not over-cooked and soaked up a lot of the dressing, in the end I wasn't too enthusiastic about the potato salad. It kind of took a back seat to everything else that's happening on the menu.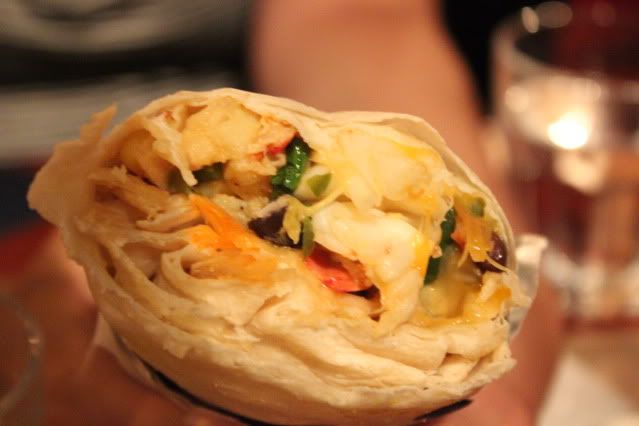 One friend had the lobster burrito. This thing was the size of her head. Stuff with generous chunks of lobster, corn, homemade corn chips, black beans and drenched in a tarragon aoli, The burrito was the size of a football… if the football was the size of a Nalgene bottle. I had a bite of it and it was really delicious. I really enjoyed the crunch from the chips against the bite of lobster. My friend made it a point to tell us how good it was because she said it after every bite, and made these faces that even *I* felt violated for the burrito.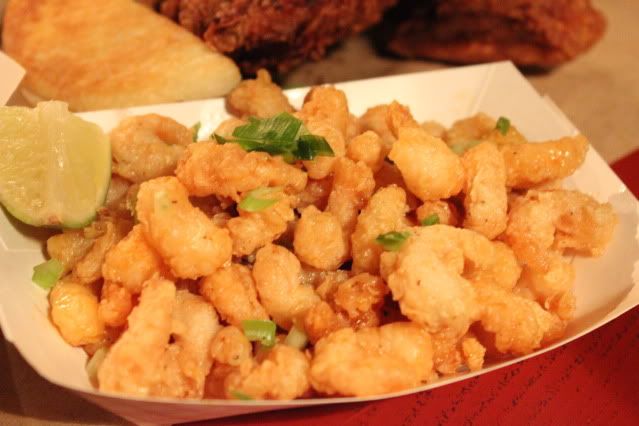 I had an order of popcorn shrimp. These tiny salad shrimp battered and deep fried to a golden perfection, each bite fostered a nice crunch to a briny and salty shrimp on the inside. Why do they call it popcorn shrimp anyways? Because it's supposed to be the size of popcorn? They sure as hell don't taste like popcorn, but I would do anything if the movie theaters started marketing these though. Imagine how many people would stop talking on their phone or texting in fear of getting their cellphones fishy… I am a GENIUS.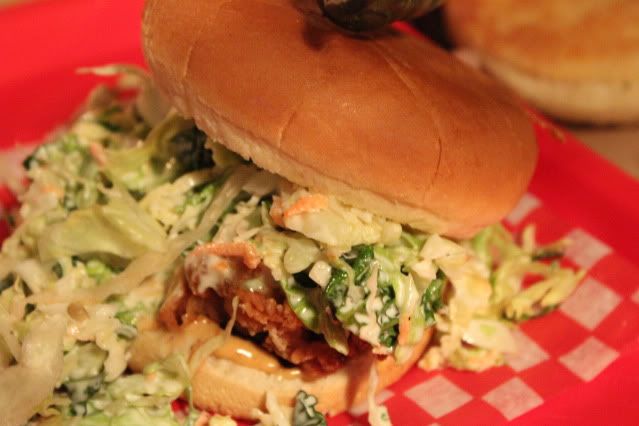 I also ordered the oyster poboy. As you look at that picture, you are probably doing exactly the same thing I was doing when the waitress placed it down in front of me… You're having dirty dirty eye-sex with that picture of that sandwich. It's ok, I won't judge you, or blame you for that matter. There were three battered and deep fried oysters packed into that hamburger bun. It was topped with the same great coleslaw as well as a spicy aoli, during the time I spent eating this sandwich, I may or may not have ovulated in the process.
Being a bunch of friends and suffering from the mentality of children when at least three guys are together, we were trying to figure out what the "DP" stood for. It goes without saying that the many possible definitions we found were no where near what the actual meaning was. This kind of banter is only spawn of relationships between good friends and in the company of great food – most of which were consumed by using our hands. Don't wear white, and get used to using a lot of napkins. Icehouse is still maybe a bit rough around the edges, but I guess until they iron out some of the kinks, it'll add to the messy charm. Nick Hodge has given the far north a taste of the deep south, I just hope that we don't start calling this Icehouse, a "casse croute".
Icehouse
Plateau Mont-Royal
51 Roy E
514-439-6691
It's also worth noting that their specialty drinks include a "spiked" lemonade as well as a burbon or whiskey iced tea.