In recent years I have been fortunate enough to visit and travel through Asia; the heat, the humidity, sights and smells are comparable to nothing and is something I think about often. The one thing I miss the most is obviously the food; the meals I shared with friends under a smiling moon, on the side of a bustling street, being lit by tubes of halogen lights and propane flames. Not knowing exactly what it was we were ordering but it looked good, it was cooked fresh and more often than not, by a chef with a cigarette in his mouth and flip-flops on his feet.
It's been a while since I've had quality dirty hawker street food. As ePetitions are signed and public opinions reformed, the realization of Montreal street food is elusive as driving on a street without orange street cones. So can you guess how happy I was to come across the closest thing Montreal will ever come to as a Hawker stand at the Atwater market? Happy like a pig in shit or like a fat kid at Tim Hortons with a pocket full of allowance money. So I hit up Satay Brothers with one of my twitter followers Nic.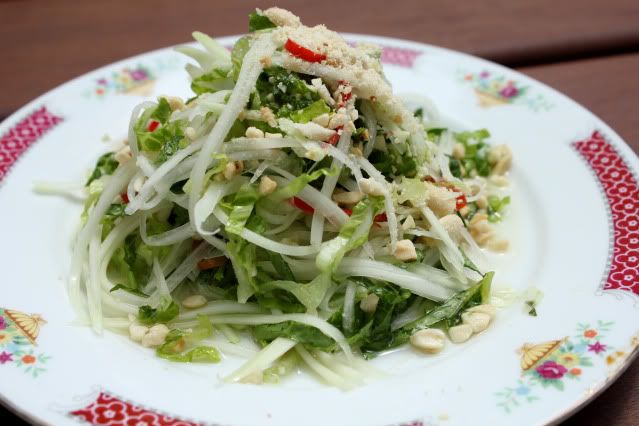 My bud had the green papaya salad. A green-papaya is one that stays green and will never really "ripen" to what people normally think of a papaya. Having a mix of fish sauce, vinegar, sugar and salt muddled into the shredded papaya, the salad is tossed with some chili, mint and basil, topped with some roasted peanuts. Really refreshing and tasty, it's a great way to wake up the palate on a hot day.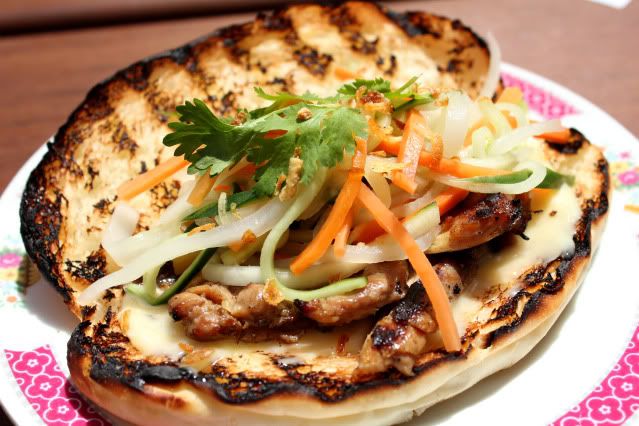 Following the salad he also ordered the "sandwich du jour", which happened to be a lemongrass and soy marinaded pork (banh mi) sandwich on this particular day. Topped with a generous spread of pickled carrots, daikon and cilantro on a slather of mayo, the banh mi was fragrant and smokey. It was solid, not mind blasting, but solid.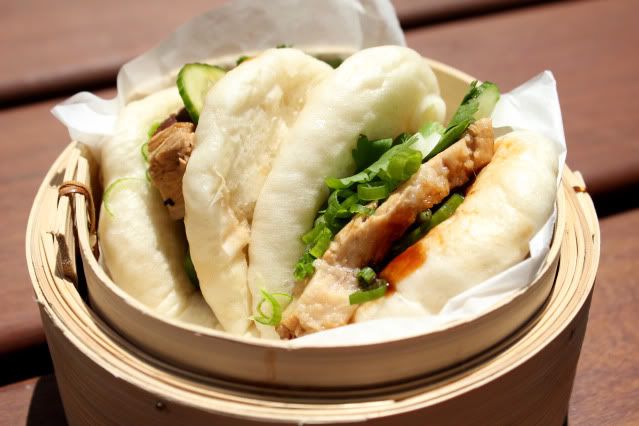 He then had the steamed pork buns. Pillowy soft and sweet man tau buns stuffed with braised pork belly covered in sweet hoisin sauce, cucumbers and green onion – it's similar to heroin, or so I'm told. The last time I was here, I had to fight the urge to ask the brothers if there were any Satay sisters that I could marry. Just a side note: I write about these dishes my friend had through experience – I've had them before – No awkward guy on guy food sharing was involved.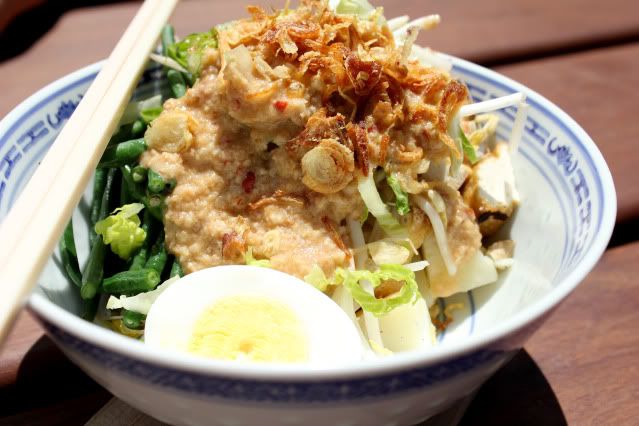 I ordered the new addition to the menu, the "gado-gado". A traditional south-east Asian vegetable mixed salad dressed in a spicy peanut dressing. Cooked Chinese long beans, bean sprouts, cooked potato, lettuce, fried shallots and half a boiled egg. The salad was nice and light for the kind of day that we went. As good as it may be, it's definitely not for those who have the phobia of different foods touching each other.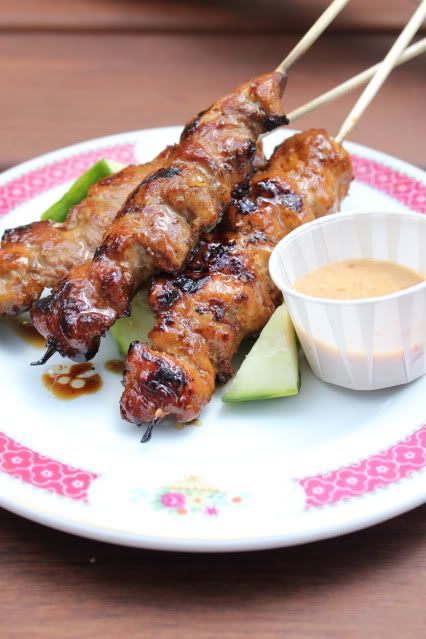 Then I had the brother's name sake; the chicken satay. The chicken skewers were sweet and juicy, marinaded with tumeric and lots of ginger, onions, other herbs and served with a spicy peanut sauce. The whole situation took me away to the days of dining al fresco on the side of the street with mopeds and right-hand drive cars whizzing past. I'm a firm believer that satay tastes better when you're breathing in fresh diesel fumes.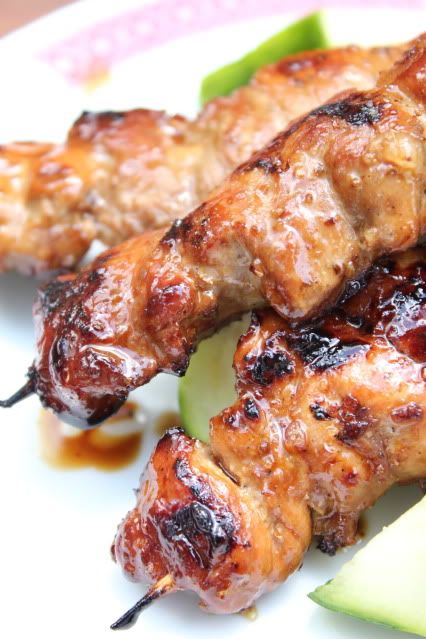 I almost cried the ugly cry; you know where you look like your face is being melted off from listening to too much Metallica, tasting something sour and where you can kind of see the inside of your eye-lids all at the same time…. the kind of cry you break out when you watch extreme makeover: home edition, when no one is around. Look at it!!! If you don't at least get a bit misty-eyed, you're not human.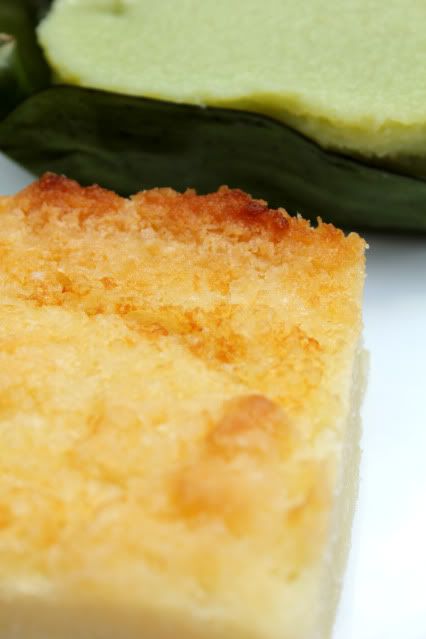 We also split the Brothers' dessert platter. To tell you the truth, I forgot what it was called, but I know this yellow cake as "Kueh ambon". Sticky rice mixed with coconut and then baked. It was really coconutty, had a bounce to the bite, and had the consistency of a really firm brownie.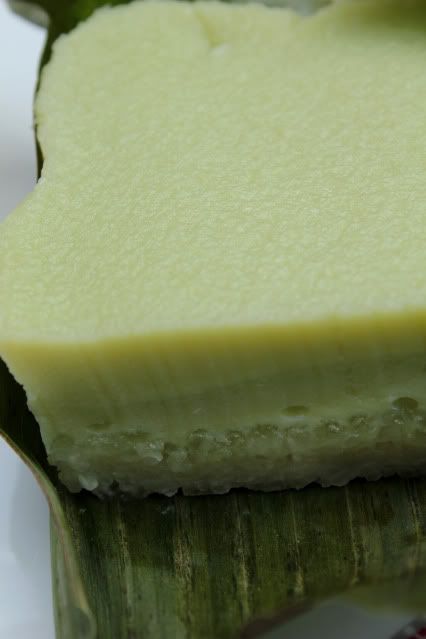 This other dessert, same idea as the previous one, but this is made with pandan (what makes it green), tapioca, rice flour and set by steaming. If you've never had pandan before, it's quite fragrant but subtle. Both desserts are how I like my ladies… exotic, firm and not too sweet. 😀
The Satay brothers are bringing to Montreal the tastes and flavours of what they were brought up on – their south-east Asian background. Major points for having their mom in the kitchen for the summer making sure that what they're putting out has the official mom "stamp of approval". Sharing with the Atwater Market and at the same time, transporting me back to a place where if I closed my eyes, I could swear I was 15,000kms away is an accomplishment in itself… up until my bubble was popped by hearing some guy yell out "AWAYE ostie", because I was standing there like an idiot, eyes closed in front of his car as he was trying to park.
Satay Brothers
Atwater Market
www.sataybrothers.com
Closed Tuesdays and Wednesdays.