The restaurantscape of Montreal has always been full of variety, providing Montreal great eating options. I'm so pleased with the fact that recently, there have been more and more of my ethnic peoples representing and opening up small family eateries and reminding Montreal that it is us that makes the city rich in multiculturalism and diversity. From restaurant chefs going back to their roots to open up pop-ups serving spicy brochettes typical of those found on the streets of Tianjin, or pub grub found in the 10 seater side-alley bars of Tokyo; the variety of restaurants Montreal is now as extensive as Giada's adjective dictionary – pay attention to how she describes her food the next time you watch her.
I met up with the lovely Kristel of Kristel's Kitchen for lunch at Arepera, a hot little Venezuelan arepa joint in the plateau. A popular snack in Latin-American, an arepa is a cross a bun-like/sandwich/pita made with a corn flour bun that was grilled then baked, stuffed with a variety of ingredients, served up finger-tip singeing hot.

I ordered one of their fresh juices. A vibrant display of , mango, passion fruit, black currant and guanabana. "WHO?", you say? Yeah, that's what I said. After trying to decipher and wading through our waitress' thick accent, the conversation went like this, "It is guanabana", "guava?", "No, no, guanabana", "whatagwan Anna? "GUAVA.BANA!" "Gary's banana?!" She gave up and said it was her favorite juce, so I said I trust her and had a glass.

After doing some 3G research at the table. I found out that "Gary's banana" is also known as the "soursop" fruit. If you've never had it before, the juice has the gritty texture that of a pear. It was barely sweet (I assume no additional sugar was added), but quite floral in taste. A bit thick, but I found that this came in handy when I felt as though I was scraping my taste-buds off with a heated masonry trowel after testing the hot sauce.

Image Source: http://en.wikipedia.org/wiki/Soursop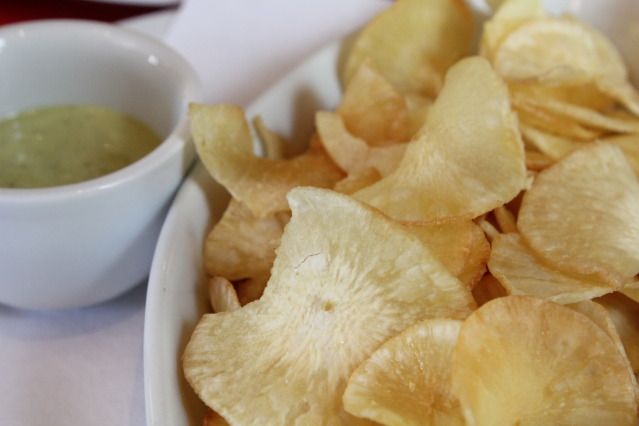 We started with an order of freshly fried casava chips. It was served with a cirtus-garlic sauce. Thick cut yucca chips, as it turns out we are both chip fiends, and we killed them pretty quickly.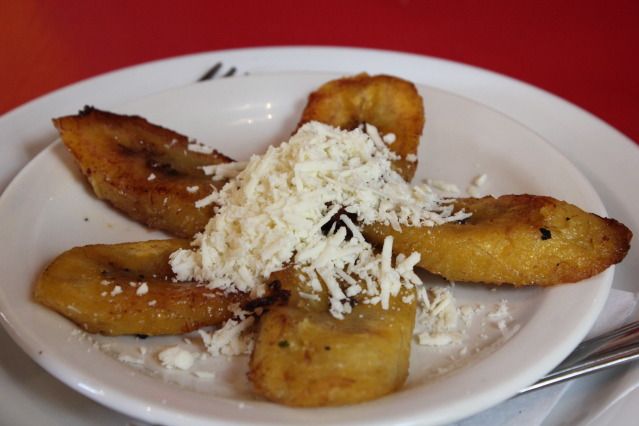 We also ordered the fried plantains. Fresh yellow plantains (as you can see rippening on the counter in front of the drinks above) fried and topped with fresh cheese. At first bite, the hard crispy crust gave way to a sweet and fluffy interior, complimented by the sourness of the cheese. I've had fried plantains before and I've always been a fan, but Kristel… (Miss Kitchen if you nasty), took it to a completely different level. It evoked memories of her childhood which brought out great stories and awesome conversation.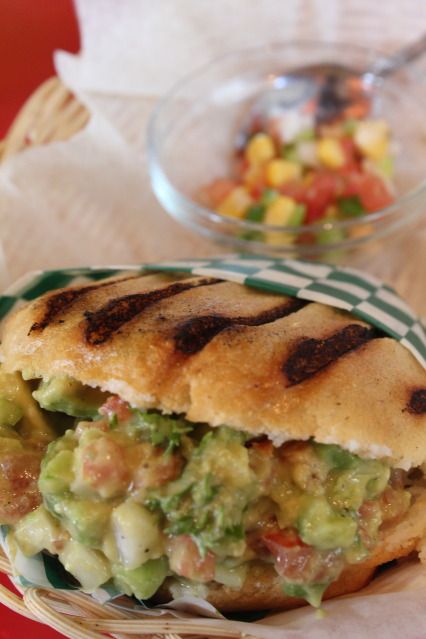 Kristel ordered the avocado, tomato, onion option – the vegetarian arepa. Arepera boasts the use of 100% gluten free corn flour. They have great vegetarian and even vegan options on their menu. However, trying to please everyone, they did manage to overlook a very special group of people who have very specific dietary restrictions – the other end of the vegan spectrum, the EpicMealTimeians. You'd think with the amount of pork on the menu, bacon strips would be obvious, but no.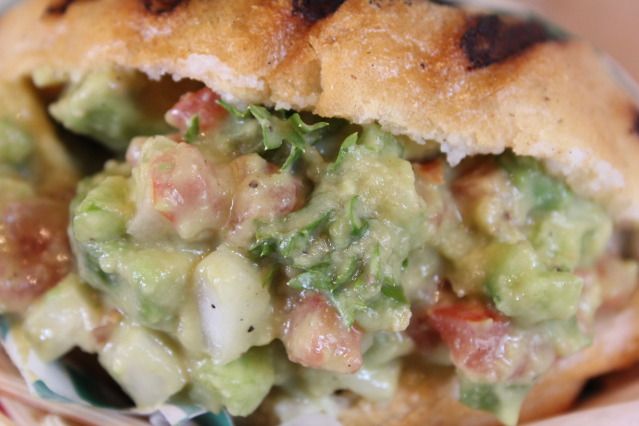 We discussed the make up of this sandwich and concluded that she essentially ordered the guacamole arepa. Not to its discredit, it was a very tasty guacamole made with very fresh ingredients. She said she was expecting something a bit different, as was I. I use the word "sandwich" loosely, because it resembles and has the characteristics of a sandwich, but it isn't. Kind of like how Christina Aguilera is a "singer"… sure she sells albums and is a performer on paper, but a singer she is not… more than she is an untied balloon that you pinch the tip of while letting it deflate itself, letting out a chorus of "MEEEeeeeEE BoooBoobobob BLAAAAA-yeahyeahyeahhhh~".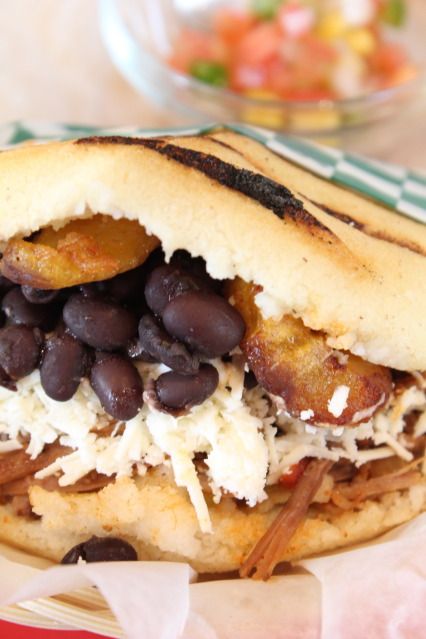 I had the pabellon arepa. Succulent braised beef topped with fresh grated cheese, stewed black beans and fried plantains. The gangbang of textures and flavors in this arepa was off the charts. The hard crusty bite to the corn-flour bun, to the juicy tender beef was set off by the sourness of the cheese and the sweetness of the plantains, then doused in hot sauce; this arepa is serious.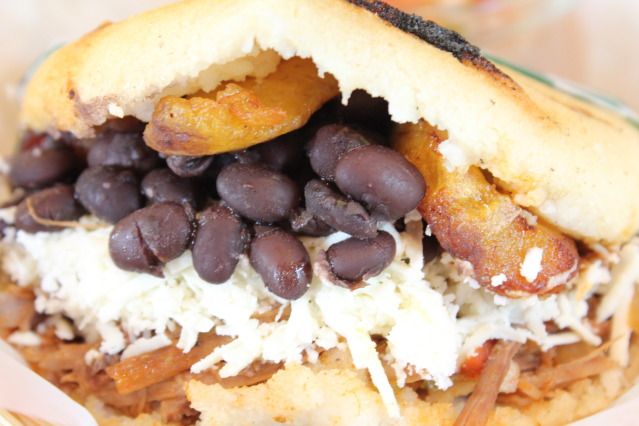 When I say serious, I mean it in the sense that it's packed full of ingredients. Busting at the seems with filling, the beans found their way popping out of the arepa with every bite, as little bursts of beany fireworks in celebration of an areparadic fiesta.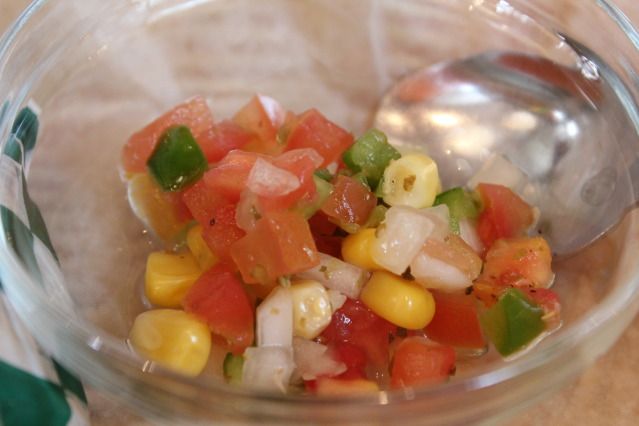 Each arepa basket comes with a little side. We ended up with a small bowl of fresh diced vegetables, topped with a little salt and cumin. Some other tables had beans, so whether the side is dependent on the arepa it's accompanying, I'm not sure. It was nothing spectacularly special.
Arepera has amazing varieties of arepas; from pulled pork, braised beef and fish to great vegetarian and vegan options. They also make an effort to inform everyone that they use exclusively grain-fed chicken from Voilaillees et Bibiers Fernando a butcher shop right around the corner. It's refreshing to know that there now is an option where meat eaters, vegetarians, gluten sensitive, and… vegans… can eat under the same roof and that roof not having to be a park chalet and the meal being a potluck.
Arepera
4050 deBullion
514-508-7267
http://www.facebook.com/areperamontreal