If you grew up in Montreal – or Canada for that matter, did you ever have that uncle who had a dry-bar in the basement? You know what I'm talking about, that bar in the corner of the basement, tiled with black tinted frosted mirrored glass, lined with decorative Niagara Falls collector plates and on the shelves were the graveyard where commemorative 1970s' Presidential spoons went to die? It was facing a floor mounted television with the wickedest set of rabbit ears, buttressed by the most badass four feet speakers with a turntable behind a glass cabinet? This my friends, is the forefather of the revolution in home renovation and committed men sanctuaries; what society regards as the grand-daddy of what we would now call a "man-cave." The sentiment of the gatherings of testosterone are found as glyphs of a prehistoric man-cave images, etched on the walls of caves… or covered up gyp-rock. If you any idea what I'm talking about, I have news for you… that basement opened a restaurant.
I hit up Chez Doval in the Plateau with a bunch of friends one friday night. Looking more like a neighbourhood casse-croutee, you would ever think that this converted duplex is churning out grilled Portuguese food.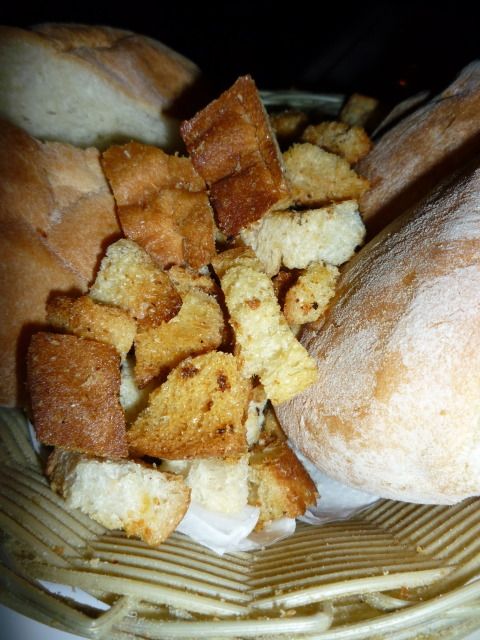 As Chez Doval is a Portuguese restaurant, the menu was pretty straight forward and simple: GRILLED. EVERYTHING. As soon as our orders were placed, our take-no-shit-old-timer waiter, plopped down a basket of bread. Both fresh Massa bread and some toasted with garlic – what ever which way the bread was served, I soon found out that this basket was equivalent to crack… not that I know what an addiction to crack is like, nor am I poking fun of it… I've just watched enough TLC and women cop shows to know what kind of dirty road garlic bread can lead you down.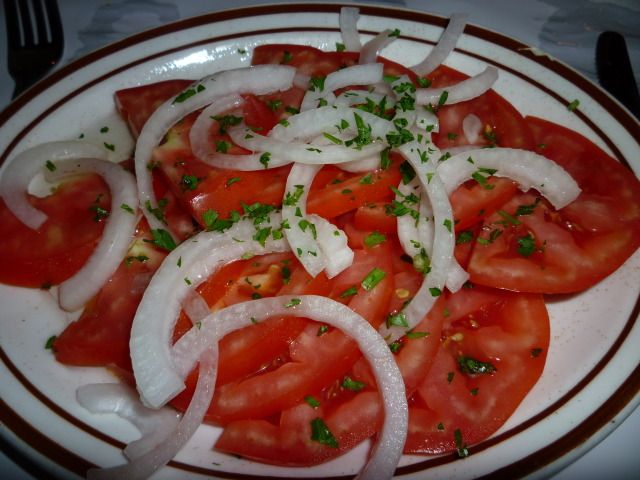 Knowing me and vying to be different, I started my dinner with the antithesis of this restaurant… a non-grilled fresh and pretty tomato salad, with onions and parsley. Tomatoes are in season and there's no reason NOT to be eating them now. These fat-ass beefsteak tomatoes were ripe and juicy; covered in a light dressing of olive oil and lemon juice, this dish was refreshing and a wonderful way to get your appetite going, or make you feel less guilty for going to snort down some serious food coming up.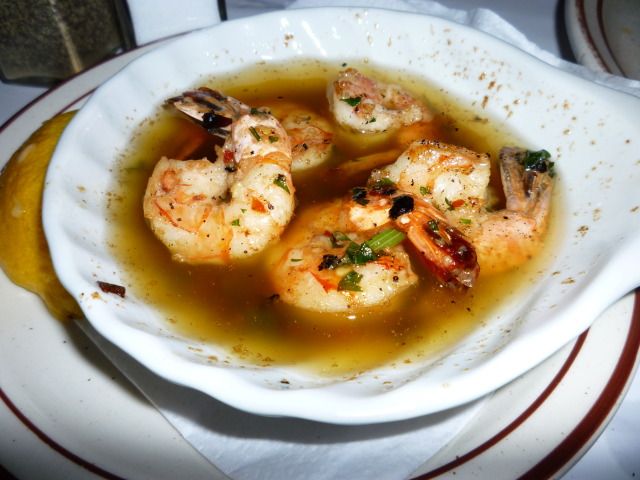 My friend started with shrimp sautéed with garlic and butter. With only five shrimps, she was gracious enough to have shared one with me – which was awesome of her, although she's my friend, I never said she was smart. Had I ordered this, for the duration of this dish and the time it takes for each shrimp to travel from the plate to my mouth, nothing in the world would exist to me in that moment. I would have no friends; but only five enemies I would need to destroy with chomping teeth and stomach bile.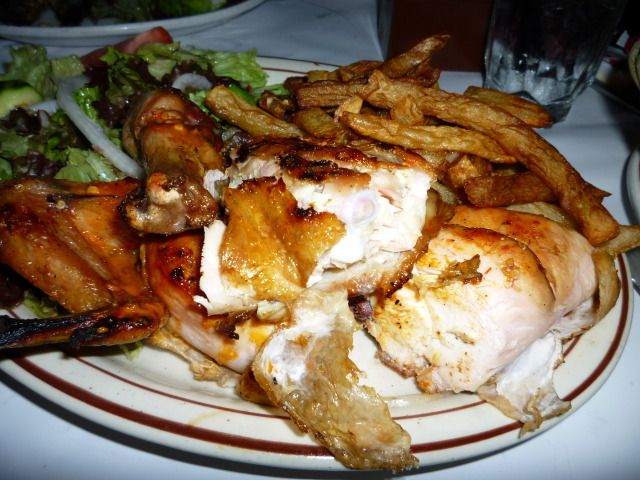 The two of them split the half-chicken plate. A sexy half chicken from legs to breast and wing, turned lovingly over an open charcoal fire then grilled. Deliciously moist and tender, the meat was juicy and salty with a hint of paprika and pepper, definitely not your IGA rotisserie chicken, I'll even apologize for writing that, but it needed to be said. That supermarket stuff is borderline mummified. When was the last time you had one? How is it possible to bite into a "chicken" and have it deflate? I rest my case.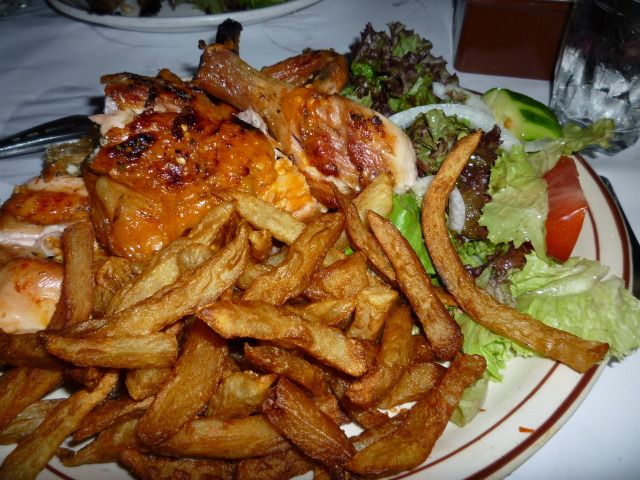 The chicken was served with an afterthought that came in the form of a "salad", and with fries. Can any portuguese readers confirm that your people fry your potatoes in oil and SEX? Didn't know which was the foreplay or climax, the chicken or the fries. Either way, many tables around us experienced their own versions of that scene from When Harry met Sally, only my rendition of pleading to a deity wasn't as hot as when Meg Ryan did it, more than it was messy cos I accidentally knocked over a bowl of gravy.

I had the grilled whole sardines, simple and straight forward. Prepared with only but a sprinkle of salt, the sardines spoke for themselves. Fresh and meaty, each dissected bite of fish was a burst of bright flavours highlighted by the spritz of lemon wedge. I know a lot of people aren't a big fan of whole fish, or the effort it takes into carefully eating it to avoid bones being lodged in your throats; but I think this is nature's way of telling us to slow down when eating. The time you take to avoid choking on the fish, you get to appreciate the taste of it; not all fish found in nature comes breaded and smeared with a mayo-relish sauce.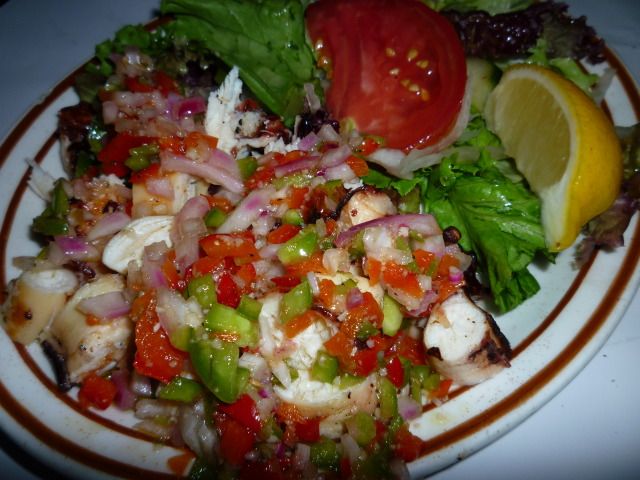 I also had the grilled octopus. The cephalopod was extremely tender and did not take on the texture of a white school eraser when cooked. Topped with a bright mix of peppers, garlic and onions in a simple lemon juice dressing, this dish was blasphemy; it was not right for it to taste as good as it did, and it had to be the doing of some sort of unexplained power. I know it might be sacrilegious to mention the notions of sex and religion in the same post, but I guess it's only fitting because the only way I can describe this dish is evil because it was that good.
This mainstay of grilled Portuguese delights has been permeating the connecting walls to their neighbours and littering the air with whiffs of charcoal smoke for 37 years. The waitstaff has probably been there for most of that time as well, so have the menu items and recipes. Like I mentioned, the crassness of the waiters adds to the "charm" of Chez Doval. Their "take no bullshit" attitude plus the Export As' in their pockets, multiplied by the smell of smoke on their breath is pretty much a clear indication of where you're eating. Eating at Chez Doval is like your uncle had to open up the basement to fit more people in at the family dinner BBQ; you're not allowed to look behind the bar or touch any of the miniature figurines, only you're not sitting at an old card table or using napkins bought on sale from "Cumberland".
Chez Doval
150 Rue Marie-Anne E
514-843-3390

If you're lucky enough to be seated in the "trophy room" you'll be able to glance over some great Portuguese futebol memorabilia. Stop by on friday nights for live music.