When I say "pub grub" what do you think of? An old dusty basket packed to the top with gloopy-suaced chicken wings and recycled carrot and celery stick? Fries fried in oil that's probably as old as the recipe for the stout they have on tap? Now what do you think of when I say "Gasto-Pub"? Contrary to what the name implies, it's not a place where you'll get some stomach bug and forced into isolation from friends and family and treated like you own a Clay Aiken album.
My "vanilla couple", (the ones who like to order the same thing unless I yell at them – as illustrated in my post about dinner at Osteria Venti) and I hit up this spot overlooking the Jean Talon Market. I cornered them and bullied them into ordering different things this time, I refuse to try a new menu and have only 2 different meals amongst three people! We went to check out Le Pourvoyeur – gastro-pub to grub on the menu and try to decide if they were pub, or restaurant, or proverbially, chicken or egg.
So after looking through the menu, we were told by our waiter that the orders are pretty small so we decided that it would probably make more sense for us to order – in addition to what we initially wanted to eat – a bunch of different dishes and split it amongst the three of us, tapas style.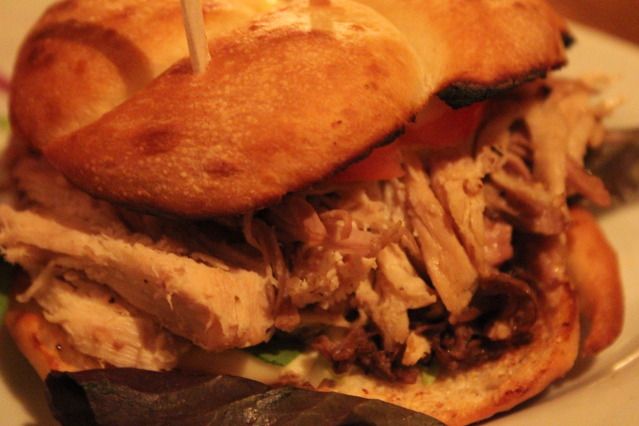 I ordered the pulled turkey burger. This oven roasted burger with a slap of herb mayo and traditional burger accoutrements – tomato and *shudder* mesclun lettuce, was very moist. Sitting in-between a toasted roll, the shredded turkey had a tendency to squeeze out of the sides of the bread like a slippery fish, but luckily it doesn't taste like one. The burgers are paired with a red cabbage coleslaw, which was nice to have that tartness to cut through the creaminess of the burger.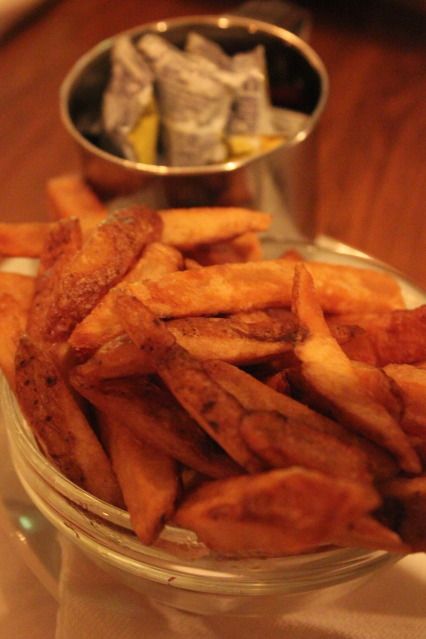 The home cut fries, sided with a tin cup of packet mayo and ketchup. They were thick and fluffy, but not so much crispy though, but the other stuff on the menu made up for the non-crisp quotient of the fries.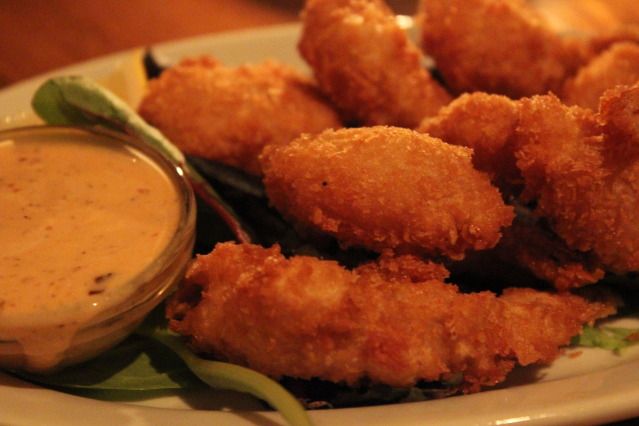 I had the popcorn shrimp. They weren't really popcorny, nor were they really shrimp. Sure, you can consider them "popcorn" if you like your popcorn the size of matzo balls, and your shrimp like pre-evolutionized lobsters. We're used to popcorn shrimp looking like fried up fishing tackle, but either the guys here at Le Pourvoyeur didn't get the email, or they're making good of their sourcing from the market in their backyard, because them shramps were huge. Served with a spicy mayo dipping sauce, the shrimps stayed crispy and crunchy right to the end.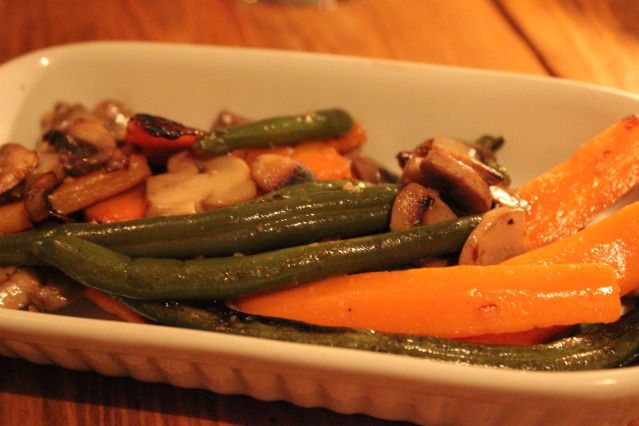 This is exactly what you think it is. This is a plateful of guilt. Guilt that you and I have put on our shoulders from our mothers after having ordered the amount of fried stuff that I did. Stir fried market vegetables; mix of carrots, green beans, zucchini, and mushrooms in a little bit of oil, salt and pepper. Nothing fancy, the vegetables were fresh and nicely undercooked. They tasted alright… they probably would have tasted better had I not kept hearing my mother's voice in my head.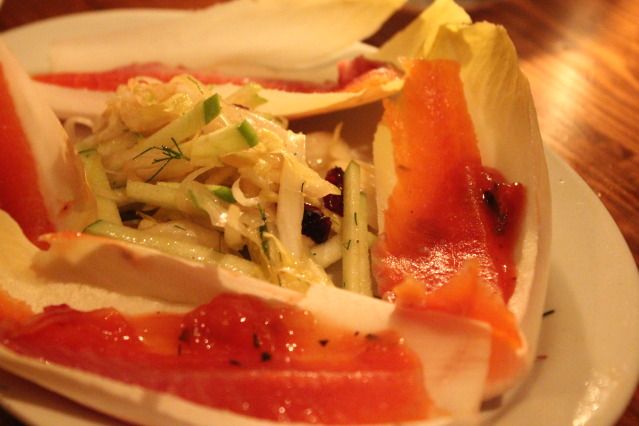 Gravlax served on endive, with a tangy apple coleslaw. Serving smoked salmon on endive was a great choice, the sweetness and smokiness from the fish went well with the bitterness of the greens. Add a bite of the apple slaw into that mouthful, then you have an awesome fishy party going on in your mouth. Four slices of smoked salmon seems to be a bit stingy, considering I can do that on one bagel half… then again, who other than me puts 4 slices of lox on half a bagel?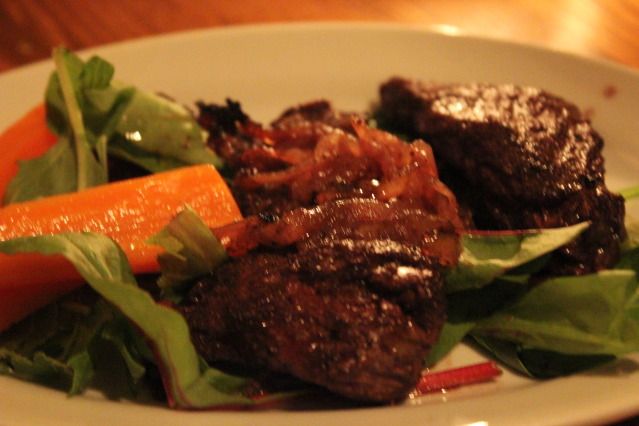 The grilled bavette came with a some sautéed onions and vegetables. Cooked carrots, meh, onions, good, steak, GOOD. The flank steak was seasoned lightly with some salt and pepper and was a nice medium-rare (as all cows should be cooked). The steak was tender and juicy, which inadvertently was my stripper name at club 281.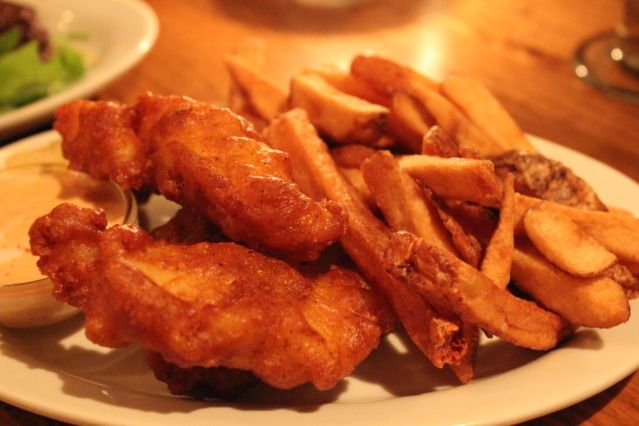 They also had the fish and chips. I didn't inquire what fish they used but I managed to steal a bite. When I bit into it, the fish was steaming hot and the batter was shatter-like crispy and pierced the conversation drowning French folk music. The white fish was flakey and held up nicely to the batter that formed a great impermeable protective crust. Served with a spicy mayo sauce, with a squirt of lemon, the fish was singing along with Paul Piché that was blaring out of the speaker above our heads.

My buddy had the pulled beef burger. I had a bite and it was dressed with an aoli as well as jus from the beef; which kept everything very moist. My other friend also ordered the pulled pork burger (not pictured). The sauce on that has unmistakably sweet and complimented the pork very well. When I saw "pulled pork' burger on the menu, I was secretly hoping it wasn't some sort of pseudo-their-take-on-a-poboy-sandwich. It wasn't. I was surprised that (unless I'm wrong, which is hardly EVER the case ;P ) each burger was dressed and all treated differently; I admired this decision… and the hot girl at the next table.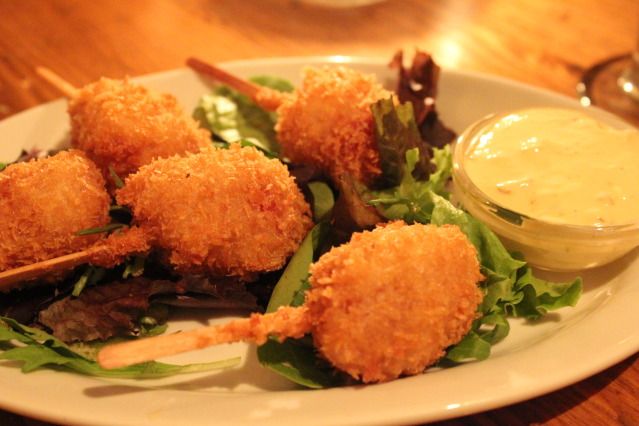 If that wasn't already enough food, we also split an order of pogos. These weren't your ordinary, corn dog pogos. Battered then rolled in panko, the all beef sausages snapped and popped when you bit into them. This is definitely not your frozen supermarket stuff – not that I would expect it to be.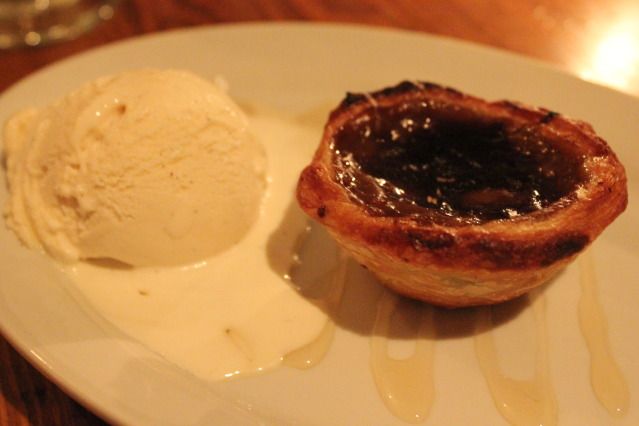 So for dessert, we each had (the only exception – only because I was too full to really fully enforce my no duplicates rule) a maple natas with a scoop of vanilla ice cream garnished with a drizzle of honey. The Portuguese inspired, warm maple sugar tart was a great end to a great meal and an awesome kick off to the sugar rush that will aid in you pushing your car home.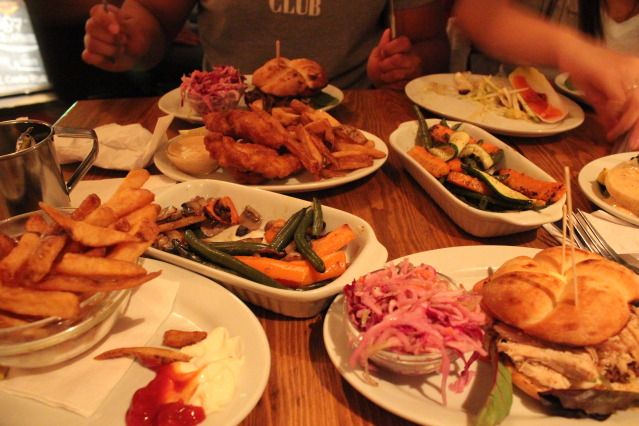 We all had a great experience at Le Pourvoyeur. Despite the questionable and very eclectic music selections throughout our meal, the food was definitely the highlight of the evening. As the three of us did not drink, I couldn't help but notice their extensive gin selection written on the wall as well as the ads and flyers for their happy hours and special open bar for ladies on wednesday nights. Whether or not this place is a bar first or restaurant first, there was a great mix and diverse crowd in the joint doing a little bit of everything.
Le Pourvoyeur
514-277-5858
184 Jean-Talon East
www.lepourvoyeur.com


p.s. make sure to read the bio of Mr. Jean Talon on the wall.