So what's your pasta style? Are you a straight up tomato sauce kind of person? Meat sauce? Alfredo? Salad? Or are you like me and like your pasta in a red sauce, but the next day in a sandwich with cold cuts? Strange right? But try it, and you can thank me later! I ask because recently I almost forgot what it was like to eat good pasta. Wait stop, I mean, GOOD pasta – the type of pasta where when you eat it, you're convinced that the restaurant or chef has some sort of secret supply of pasta. You believe that it's next to impossible to get pasta like that at home unless you flour up the kitchen, make a mess and make your own; and even then enough of it will stick to everything and your whole process won't yield more than a biteful… Don't ask me how I know.
You know that feeling when your nonna gives you a great big hug, then slobbers a smackeroonie on each cheek, her moustache pokes and tickles your face, then she tells you to go get something to eat in the kitchen? No? Not Italian? Neither am I, but I can imagine it. However, the closest thing I can get to this warm fuzzy feeling it is hitting up one of my favourite spots on the edge of Littally (Little Itally – get it? I'm so funny) called Tre Marie.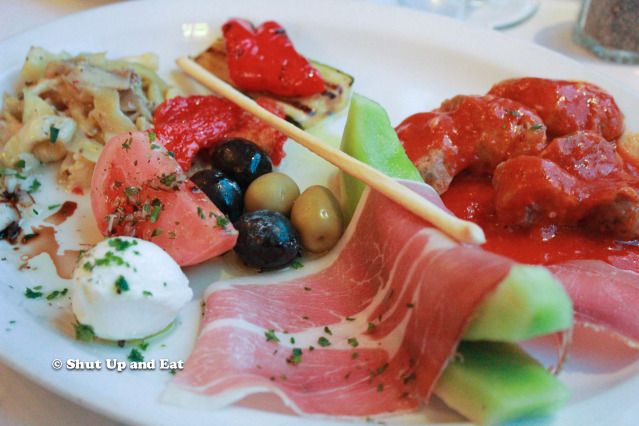 My friend and I split the hot and cold appetizer. This yin and yang antipasto featured an array of nibbles to get your appetite going. Marinated eggplant, fresh cut tomato, bocconcini, a handful of olives, sun dried tomatoes, proscuitto and melon comprised of the cold portion of the plate. Pretty ordinary in terms of staple antipasto items. The grilled vegetables and sausage in red sauce made up the hot section of the dish. The sausage was what stood out. Home made pork and veal sausage. Very tender and very sweet, it was a nice contrast to the rest of the plate especially the cold juicy melon. Overall a well rounded start to our meal. Please take note, I just used words like sausage, pork, tender, sweet, juicy, melon… and made no sexual innuendoes at all… damn I must be losing it.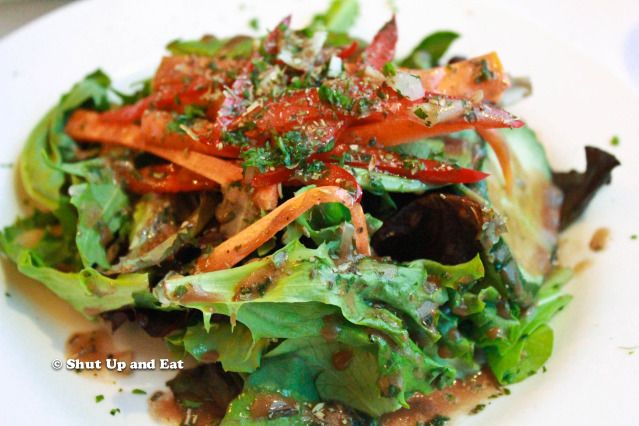 Since I ordered my meal from that day's table d'hôte, it came with a choice of soup or salad, I chose the salad. I'm a firm believer that mesclun is not salad; when you toss delicate little greens whose daintiness parallels a 5 year old's tea party dressed in Disney princess dresses, it's not salad. Me bro, I need a thick crisp and crunchy lettuce, packed with the essential dietary fibbers to ensure the safe passage of the subsequent mounds of white carbs (oh how I love yo so) to ensure it reaches it final destination. What was I saying again…? Oh yeah, tossed in a balsamic vinaigrette, the salad was salad.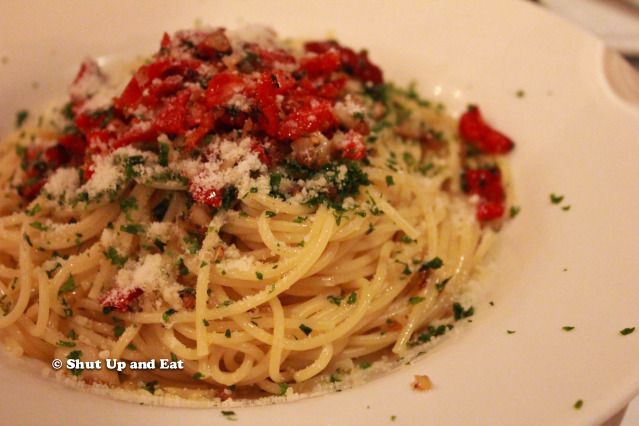 After gawking at the menu for 10 mins, my friend heeded my advice and decided to go with the aglio e olio (garlic and oil) with sun dried tomatoes and roasted red peppers. I've had this dish before and it's by far one of my favourites. She was skeptical about the lack of sauce or meat for that matter, but soon realized that I write this blog and went for it.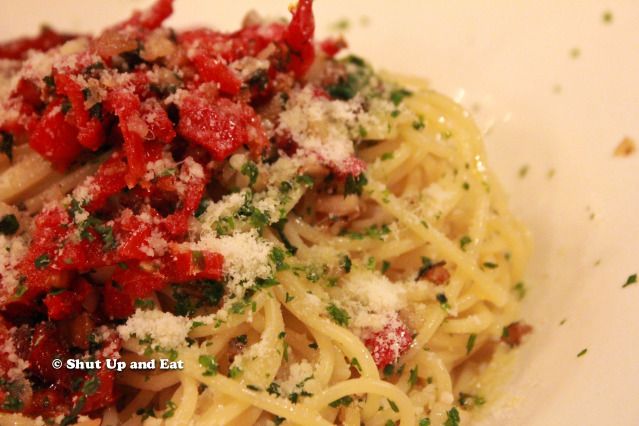 Topped with parsley and table side grated parmesan, this pasta dish will open doors for you and awaken senses that you didn't even knew you had. The garlic was sweet and olive oil was fragrant and was practically infused into the pasta by way of sex and extortion. The sun dried tomatoes added a nice salty kick to each perfectly al dente bite of pasta. The first time I had this dish, I almost got it pregnant… with my eyes.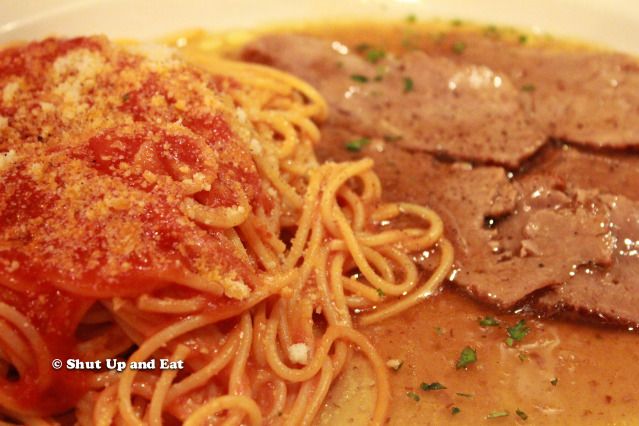 I had the veal in white wine sauce with a side of pesghetti in red sauce. I know a lot of people have reservations about eating veal, and how the practice in which they're raised is inhumane and whatnot – I understand, I respect that, but I don't care. I believe animals were meant to be eaten, if not, someone please explain to me why are they so tasty? It would be inhumane if they farmers flooded the barns with Celine Dion's greatest hits album through loud speakers and made the cow wear a party hat – THAT I will not stand for… no offence to Celine as she is a frequent customer to this place – you keep doing your thang girlfriend. 🙂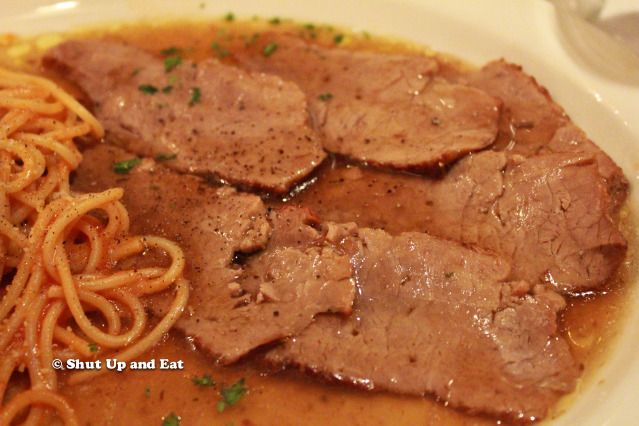 The highlight of this plate was the veal itself – obviously. Tender slices of milk-fed veal smothered in white wine sauce, the aroma coming off this plate made my nose drool. Meaty and bovine in taste, the veal was swimming in this sweet sauce that I would have been more than happy to drink as a soup; which says a lot considering, I don't like soup! The pasta as always was perfectly al dente and tossed with the homemade tomato sauce.
We opted out of dessert as their tiramisu was sold out; which I guess is a testament to the quality and taste of their homemade dessert. There are a lot of places to eat at in little Italy, but only a few places where you can actually see a little old lady in the kitchen. She doesn't know you, so she probably won't come out and kiss and welcome you, but you can definitely feel the love in the food you eat. Now what else tastes like the love of an old Italian lady other than a mound of pasta, food coma and the need for espresso after your meal… wait, don't answer that.
Restaurant Tre Marie
514.277-9859
6934 Rue Clark