What's your pizza style? Thin crust, thick crust, deep-dish, stuffed crust… *shudder* Frozen? Before I go any further, if you aren't able to tell the difference between a frozen pizza and delivery, then we can't be friends. Straight up, the amount of anxiety and frustration that I have to deal with every time that stupid commercial comes on tv pisses me off. Pizza is one of the most perfect foods, unless you're some jerk, pizza is always something everyone can agree on; you pick what you want on it, and someone BRINGS IT TO YOUR HOUSE! What more can you want? There are the purists out there who will chastise any pizza that isn't a plain fresh tomato sauce with Bufala mozzarella, sprinkled with freshly chiffonaded basil. I knew this one guy who wouldn't eat a pizza unless it was proscuitto with arugula and drizzled with olive oil – his reason was, that's the only "true pizza" and that's how it's done in Italy. Yes, pizza like that is tasty and appreciated when made with the freshest ingredients, but I didn't know how he was able to do it, I mean to be able to eat and enjoy a pizza with a stick so far up his ass, is beyond me.

I met up with a friend at a spot in Little Italy known for their pizzas and fresh pasta, Pizzeria Napoletana. To start, we split the Antipasto Caprese. Simple sliced tomatoes, onions and bocconcini cheese. I would love to say that the ingredients of this appetizer was sourced from a Nonna somewhere as she tirelessly tends to her garden and herbs, while her husband is out front hosing down the sidewalk and yelling at his grandkids to get off the lawn. I digress, maybe this vision would be more feasible in the summer, instead of in the buttcrack of spring where we're getting freezing rain and hail in the middle of April. The tomatoes were juicy and the sting of the raw seasoned onions was subdued by the creamy cheese.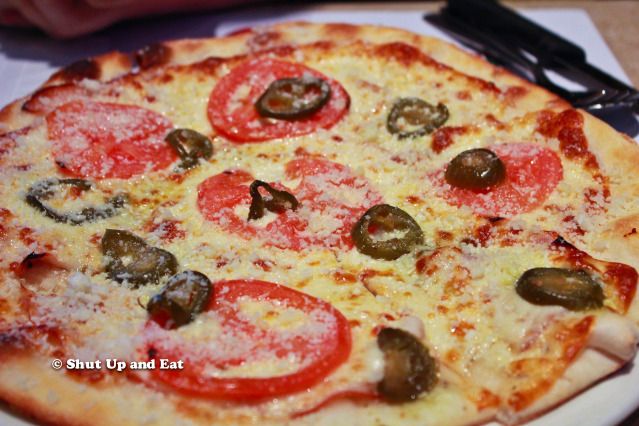 My lunch date had the Genovese pizza – pesto with smoked turkey, marinated hot peppers, mozzarella, parmesan and sliced tomatoes. Subscribing to consistency – from all the times that I've been to Pizzeria Napoletana – the pizza crust is thin and shatters under your teeth. I had a slice and what stood out the most was the fact that the slices of smoked turkey really held up to the baking and actually fortified the crust and the char underneath the bread accentuated the flavour of the turkey. The oil leaching out form the marinated hot peppers really added an eye-opening zing to each bite, complimented by the sharpness of the parmesan.

I had the Primavera – mushrooms, mozzarelle, tomato sauce, anchovies, olives, clams and marinated artichokes. If you grew up in the 90s, I'm a firm believer that the bad rep of anchovies on pizza stems from all those neon sitcoms that ostracized it from pizzas as though they were fitted sweat-shirts that didn't hang off your shoulders. In this context, the briny little fishlettes heighten the flavour of the clams like some sort of Italian Umami… Italimami. The artichokes lent themselves to the pizza by freshening up each bite with its tartness to compliment the deeper murky seafood flavour.
Don't get intimidated with the menu that reads like study notes of an Art History major – There's 41 pizzas, and 33 pasta dishes, it might be a bit daunting to make a decision. I encourage you to explore the menu and pick different dishes, and share with the rest of your table. Family style eating is always a great way to go especially from this family run joint that's been around for 64 years.
Pizzeria Napoletana
189 Rue Dante
(514) 276-8226
Cash only! – ATM available.
Bring your own wine
napoletana.com