I'm not a winter person, but living in a city where winter is a thing that's six months long – it's something you have to learn to deal with. I'm not a religious person either, but I've found the best thing to do in the winter is pray… and lots of it; and just sit there and try to pray the shit out of winter to leave. But alas, we need to put up with it, and on the brighter side, what's synonymous with winter? Yes! Soul soothing, comfort food that will stick to your ribs like a big hug and all those other adjectives with warm and ooey-gooey clichés that are associated with winter eating!
I recently met up with some friends at this small spot at St. Denis just north of De Maisoneuve called Mâche, right in the middle of all the colourful St. Denis action. Mâche bills themselves as the place for classic Quebecois comfort food, so we went and got excited to be comforted.

So what do you think of when you think "comfort foods"? And no, not sitting in sweatpants in a holey t-shirt eating pizza, although that has comfort written all over it. The menu had dedicated sections for Pâté chinois, burgers, and poutine… interesting.

From the appetizer section we decided to start with an order of the "La Boule" – described on the menu as a parmesan meatball served with tomato sauce. If there's one thing you should know about ordering something like this to share, and then trying to split it into three… it sucks. Only because it was delicious enough to warrant eating the entire thing yourself. It was soft (but held its shape) and moist – wasn't "cheesy" per se, but the mixture of meat was velvety and tasted nice with the homemade tomato sauce.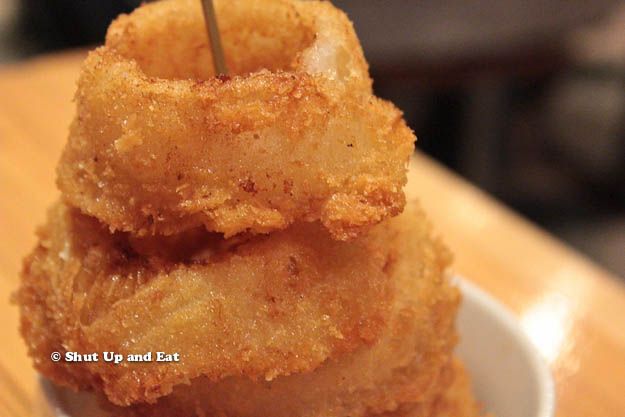 We also split an order of onion rings. If there's there's anything that makes my knees weak and swoon like a 12 year old girl who got winked at by Harry Styles at a One Direction concert, would be onion rings. Unlike the meatball where I had to use my ingenuity to divide into three and split it up in the shape of the Mercedes logo, six onion rings split evenly into three portions. The rings themselves were huge and the onion, cooked through. The batter was light and didn't allow me to pull the onion out in one long limp strip leaving a batter ring… that's the best part of an onion ring… and the little hard crusty bits.

With a choice of six different kinds; including ones with pulled pork or merguez sausage, my friend showed restraint and ordered the straight up original, Quebecois phenomenon, "pâté chinois" (shepherd's pie). Ground beef with sweet corn, topped with mashed potatoes and baked – this dish is capable of transporting even the most hardened of criminals to sweater wearing, snowy days of their youth.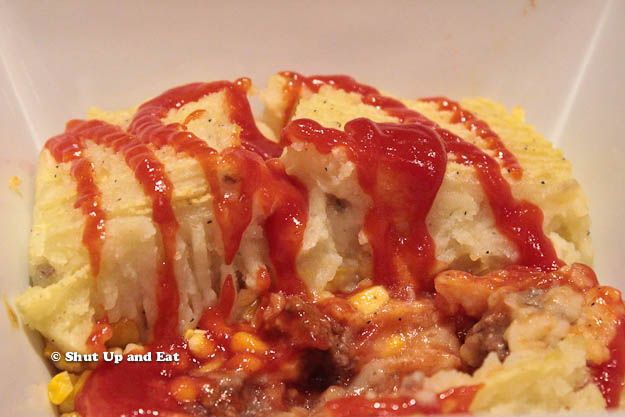 I don't necessarily have any emotional attachment to this dish; in my house it was known as shepherd's pie, and we did do this to it. In case the beef and corn wasn't already dead enough, we always made sure to drown it in ketchup. This pâté chinois in essence was good. There was nothing profound and thought provoking about it. The potatoes had a nice crust to it after having been baked and the corn wasn't overcooked – but nonetheless, hearty and comforting.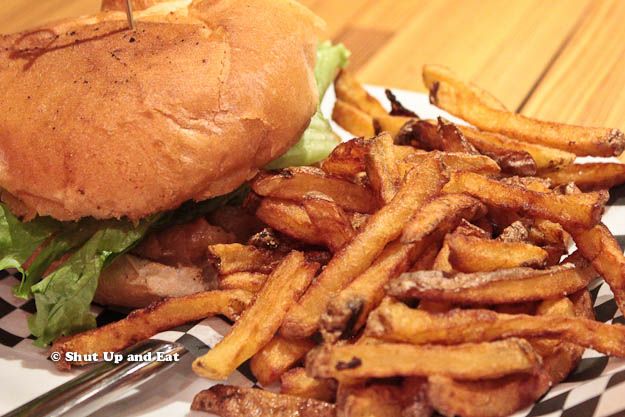 My other friend has the "deluxe" burger, made with pulled pork marinaded in barbecue sauce for 48 hours, braised bacon, fried onions, lettuce and served with fries. The meat was sweet and bacon added a nice salty bite, but there was only one hiccup with the sandwich.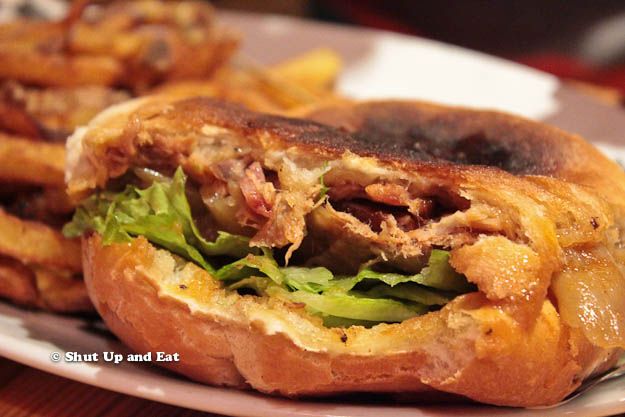 And by hiccup, I mean, lack of meat. It felt and looked like the meat was placed between the buns the way a baker fleurers (dusts with flour) over their work area. We agreed that the pulled pork was tasty whenever random bits of it made it into the bite. Sad.

I, on the other hand had the "gros beef" burger – a beef patty topped with lettuce, tomato, ketchup and onion rings, served with a side of fries and Mâche ketchup. Can you guess why I chose this burger? You damn right… the lettuce! I joke. The burger structure took to me squashing it down fairly well and still held together.

The burger was tasty; with the traditional toppings of lettuce, tomato and a play on onions (onion rings), the meat was juicy and was not cooked to a hockey puck like a lot of places do. I noticed the burger patty had great texture on its own; with bits of onion in the meat itself, I'm assuming perhaps the same meat or at least the same preparation as the giant meatball. In any case, the meat was seasoned well, and the burger didn't need anything else. The Mâche mayo was basically a spicy mayo that helped cut through the richness of the meat and batter of the onion rings, as did the sweet tang of the ketchup.
Mâche is doing traditional Pâté chinois, burger, poutines and awesomeness. Quaint and modest, the place has its quirks in decor and menu options. Despite the pulled pork sandwich being on the slim side, the burger was solid as was the traditional pâté chinois – everything you want when you're not only hungry, but going to a place where they openly advertise Quebecois rooted "comfort food". The thing about Mâche is that yes, they offer the traditional options of shepherd's pie, mac and cheese and hot dog poutine for the fur trader or logger inside of you, but they also have stuff like a giant meatball, "new style" pâte chinois with leaks and sweet potatoes… perhaps the comfort food to the future generations?
What are your comfort foods?
Mâche
(514) 439-5535
1655 St-Denis
http://restaurantmache.com