A big think you to all those who voted for CultMTL's "Best of Montreal", which saw Shut Up and Eat listed at Montreal's top 5 Instagram feeds! If you're not already following me; you can do so here: http://instagram.com/shutupandeatmtl. You are all awesome and terribly good looking…!
Being said, there is one popular category on this Best of Montreal list that is quite competitive, as all Montrealers have opinions stronger than trolling 15 year olds on the comment sections of YouTube videos – being, best portuguese chicken. For years there have been just a select few big hitters in the world of Portuguese rotisserie chicken and when you align with one team, your line is drawn deep in the sand. Defection will result in slander over the internet with the likes of which can result in you being called a lover of IGA's finest "chicken" – the shit is drier than a summer day in African with the taste that rivals a BBQed Kleenex box.
I give to you my top three choices for Best Portuguese Chicken in Montreal.
Rotisserie Romados


When you talk chicken, chances are, no conversation discussing the subtle nuances of poultry bathed in piri piri will ever be had without the mentioning of the King of Montreal Portuguese Chicken, Rotisserie Romados. This coveted gem of the plateau has been around for years, written about in local and foreign press and covered by Anthony Bourdain's "The Layover".

A family recipe, the chicken is roasted atop a charcoal pit which leaves the chicken succulently moist having being basted in its own juices. Despite looking like some industrial torturing device, this is where chickens become Portuguese… I have official renamed this thing, "The Yum-Yum-Machine".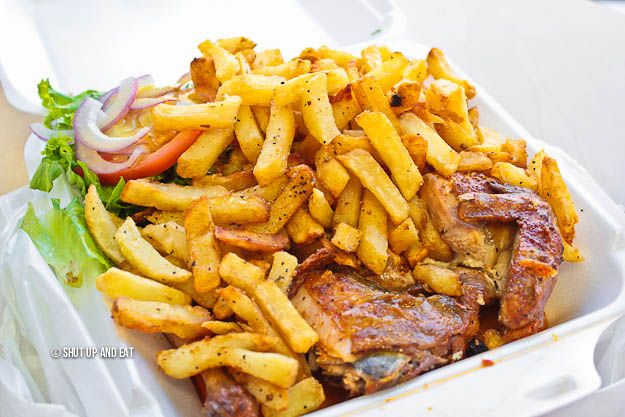 The skin on the chicken roasts up to a golden crisp which the optional spicy sauce clings on to for dear life. A half chicken combo will set you back a pack of cigarettes, and comes with "salad" and a crap load of fries, (not that they barter chicken for cigarettes).
Unfortunately the famous Rotisserie Romados succumbed to an electrical fire this past winter and have been closed ever since… HOWEVER, they have just announced their official reopening JULY 5th! Start lining up NOW!
Rotisserie Romados
115 Rue Rachel Est
(514) 849-1803
---
Rotisserie Mavi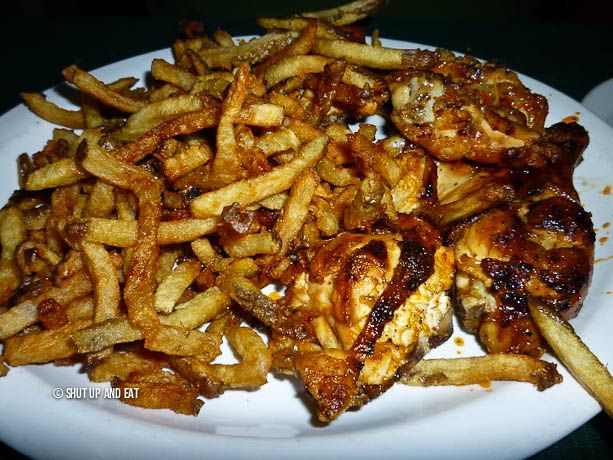 This inconspicuous spot in Cote des Neiges has been my absolute go-to spot for Portuguese chicken this side of the St.Laurent (blvd). Grilled over a wood charcoal grill this chicken is takes on that great smokey flavour of the singe. Marinated in secret spices and a preparation I was briefly a witness to, sees the chicken come out of a brine. I could be wrong, and all that could have been an elaborate setup to throw me off. Why is it called a rotisserie when the chicken is grilled? Your guess is as good as mine, but for all I care they can throw the chicken over an out of hand gasoline fire and I would still devour it in one of their awesome Portuguese rolls.
Rotisserie Mavi
5327 Gatineau
514-340-9664
---
Helena


Second endeavour of Helena Loureiro or Portus Calle sees this Portuguese restaurant in the Financial district of the Old Port. In a finer dining establishment, the rustic Portuguese chicken becomes refined – the chicken becomes a Cornish hen and the fries become homemade chips.

The smaller bird is a lot more flavourful and delicate. Paralleled with the plating and presentation, it goes without saying that the styrofoam container is taken out of the context of the nitty gritty Portuguese chicken equation. Dressed with her own secret blend of spices, Helena's spicy sauce is subdued, but present. The chips are a great treat and alternative to fries that mimic the skin of the chicken.
Helena
438 McGill
514-878-1555
---
Chez Doval


I don't know what's better, their chicken, or the fact that the place looks like your Uncle's basement from the 80's. Serving up Portuguese chicken by the dim blue-white neon lights and comforting hum of a vintage Molson-Ex clock, the whitest of white meat of the chicken is moist and juicy. Shattering crispy skin lightly dressed with a signature sweet and spicy glaze, the salty chicken begs to be eaten with your hands and have all utensils left on the table.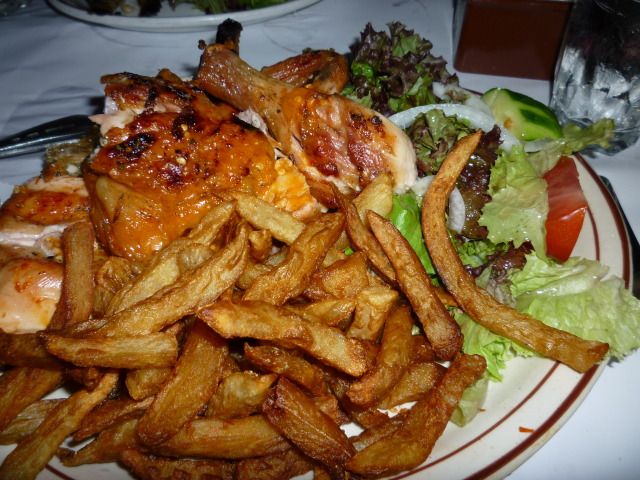 Served with fries and an afterthought of a salad, their charcoal grill earns every piece of poultry that lands on it; if you take a look around, eight out of ten are digging into the chicken – which isn't hard to believe since they've been doing it since 1974, they have six stanley cup team portraits to prove it.
Chez Doval
150 Rue Marie-Anne Est
(514) 843-3390
Honourable mentions to:
Jano – 3883 St Laurent Blvd
Coco Rico – 3907 St Laurent Blvd
Galo – 1970 Graham
I got you covered no matter which part of the city (mainly central sorry Westislanders) you're in to cop some delicious Portuguese chicken. Summer is synonymous with BBQ or something cooked over a flame. Always ask for spicy, get some extra rolls and another order of fries, find a spot and enjoy the summer!