Every year Montreal hosts one of the world's biggest winter festivals, Montreal en Lumiere, attracting close to a million people – visitors and locals alike – to bask in the winter wonders that Montreal has to offer. From inviting some of the world's best chefs to take part in the gastronomy program of the festival, to highlighting the arts and music that acclimate to an all night bash in the Quartier des spectacles, for two whole weeks in the dead of winter, we Montrealers party with our snow pants on.
I was fortunate enough to be invited to check out some of the dining attractions during Montreal en Lumiere. From Lunches and brunches, 5 à 7 cocktail events to winter workshops and gastronomy demos, the culinary aspect of the festival this year, paired restaurants and chefs with local personalities (artists, athletes, authors, journalists…) or featured local products and producers to ultimately highlight Montreal and subsequent talent from all walks of life. I took in two of the brunch events, both different in style, cuisine, and service to fully experience how Montreal's finest chefs exemplify the spirit and essence of Montreal en Lumiere.
I started at the brunch event at Le Montreal at the Casino de Montreal. Executive chef Jean-Pierre Curtat and team created a menu and dishes that highlighted maple syrup. The smokey Jack Daniel's maple spare ribs as well as the maple miso marinated salmon and roasted maple-lacquered duck breast were the highlights of the buffet tables along side the carved to serve tables and raw bar.
Their effort to put forth delectable dishes in a buffet setting is commendable. Often the stigma of chaffing dishes of food kept warm on a buffet lines gets a bad rap – but Le Montreal's uses their service style to their advantage – serving hearty dishes both typical as well as unique to a brunch meal.
Rock solid brunch dishes elevated in a parti-time self-serve environment is what you're going to find. A manned omelette station and a crepe station satisfies your traditional brunch cravings as beastly rounds of roast beef, whole roasted turkeys are carved and served to order as well. This buffet is not the kind you stuff your face at after a long day of paint balling with the boys.
The highlight of the morning was featured in Le Montreal's vast variety of desserts.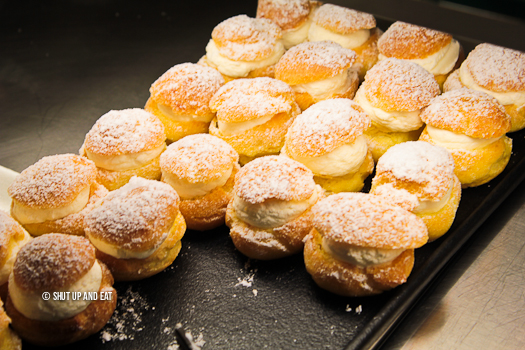 Touches of rich maple were present and kissed most of the desserts; from the vanilla creme brûlée, tiramisu, cheesecakes and madeleines. Contrary to the rest of the Montreal en Lumiere program, Le Montreal serves a brunch buffet every Sunday and is not a one time event.
My second Montreal en Lumiere brunch experience was at Europea for the SIMON DURIVAGE, FRIEND AND BRUNCH EXPERT event. The premise of this event was that "Chef Jérôme Ferrer and his friend Simon Durivage have made brunch an almost weekly tradition. For the very first time, you are invited to come discover their vision of a friendly brunch."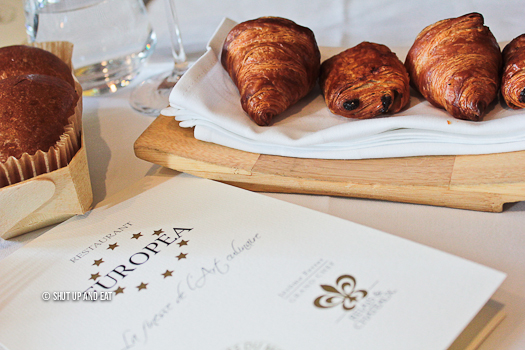 Brunch started off with fresh orange juice with viennoiseries of fresh in house made croissants, chocolatines, and brioche, three different kinds of butter, brie and creton.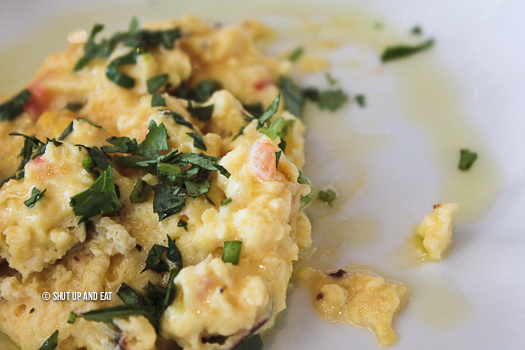 The second course was the "Mexican" style eggs à la Simon Durivage. Rich with butter and cream, scrambled with peppers and topped with fresh cilantro.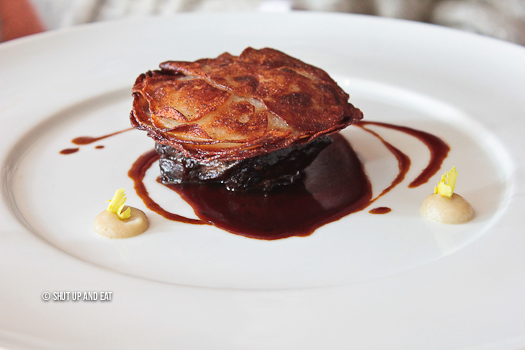 As the main course (I think I'm only doing multi course brunches from now on!) we had a choice of surf or turf – put more eloquently of course, but since we were two, we had one of each – my sister has become allergic to seafood in her old age. She had the citrus peel braised Quebec veal cheek topped with fondant potatoes with Jerusalem artichoke puree.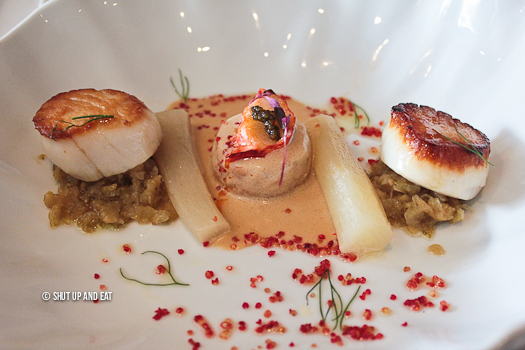 I had the XXL seared scallops with a citrus Nantes sauce, with lobster and a medallion of confit lobster, topped with Temiscaming caviar, served with braised salsify and red quinoa.
A coconut and pear tart, hazelnut brownie, chantilly cream, red fruit coulis and pink cotton candy. The cotton candy course of a brush is so underrated!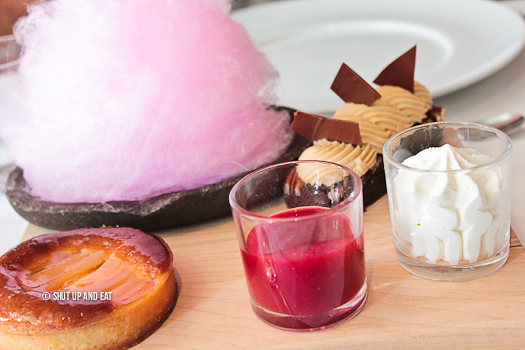 With a great turn out at the Nuit Blanche and sold out dinner events the 2014 edition of Montreal en Lumiere was a great success in all aspects of the festival. A big congratulations goes out to all managing partners and organizers for setting yet another standard in event production, and thank you to the management and staff at Le Montreal and Chef Jean-Pierre Curtat, as well as Europea and Chef Jérôme Ferrer.
For more info check out the official website here: http://www.montrealenlumiere.com.