I don't know about you, but when I think of spicy szechuan food, the first thing I think about is the Monkland village in NDG. I mean, fiery dishes that are capable of shutting your body down, pulling every ounce of moisture to bead sweat out of the top of your head to your face off, I mean, duh, come on, that spot next to the Pharmaprix at the bottom of that apartment building. I got word that the chef from one of Montreal's premier Szechuan restaurants Cuisine Szechuan on Guy opened up a new spot in NDG and decided to check it out.
This modest spot features a large family table in the front of the restaurant that's built right into the glass alcove leaving diners the centre of attention to pedestrians on the sidewalk as some sort of trophy case and public display of suckers hypnotized by fiery delights that now foster the city's clearest sinuses. We looked over the menu and picked some classic choices.
We dismissed all appetizers and dove right in. Twice cooked pork is a traditional Szechuan dish that consists of a whole pork belly that's boiled with aromatics, chilled, then sliced thinly and fried. This dish was served with bell peppers, scallions, celery and dried chili peppers mixed with a spicy sauce spiked with szechuan peppercorn; the kind that leaves your lips a numbing and tingling hot mess. By boiling the meat, you impart the flavourful herbs and spices into the meat as well as cook the fat. Doing this first, you're able to fry the meat and crisp the fat – adding an amazing texture to the dish. If it wasn't boiled first, the fat would just render out of the meat as it fries, like bacon.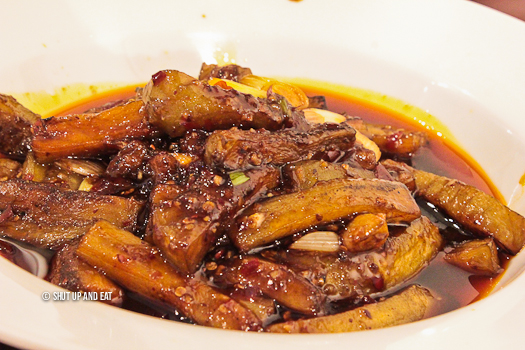 Yu Xiang eggplant is one of my favourite dishes. The eggplant is fried and then stewed with a mix of spicy don ban jian sauce (chilies, fermented bean paste,) and yu xiang sauce (garlic, chilies, sex,) combining forces to create a flavour bomb all up in your mouth. The Szechuan Yu Xiang Eggplant dish is very different than the Cantonese version that sees the addition of salted fish and ground pork. This dish was sweet and tangy from the chinkiang vinegar which offered a completely different dept of the flavour.
We ordered the "Szechuan braised chicken with potato & 13 spices". Large pieces of chicken stewed with potatoes with (obviously) 13 herbs and spices. Deep and murky, the dish had hits of ginger, cinnamon, garlic, cumin, anise… I'm not about to list all 13 spices, but the list goes on. I can tell you that this dish is one that needs to be appreciated. The dish was profound in flavour, to have a combination of so many ingredients in the sauce alone, takes an experienced palate to ensure the proper ratio and proportions in order to create a successful dish. Each individual element is distinguishable and that is a feat in itself.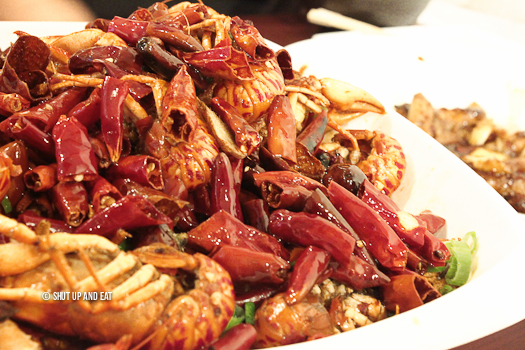 When you walk into Gia Ba, you'll notice on the left side of the restaurant, a giant chalk wall that details the current specials – we were lucky enough that they had Szechuan style crawfish dish in season. We've never had it before so you can imagine our excitement when a gigantic bowl of whole stir fried crawfish in an aromatic broth of peppercorns, dries and fresh chillies, scallion, ginger, garlic and soy was placed in front of us. There was no way around it, we had to roll up our sleeves and get dirty with this pile of crawfish. It was delicious, but I could imagine it tasting even better being accompanied by a bottle or two of ice cold beer, watching tv, and sitting in from of a fan… in front of an air conditioning unit. To say it was spicy is an understatement… it made me sweat in places I didn't even know I had pores; it was so spicy that it was like satan was coming to earth and was using my body as a porthole.
Opened for only a little over a month and change, I was comforted knowing that Chef Su's seasoned woks made their way uptown, perfuming the air and gracing the residents of NDG with a little more culture and a glimpse into the east. Although Szechuan restaurants do exist in the area, nothing the likes of Gia Ba have been seen in this borough and to be quite honest, it's a welcomed addition. If you're not in to spicy foods, they do have tamer dishes on their menu, but that would defeat the purpose of eating at an authentic Szechuan restaurant, you wuss.
Restaurant Gia Ba
5766 Monkland
514-564-7698
Facebook