On one of the hottest days of the summer so far, guess what I chose to have for lunch. A nice refreshing salad or a chilled spicy gaspacho…? That's what you'd think. No, I made my way up to l'Acadie to this new spot right across Marché Central for pho… a nice hot bowl of pho. I noticed this place not too long ago on one of my pro-capitalism excursions to Costco. Always wanting to stop by for a pho, I could never get past leaving Costco without an obligatory hot dog and five cups of 'Murrrica in self-serve soda. It's not uncommon of me to go out of my way for a bowl of noodles – the first city-wide search for the best pho took me to over 30 vietnamese restaurants in the city!

Always wanting to add to the roster of go-to pho restaurants in different parts of town and add to the existing cast of usual suspects of Pho Tay Ho, Pho Lien or any on my top 3 bowls of pho in Montreal, by chance I picked one of the hottest days in the summer so far to check out this spot that serves STEAMING BOWLS OF NOODLE SOUP. Some things you just can't explain or should you dare to question nature; like black holes, how birds know when to fly south, the celebritae of Kim Kardashian and why in some masochistic way, having pho when it was 36 degrees with humidity seemed like a great idea.
For the most part Pho Mymy has a typical Vietnamese restaurant menu – except for the shrimp tempura. With noodle bowls and BBQ rice dishes to distract the common diner, what you're going to order here is their pho. Hearty, rich beef broth peppered with aromatic spices and herbs simmered for hours served with slices of unctuous meat and veggies. I've said it before and I'll say it again; when you order pho and are presented with this plate of fresh bean sprouts, thai basil and lime, contrary to caucasian custom and folklore, THIS IS NOT AN APPETIZER, it goes IN the soup.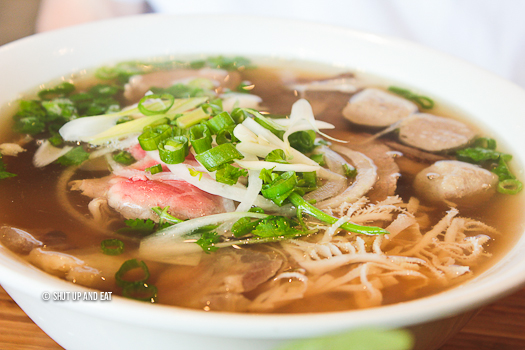 The "dac biet" is the house specialty – flank steak, brisket, soft tendon, tripe, beef meatballs topped with raw slices of sirloin, garnished with slices of raw onion and scallions. The soup has the classic characteristic of any proper pho broth that's been given the time to simmer and develop. The tripe was sliced a bit thicker (as I like) and not literal strands as some other places slice them – this lets you actually bite into the tripe rather than having it get lost in the noodles. The thai basil and lime really drew out the aromatics in the soup as well as helped cut through the richness.

I had the bun bo hue – a common dish that's served most often on weekends – Pho Mymy serves daily. A soup whose taste takes longer to develop is made with the simmering beef bones, lemongrass, chili peppers and chili oil as well fermented shrimp paste and palm sugar. Served with slices of beef shank, and cha (Vietnamese pork loaf similar to a luncheon meat), the bowl consists of a rounded wheat noodle, opposed to the rice vermicelli noodles used in pho. The profound depth of the soup touches on savoury, sweet, spicy and sour. The soup isn't as inherently spicy as its red colour screams it to be.
Pho Mymy is a relative newcomer on the Montreal pho map but they've situated themselves comfortably by offering some solid soup noodle options and shrimp tempura should the craving hit. They specialize in a few things, but offer more. The soup noodle is where it's at and that's where you want to be. Fried noodles with a meat sauté… don't be that person.
Restaurant Pho Mymy
9460 Boul. de l'Acadie
514-384-7877
Facebook