You know what's totally underrated? Tea. Not the ambiguous white pouch of Orange Pekoe that's haphazardly thrown on the side of a one-cup metal teapot that probably hasn't been washed since the day it was bought; but proper English tea. Don't get me wrong, I'm no expect in the fine intricacies of afternoon high tea, unless you count the times I helped the old lady next door as a kid, who was drunk off brandy in the afternoon and couldn't hook up the oscillating sprinkler to her garden hose and offered me Club Social tea crackers in return, or the times I've mimicked a British accent when picking up a particularly pretty tea cup with my pinky in the air (admit it, you've done that before.) There aren't many places that do English tea in Montreal, but the few places that do, do it extraordinarily well. I visited this place recently that doesn't actually serve high tea, but does prove themselves as one of the premiere places to go for a spot of tea.

I went to The Cardinal Tea Room in the Mile-End. Located upstairs from the Sparrow, the space looks like one of those newspaper stories of an old uninhabited building that was stuck in time and untouched for 80 years. I don't know if that's a compliment to the decorators, but the place is stunning; antiques and subtle details that adorn the walls that compliment the furniture that's somewhere between a country inn, a British pub and steampunk's wet dream.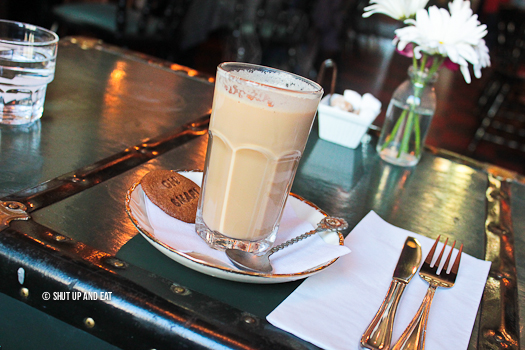 We were left to seat ourselves and we chose the love seat in front of the window that was coffee-tabled by an antique trunk. From the tea list on the menu, the varieties were broken down into different categories to make choosing one easy. I chose the homemade chai. Served with a ginger snap, the tea was hot and fragrant. The prickly heat of ginger and cinnamon was soothing compounded by sitting on a vintage victorianesque sofa that reminded me of something from my grandmother's house.

The scone of the day was blueberry; served with butter and raspberry jam. The scone was warm, buttery and flakey, just how God intended them to be.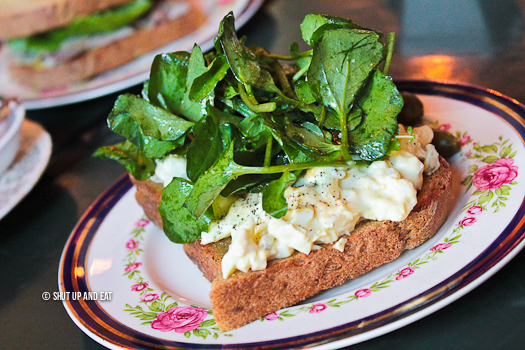 The open-faced egg salad sandwich with watercress salad on fresh white milk bread. The egg salad was luscious and creamy; large chunks of egg, sweet onion and fresh cracked black pepper was balanced perfectly by the pepperiness of the water cress which was lightly dressed in a simple vinaigrette. I loved the bread which was thick and stood up to being held open-faced without flopping over.

The smoked ham sandwich with English mustard served on brown bread was hearty and substantial. Generous slices of smokey ham was held together by bibb lettuce and the same style of dense milk bread. Served with a couple of Gherkins, this sandwich is that lame ham sandwich your mom sent you to school with but only ten times better and a lot less lame. As much as I love toasted bread, after two sandwiches and a crusty scone, there wasn't much left of my palate other that a thin layer of bleeding dermis. I would have loved to try this bread warm, fresh, soft and supple.

We also ordered the Ploughman plate – a cold meal of bread and a little bit of everything and anything suitable for a ploughman. This particular plate from The Cardinal Tea Room featured pickled beets, cured sausages, headcheese, fresh cherry tomatoes, sliced apple, aged cheddar, pickled onions and gherkins, the most perfect boiled egg and homemade Branston pickle – a kind of pickled chutney. There was also two slices of buttered white and brown bread that accompanied this dish. This by far is my favourite way to eat; I'm most content with a plate of charcuterie, cheeses and great bread over anything else… besides noodles and dumplings and fried chicken. But still, you know what I mean.
Rough estimate, we probably ate three-quarters of a loaf of bread, and *I* probably ate three-quarters of that three-quarters. My experience at The Cardinal Tea Room was a great one. Attentive staff and simple food prepared delicately paying tribute to a certain age and/or era of a certain place in time. Subscribing to an air of authenticity, the aura of The Cardinal Tea Room not only translates through the dishes served, but transcends through the china on which they're served, historical artifacts that line the wall as well as the decor that is set up to fool you into thinking you've been transported back in time.
Salon de Thé Cardinal Tea Room
5326 Boulevard Saint-Laurent
(514) 903-2877
http://www.thecardinaltea.com/


The Cardinal Tea room opened from Friday to Sunday.