There are certain areas in Montreal where restaurants are abundant, then there are neighbourhoods that are virtual wastelands for decent food (I'm looking at you West island.) One of the more popular areas in the city is Griffintown and as the people are moving in and the gentrification tightens it grasp, restaurants are are one of those establishments that are as badly needed as grocery stores, boutiques and antique shops. I've said all along that one of the things Griffintown is missing is an Asian restaurant representation and recently a place has stepped up to plate.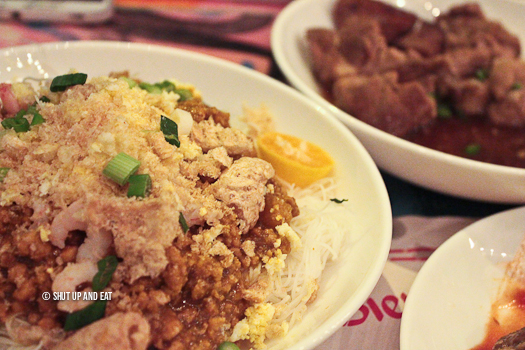 I hit up this spot new to the Southwest that's quickly claiming notoriety for being one of the very few Asian restaurants in the neighbourhood, but even more importantly one of the four Filipino restaurants in the entire city. Restaurant Junior has set up shop on the popular stretch of Notre Dame in Griffintown that is home to some of Montreal's most popular restaurants and bars and I decided to check them out.

We started our evening with the lumpia. Made with a combination of pork and onions, it wasn't a fried spring roll I haven't had a million times before. What makes the lumpia different from the others is definitely the dipping sauce. I'm used to something thick, something sweet and sour; an excuse to double dip my spring roll and lay claims to the entire dish of dipping sauce. Lumpia is served with a dipping sauce that's savoury – although with a hint of sweetness, it's the soy sauce that's predominate and helps bring out the flavour of the pork in the spring roll.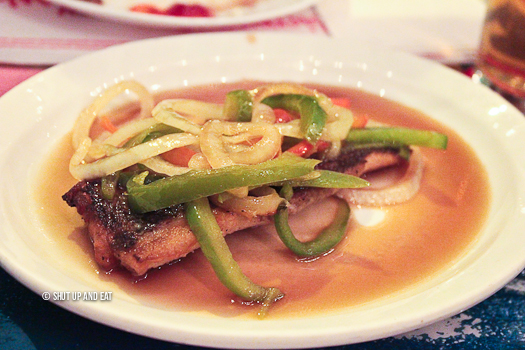 Escabeche isda – vinegar and citrus fried bass. A modest sized filet of bass served with sautéed onions and peppers and topped with a sweet and tangy pan sauce. The fish was nicely fried, this dish was served as an appetizer but I could have easily enjoyed this over rice – not to miss.

For our mains we ordered the Palabok; a very generous bowl of vermicelli rice noodles, topped with a savoury ground pork meat sauce, shrimp, chicharron and eggs. A very hearty noodle dish, the delicate sweetness of the shrimp stood up to the robustness of the sauce. A variable clinic in textures, the crunch of the noodles and fried pork rinds were subdued by the creaminess of the eggs.
The unofficial-official dish of the Philippines – Adobo! We ordered the pork adobo which was large pieces of pork stewed in a tangy mix of vinegar, soy, garlic, bay and a touch of sugar. The pork was tender and held up a very minimal fight when pulled apart. The eat was juicy and sweet having being permeated by the braising liquid.

An array of sauces top each table that are essential to any awesome Filipino meal. Your server will advise on which is served best with which dish. Mang Tomas' "All purpose sauce" is where it's at. I found myself putting that on everything.
Junior has nine items on the menu with a rotating daily special – not including the two dessert items. The team at Junior isn't reinventing the Filipino culinary wheel. I believe Junior's mandate is to provide people of the area with classic homestyle dishes of the Flores family recipes by introducing Filipino cuisine and providing that accessibility to those who have never had the chance to experience it. Growing up with Filipino friends and being a dinner guest to many family functions, I can safely say that Junior's menu is representative of a typical family menu (albeit a tamer version) but authentic none the less… and served family style, there's no other way to enjoy the meal and classic Filipino hospitality.
Junior
1964 Notre Dame W
(514) 944-8636