It's that time of year again, where guilty heathens who went full yolo during the holidays crowd local cardio classes and fill their gym bags full of lies and self deceit. Working off holiday cheer is something I'm very used to, but logging distance on a treadmill isn't my style. I burn my calories going through the past year's *41* published Montreal restaurant reviews to find the ones that stood out the most, then compiling an extensive list of pros and cons to see which ones I found to be the best of 2014. So in no particular order, here are Shut Up and Eat's Best of 2014.
DaWa and Restaurant Coréen Mon Ami

2014 was the year of the fried chicken and by fried chicken, I mean yangnyeom-tongdak – Korean twice fried seasoned fried chicken. Served on the bone or boneless, sauced or plain, these golden pieces of twice-fried fried chicken made an official appearance this year when Dawa opened up shop on Sherbrooke in NDG.

Dawa's Sansul Gang-Jung – boneless chicken with a sweet chili-garlic sauce was one of the dishes that most wet dreams are made of. The combination of sharp garlic mixed with a sweet chili sauce slathered over crunchy chicken tenders is something you look forward to having again before you even finish what's in front of you.

The original recipe at Mon Ami is the OG of the Korean fried chicken scene, served with nuggets of fried rice cake, this spot on Sommerled of definitely off the beaten path, that has become pretty much a forged roadway with the kind of traffic it's generating of fried chicken fanatics.
DaWa – (Original review)
6135 Sherbrooke St W
(514) 508-3665
Restaurant Mon Ami (Original review)
6290 Somerled Ave
(514) 439-2580

---
Régine Café

One of the more memorable brunch spots I went to in the past year offering unique brunch items that you're looking for if you're craving a delicious alternative to the typical cheese potatoes, fried eggs and toast in dusty baskets. Sweet or savoury, you're going to find something that satiates all palates.

Everything here is homemade, from the baguettes, to jams, buttery brioches to silky chocolate-hazelnut spreads. What isn't made in-house, Régine café sources and partners with local businesses to import the freshest products from cheeses, locally roasted coffee beans and dairy products.
Régine Café (Original review)
1840 Rue Beaubien Est
(514) 903-0676

---
Impasto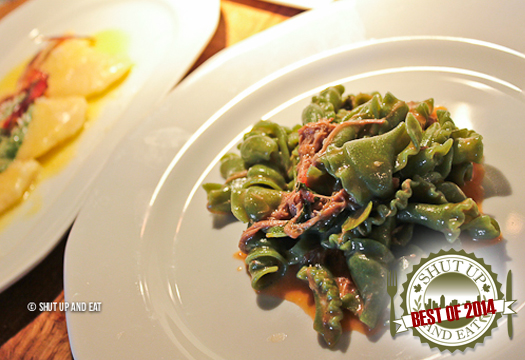 The dynamic duo of Stefano Faita and Michele Forgione's first venture saw the birth of one of Montreal's more popular Italian restaurants in mere months. Located in Little Italy, the seasonally inspired menu from Forgione's kitchen is influenced by his Italian upbringing and training in some of the city's finest establishments. From homemade pastas and reviving very local dishes specific to small Italian villages, the menu at Impasto changed every four months, reflecting the seasons and what's available.

The Porchetta del nonno is one of Chef Forgione's signature dishes and one of the few permanent items on the menu. Obviously a family recipe I imagine inherited over many decades of crushing tomatoes in the garage, making sausage on the kitchen table and many summer evenings hosing down the sidewalk with his grandfather. Served with poached pear, sautéed rapini and candied figs, this dish epitomizes everything that is good in the world.
Imapsto (Original review)
48 Rue Dante
(514) 508-6508

---
Pizzeria Gema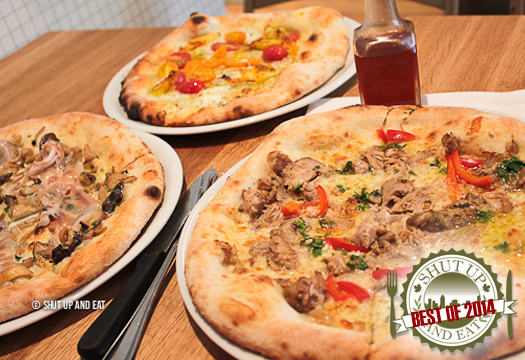 By the same team that brought you Impasto, the Faita/Forgione brand saw an expansion this summer when they opened up a neighbourhood pizzeria. The "Impasto" pizza features Impasto's famous porchetta, hot cherry peppers, smoked caciocavallo and topped with salsa verde. A hearty pizza with a bit of a kick, the savoury pork was tender and flavourful; the rosemary went well with the subtle heat of the spicy peppers. Also, keep an eye out for the pizza of the month that changes monthly (duh).

You can't leave Gema without having their famous dessert – impossibly smooth and velvety vanilla or chocolate frozen custard.
Pizzeria Gema (Original review)
6827 St-Dominique
514-419-4448

---
Gia Ba

Gia Ba in the Monkland village has garnered a cult following since the day they opened. Opening the eyes of NDG residents to a very very specific Chinese cuisine that's often associated with antacid commercials, the billowing exhaust fumes from their seasoned woks have been perfuming the streets near Monkland and Wilson with the rich aromas of proper Szechuan cuisine.

Specializing in fiery traditional Szechuan dishes like the "Szechuan braised chicken with potato & 13 spices" Large pieces of chicken stewed with potatoes with (obviously) 13 herbs and spices. Deep and murky, the dish had hits of ginger, cinnamon, garlic, cumin, anise… I'm not about to list all 13 spices, but the list goes on. I can tell you that this dish is one that needs to be appreciated. The dish was profound in flavour, to have a combination of so many ingredients in the sauce alone, takes an experienced palate to ensure the proper ratio and proportions in order to create a successful dish. Each individual element is distinguishable and that is a feat in itself.
Restaurant Gia Ba (Original review)
5766 Monkland
514-564-7698

---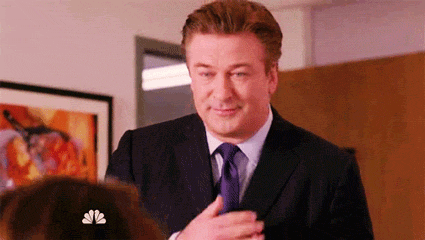 I would like to take this opportunity to thank each and every one of you for making Shut Up and Eat what it is today. I love food and love sharing and talking about great food discoveries around Montreal; it wouldn't be possible without the support of readers and fans who share in the same enthusiasm as I do. I've been given some great opportunities in 2014 and and looking forward to sharing some new and exciting projects coming up in 2015.

Again, thank you for the support. I am humbled by the trust you've given me to help guide you and your stomachs to some of the city's best restaurants this year. I'd like to wish you and yours a wonderful new year, may 2015 bring you health and happiness!
Jason.