I've been a big fan of Blackstrap BBQ and total fan boy of Pitmaster Dylan Kier and have been following his quest for total BBQ domination in the local, provincial, national, international and interstellar BBQ competition circuit. So you can imagine my excitement when I found out that he was opening up another restaurant. His second endeavour however isn't another banging BBQ joint, but rather a spot that Montreal has sorely needed for the longest time. A place that would fill a certain Tex-Mex void in the city – Tejano BBQ Burrito – your new go to spot for burritos.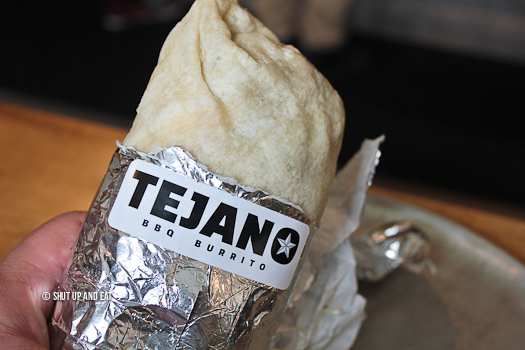 The menu at Tejano is concise and straight forward – you pick your meat and your vessel – burrito, tostada bowl, salad or intravenous. The salads come in two sizes. Of the choices of smoked chicken tinga, chorizo spiced pulled pork ancho cumin bbq beef, we got the XL salad with chicken. The salad was piled high the fresh ingredients – crispy romaine topped with Spanish rice, pickled onions, radish, green peppers, corn, cheddar cheese, pico de gallo, coleslaw, pickled jalapeños, and roasted tomato salsa. Stewed in a tomato sauce, the shredded chicken was bright and flavourful with hints of smoke. The XL salad was more than enough for two people.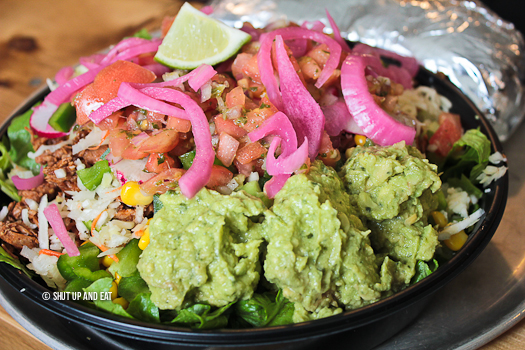 I know I'm an ass and make fun of salads all the time, but this is the kind of salad I can get dirty with; it was hearty and was a meal unto itself, unlike most salads which get ridiculed by me for being rabbit feed or packing material. The salad came with a choice of two kinds of dressing; a spiced vinaigrette as well as Tejano's signature "hacienda" sauce which was a smokey ranch-like dressing. We got the later, but found ourselves not really using it as the salad itself was so flavourful and dripping from various tangy juices from the toppings.

I got the ancho cumin bbq beef burrito. Along with the same ingredients in the salad, my burrito saw the inclusion of refried pinto beans and a generous squirt of sour cream. I made the mistake of getting the mild sauce – I like spicy, I need spicy, but I don't know why I didn't get the spicy. The beef was smokey and delicious; coming out of Blackstrap's championship kitchen and well seasoned smokers, I would expect nothing less. The rice was perfectly cooked and complimented the beef. Being dressed on the prep table, I secretly bet myself that the guy wouldn't be able to wrap it, without it falling apart. I was wrong. Although it did take some poking and prodding, this sucker was packed tight. Respect to my man behind the counter; tortilla whisperer. One of the best things about a burrito is that not only is it a complete, wholesome meal, but the ones at Tejano offer a great bicep workout with every bite.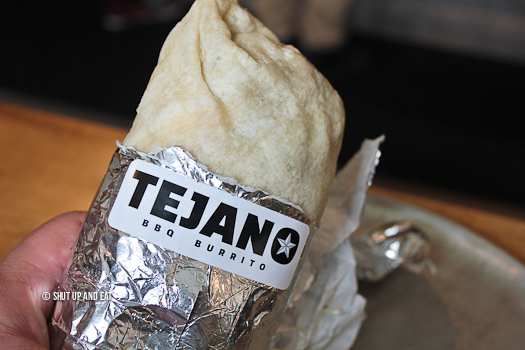 I like to consider myself a burrito pro, and being so, I feel that there are a few things that I need to share with you. 1) Never… EVER unwrap a burrito from the foil – peel as you eat. I cannot stress this enough. It WILL fall apart. Saw some dude get his order and unwrapped the shit out of it and watched him eat a subsequent burrito bowl off the table and his lap. Newb. 2) Get it with beans. Yes, yes, beans, beans, they're good for the heart; the more you eat the more your coworkers will stay away from you for the rest of the day because you've been secretly crop-dusting the office. It's worth it. 3) Always order guacamole. Yes, it's a dollar extra, but a burrito isn't a burrito without the guac.

Order guac. You have to.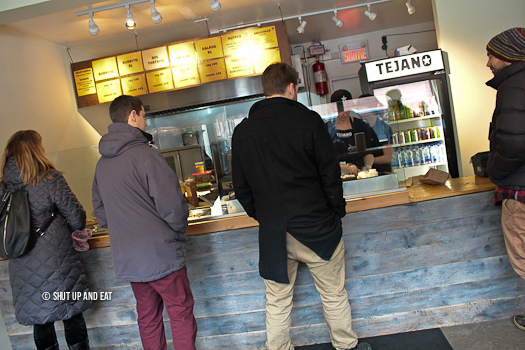 I'm not sure if having Tejano serving the type of cuisine that they do and being located in the Southwest of Montreal was a conscious decision, but it think it's genius and deliciously punny. Tejano offers a vegetarian option in their menu as well – a hearty black bean and hominy filling is available. Located in St. Henri, Tejano is the city's neighbourhood burrito spot.
Tejano
511 De Courcelle
514-303-3500
http://www.tejanobbqburrito.com