It's that time of year again, the annual thaw; the roads get slushier, the tree sap starts to flow, and our bodies start to produce mass amounts of insulin to process the litres of maple syrup we will ingest in one last hurrah of packing it in unlocking a new level in winter weight gain. Our timely tradition of cabane à sucre comes but once a year and where you chose to celebrate this golden nectar of the woodland Gods is often a decision that's hard to make. You can either drive outside the city to visit an authentic sugar shack with family-centric outdoor activities and classic dining hall dishes, or you can take a metro and and walk to the old port to experience the city's finest upscale urban sugar shacks – Chef à l'érable at Scena.

I was invited again this year for the media preview of the third edition of Chef à l'erable by Chef Laurent Godbout. For the third year in a row Chef Laurent Godbout of Chez l'epicier takes over Scena to bring his spin on a classic cabane à sucre. This year's menu promises to transport guests around the globe through five courses of Chef Godbout's reenvisioned classic sugar shack dishes.

1st course was maple syrup won ton soup. Despite not being an actual "won ton" – it wasn't wrapped – but it was still a dumpling in theory. The plump and savoury pork fritters were served in broth that was poured table side.

Seasoned fried pork rinds served with a sweet and spicy dipping sauce. The sauce tasted similar to a buffalo wing sauce and wasn't my thing. The seasoned pork rinds were amazing on their own.

Third course consisted of Oyster baked with maple sugar, dijon and aged cheddar. The cheese sealed in the brine from the oyster and provided a juicy and creamy bite. Delicious.

Devilled eggs with maple wood smoked salmon, and champagne marinaded salmon caviar.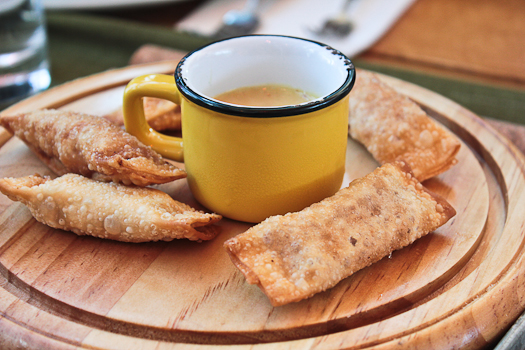 Smoked meat eggrolls. Since I was the last one to help myself, I had the privilege of sipping the maple dijon sauce instead of using it as its intended purpose… as a "dip."

Roasted caramelized squash, labneh, quinoa, herbs and olive oil. I ate more of this than I'd like to admit, it was healthy and I was afraid that my body would reject it, so I kept eating it just to be sure.

Third course was roasted cauliflower with maple sausage and cheese. The melted cheese was a great touch and added a subtle touch of salt and creaminess.

Tender braised pork cheek, green beans, pecans and feta.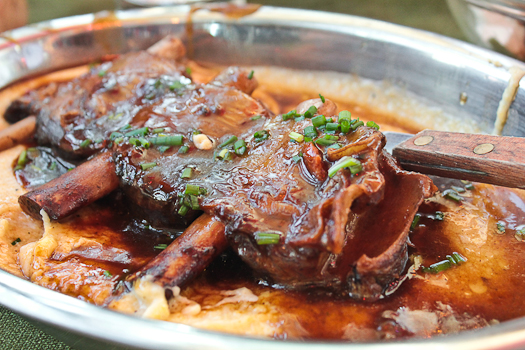 Bison back ribs with meat pie spices on creamy polenta doused in rib jus.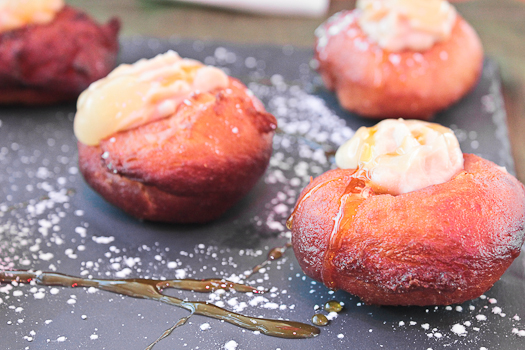 Desert course consisted of – if you couldn't already guess, treats made with maple like this supple maple-yuzu bombolone.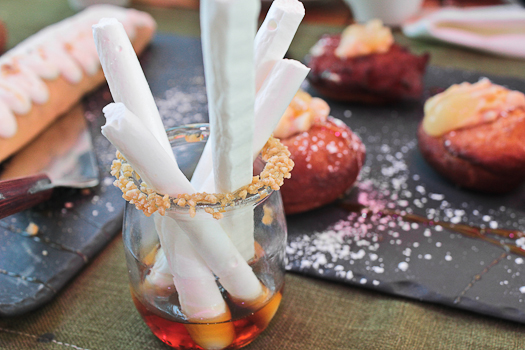 Maple meringue sticks dipped in a glass of maple syrup rimmed with maple sugar.

A crepe-eclair, a "Creclair" with praline cream and maple drizzle.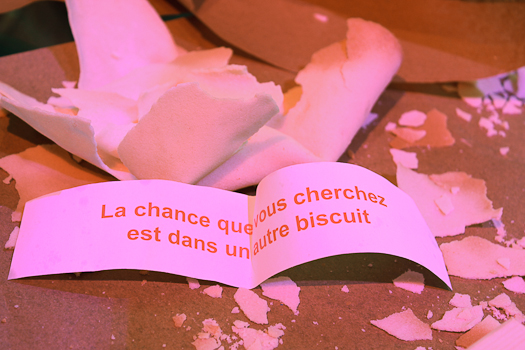 The grand finale to the meal was when a giant stand was lowered from the ceiling amidst a cloud of smoke, flashing lights and disco fiddle music. Servers poured maple taffy on iced milk and giant fortune cookies were unveiled.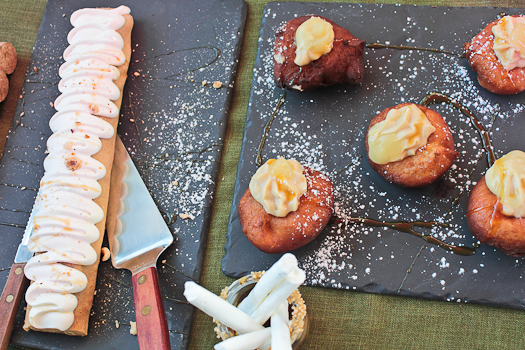 The Chef à l'erable is definitely not a traditional "cabane à sucre". The event runs every weekend from March 11th to April 17th for dinner services on Friday and Saturday at 7pm, and Brunch on Sundays starting at 1pm. It's $63 for adults and $20 for children – which does not include tax or gratuity – reservations are mandatory. This is a great alternative to the traditional cabane à sucre if you're down for something a little bit different. Chef Godbout and team will definitely treat you to a sugar shack experience you'll never forget.
For reservations contact:
514.503.9802 or cheferable@scena.ca
For more information check out:
http://scena.ca/en/seasonal-events/un-chef-a-lerable/
https://www.facebook.com/ScenaMTL