Montreal's food scene is vast and it's undeniable that awesome restaurants fill in all the nook and crannies around the city. Eating out as much as I do, I'm given the opportunity to find and discover some of the unique restaurants that make our city's restaurant roster so rich. From the Mile-End, to N.D.G, locals have their favourite eateries they like to call their own. These neighbourhood gems are the places I love; casual, non-fussy food, served by honest and humble people. I recently discovered the charming Fiorellino – located in a very unassuming part of town, the Quartier International.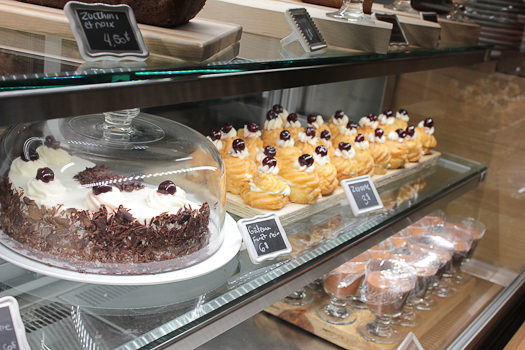 Once you walk through the door, you're in the cafe area of the space. Large market fridges packed with classic Italian pastries, paninis and grab-on-the-go items. We were lead to the other side of the wall where the main dining space is located.

The menu comprises of reinterpreted classic dishes. We started with a trio of appetizers as we couldn't decide on just two. Tonno in Conserva – Homemade canned tuna, roasted squash, frisée, dotted with squash purée. The hearty roasted squash added a nice sweetness to each bite contrasting the delicate flaked briny tuna and bitter greens.

Insalata di Polpo – braised octopus, potatoes, onions, capers, fellen and herbs. Tender pieces of octopus tossed with a melange of bite sized accoutrements composed this perfectly balanced dish that was a variable clinic in textures and flavours.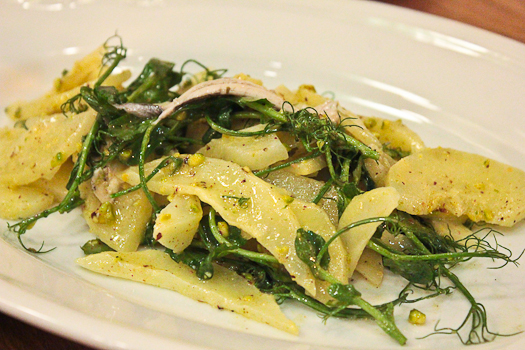 We had a salad of the moment which comprised of marinated Sicilian lemon, bitter greens and filets of sardines dressed in a light vinaigrette. Each mouthful was bright, tart hits of lemon off set the bitter snow pea shoots and saltiness of the sardines.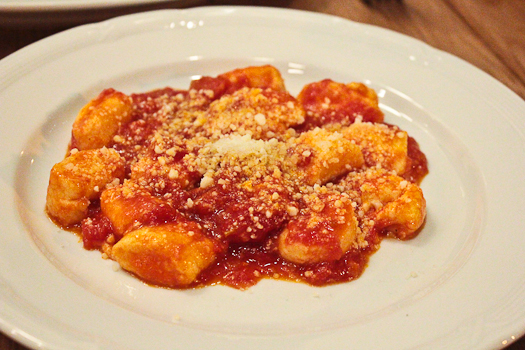 Looking over the menu, there were some great pasta options that caught my eye like the Paccheri, served with clams, mussels, shrimp, baby Octopus and calamari, but our server suggested the gnocchi di ricotta. Full disclosure, I'm not a big fan of gnocchi. A plain potato flour dumpling served with tomato sauce never seemed appealing to me. Fiorellino changed my mind.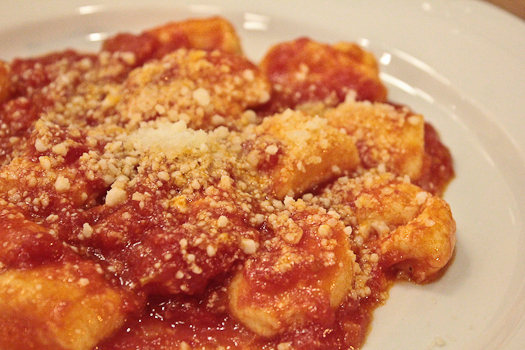 This dish is served with a straight up simple pomodoro sauce, why? It's used as an anchor to make sure the gnocchi don't float away. Fiorellino's ricotta gnocchi are impossibly light and fluffy. I've never had anything like it before. Think of the softest most delicate gnocchi you've ever eaten in your life. Multiply it by 10… it's mother… that's how incredible it was. The sauce is not to be forgotten however, light and savoury with a little bit of a kick.

We also had the Melanzana Fritte pizza – ricotta, marinated tomatoes, fried eggplant and parmigiano. The crust had a great chew but I found the cook on it a bit underdone.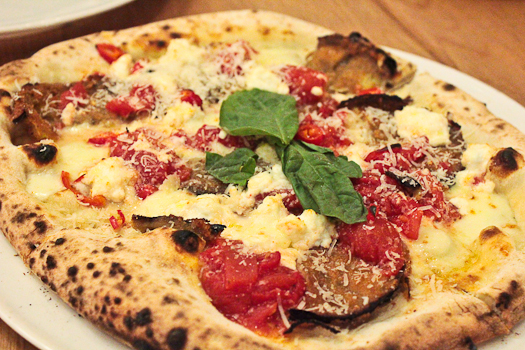 The flavours were nice, sweet tomatoes, deep and savoury eggplants all in a creamy ricotta bite highlighted with a finishing drizzle of good quality olive oil. When ever I order a pizza, I usually ask for it to be cooked just a bit more – I like that crunchy and chewy crust – and I wished I did that here. Disappointed; not in the pizza, but in myself for going against my better judgement. Next time, for sure.

For dessert, Ricotta Budino – ricotta pudding with marinated persimmon, pistachio crumble. What a treat! The toothsome marinated persimmon was almost candied and paired nicely with the thick velvety ricotta pudding and smokey pistachio crumble. A finishing drizzle of olive oil was a great touch to showcase the underrated versatility of quality EVOO. It's inherent sweetness was brought out. This side of olive oil is never appreciated enough.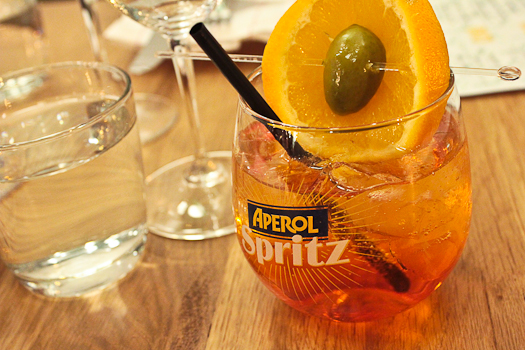 Branded as "Snack bar – Ristorante", this second endeavour of the team behind renown Buonanotte is going in the complete opposite direction in menu and atmosphere without compromising service. The menu is casual, offering classic dishes featuring seasonal produce. Most of us don't think much of the "Quartier International" or might not know it's actually a thing. But it's a thing, and now with Fiorellino in the mix as a budding success set to bloom… it's a great thing.
Fiorellino
470, rue de la Gauchetière O
(514) 878-3666
http://www.fiorellino.ca/en/