Montreal's ramen scene has gone from relatively non-existent to booming. There's no denying that in recent years we've been spoiled at the variety of ramen houses available to us. Not only do we now have places to grub on some awesome Japanese soup noodles, but some of these places specialize in regional specific bowls that originate from different parts of Japan. Downtown is ramen-central with five different spots in a three block radius. I recently checked out one of the news places in town for a hot bowl of delicious noodles, Ichifuku Ramen.
If you've never had ramen before, on behalf of planet earth, I'd like to welcome you. Ramen is a Japanese comfort food that features of wheat noodles in a luscious bone-based both typically seasoned with miso or soy and topped with delicious accoutrements like, scallions, eggs, vegetables and slices of meat that are traditionally pork or chicken. Ichifuku's menu consists of a handful of appetizers, rice bowls and ramen.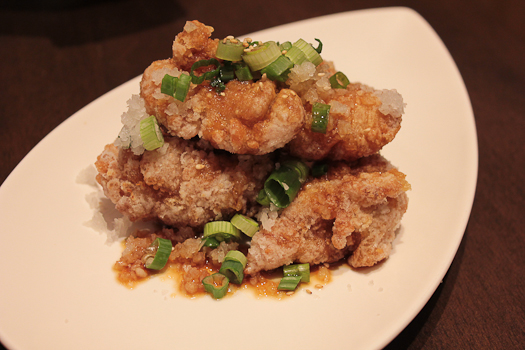 We "started" with the chicken karaage, a classic Japanese snack and side dish that should really be served with everything (in my opinion). The dish was topped with grated daikon and scallions and drizzled with a tangy dressing, it looked and smelled delicious. I say "started" because we were only served our appetizers half way into eating our main course. The chicken was crunchy and had great texture, but it was lukewarm. I would understand that maybe the order was overlooked and only showed up to the table by the time I already had a soup stain on my shirt because they fired it late; but then how is it served warm? Was it sitting out? I can't speculate, it wasn't pleasant.

The pork and Napa cabbage gyoza were good with subtle hints of ginger with a great spicy togarashi-soy dipping sauce. Like the fried chicken, the pan-fried dumplings were served halfway through our meal, but in this case, they were piping hot.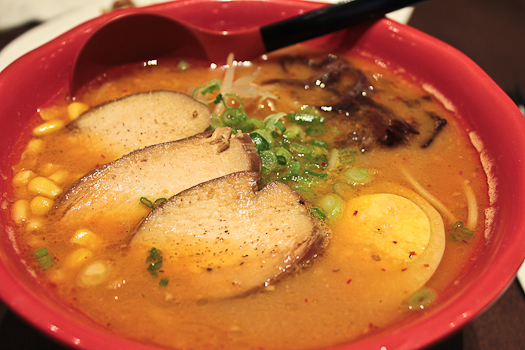 Ichifuku doesn't subscribe to one particular school of ramen serving both chicken and pork based soups seasoned with miso and soy. The chicken miso ramen was garnished with corn, sliced wood ear mushrooms, scallions, half a seasoned hard boiled egg and slices of roasted chicken breast. I went against my better judgement when ramening and ordered chicken; I was in the mood for chicken. The tori chachu – roast BBQ chicken that I was served was breast meat. Devoid of any flavour, the chicken was inherently dry despite swimming in a bowl of tepid soup. The soup looked murky and mysterious, synonymous with great ramen soup. Deceiving.

We were hoping the tonkotsu spicy miso would make up for the lacklustre impression the chicken ramen made. Served with fatty slices Japanese chachu pork, the bowl was dressed similar to the chicken, with half a seasoned hard boiled egg, scallions, wood ear mushrooms with the addition of a dollop of spicy miso. The pork was fat and unctuous and had great flavour. The soup however was similar to the chicken miso ramen; it looked great but deflating. Both soups were different in preparation but shared the same unfortunate characteristic, bland.
Ichifuku has a small noodle workshop that looks out of their front window. If you happen to be walking by early enough, you'll see the machine in full production mode making noodles for the day.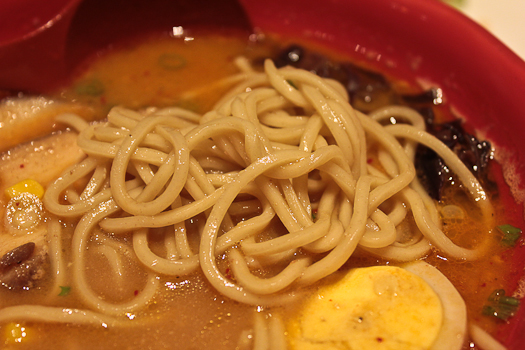 Knowing a ramen house makes their own noodles is awesome. For the chefs to take the time to ensure a quality product from top to bottom is a philosophy that's commendable.

I can't deny it, there was something missing in the soup. They boast that they don't use M.S.G in their soup, but that wasn't what was missing. I've had ramen from places who guarantee to be M.S.G.-free and whose soups are flavourful and incredible. I don't mean their soup is completely bland, it has potential. There was flavour but not enough to really stand out or impose itself in the freshly home-made noodles. Seasonings were there. Spices were there. The only thing that was missing was a few more hours of boiling or a deeper seasoned or heavier hand when portioning the tare (seasoning base). It's there, it just needs a little more something for it to shine, Ichifuku shows promise.
Ichifuku
1925 St.Catherine
https://www.facebook.com/ichifukuramen/