We've all done some things in our lives that we're not proud of right? No, I don't mean like that; but food related things. Like that time you volunteered for jello wrestling during Frosh week or when you got kicked out of that sushi joint for puking on the table after eating straight wasabi on a dare… yeah, me neither. I like to think that I've done some food related things that are questionable through out my life, but nothing I regret. One of these things is probably eating my weight in barbecue. Deliciously cuts of meat nursed over smouldering hot coals, succulent pork ribs and brisket bathed in delicate blue smoke, I love it all. I've been fortunate enough to have eaten some of the best barbecue in Canada as well as the United States, I'm a barbecue aficionado and there's no denying that. So you can imagine my excitement when I found out that there's a new addition to the Montreal barbecue scene – a new joint opened up in town and I had to check it out, Le Smoking BBQ.
A veteran on the carnival and festival circuit, Le Smoking BBQ finally opened their first retail brick and mortar location is in the Shaughnessy village downtown. My first Le Smoking BBQ experience was last summer during Poutinefest. I braved the lineup to try their offering of poutine topped with pulled pork. Given the circumstance; long wait in line, unfavourable weather and the mass of humanity floating around me, I inhaled the poutine without second thought and didn't remember much of it.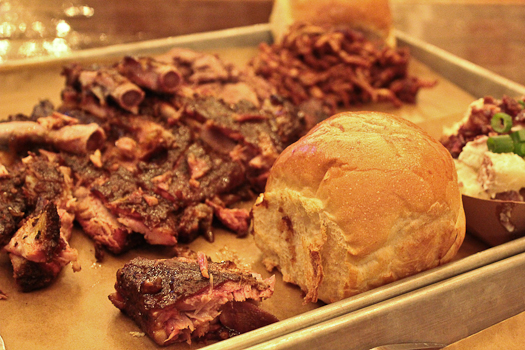 Le Smoking BBQ's menu is pretty straight forward, pulled pork, beef brisket, smoked chicken and homemade sausage available in a sandwich or platter with a choice of sides. We opted for the platter of three meats and two sides as well as an order of a full rack of ribs.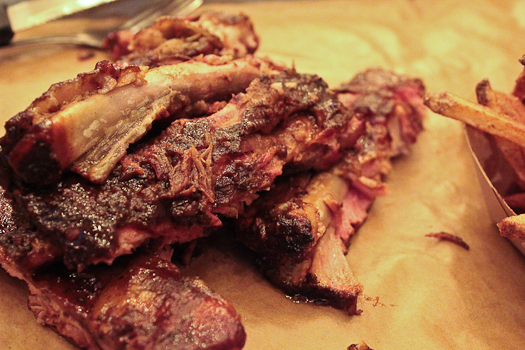 The ribs were tender but were falling off the bone, clear indication that they were overcooked. It's a common misconception that "falling off the bone" ribs is something desirable. Sure, if you're using the meat for chop and piling it in a sandwich, but not when you're using your fingers and eating it off the bone. They were nearly impossible to pick up off the plate without pulling the bone out. The caramelized bark on the ribs added nice flavour but almost candied the meat. Their signature bbq sauce is cloyingly sweet and did not help the situation, especially when it was generously applied behind the counter.

As I was waiting for my order, the chef asked me if I wanted lean or fatty… LOL, "lean", I joked, "what does lean mean?" and he proceeded to slice me some off the good side. I inquired about the cook on the beef, he explained that it was smoked upwards of 18 hours over maple wood. This was evident in the taste, a subtle hint of sweet smokiness – the aroma which was almost completely missing from the ribs due to the thick blanket of sauce. The flavour was mild and not as robust as I would have liked. There was something that was off-putting, the meat was over cooked, the brisket was dry. The texture of the meat had gone from tender (what would have been a perfectly cooked piece of brisket) to broken and garbled. The same with the pulled pork. Dry and stringy and beyond what the table top sauces were able to remedy. The smoked sausage had great flavour and a subtle kick to it.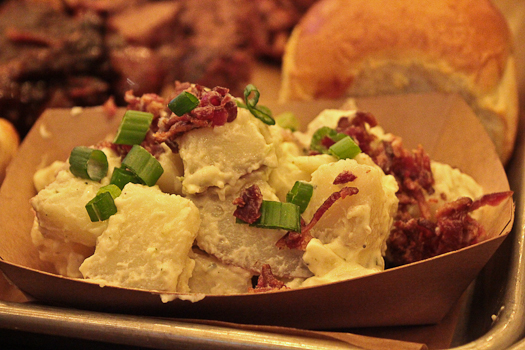 Classic creamy potato salad, topped with bacon. It was good, it was potato salad. The homemade brioche was amazing. It was hot and fluffy. I wasn't sure if the fact that I am in the middle of a low-carb regimen that woke up my bread-boner or maybe I was looking for something about my meal that was actually enjoyable or maybe it was because I finally found something on my dinner tray that wasn't cold, but the bread is good.

Staff was hospitable and incredibly nice, one of the guys behind the counter took the time to talk barbecue with me. Ok, I knew I wasn't coming in expecting competition caller barbecue. It's not that I didn't enjoy my meal at Le Smoking BBQ, I just wished it was better. The tastes and flavours were there and could use a little more coaxing. I understand completely that barbecue is finicky, especially when you're smoking meat to replenish your supply throughout the day. Keeping product like this is extremely difficult, it's a complex equation of cook time, storing temperature and sometimes even reheating. I'm passionate about BBQ and was expecting more like 'cue with more substance and pride but in the end I just got smoke.
Le Smoking BBQ
2186 St. Catherine West
514 919 4347
http://lesmokingbbq.com