I love sandwiches and chances are you do too. If you don't, then you probably weren't loved as a child and have now grown up to hate life and sandwiches, because sandwiches are life. I'll do anything for a really good sandwich and I have. Details of which I will not get into – close friends and family read this blog and will probably never let me around their pets and power tools again. It doesn't matter what kind it is, I love them all. It's the perfect food. It's a complete meal that you can pick up with your hands and eat literally anywhere. One of my favourites is a porchetta sandwich, so you can imagine my delight when I found out a porchetta sangwich shop opened up in Little Italy aptly called, "Porchetta."

Brought to you by the same team behind Buona Notte and Fiorellino comes this sandwich shop slinging one of Italy's favourite street food. Porchetta's menu is impossibly simple, a few sandwiches, a handful of sides and a couple of desserts. I was in the area to do some groceries and had already eaten lunch, but I couldn't stand the though of walking past this sandwich shop and not checking it out. The mortadella sandwich was great. Thinly sliced homemade mortadella peppered with whole peppercorns and pistachio piled high between a crusty roll slathered with aioli. Tart hits of marinated eggplant brighten up each bite of this classic and simple sandwich.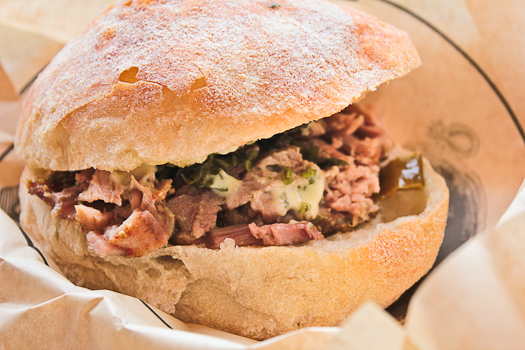 The porchetta sandwich is where it's at. To be honest, I'm not exactly sure where that's located, but it's definitely where this porchetta sandwich is. The flavours were nice. The tender meat had a strong floral aroma of fresh herbs and spices which were also responsible for perfuming the restaurant; noticeable from the moment you walk in, or when it conspicuously wafts out into the street every time the door opens; this would explain the pedestrians around Saint-Laurent boulevard and Belanger walking around in a euphoric porchetta lust haze. The salsa verde was fragrant and brought out all the herbs marinaded into the meat. The parsley aioli added a certain creaminess to each bite cut by the sharp prick of pickled chilli peppers. I personally prefer larger, thicker slices of pork in my sandwiches instead of the shredded bits that filled my sangwich. I'm assuming the structural integrity of the pork was compromised by slicing it thin thus having the extremely tender pork fall apart on the cutting board. It didn't affect the taste of flavour, but it wasn't pleasant in mouthfeel and texture. There was also no crunchy cracklings in my sandwich, which I was a bit disappointed about.

The market salad of the day was a kale caesar. It was green and felt that it was supposed to be good for me.

The roasted potatoes were amazing. Large wedges roasted with garlic, rosemary and rendered pork fat. It completely neutralized whatever vile healthy feelings the kale salad had tried to evoke in me.

Porchetta is a great place to stop by for a quick bite or grab a bunch of sangwiches to go. The bread definitely stands out, crusty on the outside, warm and fluffy on the inside, kind of like me. The bread held up to the substantial stuffing on ingredients and was porous enough to soak up all the meat juices… kind of like me. They have a fried chicken sandwich as well as a roasted chicken sandwich available which I will have the try in the near future – two sandwiches and two sides were as much as I could handle… after having lunch.
Porchetta
6887 Saint-Laurent Boulevard
(514) 278-7672
http://www.porchettamtl.ca