A couple of months ago, I published the Best Pho in Montreal article where I ranked the top 5 places to go for pho. You'd think that after consuming over 50 bowls in the name of research, I'd be done with pho for a while, wrong. I love pho and I can never get enough of it. Each bowl is a calculated equation of beef broth, tender pieces of various beef cuts, fresh herbs, vegetables and your daily allotment of sodium all in one meal. My quest for the city's finest pho continues and it brings me to a new Vietnamese restaurant that opened up about a month ago next to Côte Vertu metro aptly named Pho Côte Vertu.
Located where the old Foo Kam Wah used to be, the new owners completed gutted that place and started fresh. Their menu is extensive. It consists of page after page of Asian classic dishes, fried won tons, spring rolls, stir fries, general tao chicken, pad Thai, Singapore noodles, etc. Wait, you thought this restaurant with "pho" in its name would be a Vietnamese restaurant? Yeah, me too.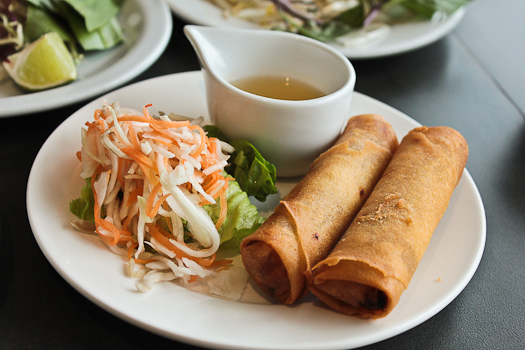 The spring rolls were uneventful. Chintzy on the filling and unevenly distributed resulted in the first few bites consisting only of crispy fried spring roll skin rinsed in fish sauce.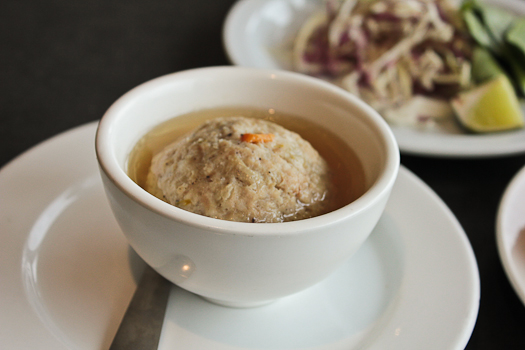 Our waitress said that the Cambodian siu mai was popular, so we ordered one. The soup that it was served in was weak and the meatball itself tasted off. I'm not saying it was spoiled or sour, but it definitely was not fresh.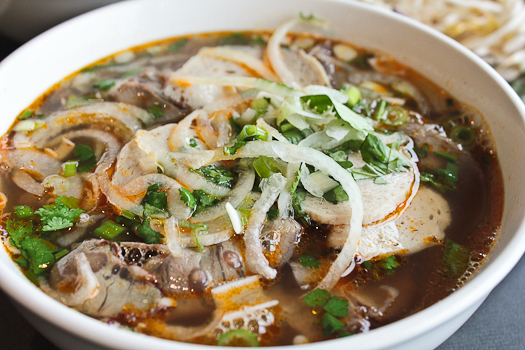 Bun bo hue (spicy beef soup) is one of my favourites. Rich and savoury beef broth seasoned with aromatics to achieve a perfect harmony of tastes and flavours that hits all corners of your tongue. This one fell short. Despite being generous with the large slices of beef shank and cha lua (pork roll) it didn't make up for the fact that the soup wasn't spicy or beefy. I should have seen that coming when I reached for the spicy sate and found the jar nearly empty – either the chili paste was amazing that people couldn't stop eating it, or something need its help. In all fairness the fiery sate chili paste was aromatic and spicy.

We ordered the dac biet special (as always). Slices of ribeye, brisket, tendon, tripe and a couple of meatballs, piled on top of rice noodles swimming in a beefy bone broth is what makes up this classic bowl of pho. Taking almost 20 minutes for the soup to arrive, you'd think it was because they were heating up the soup or something. Short of luke-warm, the bowl went practically cold when I added the bean sprouts. The flavour of the soup was about as profound as a conversation between a Kardashian and a padded, plastic patio recliner.

I would love to say that the beef broth probably needs a few more hours of simmering, but the inherent base layer of flavours was blatantly lacking. The aromatics like clove, cinnamon, and ginger struggled and were as tepid as the temperature of the soup itself. Not to mention the noodles that were over cooked and remained in a large lump at the bottom of the bowl that wouldn't even separate after some coaxing with chopsticks. The only thing that would resuscitate it would be some form of pho concentrate tare like they do with Japanese ramen. To be honest, Pho Côte Vertu has a lot of items on their menu that looked appealing, but I came in for the pho. Who knows, maybe their other dishes like banh xeo, or canh chua are mind shattering and life altering. Perhaps a revisit is in order, but it won't be for the pho.
Pho Côte Vertu
1180 Décarie
514-855.1288
*Chatime Bubble Tea counter to be opened.