I'm making my way across the city eating at every barbecue joint in town. Why? Why not? I can never get enough of that tender meat nursed for hours laced with the most delicious smokey blue carcinogens. Barbecue is an art and an underrated one at that. Not to be confused with grilling – cooking over an open flame – basically what you make your dad do on father's day because you're un ungrateful child. True barbecue is also known as smoking or pit-smoking. This process infuses and tenderizes the meat you're cooking with smoke that comes from word-fire heat. It's a passion of mine and I get excited knowing that there are places around the city specializing in it. I hit up the recently reopened Le Fumoir Rubs Smokehouse on Prince Arthur street.
Rubs' downtown location was closed for a while due to some problems with the building so they opened a second location in Laval (which I reviewed here in October of 2014). I was less than impressed with the food the first time around at their Laval location. Dry brisket, mislabeled ribs (advertised as St.Louis, served full spares) and muddled flavour throughout the dishes. My affinity for barbecue wasn't going to let my first experience deter me from trying their food again, albeit at a different location.

Rub's menu consists of burgers, sandwiches, salads, but we were there frothier specialty – barbecue. We decided to try the "Texas platter" for two which is a little bit of everything – half-rack of St. Louis ribs, quarter-chicken, pulled pork, beef brisket with a choice of four side dishes. The ribs were tender and nicely cooked. The imparted smoke flavour was noticeable but wasn't overwhelming to mask any of the inherent porky flavour of the meat. The meat itself was juicy and retained great moisture, and most importantly didn't fall off the bone – a sign of a great cook on the meat.

The pulled pork was sweet to the point of overly sweet and syrupy. The strands of meat were hard to differentiate from each other and were practically candied into a large lump. The bark was included into the pile which gave each bite nice texture.

The brisket was subdued in flavour and was dry. Granted the fat-cap did not completely render off the point of the brisket in the cooking process (which lent some moisture to the meat,) but in the end there's no denying dry brisket. Rub's signature barbecue sauce was served with the meal, but that wouldn't have been able to save it – dipping the meat into sauce would just be an excuse to eat the sauce.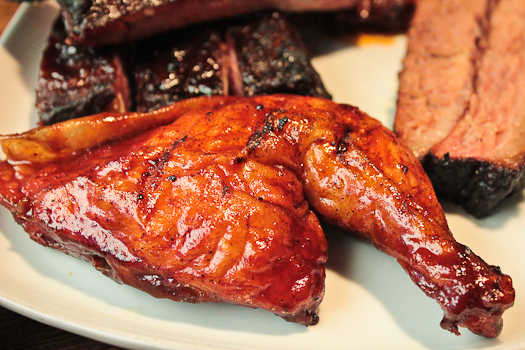 The smoked chicken had nice flavour to it; the meat was savoury and the smoke was distinguishable… but was over cooked. The skin was sweet and spicy but also ate like kevlar.

The beef rib – which we ordered separately and not included in the Texas Plate – was robust and beefy. The glaze was sweet and had subtle spicy notes (which I couldn't tell if it was from the sauce or rub.) The meat was a bit tough, but manageable. Flavour was there, I just wish it would have been a bit more tender.

The sides were a great accompaniment to our meal, fries, coleslaw, grilled vegetables and porky beans.

As much as I wanted to love the smoked mac and cheese, it missed the mark. Broken béchamel sauce and a cheese that was heated way too quickly resulted in a gritty and oily mac and cheese.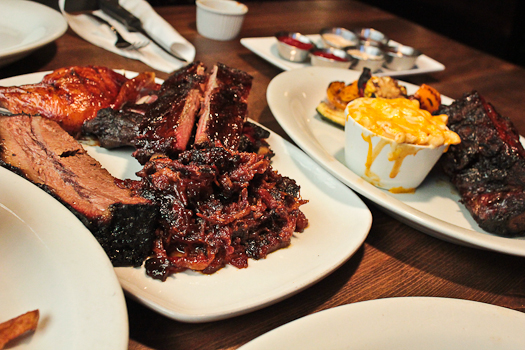 I understand as a restaurant that it's difficult to gauge how many customers you'll receive and to be able to smoke certain meats and keep for hours ready to be served. Certain dishes will surely suffer for it, but that's the nature of the beast, this is barbecue; a meticulous art. As much as you try to serve the most perfect slice of brisket or most tender rack of ribs, different variables will get you and that's a part of the game. Rubs claims to have the best barbecue in Quebec. Is this true? No. But is it tasty? Yes. A much more pleasant dining experience that my first visit to their Laval location. Rubs doesn't subscribe to a specific school of barbecue, but their general "American style barbecue" hits the spot.
Rubs BBQ Américan
17 Rue Prince Arthur E
(514) 303-2363
http://www.rubsamericanbbq.com