Before I start my review; here's the link to make your reservations NOW. I dine out very often and I'm blessed to live in a city where we have such a vast variety of restaurants at our disposal. It goes without saying that not every dining experience is going to be a great one, and unfortunately I've hit a rough patch in the past little while where a lot of my meals were less than stellar. However, I recently hit up a spot in the Mile-End for brunch that reinvigorated my passion for finding great restaurants – Danny St Pierre's Petite Maison.

Renown Quebec Chef and award-winner cookbook author Danny St Pierre's first foray into the Montreal restaurant scene starts with a modest spot on Parc in the mile-end. Petite Maison's brunch formula is very simple; fixed price of $24+tax for a set of starters and a choice of entrée and dessert.

The duck rillettes were rich a savoury, served with perfect sweet confit onions, cornichons and grainy mustard.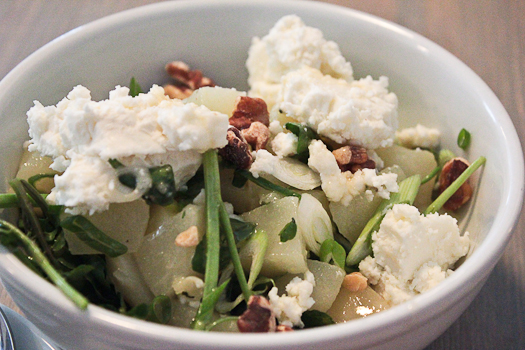 Honey poached pears, watercress, feta and nuts. The pears were delicately sweet and was complimented by the peppery greens and the sharp scallions. Each bite was creamy and delicious, aces.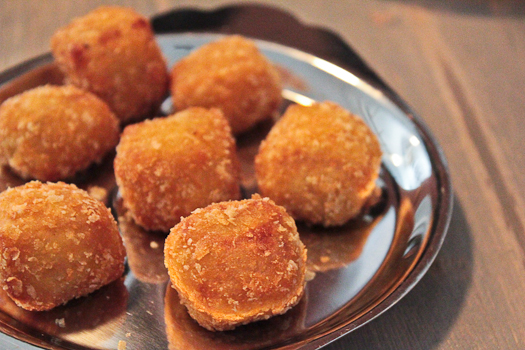 The "Poutine inversée" or "reversed poutine" is a creation Chef St Pierre. All the ingredients that goes into making a classic Quebecois poutine reimagined into a croquette.

A poutine in one bite. The fried croquette is filled with lusciously melted cheese with a hint of delectable brown sauce. This was not a part of the brunch menu and is available at an extra cost. When they arrived at the table, they were a bit cold, but were delicious nonetheless. These poutine poppers begged to be eaten by the bucketful, unfortunately, there isn't that option on the menu.

I love pancakes and I wanted pancakes. Petite Maison's brunch menu has a "grosse crêpes aux pommes". I love pancakes, but I don't fuck with crêpes. Why? If I wanted to eat a foam dollar store placemat, I would. How do you even eat a crêpe? Is it supposed to act like a vessel for the filling? They're usually flimsy and tend to disintegrate the moment you try to lift it off your plate. We asked the waitress and she assured us that the dish was legit pancakes. Fluffy and doused with maple caramel, the pancakes were topped with crisp julienned apples and creamy dollops of sour cream. Amazing.

The "Pulled Pork" Matinal. The savoury pulled pork was piled high on a roll, topped with grainy mustard, arugula and a fried egg, served with a side of chicken-fried potatoes. There's no gracious way of eating an awesome breakfast sandwich that has a fried egg in the middle. Crush it and just aim to drip the runny yolk on the potatoes and not on your lap.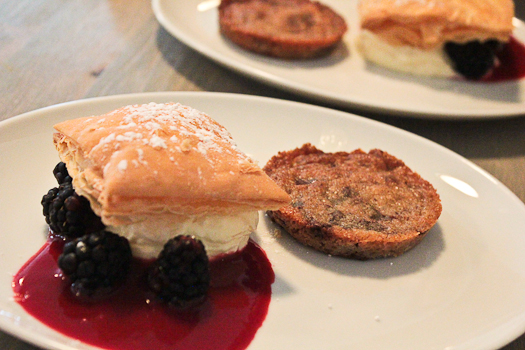 Dessert was a homemade "flakie" served with chantilly cream and berries and a warm chocolate chip cookie. The desserts were simple and was exactly the way I wanted this meal to come to an end.

There's no hiding it, I was impressed by Danny St Pierre's Petite Maison. Food was on point and the service was attentive. I'm going to be honest here, I hope you're sitting down – I was almost too full for dessert… almost. With fresh ingredients, generous portions, a different style of brunch than what's typical mixed with a deft hand helming the kitchen, how can you go wrong? They have an early bird special as well for weekend breakfast. If execution and mindfulness of the brunch menu is any indication of what the dinner menu is like, I'm not hesitating to make this place a permanent fixture on my off day revisits list.
As I said before, with the amount of restaurants in the city, it has become difficult to find the gems. An over saturated market of mediocre eateries discourages someone like me who thrives on enthusiastic discoveries. I needed this. Thank you Chef.
Petite Maison
5589 av. du Parc
Montréal, Qc.
(514) 303-1900
http://www.petitemaisonmtl.com