Making list of the past year's most memorable meals is like asking a parent to try and pick their favourite child… In the past year, I can safely say that I may have had more than one memorable meal that consisted of mind blasting dishes that I periodically reminisce about, recounting tastes and flavours, textures and cooking techniques like some sort of culinary Rain Man. Going back revisiting past reviews and write-ups about some of Montreal's tastiest tables, not only led me to realize the calibre of gastronomic fortitude that this city encompasses, but the skill, passion and talent that exudes from kitchens across the island both new and old.
So in no particular order here are some of the most memorable dishes of 2013.
Triple Crown Dinette – Fried Chicken.


It was 2013 that came to my attention that the food equivalent to sex could actually be found here in Montreal. Triple Crown Dinette's (original review here) authentic Kentucky fried chicken was for me, like one of those stereotypical cheesy J Lo movie, "I loved you before I met you" instances type thing. This tiny six seater restaurant sees picnic baskets being packed for customers and a park across the street filled with locals scoffing down Kentucky style grub under pale blue skies and stars at night – in the summer of course. Seasoned and bathed in buttermilk for days, the chicken here can't overshadow the fact that every other item on the menu found here is equally as delicious and will definitely strike a cord to your inner bluegrass lover.
Dinette Triple Crown
6704 Rue Clark
Montreal, QC H2S3G2
(514) 272-2617

---
Namos – Grilled Tunisian Octopus.


Like I said in my original review, this dish brings out a deep rooted sailor vulgarity in me that manifests itself as a slew of swear words in languages I didn't know I spoke, random air-humping and fist bumping patrons at neighbouring tables. The octopus simply grilled dressesd with olive oil, lemon juice and missed with red onions and capers. The salinic brininess of the capers brings to the natural sweetness of the incredibly tender octopus – which on many occasions has been on par to each previous visit. The meze style dining at Namos forces you to share in an experience that brings everyone together over delicious food.
Namos
228 Rue Bernard Ouest
(514) 490-4222

---
Racine – Shaved Foie Gras and Meringue


A more recent discovery, Racines is the newest kid on the block of Old Montreal's roster of casual fine dining restaurants. When you thought you'd seen foie gras served in every which way under the sun, short of someone serving foie gras cereal or a kale and wheatgrass foie gras antioxidant juice shot, Chef Mathys, envisions his duck liver dish in a way that is different, avant guard and truly unique. Thick ribbons of shaved foie gras is served with shattered pieces of sweet meringue. The savouriness of the foie, buttery and smooth in texture is a great contrast to the sweet brittle egg white chips that dissolved once you've had your initial bite.
Racines
444 McGill
514-544-0444

---
Chateau Amoo Jamal – Tahchin Morgh Va Bademjan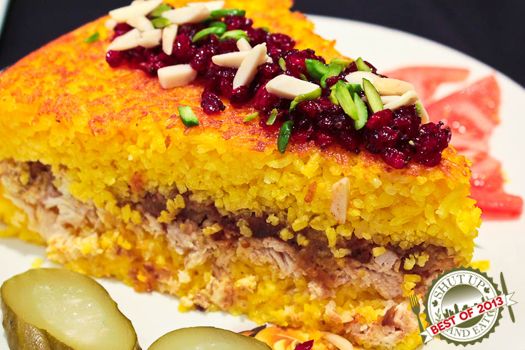 Like I said in my initial review, I'm a fan of rice and I'm a fan of cake… and I'm a big fan of "rice cake"; but this was the first time that I've had a dish that was literally like a cake made of rice. As I've been told, Amoo Jamal (uncle Jamal) is the only one in the city to make this dish; turmeric and saffron ladened rice sandwiching a layer of sautéed chicken and eggplant, topped with dried barberries, pistachio and almond slices. Beautiful to look at, this dish exemplifies home cooking and that's exactly what you get when you go to Uncle Jamal's.
Chateau Amoo Jamal
1620 Sherbrooke West
(514) 933-8866

---
Sen Vang – Bun Bo Hue


It's one thing when a restaurant doesn't serve a particular dish, but it's a completely different thing when they serve it, but it isn't listed on the menu. On my first visit to Sen Vang I went in with an insider tip on what to order – the bun bo hue. Normally this noodle soup is designated to weekend menus of a handful of Vietnamese restaurants due to its laborious preparation that takes more attention that it's regular pho counterpart, but the people at Sen Vang serve it everyday because they know what's up. This rich beef broth noodle soup is aromatic in herbs and lemon grass can only be ordered by name so check your pronunciation, "Boon-bo-whay".
Sen Vang
5690 Victoria
514-507-2771

---
Uniburger – "Uniburger" burger… also, burger.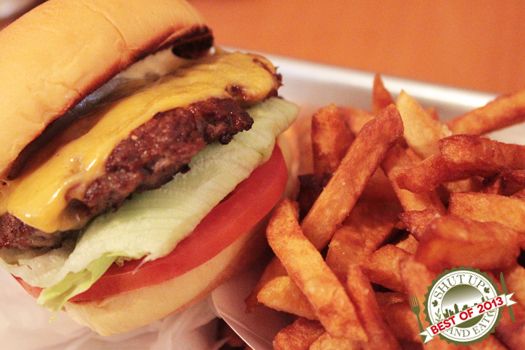 A foray into Montreal's burger scene with a stripped down, bare-bones approach would be considered suicidal to some. In a burgersphere where signature burgers brag ingredients with the likes of kobe beef, AAA Black Angus, foie gras, truffles, baby unicorn tears and Christmas wishes of Orphans, comes this tiny burger spot serving up classic "fast food" style burgers. With nothing more than a handful of ingredients to choose from, a special sauce and an awesome custom beef patty blend, Uniburger's claim to fame comes in a potato bun and puts a lot of other burgers to shame – original review here. Big enough to consider a meal with fries and a milk shake, but small enough to eat as a snack on its own, it's hard to stop at just one.
Uniburger
302 Ontario Est
(514) 419-6555

---
Pizza Villa – Amalfitana pasta, Pizza Villa Special Pizza


When I first went to Pizza Villa, it was a perfect example of discovering a "new" place that has been around since before I was born. This rustic, no frills old school Italian restaurant is probably one of the best places to get a proper family style Italian dinner that's humble, filling and satisfying for days. This small family run spot turns your nonna's pasta recipes into magic with home made red sauce – no Italian would have it any other way. The pizzas are fall somewhere in-between a north-american style pizza and traditional Italian pizza, where the dough is crusty, but also light and airy, however sturdy enough to hold toppings outside a traditional margarita pizza as well.
Pizza Villa
6672 Ave Papineau
(514) 721-4711

---
Sai Gwan – Braised Beef Ragout Lo Lien


One of the very few places that I've written about that left me facing a moral dilemma; not because it was borderline good or wasn't worth writing about, but because it's one of my favourite places and I was scared to give it up. Sai Gwan is located on the far end of Chinatown and this tiny literal whole in the wall spot serves one of, if not the best version of handmade egg flour noodles in town… probably in town because there's no one else that makes it. Egg flour noodles – opposed to the pageantry of slapping continuously diminishing strands of noodles against a hard surface and then pulled and immediately thrown into boiling soup, are noodles that are layered and compressed many times, then folded and cut by hand. This technique yields a different texture to the noodles – an al dente bite to them although fully cooked. Topped with ladleful of braised beef ragout and sauce, this noodle dish is one of the few meals that I crave throughout the year.
Sai Gwan
14 De La Gauchetiere Est
(514) 227-2868
I'd like to take the opportunity to thank each and every one of you for your support and interest in some of Montreal's most tastiest restaurants and allowing me to share my experiences with you. The past year has been filled with many plates of fantastic food and tasty opportunities for Shut Up and Eat and myself personally and I would not have been able to do it without your continued support.
May the new year bring you health, happiness and unwavering courage to try new and delicious things.
-Jason