Someone finally did it. Someone finally took one of the last humble dishes to the next level in Montreal. That dish; Pho. As I've mentioned in previous posts, I've eaten my way though the city and have a pretty extensive list of restaurants where I've eaten pho. From spots in Cote-des-Neiges, to the Mile-End, West island to Rosemont, I've eaten them all. Yes, yes, I'm working on up updated "best of" post – will be out soon. The dac biet is my bowl of choice. It's the gold medal standard. It's got all the bells and whistles – rare steak, brisket, flank, tendon, tripe, meatballs topped on chewy rice noodles in a delicious bone broth. What can be better? It's perfect. How do you improve on perfection? Well, this spot did just that. I checked out Pho Jean-Talon to try their soon-to-be-famous filet mignon pho.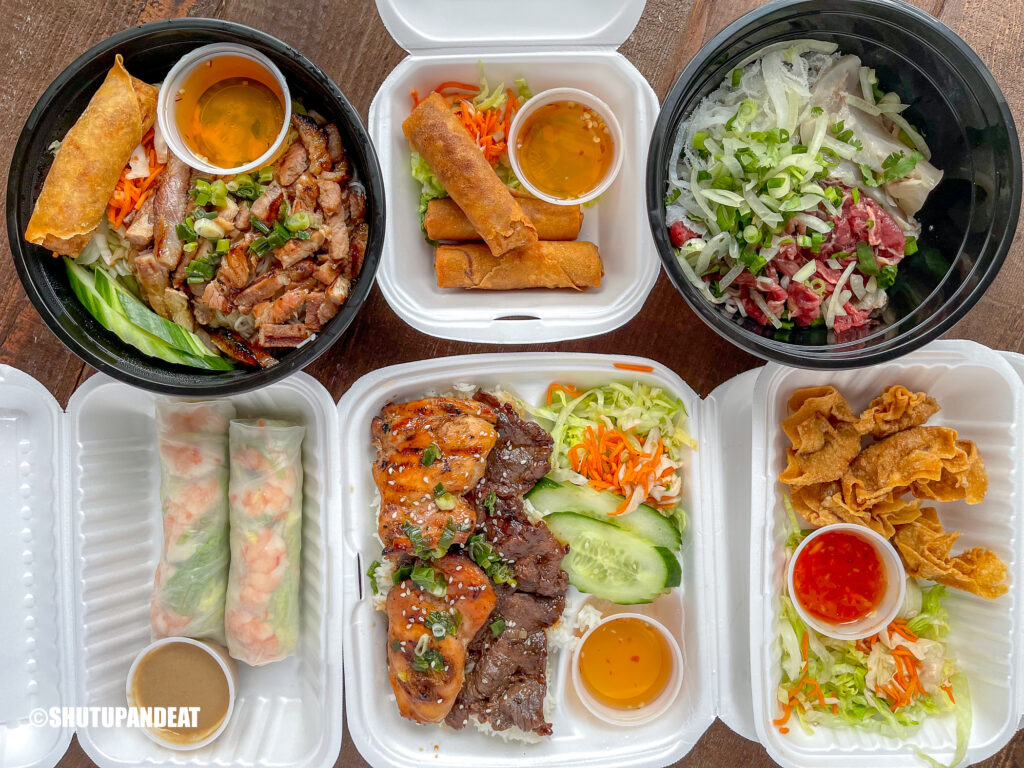 I know what you're thinking. "What would you do to a bowl of noodles to "bring to the next level" and WHY?!" Pho is classic, why mess with it? Because they can. The newly opened Pho Jean Talon is slinging slurpy noodles topped with the most tender cut of beef – filet mignon.
Their menu is typical, appetizers of fried imperial rolls, fresh spring rolls, papaya salad and dumplings. There's a grill section of different meats served with rice and salad, noodle bowls as well as soup noodles (pho). With such a variety, naturally I had to try everything.
Fried Imperial Rolls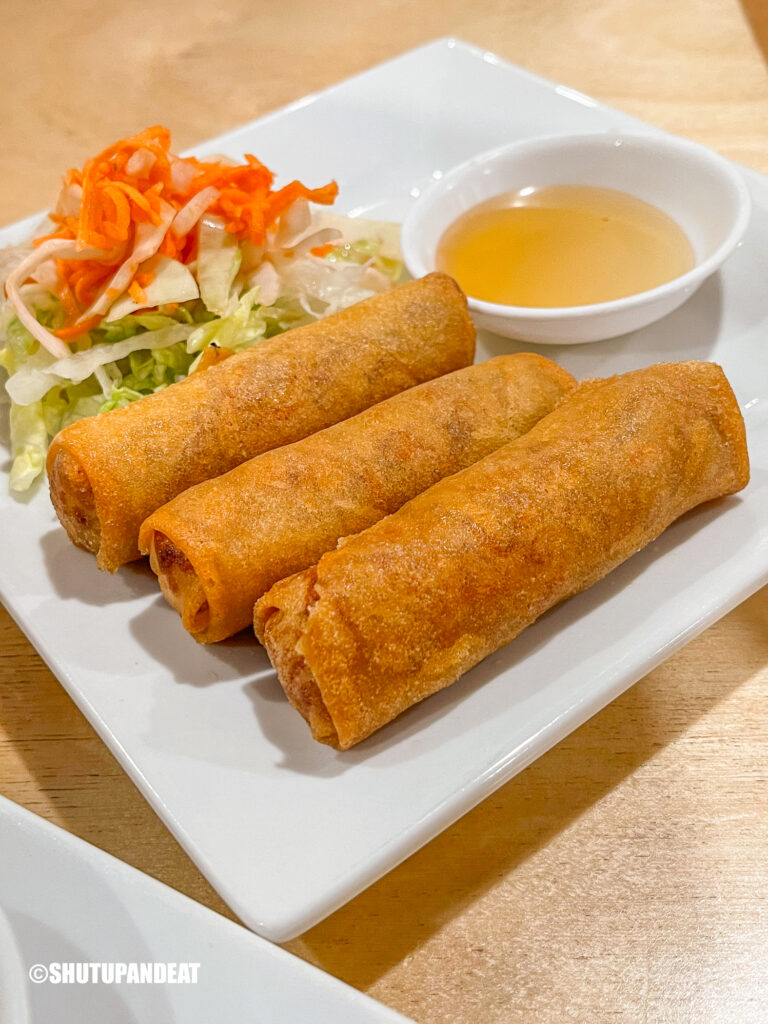 First off, regardless of the cuisine, let's normalize ordering/offering imperial rolls, fried spring rolls, egg rolls, or lumpia by the pound.
First off, regardless of the cuisine, let's normalize ordering/offering imperial rolls, fried spring rolls, eggrolls, or lumpia, by the pound. I don't know about you, but I can eat at least 5-8 of these before actually starting to eat the portioned serving. Once at a family dinner, I was tasked to unpack the industrial take out order of spring rolls and put them on the serving plate. I legit ate maybe 10 of these things as I unpacked them. Then I still took at few when it came time to make my plate. These are served with a sweet and sour fish sauce for dipping. There's three to an order, which is smart – it leaves you wanting more. The fried imperial rolls are vegetarian.
Spring Rolls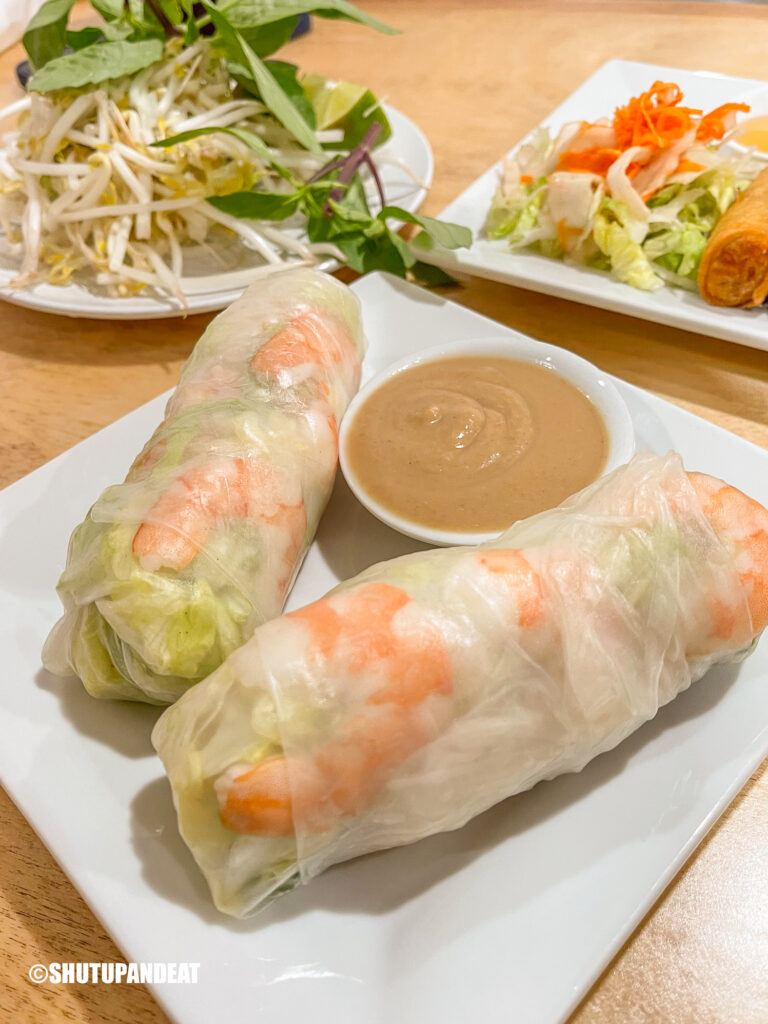 There's a choice of beef, chicken or shrimp for the spring rolls. They're packed with noodles, lettuce, mint and basil – very refreshing and light. Served with a peanut dipping sauce that's not too sweet.
Papaya Salad with Beef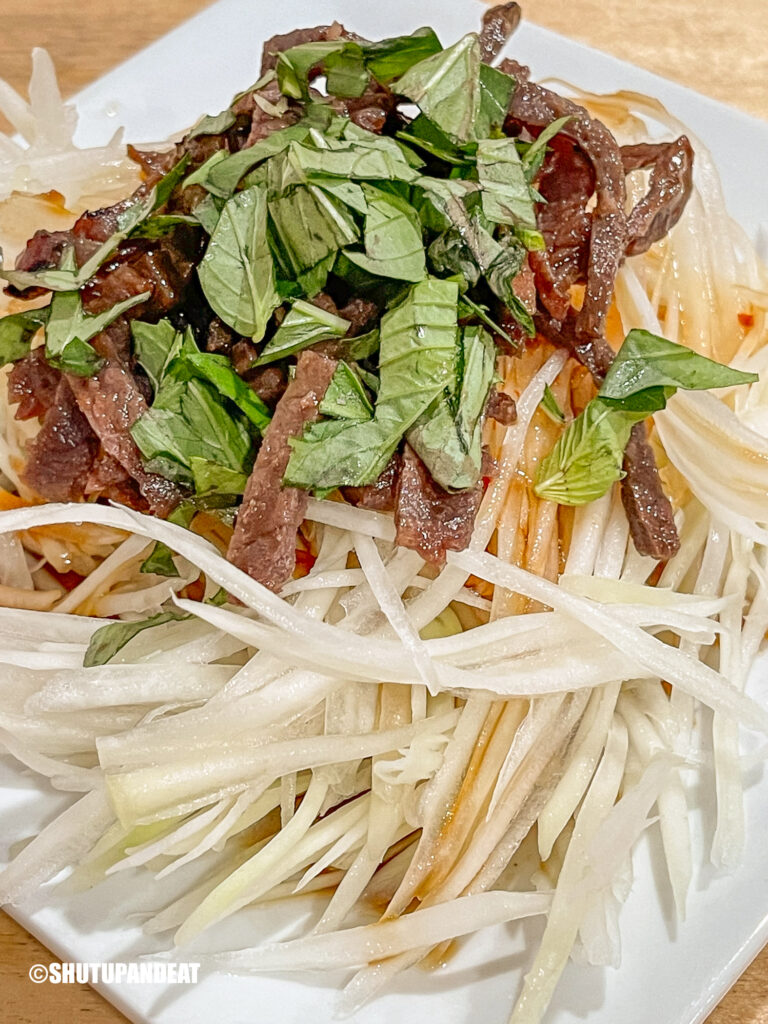 Get this. Pho Jean-Talon's papaya salad. Julienned strands of crisp green papaya with a house dressing that's topped with homemade beef jerky. The dressing was sweet and tart with a touch of spice. The type of dressing that leaves you craving more and makes you ask yourself if it's socially acceptable to hold up the plate after you're done to drink straight dressing. No shame. Do it; I did. Each bite was sweet and savoury and full of texture.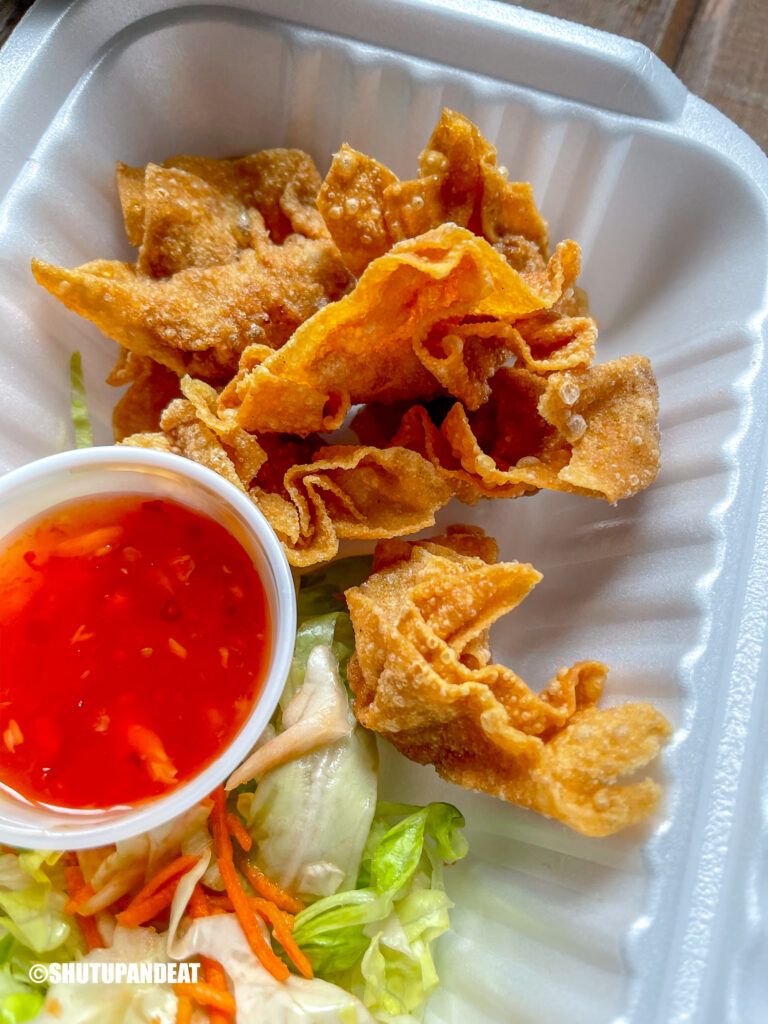 The fried wontons were nice. Small, crunchy two-bite wontons with a savoury chicken filling served with a sweet chili-garlic sauce. Like the fried imperial rolls, I can eat the weight of a small child in these.
Rice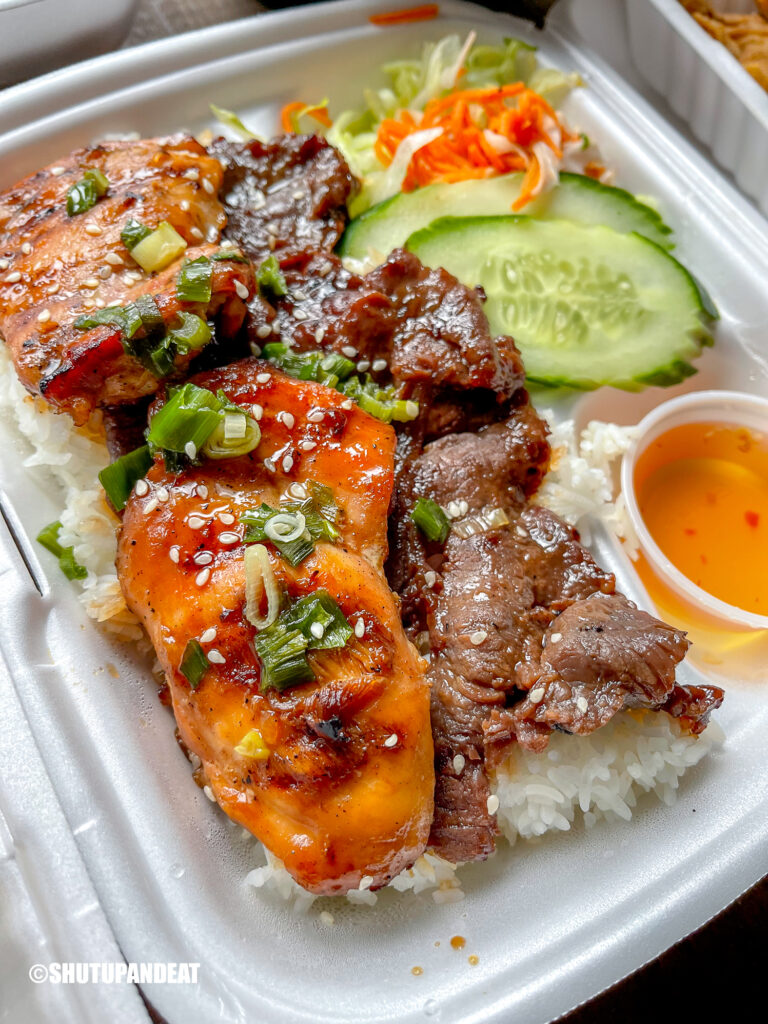 The rice plate is beyond generous. It's got enough rice to scare the keto out of you.
I got the grilled chicken and beef plate. The rice plate is beyond generous. It's got enough rice to scare the keto out of you. The chicken was garlicky and delicious and beef was mysteriously sweet and savoury. Piqued with smokey notes from the grill and aromatic marinade, the meats were tender and juicy.
Vermacelli bowl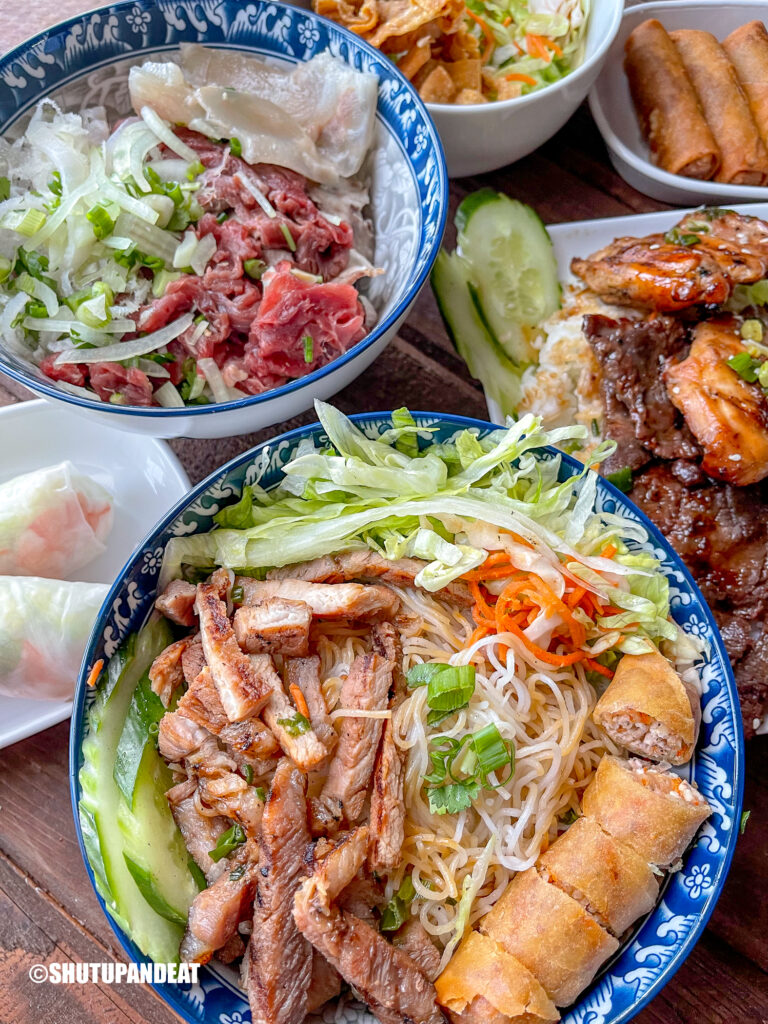 Similar to the rice dish, the vermicelli is the base. This is the grilled pork bùn. The sweet and smokey glaze dresses the noodles, but isn't enough to fully inundate the bowl. I always ask for extra fish sauce to loosen everything up. Again, you'll find yourself wanting to lift the bowl to your face to slurp up what drippings are left at the bottom – I did. I do. Every time.
Phở Đặc Biệt with Filet Mignon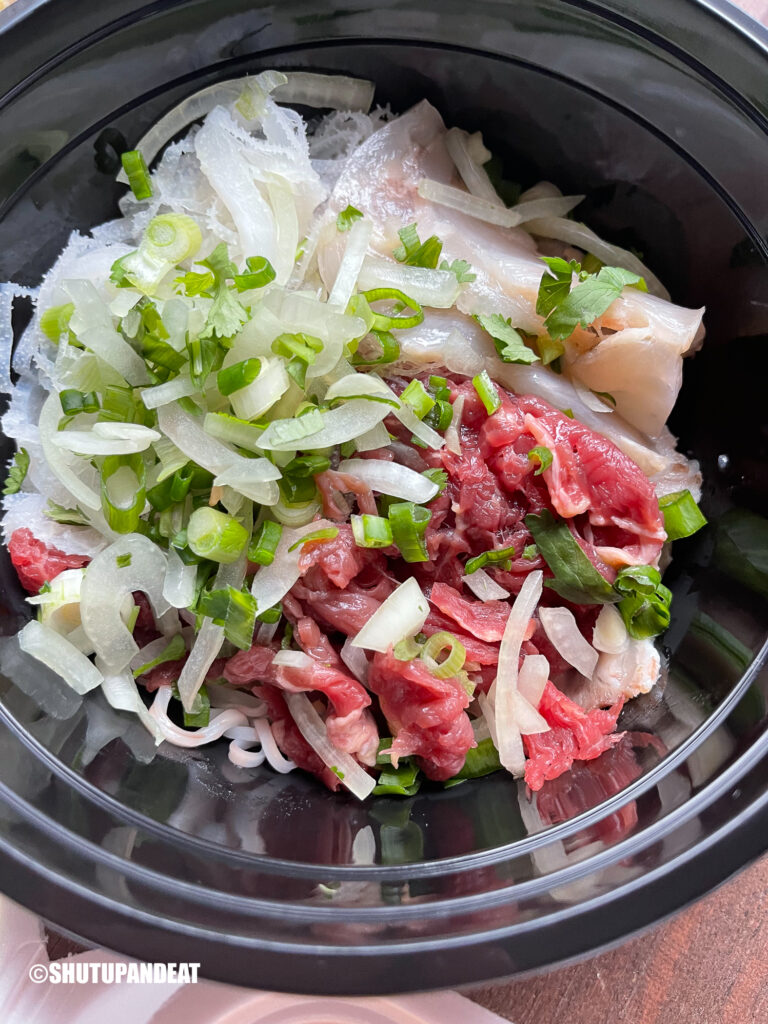 Here it is, what you've been waiting for. The city's – if not the COUNTRY'S – only bowl a pho with filet mignon. Pho Jean-Talon serves the filet mignon two different ways. One with just filet on noodles, or added to the dac biet (all dressed) for an additional price. Do that.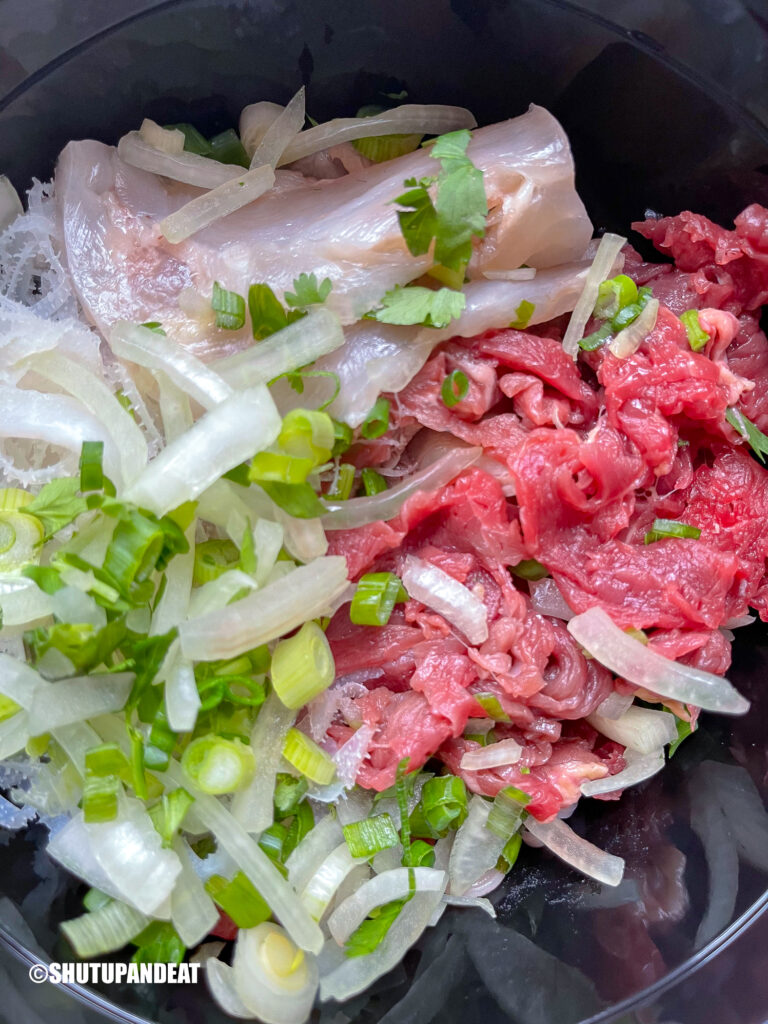 As always, the dac biet bowl comes with slices of well done flank, soft tendon, tripe, beef balls and rare beef – in this case, a generous portion of sliced filet mignon. Not to take away from the actual bowl, the soup was incredibly flavourful. Deep robust beefy flavour accented with hints of aromatics like star anise and ginger were prominent.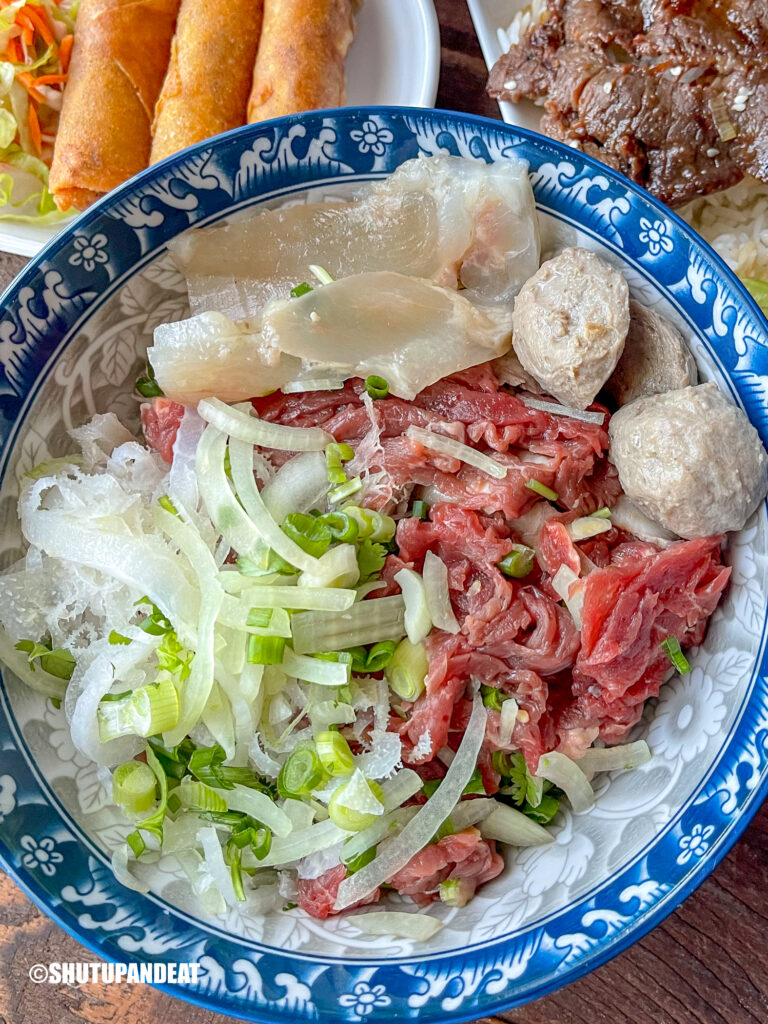 Don't get it wrong; the substituted rare steak that is usually found in the dac biet for filet mignon isn't a stunt. The actual experience is different. The taste is different. The different cut of meat is noticeable both in flavour and texture – it is incredibly tender and something you're not expecting in a bowl of noodles.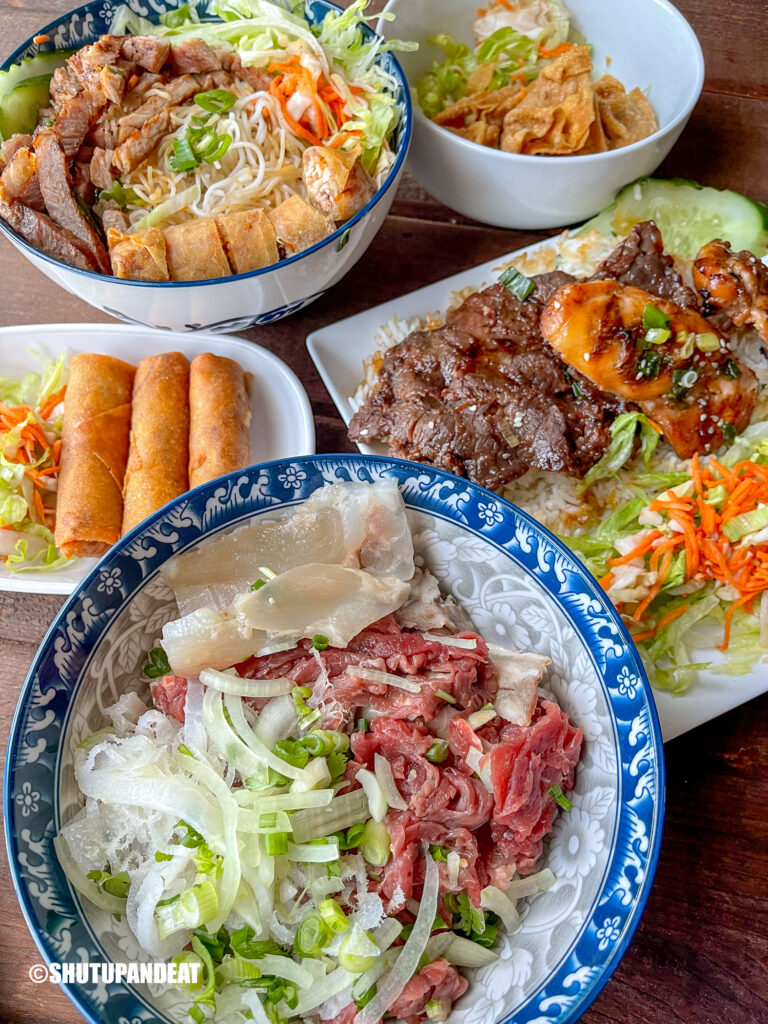 Not to say that Pho Jean-Talon is trying to make this humble bowl of noodles soigné, but they've done something that hasn't been done before; to step out from the blurry norm of the mom and pop Vietnamese restaurants. They've dialled in and refined a characteristic of a well composed dish that relies on various actors to complete a cast to put forth a compelling show.
This addition – or at least the option – is subtle, noticeable and meaningful. The inclusion of filet mignon is purposeful. The result is unlocking the potential of this bowl of noodles without sacrificing its roots and identity to provide a dish that is recognizable but different.
In a short amount of time (one week to be exact), the filet mignon pho at Pho Jean-Talon has become one of my most favourite bowls in the city.
Pho Jean Talon
360 Rue Jean-Talon Est
https://www.facebook.com/PHOjeantalon/
*Pictures are mixed, the place is so nice, I went there twice… in the same week! Once to dine-in and once to take out.