I'm starting off this review with an apology, and you'll see why. I'm often asked which are my favourite restaurants in Montreal. I always answer with the same handful of places because obviously, they are my favourites, but I've been lying. Ok, not LYING lying, but I haven't been 100% honest. Not in the sense that I'm naming places that aren't my favourites, but I haven't been mentioning all of them. If there's one "favourite restaurant" I'm always being asked about it's Japanese."Hey Jason, it's obvious that you're so ridiculously good looking, but more importantly, where's your favourite Japanese restaurant in the city?" One of my favourites is Kejaki Sushi in Ville Saint-Laurent.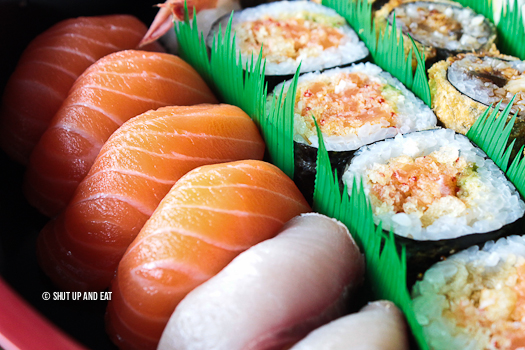 From sushi to sashmi, maki to handrolls, Kejaki has the usual suspects of sushi bar items on their menu. I'll be straight up with you, if you're looking for the most super bonafide Japanese sushi experience, you won't find it here. But if you're down to smash some awesome soosh with inauthentic abandon, you're at the right place.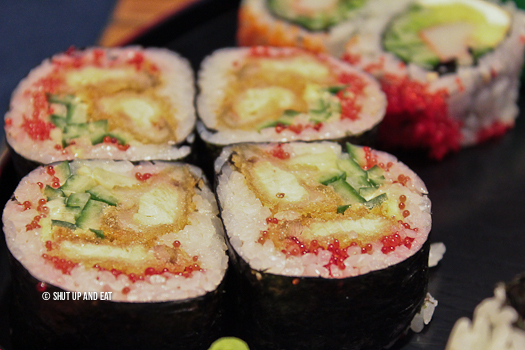 The specialty rolls are solid – just don't pay attending to the hokey names they've been given. Like the whimsically named, "Rockland", and "Bagel." I'm guessing that are named and inspired by well-known Montreal references. I've eaten them numerous times, I don't see the tie, but they're delicious so I don't ask questions. Like this the "Forum" roll – tempura salmon, spicy sauce, caviar and cucumber. Salmon swim in water, water freezes into ice, you can play hockey on ice, boom, old Montreal Forum. Maybe? I don't know. Doesn't matter.
Get the rainbow roll; and inside-out maki roll stuffed with salmon, tempura, spicy mayo, tobiko and wrapped with alternating sheets of tuna, avocado and salmon. Don't forget to order the signature "Kejaki" roll – the antithesis of all that is sushi and the epitome of what I call "soosh". Definitely one of my favourites. Tempura chicken, cucumber, spicy sauce, tobiko and… crushed up potato chips. Just go with it, it works. I don't know how, but it does. This specialty roll is definitely the panda-gyaru girls of Harajuku, lolita cafes, school-boy nightclub hosts and strange 4chan memes; things that are embarrassingly Japanese that everybody loves.

I'm not a big fan of the maki with cream cheese but my girl swears by them. The Philadelphia and Bagel rolls are her jam. The bagel is Kejaki's interpretation of and Asian lox and cream cheese… just stuffed in rice and wrapped with seaweed. Avocado and cucumber completes the goyish roll. The Philadelphia is with tomago, crab, cucumbers, wrapped insides out and topped with massage and tobiko.

The "Rinsha" roll. A maki roll of barbecued grilled eel and fresh scallops, battered and deep fried. The smokey eel lends well to the sweetness of the scallops. The fried exterior is great against the buttery mouthful of each bite. If you've never had eel before, it basically just takes like fish. The grilled variety includes a savoury bbq sauce slathered over it that is similar to teriyaki sauce.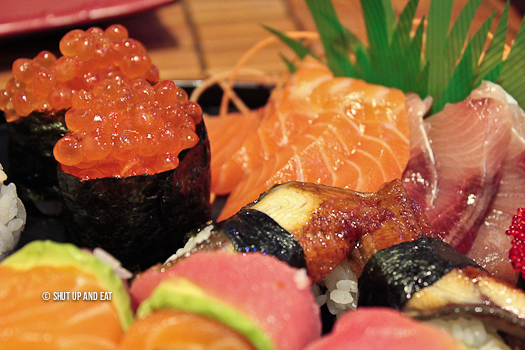 Kejaki's sushi and sashimi is always on point. I love the fact that they serve yellowtail tuna and uni on the regular. Always fresh, always delicious.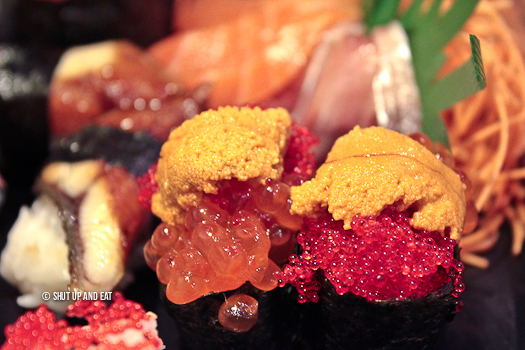 Get the "Sunrise" – which roughly translates to "sex in your mouth, with your tongue." Tobikio (flying fish roe) and salmon roe gunkan-maki topped with a delicate lobe of fresh sea urchin roe.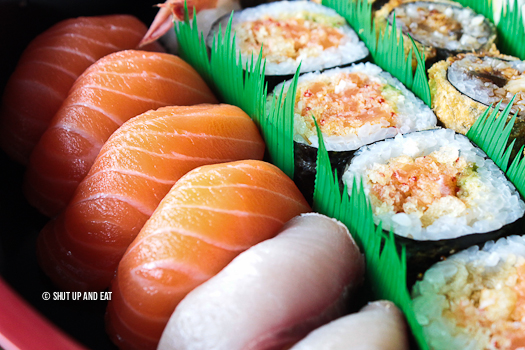 I've been coming here for years. Kejaki is one of those neighbourhood places that does the job of hitting the spot and satiating your sushi cravings.They have other items on the menu as well. It's one of those places that you go with someone who loves sushi but despises fish that will only eat cucumber and avocado rolls and maybe if they're feeling adventurous, a California roll. Noodles, teriyaki and rice dishes, they have you covered.
Real talk, it's not a place to go looking for a riveting, life-changing culinary experience. It's not the type of restaurant where the fish being served has some long-winded story of how it was line-caught and shipped by a village fisherman named Hiroyuki in the fishing village Biei-cho in Hokkaido. It's your neighbourhood sushi joint, one of my favourite sushi joints.
Kejaki Sushi Bar
884 Boulevard Décarie
514-748-9981
http://www.kejakisushimontreal.ca