I love Middle-eastern food. It encompasses a flavour profile of exotic tastes and aroma that entices me. I grew up experiencing all types of Asiatic cuisine, and have only developed an affinity for Middle-Eastern food later in life – only because I was never exposed to it when I was young. My family exploring different cuisines never strayed from what we were accustomed to – Italian and Greek was as far as we ventured. My life changed the first time I tired hummus, kafta and kebabs. Montreal is the city to eat in if you're looking for diversity. If you've never had to opportunity to try Middle-Eastern cuisine before, consider yourself lucky because Montreal is home to some pretty awesome spots. I was recently a guest of KazaMaza located in the eclectic Mile-end to discovery their menu of Middle-Eastern gems.
Located on Parc avenue, KazaMaza has been delighting the locals with their modern take of Middle-Eastern cuisine for the past several years offering original dishes and unique recipes unto themselves.
KazaMaza's cuisine describes itself as "Middle-eastern". Great! I love Middle-Eastern food! But what kind? Lebanese? Syrian? Armenian? Not exactly… but yes; all of them. All of them, like fusion? Yes, all of them, but NO to fusion… I'll get to that.

The menu comprises of a great list of salads and mezes to share. The KazaMaza's rendition of a traditional Middle-Eastern fattoush salad. Crisp vegetables laced with savoury herbs, tossed in a sweet pomegranate vinaigrette. This salad will definitely pique your appetite with its bright flavours and mix of textures.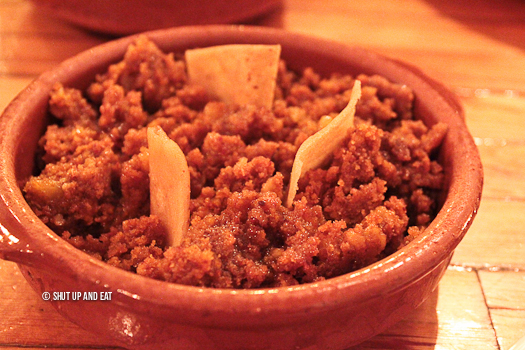 We tired a trio of meze dishes. The Mouhammara is a spread of ground walnuts, bread crumb, pomegranate molasses and spices. This dish was incredibly fragrant. The smokey cumin set the foundation for the nutty cinnamon that brought out the sweetness of the walnut.

KazaMaza's claim to fame; their Mutabbal Betteraves, a roasted beet puree with tahini, garlic and lemon. I love beets so I was excited to try this. Sweet in flavour, the inherent earthiness of the beets was negated by the tahini and garlic – which in itself was quelled by the sweet beet. All elements worked harmoniously, fascinating.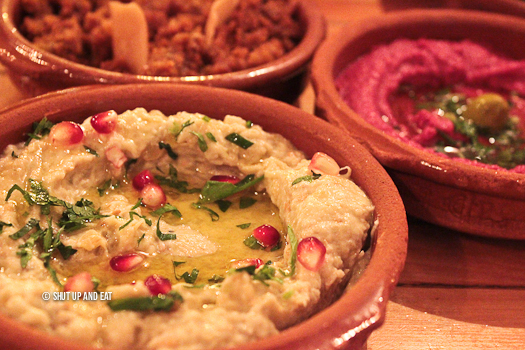 The baba ghannouj. Grilled eggplant puree with tahini, garlic and lemon. Unfortunately, the eggplant tasted more burned than grilled. Maybe it's supposed to taste like that, I'm not sure. I can't count the times I've had this dish before, and 99% of the time the char on the eggplant isn't so overtly present that it completely renders the dish unpleasant. Perhaps burning is a characteristic consciously imparted into this dish? I couldn't. I tried.

The Kefta simmered in pomegranate and tahini sauce was ridiculous. A brochette of minced lamb mixed with pistachios, walnuts and onions rich in spices. It was slathered in a thick creamy tahini sauce, garnished with pomegranate and parsley. The meat was unctuous and flavourful; the dish was luscious. Each mouthful was rich but not heavy, which made it easy to finish without thinking twice.

The Fattet Makdous is one of my favourite dishes of the year so far. Ever literally get mad at something for how delicious it is? That. Layers of fried eggplant, minced lamb, crispy pita bread, yogurt-tahini sauce, tomato sauce, garnished with parsley, pinenuts and almonds. The flavour was deep and robust, and the combinations of textures was amazing. Sidebar: the crispy pita base remained crunchy the next day even after being reheated in the microwave… sorcery.

For dessert I tried a Halawat el Jibn for the first time ever. A sweet cheese roll drizzled with sweet syrup and dusted with pistachio. It was served chilled and was a delightful way to end the meal.
The food at KazaMaza can't be categorized as belonging to a particular country or pinned to a specific region of the Middle-East. As I said before, the dishes served here are inspired by various cuisines. A mix of different elements from different countries, but I dare not say, "fusion." But it's a masterful mélange of different cuisines in a mindful cohesion that results in new tastes and flavours rooted in familiar palates. Maybe that's one of the reasons why I'm drawn to middle-eastern food. Many Asian cuisines share common characteristics, tastes and flavours amongst themselves. One Vietnamese dish may be very similar to one that of Chinese. I guess this can be said about Middle-Eastern food as well and why KazaMaza's menu is exemplary in amalgamating what is already a blend of different cuisines and bringing it to the next level.
KazaMaza
4629 Avenue du Parc
514-844-6292
http://kazamaza.ca
—
I was a guest of KazaMaza. Thoughts and opinions are my own.