There's no denying the fact that the weather dictates your meals and influences what you eat. Hazy summer days calls for light meals like refreshing salads or meaty burgers cooked on the grill. Cozying up with a hearty stew or Sunday roast is what we have to look forward to when the temperature dips in the autumn and winter. Nothing soothes the soul like a soup on days that you're wearing an extra layer of clothing and it's as dark as midnight by 5pm. The creamy kind, pottage, vegetarian and even ones with rice or noodles, I love all kinds of soup, and love creating different recipes. I've teamed up with Philips to test out their hand blender and was challenged to use it in a recipe. The crisp autumn air and available seasonal root vegetables inspired me to use the hand blender in a new recipe; Creamy Leek and Potato Soup with Truffle Oil!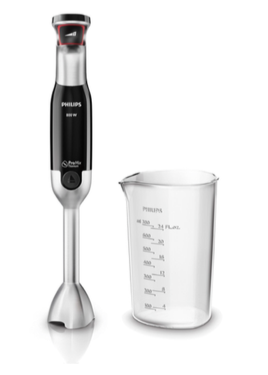 Out of the box, the blender was sturdy and hefty. Only when I actually started using it did I realize how powerful it was (a 400W motor will do it!) As strong as it is, the ergonomically designed grip made it easy to use for security and easy handling.
The recipe I came up with is ridiculously simple and easy with the help of the Philips Hand Blender – Creamy Leek and Potato Soup with Truffle Oil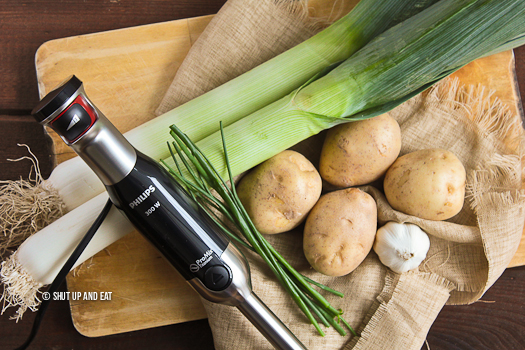 Creamy Leek and Potato Soup with Truffle Oil
Makes 6 servings.
Ingredients:
3 tablespoons unsalted butter
2 leeks, white and light green parts, washed thoroughly and finely chopped
4 cloves garlic, minced
2 pounds potatoes (approximately four medium-sized potatoes), peeled and roughly chopped into 1/2-inch pieces
2 Litres chicken or vegetable stock (1 cup reserved)
3 teaspoon salt
1/2 teaspoon ground black pepper
1 cup heavy cream
6 x 1/2 teaspoon truffle oil
6 tablespoons sour cream or creme fraiche, divided for garnish
Chives, finely chopped (optional)
Directions:
Over medium heat, melt butter in a large soup pot. Add leeks and garlic and cook. Stir regularly until the leeks have wilted and are soft, about 15 minutes or until someone at home asks what smells to good. Adjust heat to prevent browning.

Add potatoes, stock, salt, pepper and bring to a boil. Reduce heat to low and let simmer for 20 minutes or until potatoes are very soft. Remove pot from heat and blend with an hand blender. Start slow and gradually come up to speed. The Philips Hand Blender has "SpeedTouch technology" that intuitively sets the right speed as you depress the button – which makes controlling the speed incredibly easy. Once you achieve a smooth consistency, return back to a medium heat and bring up to a simmer. Add heavy cream and continue to simmer for another 5 minutes. If the soup is too thick, add reserved stock, or if it's too thin continue to simmer uncovered until you get the consistency you like.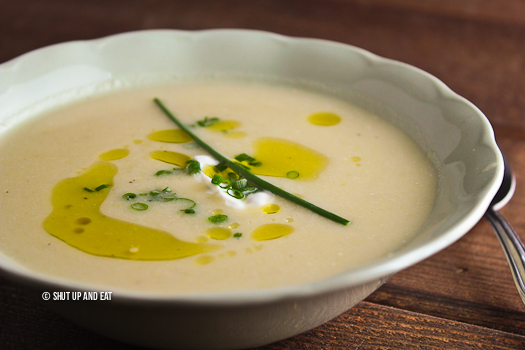 Garnish with a dollop of sour cream, chopped chives and drizzle of your favourite truffle infused oil. A good extra virgin oil can be substituted.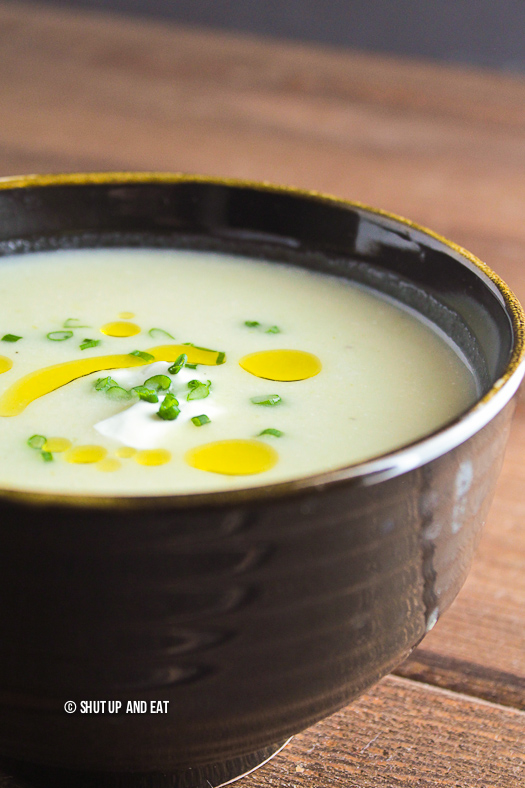 Ridiculously simple, this soup is perfect for autumn and for days your body and soul needs some comforting. Served with slices of freshly buttered baguette makes for a great snack or meal. I was pretty impressed with my first experience with the Philips Hand Blender. It was easy to use, cleanup was a breeze and what stood out was how much power this hand blender harnessed; it demanded respect. I'm pumped to see what other recipes I can come up with using this hand blender!
The Philips Hand Blender with ProMix technology is available at most major retailers including: Hudson's Bay, The Shopping Channel, Best Buy, Amazon and Canadian Tire. –
This is a sponsored post. I was compensated monetarily to feature the Philips Hand Blender. All thoughts and opinions are my own.