In theory, we are approaching spring which brings the maple thaw and the subsequent lust we develop for the sweet free flowing liquid gold that is maple syrup. But by the looks of it, that won't happen until one more heaping dose of powdery white stuff that will or will not paralyze the city. Luckily I started my maple sugar shack tour early this year and managed to visit a unique one. What do you get when you mix an Italian restaurant and maple syrup season? That's right an Italian inspired cabane à sucre. I know what you're thinking, "what does that even mean?" My thoughts exactly when I visited Aux Délices des Sucres, a sugar shack by Les Délices De Rosa located in St-Lin-Laurentides.

Aux Délices des Sucres is a family run Italian "rustic table" restaurant located 20 minutes north of Laval specializing in food prepared using garden-fresh ingredients, locally sourced seasonal fruits and vegetables and meat from neighbouring farms. This sugar shack is located in the middle of their maple farm and features the typical menu one would find at any traditional cabane à sucre but with a subtle unique Italian twist.

The menu lists your timely cabane a sucre classics. Homemade pickles, pea soup, spicy roasted potatoes, cretons, oreilles de crisse, maple baked beans, omelette, maple ham and Italian sauteed pepper and onions… are sure to jog the memories of sugar shack outings of your youth.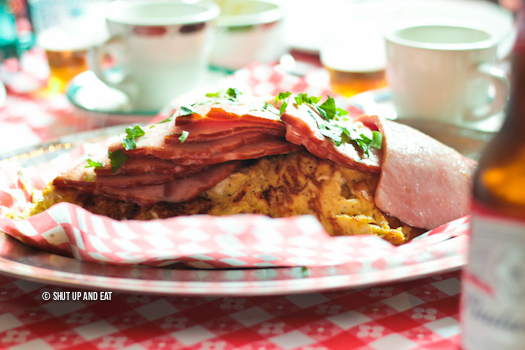 You don't really order – unless you're opting in for their specialty items for an additional fee – more than you just tell the hostess how many people you'll be and the food starts coming. The maple ham over fluffy omelette was tasty. A nice way to saw the seal off your appetite after a hearty pea soup and buttered country bread.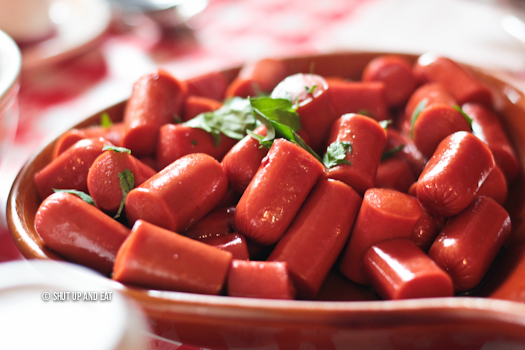 Cocktail sausages sautéed in maple syrup. To tell you the truth,I was skeptical at first. Really? Hot dogs in maple syrup? HOT DOGS IN MAPLE SYRUP! I don't know why I don't think of it. I love hot dogs, I love maple syrup… why not? The saltiness of the hotdogs and the sweetness of the syrup is a perfect match. Something I'm looking to do at home from now on for weekend brunch… or you know, Tuesday.

The specialty menu items include, roasted homemade Italian sausage, maple roasted pork loin, baby back ribs à la maple syrup, and a specialty maple smoked meat, served with coleslaw and maple syrup on the side, with maple syrup and garnished with a drizzle of maple syrup. The maple smoked meat was interesting, something I've never tried before. Let's face it, if you tap your own trees and produced you're own maple syrup, you'd drown everything in it too. Over the top? Sure. But it's cabane à sucre, you kind of have to.

Dessert was an insulin busting pudding chamber and taste au sucre covered in, you guessed it, maple syrup.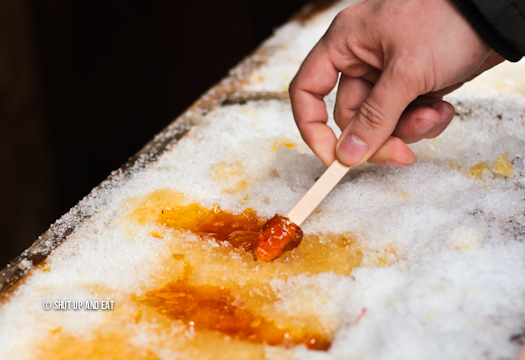 No cabane à sucre meal is finished without the quintessential tire d'erable. Ping hot maple taffy ladled onto snow.
Aux Délices des Sucres is a modest cabane à sucre run by a humble family. Generous portions of food are served with graciousness as though welcoming you to their own home. This sugar shack was typical, except for some of the menu items. It's not the best I've ever been to but the hospitality of the hosts and the company I was in made the experience worth it. The chef personally came out to make sure everyone was getting fed and having a great time. Don't forget to bring our own wine!
Aux Délices des Sucres
290, Côte Jeanna, Route 158
Saint-Lin-Lauentides QC
450-439-3966
www.chezrosa.ca