One of the questions I was asked most growing up was, "Jay, why are you so awesome" followed by a close second, "do you eat general tao chicken and egg rolls everyday?" Being Chinese I was subjected to a barrage of idiotic questions that I attribute to stupidity of adolescence and mild racism. As much as I tried to ignore the dinner inquisition, I couldn't. Not because of the blatant discrimination that weighed heavily on my mind in a weird time in my life when I was struggling to find my identity… but because I secretly wanted it to be true.
Canadianized-Chinese or "Pan-Asian" dishes were rarely on the menu at home or when dining out in my youth. The sweet candied sauces over fried golden nuggets of battered chicken and beef was alluring and enticing. The fact that my parents never ordered it, made me want it even more. I recently checked out Restaurant Maneki Comptoir Asiat' – newest hotspot serving forbidden dishes every Asian adolescent dreams of.
Located in HoMa, Restaurant Maneki Comptoir Asiat' serves "Pan-Asian" dishes. Signature or most popular dishes of various cuisines; Chinese, Thai with a touch of Vietnamese. These kinds of dishes have been the butt of many jokes for years – being the Chinese foods to appeal to Western palates. Not that there is anything wrong with that. For people who aren't familiar or even comfortable trying new cuisines, I think it's a great way for them to expand their culinary horizons.

The menu is simple and straight forward. Soups and appetizers, mains, rice and noodles. We started with the peanut butter dumplings. Four to an order, this dish was your run of the mill appetizer. Thick and savoury peanut butter sauce straddling poached pork dumplings.

Take a look at these beauties. Take a minute. I know what you're thinking, "why am I staring at chicken wings and what are these feelings I'm getting?" That's what you call "wing lust" my friends. These are not your normal crusty bar wings. These are large, substantial capon wings that must have been capable of flight in it's time. Marinated, and fried in a light seasoned batter, these wings are tossed with dried chilies, peppers and onion, and then dusted in Chinese five spice and salt. Ridiculously delicious and addictive.

What's a forbidden Chinese meal of my youth without the quintessential General Tao chicken? All killer, no filler. Large pieces of chicken, battered and deep fried and slathered in a thick velvety sweet and sour sauce. Definitely one of the better taos I've had in my day. Trust me, I've made up for the lack of "Canadian-Chinese" food of my child hood, by eating my weight of it through CEGEP. My Ancestry DNA result found that I'm am actually 12.8% M.S.G.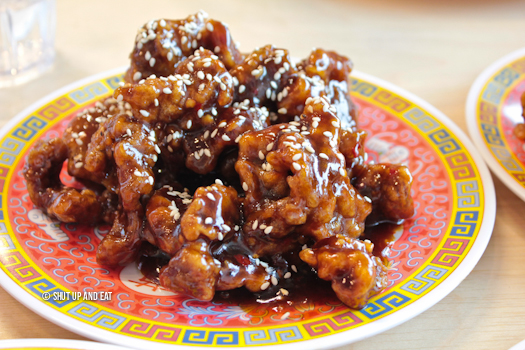 The sesame beef is similar to the general tao chicken in the sense that it's battered and deep fried. However, the sauce is more savoury and deep in favour. The beef a bit drier (which is typical), each bite was toothsome, and tasted like the time when I was 12 and my dad ordered it by mistake and I jumped on it before he had a chance to tell the waiter to return it. It tasted like sin… sweet, delicious sin.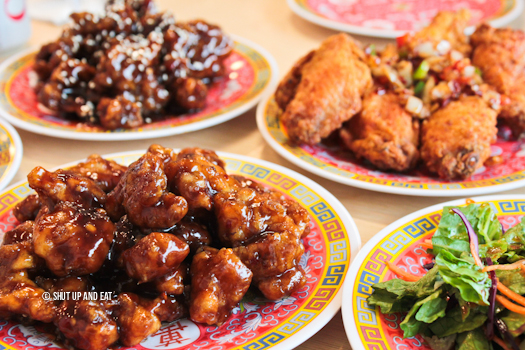 Each dish comes as a full meal, which includes rice and salad. Since we wanted to try a few dishes, we asked if they would be able to serve it "family style" and they were cool enough to accommodate our request.
Growing up, eating these very "Canadian-ized" Chinese dishes often meant that I did something good, got a high grade on an exam, listened to my parents or did my chores as instructed. So basically we never ate these kinds of food. Stir fry, pork belly, beef stews, weird things that would have certainly scared away my very caucasian friends were usually on the menu. Despite eating here only once, this is why Maneki Comptoir Asiat' holds a special place in my heart.
Restaurant Maneki Comptoir Asiat'
3121 Hochelaga
514-523-7778
https://www.restaurantmaneki.com/