What do you consider "street food"? Dirty water street meat from New York? Our version of food trucks that situate themselves in random spots around the city? Or street hawker stalls usually operated by an auntie who's last fuck she gave was in the late 80s, manipulating a fiery wok and bubbling cauldron wearing flip-flops? Unfortunately for us, we do not have the luxury of food hawkers and the romantic image of curb-side noodles and spicy grilled something-something like in Asia. However, we are lucky enough to be home of some of the most creative culinary minds to realize those dreams in their own ways. First it was Singaporean satay and laksa, now, Cambodian fish amok, sausages and men siam. Make your reservations immediately for Les Street Monkeys.
I had the opportunity to check out Les Street Monkeys during their soft opening – Verdun's newest hotspot of street eats and cocktails. They opened quietly about a month ago and have been flying under the radar working out the kinks. But the wait is finally over, official grand opening is tonight! Here are some of the dishes you can expect.

Wasabi shrimp ceviche. This dish is everything. Large shrimps marinated in lime, fish sauce and a wasabi dressing, garnished with fried shallots. Fresh, bright and addictive, each chilled mouthful ended with a wasabi slap in the face that will leave thanking it and asking for another.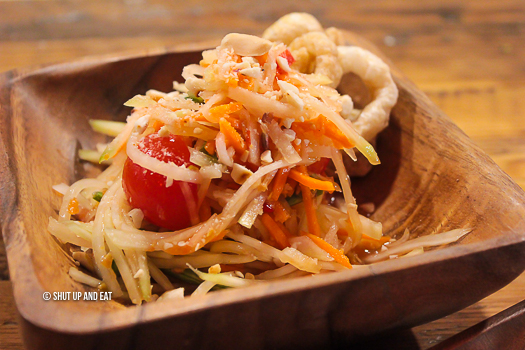 The quintessential Southeast Asian Papaya salad. Papaya, carrot, long beans, cherry tomato with a lime, tamarind and Thai bird chili dressing. Each bite of the freshly shaved green papaya was crisp and spicy. They will ask you how spicy you want your food. The correct answer is "spicy". Please, no bitchassness.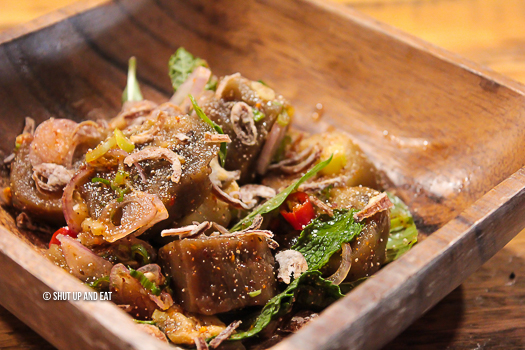 This dish piqued my interest because it was the first I've ever heard of it treated with an Asian twist; eggplant salad. Grilled cubes of supple eggplant, dressed with lime, lemongrass and Thai basil. It was ridiculously good. I was skeptical at first but was made into a believer.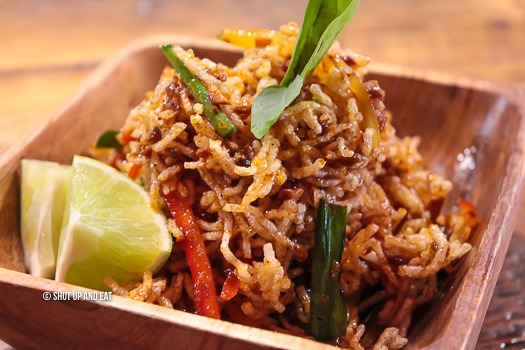 The Mee Siam was one of my favorite dishes. Fried vermicelli noodles, dressed with a soy, crab paste and chili oil sauce, served with bean sprouts, peppers, Asian chives and garnished with lime. The flavor was deep and savory that made me crave more and more.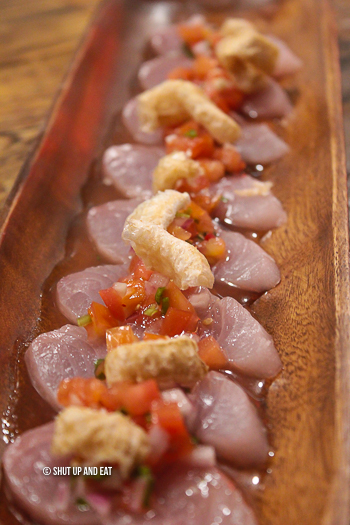 Cambodian style yellow tail tuna sashimi. Generously thick sliced fish served with Cambodian "salsa" garnished with fried pork rinds. The fish was fresh and sweet that was accentuated but the prickly heat of the Cambodian style tomato based salsa. The spiciness will intensify as you let this dish sit, but chances are you will devour it before it get a chance to melt your face off. The fried pork rinds added great texture to each bite and lent a subtle savoriness to the dish.

The grilled pork sausage was pleasantly aromatic if not a bit on the dry side. Perfumed with spices the homemade sausage was served with a side of pickled vegetables that balanced each bite.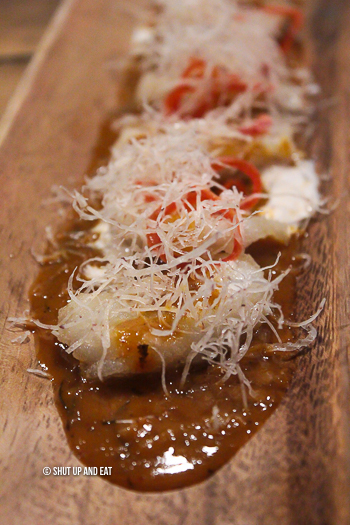 This, a Les Street Monkeys rendition of the famous Cambodian dish, fish amok. Lightly breaded white fish (cod in this case), served with red curry, coconut milk foam garnished with fried julienne taro. The curry was rich and spicy and it convinced me to order a bowl of rice to vessel this luscious sauce into my face. It was great to see their interpretation of fish amok and making it their own.

Cambodian style grilled lamb chops. Marinated in coconut milk, mint, honey and coriander, the meat was tender and delicious. The sweetness of the chops were balanced with the Cambodian "BBQ-chaser" – pickled vegetables.

Make sure to order the imperial rolls, they're famous – they're made by the chef's mom. A secret blend of ground pork, taro and Khmer spices, this golden fried imperial roll is served with seasoned fish sauce. Three to an order, don't be afraid to order three orders, I did.
I'm impressed with the moves Les Street Monkeys are making. Introducing Verdun to a unique cuisine adding to the eclectic collection of the Wellington strip. I was scared that their food would be compromised to accommodate hesitant palates. I'm happy to say although the menu may not be 100% Cambodian, the tastes and flavors are authentic to the region. They reflect the influences of other countries and similar cultures and their respective cuisines. Cocktail game is strong with house mixologist serving up boozy bubble tea and a signature margarita that features Thai basil syrup and crushed grasshopper and red worm rimmer. Get there now, lineups will be inevitable.
Les Street Monkeys
3625 Wellington
(514) 768-1818
https://www.facebook.com/lesstreetmonkeys/