I love food, and appreciate all kinds. From a very young age, I've been taught to try everything at least once, not for the proverbial reason, "you never know, you might like it", but for the very simple reason of, "eat what you're given or you don't eat at all." This plus the fact of growing up in a Asian household (eating things that were literally worlds apart than my caucasian friends) helped me develop an undiscriminating palate which later developed into a love for experimenting and exploring various tastes and flavors of cuisines from around the world. This week I stop for Afghan food at L'Afghan Grillade.
I'll be the first to admit that I don't have much experience with Afghan cuisine, but I do love Middle-Eastern food. I recently drove past L'Afghan Grillade one night lured in by their huge glaring sign piercing the night sky like a giant kabab bat-signal. I stopped in, grabbed a quick kabab to go and thought nothing of it. Got home, ate it and made immediate plans to return to check out the rest of the menu.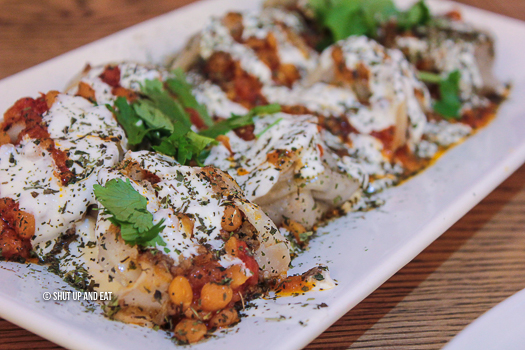 We started with the mantou – Afghan beef dumplings drizzled with a creamy yogurt sauce. Despite some dumplings falling apart underneath (they stuck to the plate as they cooled off) they were delicious. Each bite was an amazing melange of flavors; seasoned meat filling, hugged in a perfectly chewy wrapper, topped with a spicy tomatoey lentil stew with a cool yogurt dusted with dry dill. Amazing.

The badenjan is an eggplant dish that was smokey and mysterious. Fried slices of eggplant, topped with a turmeric and dill oil, drizzled with chilled cooling yogurt. I was never big on eggplant but this Middle-Eastern preparation (and its variations) has completely changed my mind in recent years. Order this.

The beef ghorma – marinaded stewed beef in an savory sauce. The beef was flavorful, if not a bit dry, but tender – the meat was very lean.

The beef ghorma was served with salad and an extremely fluffy rice heavy in cumin. The dryness of the beef was an afterthought and was remedied with salad and rice.

The Kabuli Pulao is where its at. The national dish of Afghanistan whose name is taken from the capital city. An incredibly aromatic rice and veal pilaf infused with warm spices like cinnamon, cardamon, and clove. The rice is addictive. Topped with carrots and raisins, it compliments the savory dish with subtle sweet notes with every bite.

I was skeptical about the veal shank – it looked dry and I was scared it would be like the beef, fortunately it was the exact opposite. Despite the dry exterior, the fork tender meat effortlessly fell off the bone and was extremely juicy. I'll admit, not the most pretty thing to photograph, but it was delicious, trust me. Also, ask for the cilantro sauce.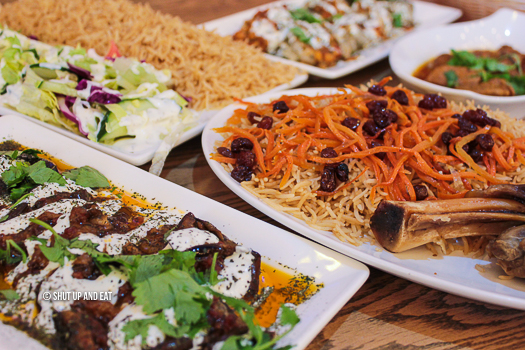 As I said, I'm no expert in Afghan food, but good food is good food and the food at L'Afghan Grillade is great. I would not call it "fast food" – you do however order at the counter and are given a pager that will buzz when your food is ready. Opened late daily, this place is going to be a definite go-to for late night meals that are proper meals and not deep-fried greasy messes.
L'afghan Grillade
9422 Boulevard de l'Acadie
514-383-5757
https://www.facebook.com/Afghangrillade/