What's your favorite a quick bite or snack? I would LOVE to say pizza, but a decent slice spot is hard to find that's open late that isn't a chain or a rando corner shop that recycles their slices to cover up the fact that they never have customers but deliver, however just not pizza. I will always go out of my way for a great falafel sandwich. I've recently rediscovered a spot I once frequented but kind of dropped off my radar and I don't know why. That being said, I think I may have eaten the best falafel sandwich in Montreal at Falafel St. Jacques.
This quaint falafel spot is located on a busy strip of Saint-Jacques in Ville St. Pierre and serves up possibly the best Israeli falafel sandwich outside of Tel Aviv.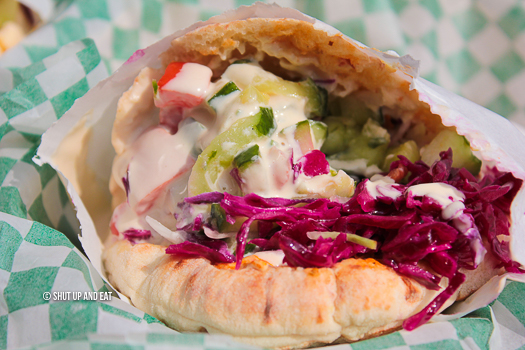 This popular Middle-eastern street food dish from Falafel St. Jacques is true to its roots. The falafels are fried to order and each sandwich is made in the most impossibly hot and fluffy pita. Using fresh ingredients the salads and accoutrements are piled on generously. The sandwich starts with a sizable schmear of the creamiest hummus. Shredded white and red cabbage salad, Mediterranean chopped salad including tomatoes, cucumber is layered on then topped with a giant scoop of the most fragrant tahini.

Prepare you mind and body for this "chicken" shish taouk pita. Chicken in quotations because it's vegetarian. No, the chicken wasn't vegetarian before they cooked it, but Falafel St. Jacques uses a vegetarian meat alternative for their mock-meat dishes… MUSHROOMS! Marinaded and spiced the same way they would the the poultry version, this sandwich will fool the most veteran of shish taouk eaters. It's dressed with the same chopped salad, cabbage, hummus and tahini; delicious.

The lunch specials are served with a choice of two salads. The fried eggplant salad was sweet and smokey. The mushroom salad was earthy and savory and perfectly undercooked for that bite you want in a mushroom.

The Spanish eggplant salad was amazing. Roasted eggplant stewed with tomatoes rich in aromatics like garlic and onion with a slight touch of sweetness from possibly honey…? Regardless, the added sweetness balanced every bite. The traditionally prepared baba ganoush was robust in flavor; the distinct taste of roasted eggplant, mixed with rich tahini, lemon juice garlic and parsley. I only wished I asked them to put this directly in my sandwich.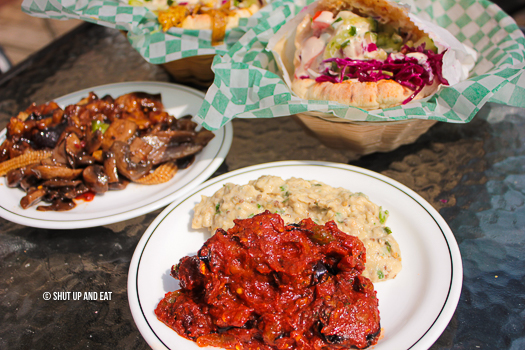 I'm so glad I rediscovered Falafel St. Jacques. How it unintentionally fell off my radar, I haven't a clue. The food is delicious and service hospitable and friendly. Excellent variety of vegetarian sandwiches and salads to choose from, that will pique the appetite of any meat-eater. It's worth the wait in line and the drive. It's not that it's far… it's just that it's in Ville St. Pierre.
Falafel St. Jacques
345 Saint-Lacques
(514) 595-7482
http://www.falafelstjacques.com